One Glaring Weakness of Every NBA Team's Best Player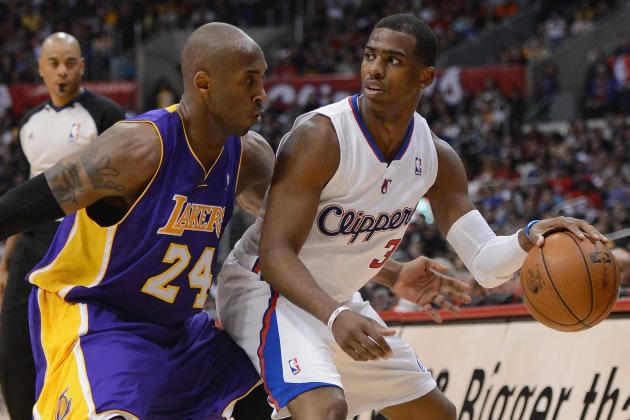 Harry How/Getty Images

Even the best players in the NBA have basketball weaknesses.
For every franchise-leading star, there's a deficiency or stumbling block of some sort.
Some players' struggles are more detrimental to their teams than others, but the point is that no one's perfect.
Whether it's an issue of focus, ball skills or physical attributes, each premier baller has some sort of shortcoming.
What's the difficulty surrounding your favorite team's top star? Find out as we break down the one glaring weakness of every team's best player.
*Unless otherwise noted, all statistics are gathered from Basketball-Reference.com, accurate as of 1-21-13.
Begin Slideshow

»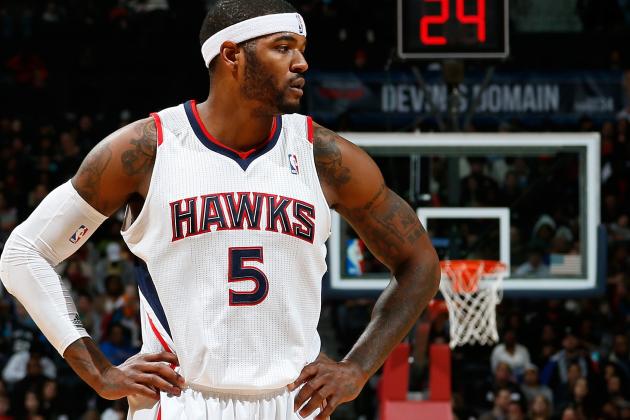 Kevin C. Cox/Getty Images

Weakness: Drawing fouls and making free throws
Atlanta Hawks star forward Josh Smith has been an inconsistent free-throw shooter throughout his eight-year career, and the 2012-13 campaign is his worst so far.
He's converting just 52 percent of his foul tosses this season, part of the reason why his offensive rating (94) and PER (17.2) are mediocre.
Smith has also averaged fewer than five three-throw attempts per game over the past three seasons. Considering his physical attributes, he should be earning three or four more trips to the line per night, therefore attempting at least six free throws per night.
Atlanta loves his all-around contributions, but Smith still lacks the footwork to draw fouls and the consistency to hit foul shots on a nightly basis.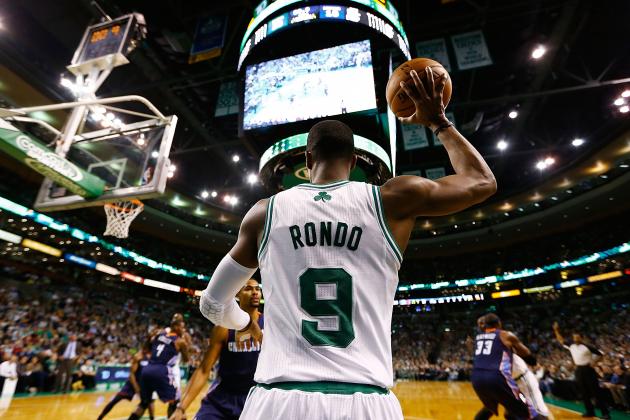 Jared Wickerham/Getty Images

Weakness: Spot-up three-point shooting
He's working on it, but outside shooting is still Rajon Rondo's Achilles heel.
Rondo is on pace to launch well over 100 three-point attempts this season, which would obliterate his previous career high of 80. It shows that his confidence is up, and it also shows that the Boston Celtics need his shooting more than ever before.
What's most disturbing is his spot-up deficiencies.
He's not asked to hit many open triples per game because he's usually the one setting up the play. But when he does get a wide open look, Boston would like him to hit more than a quarter of them. Currently, he's 5-of-21 (23.8 percent) on spot-up threes according to Synergy Sports.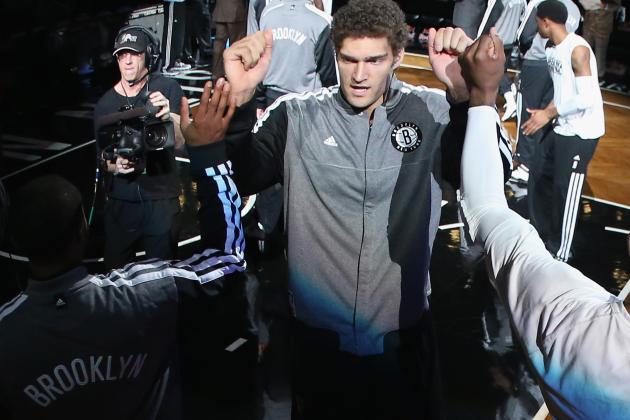 Bruce Bennett/Getty Images

Weakness: Slow-moving in half-court setting
Brook Lopez is the Brooklyn Nets' best and most important player these days, but he doesn't always look the part when everyone runs circles around him.
At 7'0", 265 pounds, Lopez is noticeably slower than the average post player.
Lopez's plodding nature doesn't get him into trouble when he's hitting open jumpers or getting the ball deep in the post. But when he puts a couple dribbles down and goes into his deliberate post moves, he often gets stripped or fails to convert potential three-point plays.
His lack of explosiveness also hurts him on the glass, where he regularly gets out-rebounded by athletically-superior forwards. Lopez is pulling down just 7.4 boards per night.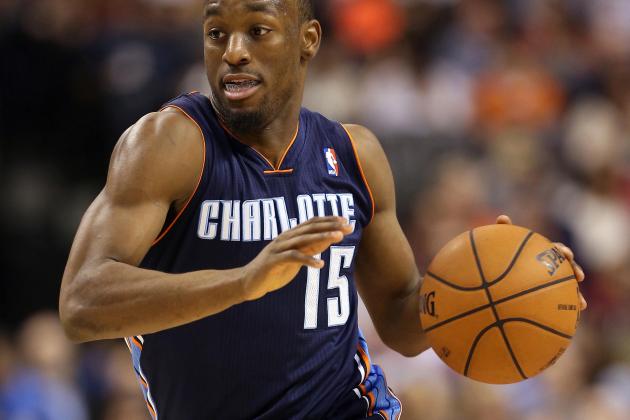 Tom Szczerbowski-USA TODAY Sports

Weakness: Shot selection
There's no sophomore slump so far for Charlotte Bobcats guard Kemba Walker, who has improved in almost every category since his rookie season.
I've been impressed by what I've seen from him in the 2012-13 campaign, but one aspect of his offense that needs tweaking is his shot selection.
I understand that he's the most dangerous offensive weapon on the team, but Charlotte could do without some of the transition three-point attempts and the wild mid-range shots.
Walker is shooting 43 percent from the field and 35 percent from beyond the arc. Those marks aren't lousy, but they're not great considering he's the Bobcat's most important player.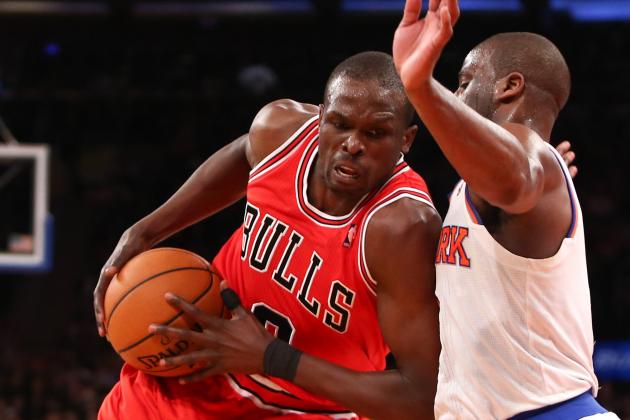 USA TODAY Sports

Weakness: Ball-handling
Luol Deng is arguably the most important player on the Chicago Bulls, and he's been extremely valuable during Derrick Rose's rehab.
That doesn't mean he's a complete player, though. Deng's ball-handling is far from advanced, and he lacks polish on moves that most swingmen execute fluidly.
For example, his crossover is often deliberate and predictable for opposing defenses. He's also a bit mechanical with his step-back jumper and mid-range hop-step.
Deng is an eight-year veteran, so at this point in his career it's unlikely that his ball-handling will dramatically improve.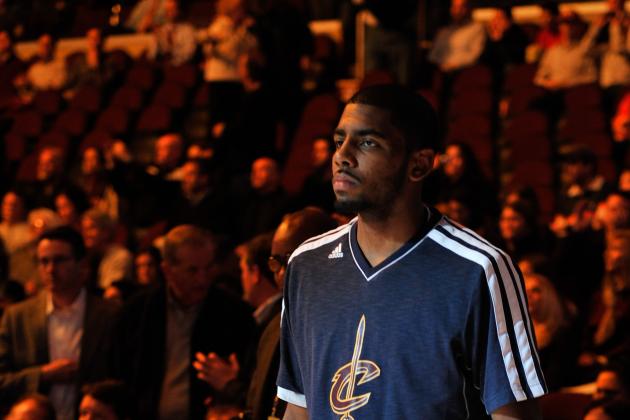 USA TODAY Sports

Weakness: Turnovers
Oftentimes, part of the growing pains of young playmakers includes turnovers, and that's certainly the case for Cleveland Cavaliers point guard Kyrie Irving.
He can get to the tin in a myriad of ways, and he's also adept at setting up his fellow Cavs.
Sometimes, Irving's a bit too inventive in his attacks or simply doesn't exercise enough caution with his passes. Consequently, he's registering 3.6 turnovers per game.
This isn't something for Cleveland fans to fret about. After all, he is young and barely has any help. They'll take the good with the bad and look forward to a successful future for Kyrie.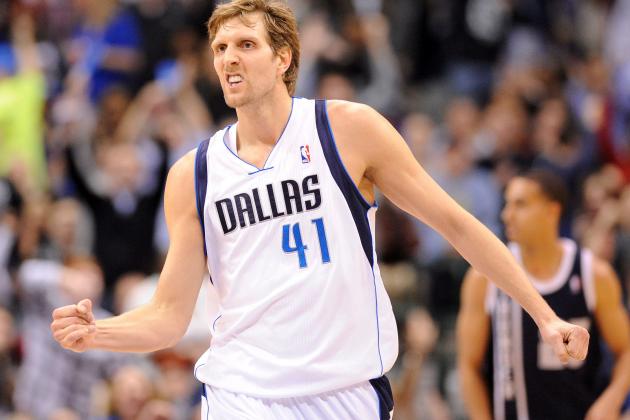 USA TODAY Sports

Weakness: Offensive rebounding
Dallas Mavericks superstar Dirk Nowitzki will be forever remembered as the guy who proved European gunners could lead a team to NBA glory. That doesn't change the fact that he's weak on the boards, especially the offensive glass.
In his prime, he was pulling down nearly 10 per game, but those days are long gone. Even then, he couldn't fetch more than a board-and-a-half on the offensive end. Nowitzki has collected 7.7 rebounds or fewer per night for each of the last four seasons.
His mid-range and perimeter-based play and age won't allow him to grab nine or 10 boards per game, but Dallas could use another high-volume rebounder in addition to Shawn Marion. Nowitzki's 5.6 is deplorable for a seven-footer.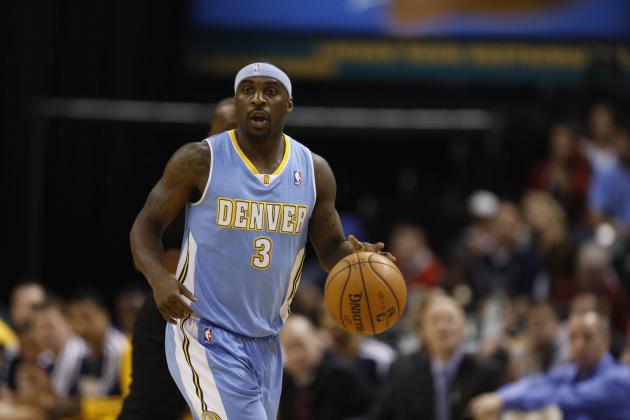 Brian Spurlock-USA TODAY Sports

Weakness: Isolation scoring
Despite his magnificent speed, change of direction and body control, Denver Nuggets point guard Ty Lawson is struggling to create his own buckets efficiently.
In isolation situations, he's shooting 30 percent, according to Synergy Sports. Lawson is producing 0.62 points per possession in those scenarios.
2012-13 was supposed to be a season of continued ascent in the floor general's young career. Instead, he's scoring two fewer points per game even though he's putting up a career-high 13 shots per game.
Let's see if Lawson can improve his scoring efficiency as we enter the second half of the season.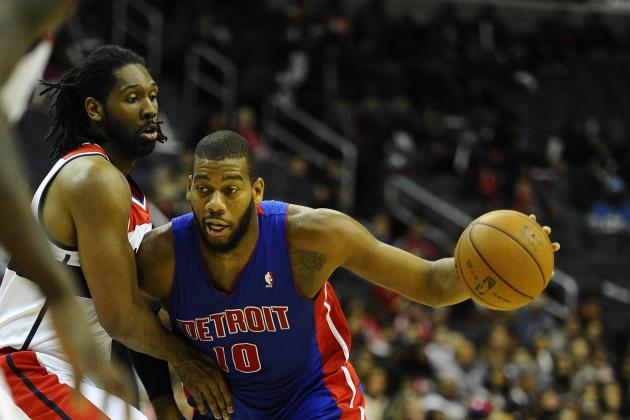 USA TODAY Sports

Weakness: Right-handed dribble
Greg Monroe isn't horrendous with his right hand, but his left-hand dominance is hurting his ceiling in Detroit.
The 6'9" Pistons power forward has become a bright spot for the franchise the last couple years, but defenses are still able to contain his skills by steering him right. Monroe is much more comfortable driving left, which makes it easier for elite defenders to bottle him up.
Until he develops a better right-hand drive and right-hand step-back, there's a concrete limit to how much he can accomplish offensively.
Overall, Monroe is a promising post player. As soon as his skill set grows, he will be a legitimate NBA star.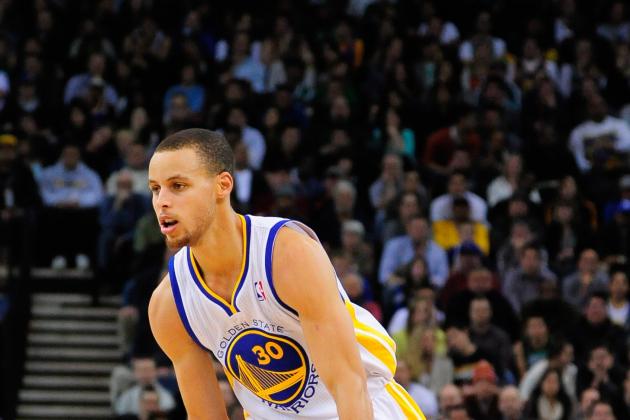 USA TODAY Sports

Weakness: Defensive consistency
Aside from his weak ankles, Stephen Curry's defensive consistency has been his most concerning trait.
The 6'3", 185-pound guard has gradually improved as an on-ball and team defender, but he's still not consistent and is susceptible to intermittent foul trouble.
Sometimes it's due to a matchup issue when a stronger point guard or wing is able to bruise and cruise by Curry. The fourth-year pro has yet to master the tricks of dealing with bigger guards.
He could gradually become an above-average defender over the next few years, but for now, it's the part of his game that requires an upgrade.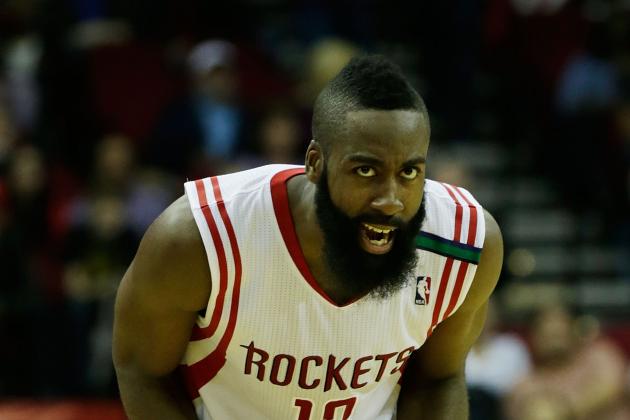 Scott Halleran/Getty Images

Weakness: Three-point choices and execution
James Harden has supplied a bushel of highlights for Houston Rockets fans during his first few months with the organization.
He's also tossed up his fair share of errant three-pointers.
Harden has the ultimate green light from Kevin McHale, which explains some the high-volume and low-percentage nights. But his shot selection could still be better.
He's never been a dead-eye from long distance throughout his career, but Houston needs him to do better than 33 percent and 25 percent in isolation.
An improved approach and consistency would make him a more dynamic player than he already is.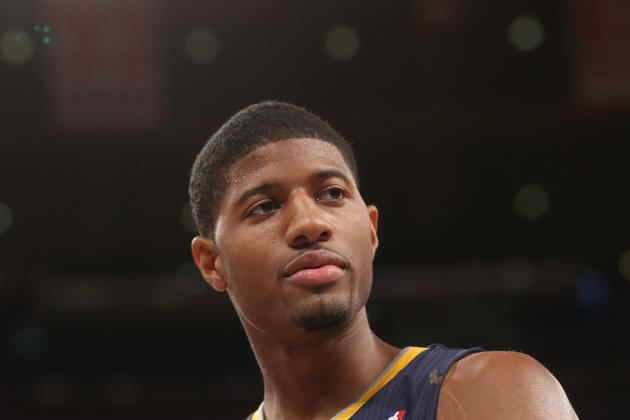 Bruce Bennett/Getty Images

Weakness: Unproductive on the road
Indiana Pacers rising star Paul George has taken his game into another gear in 2012-13. He's scoring, dishing and rebounding at a high clip and buoying his team to third in the East.
Unfortunately, he's doing a lot more damage at home than on the road. Bleacher Report Indiana Pacers columnist Dan Gruchala exposes George's lopsidedness:
When the Pacers venture onto other teams' courts, however, things change dramatically for George. His points per game drop from 21.5 to 13.9. His field-goal percentage? It drops from 48 to 37. But the most glaring and inexplicable difference of all: His three-point shooting percentage drops from 49.6 percent at home to an astoundingly low 26.2 percent on the road.
Frank Vogel would love to see more of a killer instinct from George moving forward.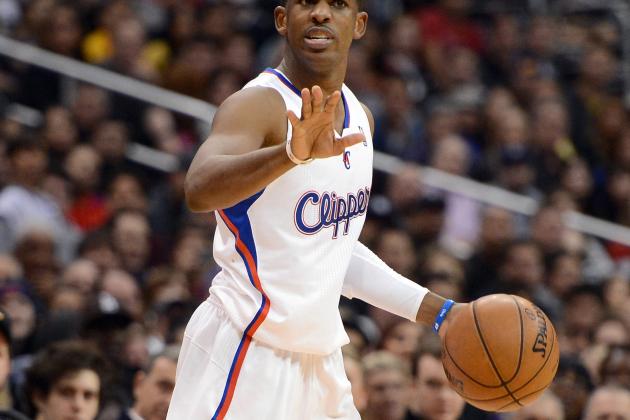 Harry How/Getty Images

Weakness: Defensive closeouts and contesting
I'll admit I'm nitpicking here, but that's what you have to do when critiquing the work of an MVP-caliber player.
Chris Paul is a superb defender, and he's adept at getting opposing point guards out of their flow and creating turnovers. However, when his foes do get in decent position, he's having trouble contesting their jump shots and thwarting their drives.
He's doing his best to prevent it from happening, but opponents are shooting 47 percent against him in isolation, including 56 percent from three-point range.
If he was a bit taller or more explosive, it might be a different story.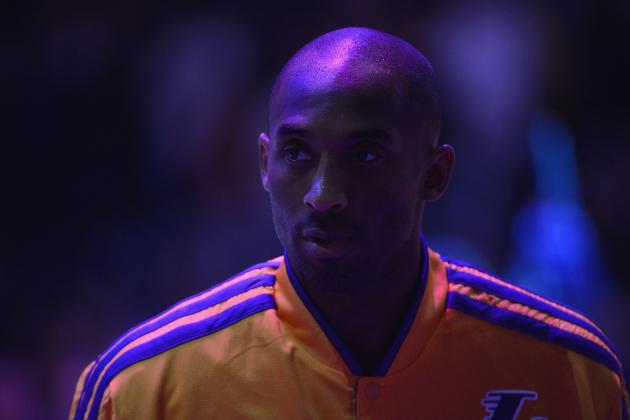 Harry How/Getty Images

Weakness: Pick-and-roll efficiency
There's not much wrong with Kobe Bryant's game, but even the Black Mamba has flaws. Bleacher Report NBA Lead Writer Josh Martin is on to something, and the numbers back it up.
Is it just me or is Kobe not so great running the pick-and-roll? @lakers #nba

— Josh Martin (@Josh_E_Martin) November 28, 2012
Bryant is indeed an underwhelming pick-and-roll player. He isn't a point guard by trade, so he lacks the rhythm and reflex passing that someone like Steve Nash has.
Out of all of Kobe's basic offensive plays, he has the highest turnover percentage on pick-and-rolls (13.8 percent), according to Synergy Sports.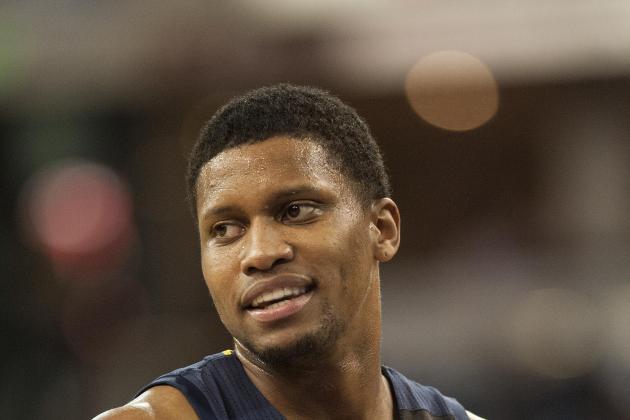 Ed Szczepanski-USA TODAY Sports

Weakness: Outside shooting consistency
Memphis Grizzlies small forward Rudy Gay has struggled with outside shooting consistency for much of his career, and the 2012-13 campaign has been one of his worst stretches yet.
Gay is 34-of-112 (30 percent) from distance this season, but his percentage isn't really the most unsettling number.
The most concerning number is 17, which represents how many games he's gone scoreless from beyond the arc so far in 2012-13.
That kind of frequent power outage doesn't help a Grizzlies club that's making less than five triples per game. Lionel Hollins lacks depth at the swingman positions and can't afford slumps from Gay.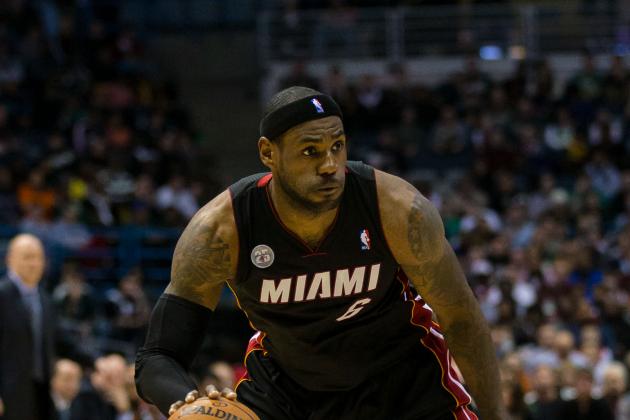 Jeff Hanisch-USA TODAY Sports

Weakness: Dribble pull-up three-pointers
When he drives to the hoop or catches the ball in rhythm, Miami Heat megastar LeBron James is arguably the most dangerous all-around player in basketball history.
However, when he pulls up from distance off the dribble or tries to create an outside shot in isolation, he's not as lethal.
As a spot-up three-point shooter, James shoots 53 percent. Off the dribble, he hits just 32 percent.
The reigning MVP and defending world champ makes life easier for opponents and more difficult for his own team when he settles for pull-up threes. The Heat are less dynamic and much more one-dimensional when defenses can convince LeBron to toss triples off the dribble.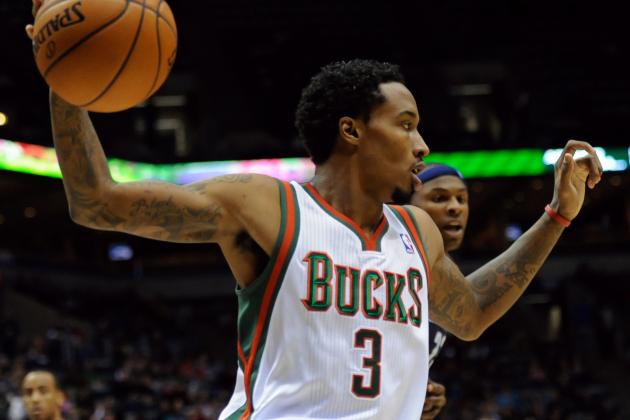 USA TODAY Sports

Weakness: Scoring in the paint
Brandon Jennings is working on improving his shot-making skills in the paint, but it's still a hole in his game.
The Milwaukee Bucks point guard hasn't been a model of efficient shooting during his four-year career, and his struggles in the paint contribute to that inefficiency. Lack of balance and poor decision-making are the main
Steve von Horn of Brewhoop.com notes that Jennings shot 39 percent in the paint outside the restricted area in 2011-12. Von Horn noted that this mark was much worse than his athletically-inferior teammate Beno Udrih, who shot 51 percent in the same area.
There are several aspects of Jennings' play that need cleaning, but this is one of the most concerning. He needs to convert more often when he gets that close to the hoop.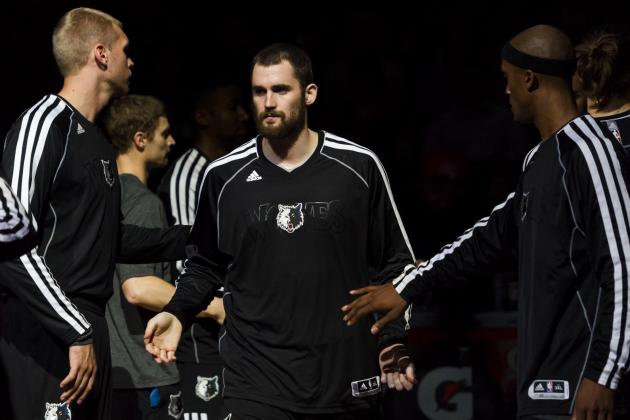 USA TODAY Sports

Weakness: Advanced ball-handling
Kevin Love has struggled shooting from outside to start the 2012-13 campaign, but that's not his biggest basketball weakness when we look at the big picture.
He's not a bad ball-handler, but he's relatively ineffective when he tries to create anything off the dribble.
His handle is plenty good enough to be effective in the post, but when he roams out to the perimeter, it gets dicier. Love doesn't have the ambidexterity to cross back and forth or drive strong with the left.
Love's shooting skills make him a stretch 4 with the ability to be a combo forward. Unfortunately, his dribbling limits his effectiveness on the wing. It's a good thing he's a machine in the paint.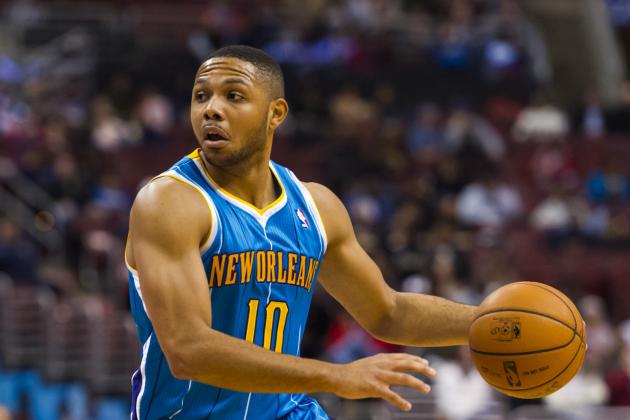 USA TODAY Sports

Weakness: Staying healthy
Eric Gordon is clearly the best player on the New Orleans Hornets, and he has some exciting years ahead playing with Anthony Davis.
But we can't really assess him as a Hornet yet, for better or worse, until we get a large sample of playing time. He's healthy now, but we've only seen 10 games thus far. Gordon has played a total of 19 games for the Hornets over the past two years.
We haven't seen the shooting guard enough since 2011 to see how he fits and how far he can take this franchise.
Therefore, his most glaring weakness at this stage in his career is his health.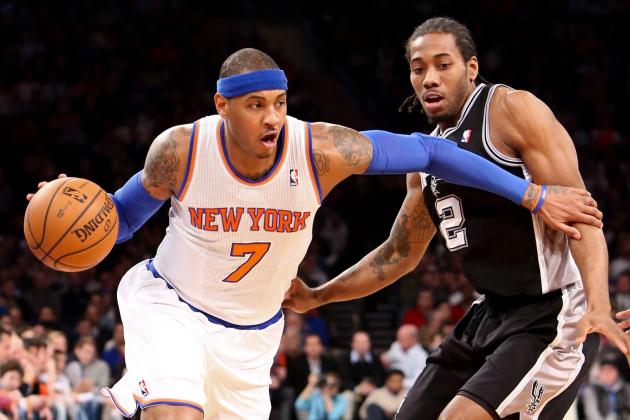 USA TODAY Sports

Weakness: Defensive focus and consistency
This isn't some knock on Carmelo Anthony's defense or a suggestion that he's a lazy or uncommitted defender.
The New York Knicks have benefited from Anthony's defensive efforts on several occasions this season, but he's not a game-in, game-out stopper. He has noticeably improved, but he's not quite there yet.
'Melo has moments and stretches where he supplies commendable defensive intensity, technique and awareness. Other times, he hits a lull or slides into a lapse in focus.
He'll never be a lockdown defender like the league's best, but he can continue to improve.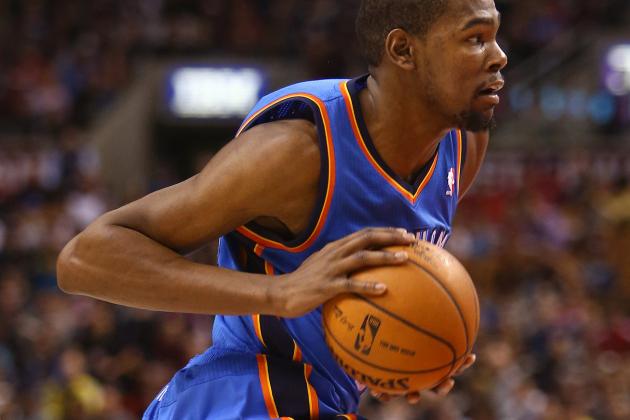 Tom Szczerbowski-USA TODAY Sport

Weakness: Strength
It's simple: Until Kevin Durant can handle the NBA's most powerful players, his lack of strength will be considered his greatest flaw.
LeBron James overpowered him in the 2012 NBA Finals, but he's not the only one who will try to rough him up this spring. Every opponent will try to wear him down, and we'll see if he stands victorious at the end of June.
Even though he got stronger in the offseason, Durant is only 235 pounds, which is unseemly for a 6'9" forward with a seven-foot wingspan. Getting position on the block is difficult for him, as is defending power forwards in close quarters.
Most of the time he can get away with being so wiry. Nevertheless, it's a disadvantage he deals with on a regular basis.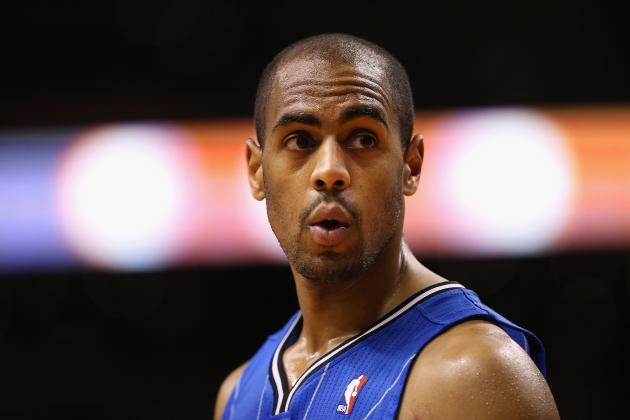 Christian Petersen/Getty Images

Weakness: Earning high-percentage mid-range shots
Arron Afflalo shouldn't get too excited that we crowned him the best player on the Orlando Magic. Considering the team's dearth of talent, it's not a magnificent honor.
He's a solid all-around player who asserts himself intensely on both ends, but his offensive repertoire is limited when it comes to using the glass or finding a balanced mid-range jumper.
Afflalo isn't adept at using a jump-stop or a close-range bank shot, as he usually attempts a layup or something outside 12-14 feet.
He's decent at creating his own shot, but he's just not as smooth as the most effective shooting guards in the league.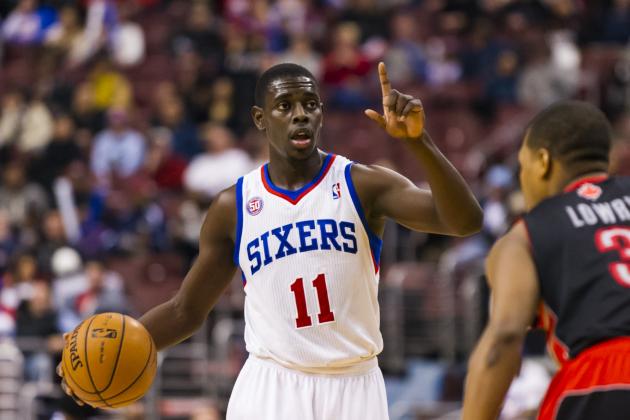 USA TODAY Sports

Weakness: Turnovers
Since he stepped up as the clear-cut primary floor general for the Philadelphia 76ers, Jrue Holiday has delighted fans with his creativity, passing skills and scoring prowess.
He's also coughed up the ball countless times.
Holiday is notching 3.8 turnovers per game, and many of those turnovers are due to errant passes and unpolished decision-making.
Doug Collins is asking a lot of him, especially with Andrew Bynum out. But time and experience at the helm might be the only real medicine for this young point guard.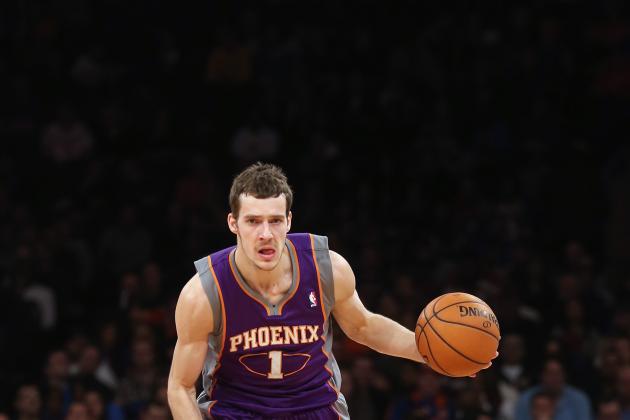 Bruce Bennett/Getty Images

Weakness: Shot selection
Goran Dragic is the most effective scorer on the Phoenix Suns, but he's taking the third-most shots.
The club doesn't need him to start hoisting a bevy of shots every night, but he must be more assertive when the time arises.
Bleacher Report Phoenix Suns columnist Roberto Payne explains that Dragic's weakness here is partially due to the teammates surrounding him.
Chief among those weaknesses is his tendency to pass up open shots. Far too often Dragic overlooks an open shot and forces a pass to his less talented teammates...Dragic does his team a disservice by passing up open shots.
As the team's primary facilitator, it is Dragic's job to get his teammates involved—but not at the expense of high-quality shots of his own.
Craig Mitchelldyer-USA TODAY Sports

Weakness: Athleticism and agility
If Portland Trail Blazers star LaMarcus Aldridge was more fluid in motion and explosively athletic, he'd arguably be the best power forward in basketball.
I'm not saying he's robotic or painfully unathletic, but in today's NBA, he's an average athlete at best.
Rarely does he display enough hang time to adjust his shot in the air. Also, his lack of quickness limits his chances to get around defenders.
Luckily, he has enough strength, length and skill to score on the interior and mid-range against most post players.
Cary Emondson-USA TODAY Sports

Weakness: Maintaining focus for 48 minutes and beyond
Third-year pro DeMarcus Cousins is quickly becoming one of the best post players in the NBA.
The Sacramento Kings are blessed with his array of skills on the block and from mid-range, and he's got great hands and instincts for rebounding.
What he hasn't exhibited is a sustained focus on the task and the team's overall goals. Cousins is gaining notoriety for getting caught up in petty battles within a game and also losing focus on the team theme while feuding with coaches.
For any basketball player, the worst kind of weakness to have is a mental lapse. Skill deficiencies and physical ineptitude are one thing, but mind games are a tough thing to deal with.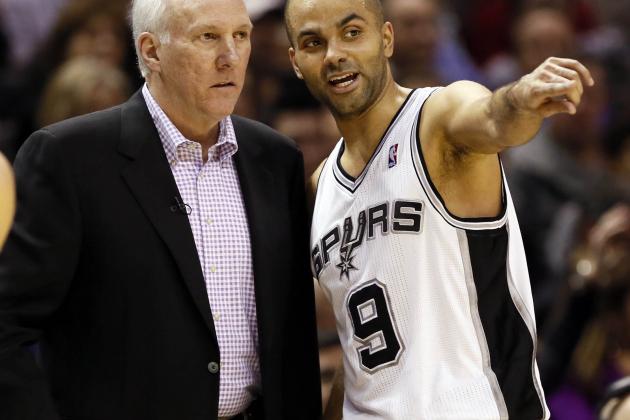 USA TODAY Sports

Weakness: Three-point shooting
On first glance, it may seem like Tony Parker has ironed out his three-point shooting woes. He's 20-of-50 (40 percent) so far this season, which is miles ahead of where he was in 2011-12.
But his long-distance consistency leaves something to be desired. The confidence and the execution are somewhat shaky.
To give you an idea, he hasn't hit a three-pointer in more than 10 days, and he's enjoyed a total of three multi-triple games in 2012-13.
San Antonio doesn't always need him to fire away from deep, but they would welcome more production from Parker.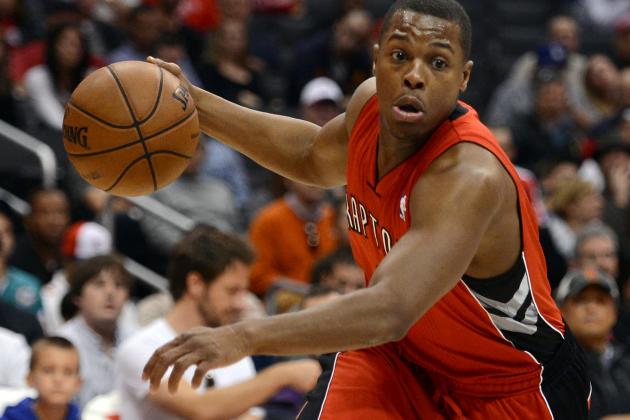 Harry How/Getty Images

Weakness: Maintaining health for full season
Kyle Lowry was only able to stay healthy for more than 85 percent of the campaign during three of his first seven pro seasons.
When he does play, he's great, and he's had a decent stint as a new member of the Toronto Raptors. But his ankle prevented him from getting the season off to a smooth start, and even when he did return from injury, he wasn't close to 100 percent.
Nothing is more detrimental to Lowry's success, track record and future opportunities than his health. As an injury-prone player, he may not get many more chances in the NBA.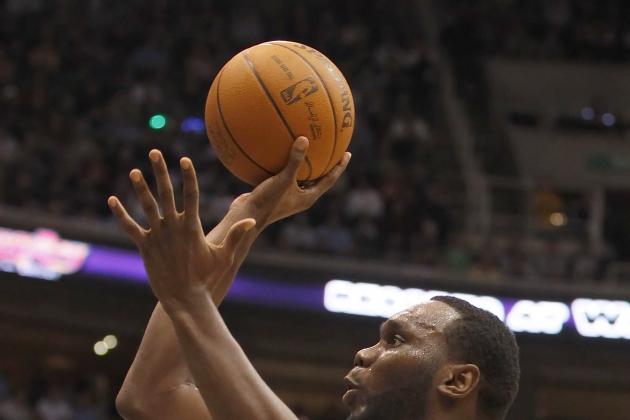 George Frey/Getty Images

Weakness: Getting opponents into foul trouble
For a guy with such a polished post game filled with pivots and pump fakes, you think a veteran like Al Jefferson would draw more fouls.
But over the last four years of his career, the Utah Jazz center has attempted less than four free throws per contest. That translates to just two or three fouls drawn per game.
Jefferson is getting ample playing time, has the physical tools and the craftiness to put pressure on opponents. He just needs to put those tools to better use.
What's most frustrating for Tyrone Corbin? Jefferson is making 85 percent of his 3.1 attempts per game. They have to find a way to set him up more often.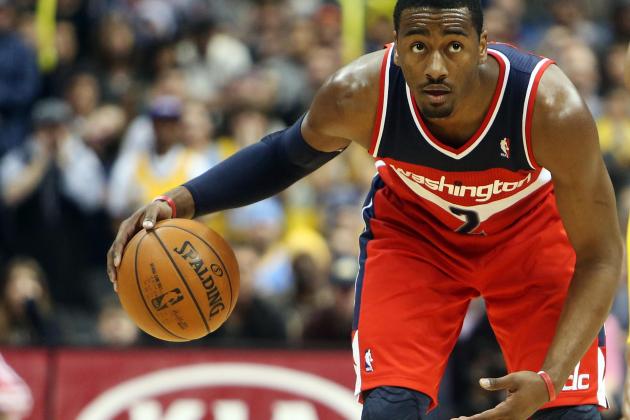 USA TODAY Sports

Weakness: (Tie) Outside shooting and turnovers
Washington Wizards point guard John Wall is almost as dangerous to himself as he is to opponents.
The 6'4" third-year pro is phenomenal on the move, as defenders hardly have time to discern whether he's taking the ball to the cup or dishing it to a teammate. However, Wall frequently doesn't have time to discern either, and the ball ends up with the other team.
As for basic skills, Wall's most glaring flaw is his outside shooting. He hasn't found a groove from NBA range yet in his career, as evidenced by his 23 percent mark from downtown.
With a more fundamental shot and better control of the ball, Washington's leader could be an All-Star in the near future.