NBA Ballers Flying Under the Radar This Season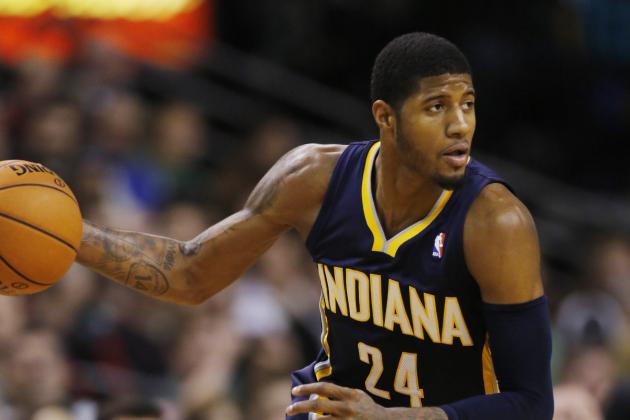 Greg M. Cooper-USA TODAY Sports

The NBA is a league built on star power, which makes it hard for lesser-known players to get the shine they deserve. With guys like LeBron James and Kevin Durant hogging the spotlight, it's a little too easy for the league's hidden talents to fly under the radar.
We're out to change that here, as we comb through the league to find the underappreciated gems, the role players whose names you should know and the true stars nobody's talking about. We're not confining our list to guys who are on the cusp of having household names, although some of them are getting pretty close to that status.
What we're after are players who just aren't getting their due.
Some guys are stuck on small-market clubs, while others play for teams with no hope of sniffing the playoffs. Still more go unnoticed because they do things that don't tend to show up on nightly highlight shows.
Let's put an end to that, shall we? Here are five NBA ballers flying under the radar. They won't be used to getting your full attention, but they're all certainly deserving of it.
Begin Slideshow

»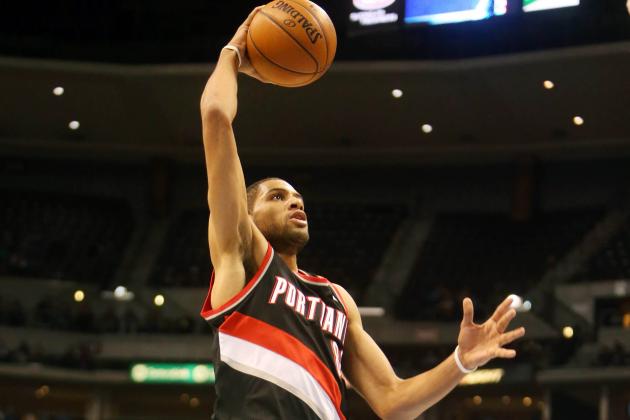 USA TODAY Sports

Nicolas Batum can't catch a break.
Apparently, All-Star voters weren't interested in watching an impossibly rangy 6'8" swingman who can play lockdown defense, run the break and bury threes. That's a bit strange, as Scottie Pippen never had any trouble making the league's annual February exhibition game.
The Portland Trail Blazers' versatile young wing is still a ways away from warranting the comparison to the Chicago Bulls' do-it-all forward, but there are certainly some similarities. That makes the fact that Batum finished nowhere near the top 10 in voting feel pretty darn unfair.
Batum can guard four positions, has fantastic length and athleticism and is clearly developing a well-rounded game. He has increased his scoring average in every season of his career, culminating in a very solid 16.8 points per game this season.
But what's particularly amazing is his sudden ability to involve his teammates. Batum has more than tripled his assists per game from last year, as he's currently averaging 4.4 dimes per contest.
With Damian Lillard and LaMarcus Aldridge soaking up most of the spotlight in Portland, it's somewhat understandable that Batum can't seem to get the recognition he deserves. But with every spectacular chase-down block and soaring drive to the rim, he's getting closer.
For now, though, he's flying way under the radar.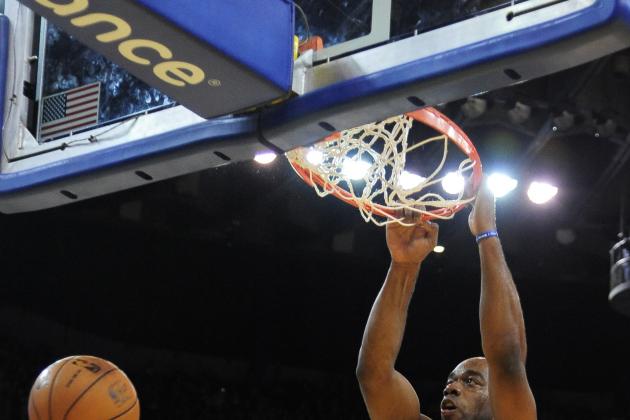 USA TODAY Sports

Perhaps part of the reason Golden State Warriors power forward Carl Landry has flown under the radar is that he has moved around so much that it's become impossible to detect his location. Playing for his fourth team in six years, Landry seems to have finally found a home with the Dubs.
Maybe that'll help get him gain some recognition.
In just 25 minutes per game, Landry is averaging a staggeringly efficient 12.1 points and 6.6 rebounds on 53 percent shooting. He's a complete beast in the post, and in one-on-one situations down low, you can pretty much forget about it.
He's either scoring or going to the line, where he shoots a terrific 81 percent.
Defensively, Landry has been good enough to finish games alongside David Lee in the frontcourt, where he makes up for his lack of size with brute strength and excellent positioning.
As pundits and fans search for explanations as to why the Warriors have been so surprisingly good this season, they're finding that Landry is on the short list of reasons. His workmanlike attitude and production in the paint have been godsends for Golden State.
It's too bad that so few people have noticed.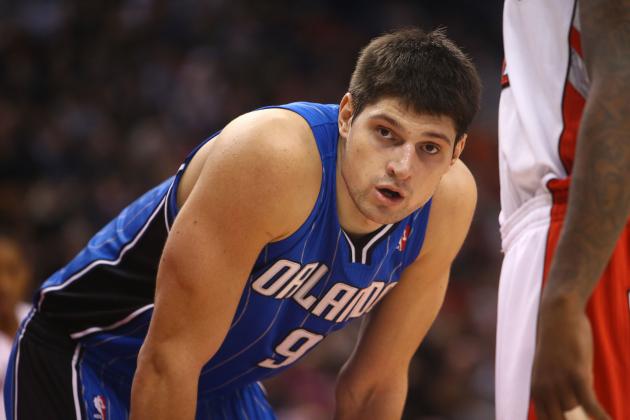 Tom Szczerbowski-USA TODAY Sports

You'd think it'd be impossible for a 22-year-old seven-footer to fly under the radar, but despite easily averaging a double-double, most people still have no idea who Nikola Vucevic is.
Seemingly an afterthought in the trade that shuffled Dwight Howard, Andrew Bynum and Andre Iguodala, Vucevic got a little notoriety for his incredible 29-rebound performance against the Miami Heat on Dec. 31. But since setting an Orlando Magic record with his dominant glasswork, he has faded back out of the news cycle.
And that's absurd, considering he has averaged 14.4 points and 14.7 rebounds on 56 percent shooting in his past 10 games.
The young big man is surprisingly skilled inside, capable of finishing with both hands and has a phenomenal motor. You don't get 29 rebounds in a game by accident.
Unfortunately, Vucevic is stuck playing in one of the NBA's worst markets for a team that has lost 12 of its past 14 games. It's hard to get noticed under those circumstances, but if Vucevic keeps climbing the rebound leaderboard (he's currently third in the NBA with 11.1 pulls per contest), it'll be impossible for him to stay so anonymous forever.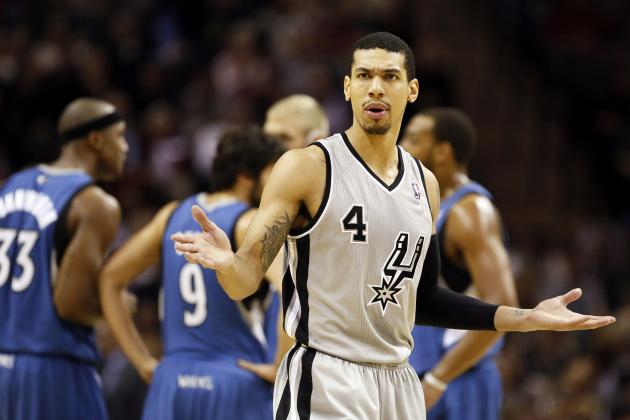 USA TODAY Sports
Where's the love, guys?
The San Antonio Spurs ask Danny Green, the NBA's preeminent "three and D" specialist, to do two things: lock up opposing wings and knock down long-range bombs from the corners.
Because he accomplishes each of those tasks with spectacular efficiency, he has carved out a significant role on the league's smartest franchise. Unfortunately for him, though, most NBA fans have no idea how valuable he is.
Green plays just 27 minutes per game and only shoots the ball about eight times per contest. On average, five of those attempts come from beyond the three-point line, where he shoots better than 40 percent.
When he's not bombing away on offense, Green is expending his energy on the opposing team's best wing scorer. Thanks to his length, hustle and athleticism, opposing shooting guards and small forwards post PERs of just 14.2 and 10.4 against him, respectively (per 82games.com).
Each of those figures are below the league average.
He's not a star and probably never will be. But we set out to shine light on players who aren't getting the notice they deserve. Because Green fulfills the specific needs of his team better than anyone, he belongs on our list of players who we should appreciate more than we do.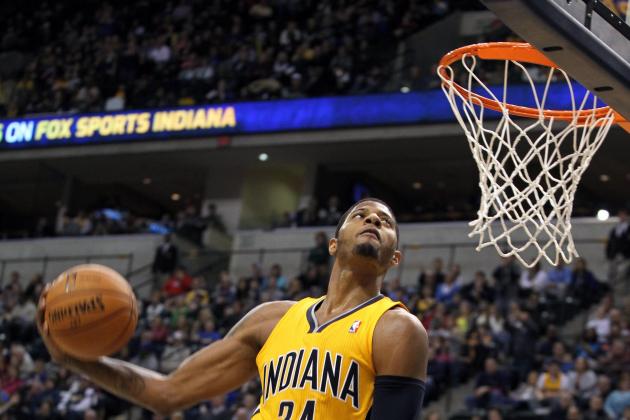 Brian Spurlock-USA TODAY Sports

If you're not an Indiana Pacers fan, chances are you don't know that Paul George is playing at an All-Star level right now.
The third-year man from Fresno State has stepped right into the alpha-dog role vacated by the injured Danny Granger and led the Pacers to the third-best record in the Eastern Conference. He's a key to their league-best defense, as his length and athleticism make him a nightmare on the wing.
But he's not just a stopper.
George's scoring numbers have gone up in every month this season, culminating in a January average of 20.1 points per game. On the year, he's putting up 17.3 points, 7.7 rebounds and 3.7 assists per contest. Not bad for a guy many thought was just a dunker when he was drafted.
In perhaps his most notable game this year, George outplayed LeBron James on both ends of the floor in an 87-77 win over the Miami Heat on Jan. 8. He limited the league's reigning MVP to just 22 points while forcing seven turnovers. On the other end, George scored 29 of his own and carried the Pacers to a huge win in the second half.
Despite his consistent improvements and big moments against top competition, George is never discussed in the same breath with the league's elite players.
If he keeps this up, it'll be impossible for him to continue flying below the radar.