Los Angeles Lakers vs. Toronto Raptors: Postgame Grades and Analysis for L.A.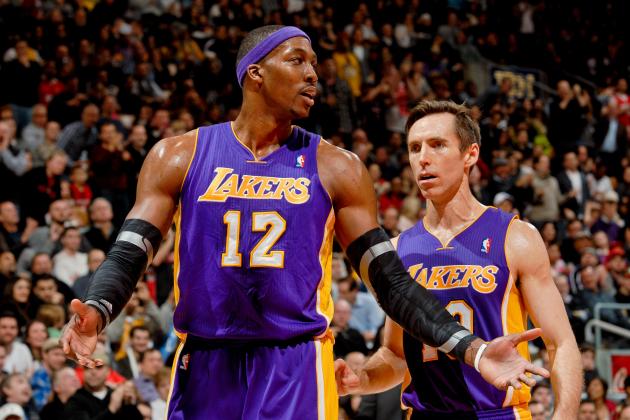 Jayne Kamin-Oncea-USA TODAY Sports

In the continuation of an indescribable downfall, the Los Angeles Lakers lost to the Toronto Raptors, 108-103.
It was downhill from the opening tip, as the Raptors jumped out to a 25-9 lead in the first quarter. The Lakers began to close the gap during the second quarter, but the unthinkable transpired.
Dwight Howard picked up his second technical foul and was ejected with 1:18 remaining in the first half.
There it is--told you something weird always happens in Toronto:Dwight Howard ejected, seemingly for no reason.Wow...

— John Ireland (@LAIreland) January 20, 2013
Howard had his arms locked with Alan Anderson during a free-throw rebound. That was his technical foul.
Seriously.
Unfortunately, D-12's ejection was the least of L.A.'s worries. The Lakers were down by as many as 19 points and never managed to close the gap. Even the Lakers' token fourth-quarter run proved to be meaningless as their defense never found its rhythm.
This has become a consistent staple during Mike D'Antoni's tenure. Even still, we cannot ignore one very important fact: Every Laker on the floor was at fault tonight.
Begin Slideshow

»
Overall Grade: C
Minutes Played: 37
+/-: -4
Stat Line: 16 points, 9 assists, 1 rebound, 1 steal, 3 turnovers, 4 fouls
Steve Nash was exposed defensively and did "too little, too late" offensively. Jose Calderon led all Raptors scorers with 22 points, mostly vs. Nash.
Nash consistently failed to defend the drive, fouling or allowing his opponent to find open shots near the free-throw line. This was a major aspect of the Lakers' devastating loss.
It also neutralized a relatively strong performance by Nash on offense.
For the game, Nash finished with 16 points and nine assists on 5-of-11 shooting from the floor. He also hit 2-of-3 from beyond the arc. Nash also sparked a late-game push with a three-pointer. Nash had five points and five assists during that attempt for a comeback.
The Lakers came up short.
Nash partially saved his grade with his late-game heroics. Unfortunately, this is a four-quarter sport.
Nashty saved his best for last and provided nothing before.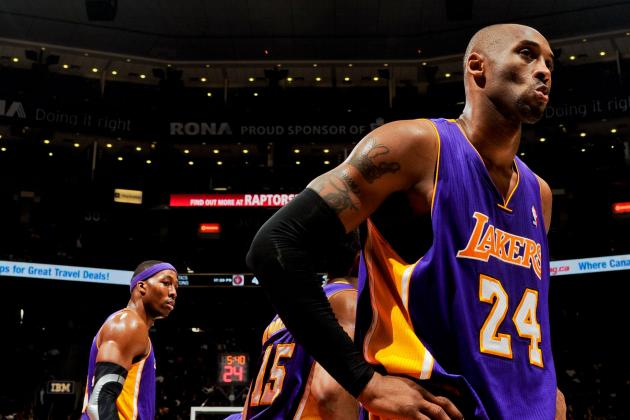 Overall Grade: D+
Minutes Played: 43
+/-: 0
Stat Line: 26 points, 5 assists, 4 rebounds, 2 steals, 1 block, 6 turnovers, 10-of-32 FG, 3-of-12 3PT
Kobe Bryant made just five of his first 20 shots.
Bryant played phenomenal defense on Jose Calderon to break an early run by Toronto. After pressing him in the corner and forcing a pass, he blocked Calderon's three-pointer later that possession.
That was the extent of his defensive effort.
Bryant allowed Landry Fields to run freely along the baseline and convert three dunks in the third quarter alone.
When the Lakers began to struggle in the third, Bryant continued to go with his perimeter game as opposed to high-percentage looks. As a result, L.A. made no dent in the Raptors' lead.
And then came the fourth quarter.
Kobe scored 11 points during the final period of play, thus bringing the Lakers back from a 19-point deficit to that of just six. Unfortunately, it was more of the recent same.
Too little, too late.
Bryant shot 10-of-32 for the game. Kevin Durant went 13-for-31 during his 52-point outing on Friday vs. the Mavs. The difference is, KD went to the line 21 times and won. Kobe went just three times today.
Rough.
As for those defending Bryant, he took this one on his shoulders.
Kobe: "That's on me. I'll take this loss on me, gladly. There were a lot of easy shots. A lot of them I should have put down and I will."

— Holly MacKenzie (@stackmack) January 20, 2013
The sign of a leader. Unfortunately, the loss matters most.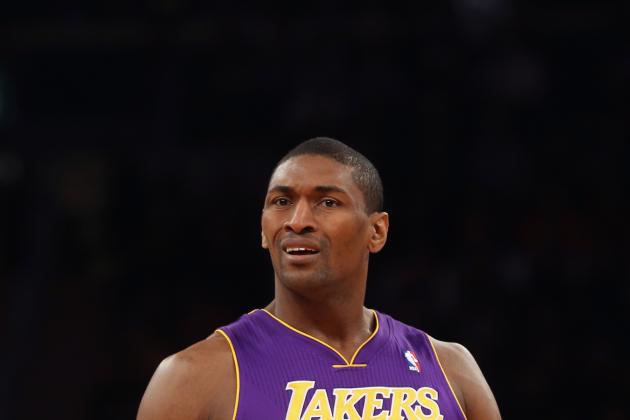 Bruce Bennett/Getty Images

Overall Grade: C
Minutes Played: 26
+/-: -11
Stat Line: 9 points, 3 rebounds, 3 steals 3-of-9 FG, 2-of-6 3PT
In recent games, Metta World Peace has been the key to the Lakers' success. Today, he was just another player attempting to stop the bleeding.
His best efforts couldn't change this one.
Missing two wide-open threes during the first quarter proved that.
Metta came up huge with 1:18 remaining in the second quarter by hitting a contested layup for an And-1. Unfortunately, that momentum ended within a matter of moments.
Dwight Howard received his second technical foul on MWP's free throw and was, in turn, ejected.
World Peace wasn't discouraged, making a great play out of the post. He slapped the ball out of Ed Davis' hands and created a transition finish.
MWP just didn't do enough of this against Davis.
Davis finished with 18 points and eight rebounds. This was partially on Pau Gasol, but World Peace played a significant role in the Lakers' inability to stop the southpaw.
MWP wasn't at fault for this one, but he appeared to be as lost as the rest of them.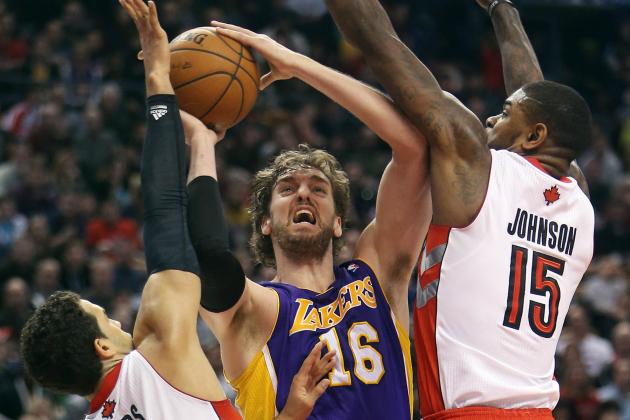 Overall Grade: B
Minutes Played: 33
+/-: -2
Stat Line: 25 points, 5 rebounds, 2 assists, 1 block, 10/15 FG
Believe it or not, Pau Gasol was the best player on the floor for the Los Angeles Lakers.
That's what happens when you let him play in the post.
For the game, Gasol finished with 25 points, five rebounds, two assists and a block on 10-of-15 shooting. He converted 5-of-6 free throws, as well.
Unfortunately, Gasol was unable to fill Dwight Howard's void from a defensive standpoint.
This was never more evident than during the Lakers' comeback, as the defining moment came at Gasol's expense.
Amir Johnson got away with a push in the back and grabbed a late offensive rebound. This allowed Johnson to put it back in and effectively end the Lakers' comeback.
Although the foul went uncalled, Gasol failed to box Johnson out. It's all a matter of tenacity, which Gasol lacked inside.
A mere five rebounds proves that.
From an offensive standpoint, however, Gasol played very well. He made a beautiful bounce pass to Earl Clark to start a first half rally and made a great ball fake to finish in the second quarter.
Scoring points only helps when you're stopping the other team, though.
Overall Grade: F
Minutes Played: 17
+/-: -7
Stat Line: 5 points, 2 rebounds, 1 assist, 1 block
In one of the worst calls in NBA history, Dwight Howard and Alan Anderson were whistled for double-technicals after locking arms during a free throw rebound.
In turn, D-12 was ejected from the game.
The Lakers' first quarter's struggles came to a head when Howard was called for a technical foul after a non-call. Howard argued what he believed to be a foul and was whistled for a technical foul within a matter of seconds.
In the second quarter, it all fell apart.
Howard and Anderson were lined up along the blocks during a Metta World Peace free throw. As the shot went up, D-12 and Anderson locked arms.
Anderson then jerked his arm away and a double-technical was called. Howard was ejected.
If you want to know how bad the call was, ask Twitter.
Horrible call

— chuck swirsky (@swirsk054) January 20, 2013
That's the current Chicago Bulls play-by-play announcer, folks. Swirsky was once linked to the Toronto Raptors.
If he calls Swirsky chimes in, it was bad. Very, very bad.
Unfortunately, Howard's play wasn't much better than the call.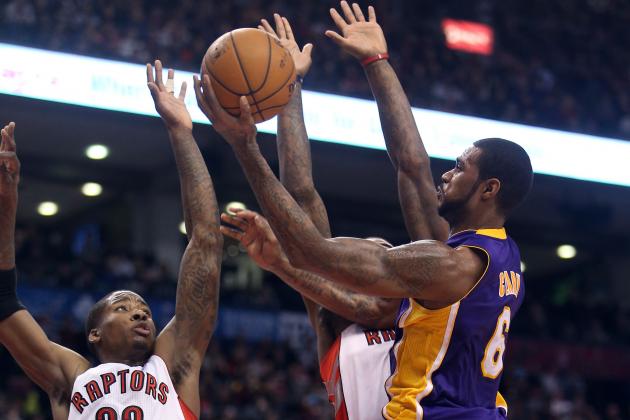 Overall Grade: A
Minutes Played: 35
+/-: +14
Stat Line: 14 points, 14 rebounds, 2 assists, 1 block, 1 steal, 6/10 FG, 1/1 3PT
Earl Clark was phenomenal.
The former Louisville standout finished the game with 14 points and 14 rebounds. He dominated the interior with his athleticism and tenacity, which is something Dwight Howard and Pau Gasol failed to do early.
A trend that continued in the second half.
Clark made a beautiful play late in the fourth, grabbing a Kobe Bryant miss and throwing it down with ferocity. The common theme here continues, though, as it was too little too late.
No matter how impressive it may have been.
Clark is not to fault for this loss, as he made plays on both ends of the floor. Unfortunately, the Lakers' lack of depth was thoroughly exposed.
Clark earned this grade.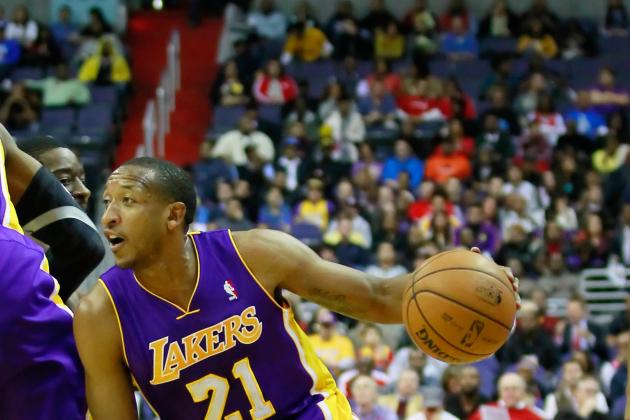 Geoff Burke-USA TODAY Sports

Overall Grade: F
Average +/-: -0.2
Collective Stat Line: 22 points, 22 rebounds, 3 assists, 1 steal, 1 block
See those shiny statistics? Throw them out of the window.
Earl Clark had 14 points, 14 rebounds, two assists, one steal and one block. That leaves eight points, eight rebounds, one assist and no blocks or steals to the rest of the reserves.
The numbers speak to how poorly they played.
Antawn Jamison missed three wide-open three-point field goal attempts. Chris Duhon hit the side of the rim on a wide-open attempt from beyond the arc.
Darius Morris and Robert Sacre played limited minutes but their energy was outmatched by Toronto's efficiency.
This was another poor outing by the reserves.
Yet another game in which Jodie Meeks didn't see a single minute.