Rating the Chelsea Players in 2-1 Win over Arsenal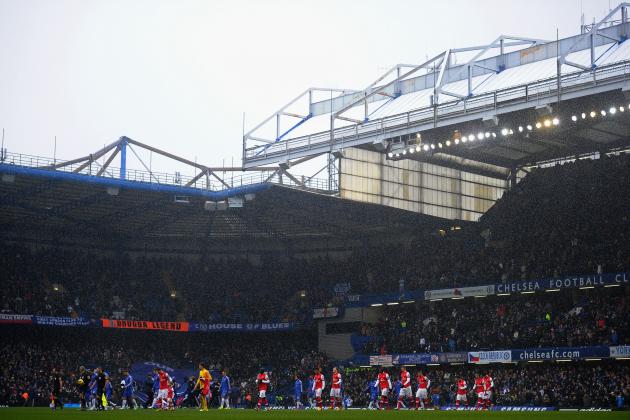 Laurence Griffiths/Getty Images

Chelsea went into this match on a run of two wins in seven at Stamford Bridge, with their opponents Arsenal suffering a similar slide in form. Having been berated for their slow start to recent matches, the home side started quickly. Chelsea took the lead after six minutes through a superb Juan Mata strike.
The sixteenth minute tribute to Roberto Di Matteo was abandoned as all attention was on the Arsenal box. Ramires dithered on the ball and Wojciech Szczesny took him down before getting the ball. Chelsea had a penalty, and although it looked like Fernando Torres wanted to take it, it was captain Frank Lampard who stepped up to the spot to score his 195th goal for Chelsea FC.
The Blues continued to press and had nine shots in the first half, four of which were on target. Arsenal could only counter and had a solitary shot on target before halftime.
After the break Chelsea slowed down, seeming to have forgotten the lesson from their previous fixture against Southampton, that sitting on a 2-0 lead with more than half of the match still to play is a very risky strategy.
Theo Walcott managed to lose his marker and darted down the middle, shooting just inside Cech's left-hand post after 58 minutes. The Gunners managed another five shots on target but failed to make them count. They left Stamford Bridge empty-handed as Chelsea clung on for the win.
Here are my Chelsea player ratings for this wintry win. I start each player on 5/10, and positive or negative contributions are added or subtracted accordingly. All stats are provided by EPLindex.com.
Begin Slideshow

»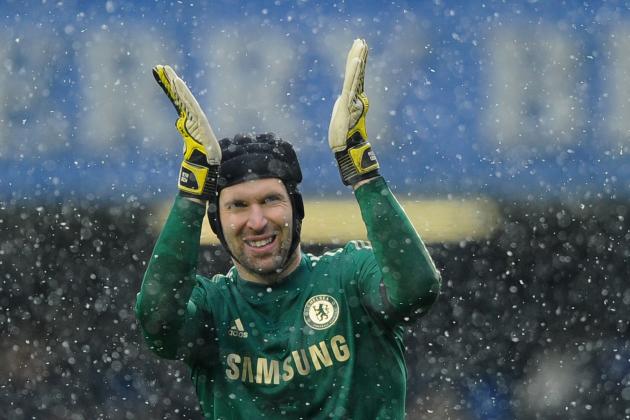 Laurence Griffiths/Getty Images

8/10
Walcott in particular kept Cech busy throughout the game. The Chelsea keeper pulled off five excellent saves and made two successful clearances.
His passing accuracy was a woeful 48 percent, but the weather played a part in hindering visibility.
There was little he could have done for Walcott's goal. Overall it was a solid performance from Cech.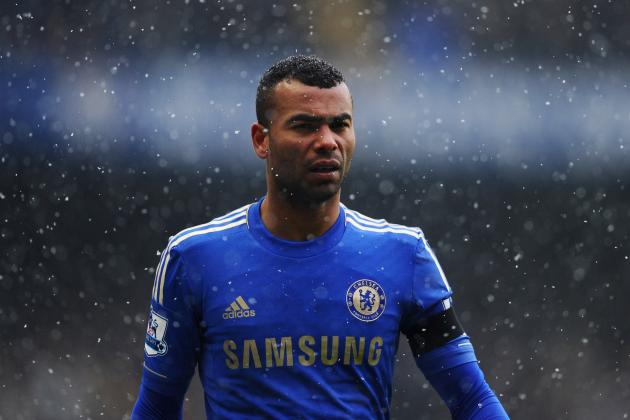 Laurence Griffiths/Getty Images

8/10
Ashley Cole always puts in a solid performance, but against his old club he goes the extra mile. The only time Walcott lost him, he scored, but otherwise Cole was in complete control of the left.
He completed 22 of 27 passes, giving him a total accuracy of 81 percent. He made three successful tackles and cleared the ball from danger three times.
After lengthy negotiations, Cole signed an extension to his current contract this week, and his performance against Arsenal showed that he still has plenty of value to offer this Chelsea side.
Laurence Griffiths/Getty Images

7/10
Ivanovic seemed out of sorts. He made some very important challenges late on in the game to keep Chelsea in front, but he wasn't at his best.
Chelsea's number two completed 28 of 33 passes, giving him an accuracy of 85 percent, and made five successful clearances. Despite this, he didn't seem to have a plan, but it was certainly an improvement on his horror show against Swansea.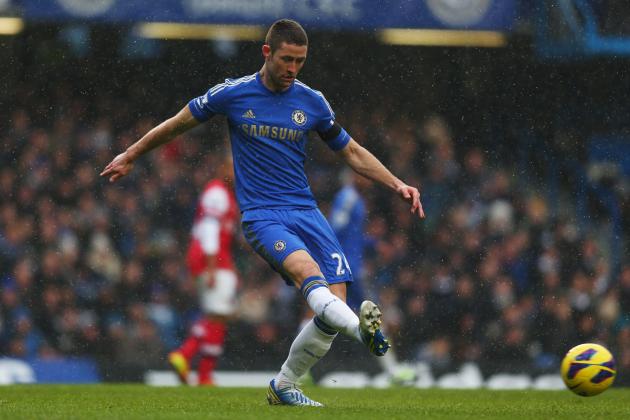 Clive Rose/Getty Images

7/10
With the vast majority of Arsenal's attacking threat coming from the wings, Cahill had little to do in the centre of defence. He still got involved across the park as usual and looked more involved than Ivanovic.
Cahill completed 34 of 37 passes, a 92 percent success rate, and he made five successful clearances. Both he and Ivanovic should have done better at closing Walcott down before he scored, but overall he was the anchor in Chelsea's defence.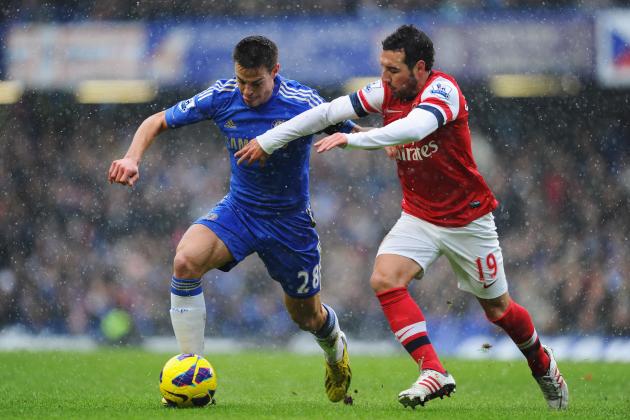 Laurence Griffiths/Getty Images

8/10
Azpilicueta seems to have cemented his position on the right, and he shows great promise in attack. His pass led to Juan Mata's goal, and he found himself in acres of space on a few occasions.
He did well to keep his composure when being hassled by the opposition and won four out of five tackles.
His passing accuracy was 76 percent, and he took seven accurate throw-ins. All in all, it was an impressive performance from the player who arrived at Chelsea in the summer.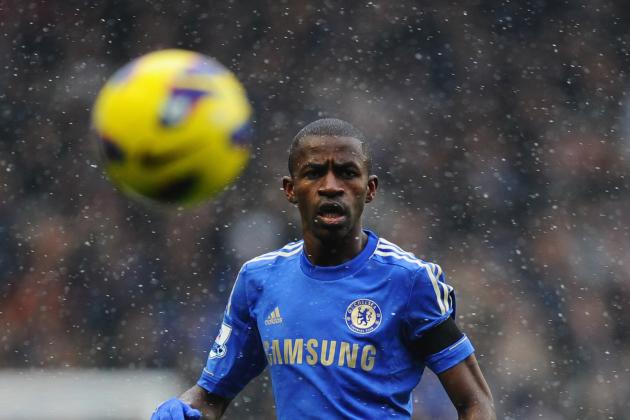 Laurence Griffiths/Getty Images

7/10
Ramires won the penalty that Frank Lampard converted, and he was lucky to do so. Wojciech Szczesny had plenty of time to make the challenge as the Brazilian messed up his touch twice, but the Arsenal 'keeper opted instead to take Ramires down before getting to the ball.
Ramires gave the ball away nine times in the middle of the park and lacked focus. Five of his nine tackles were successful, and his pass completion rate was 84 percent.
He is continually improving, but there is still plenty of work to do on the training ground, as his 50 percent shot accuracy testifies.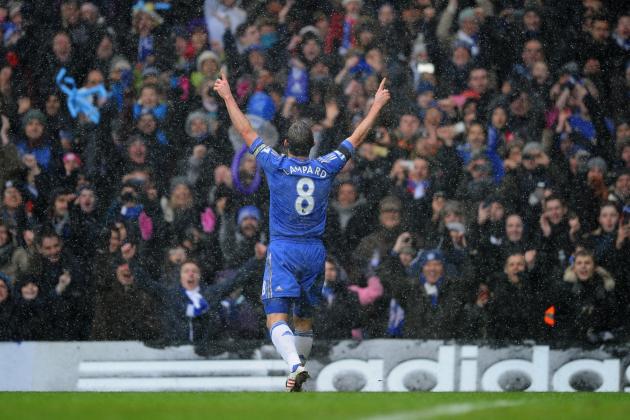 Laurence Griffiths/Getty Images

8/10
With Rafa Benitez opting not to risk John Terry in the ridiculous conditions in West London, Lampard again wore the captain's armband. He spent the whole game organising the team
Lampard also converted the penalty on 16 minutes, giving him a total of 195 goals for Chelsea FC.

He found his man 76 percent of the time, and only Juan Mata had more touches than Frank's 65. With Ashley Cole being given a new deal, there is a glimmer of hope that Lampard will get his wish and be able to see out his career at Chelsea. The excellent performance he put in again can't have hurt his case.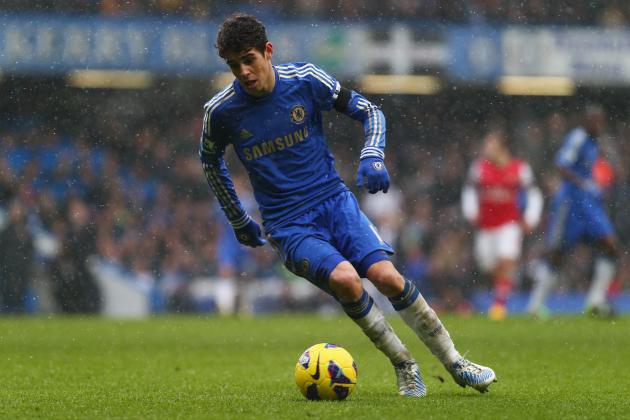 Clive Rose/Getty Images

6.5/10
Oscar worked his socks off, but was out-muscled when he tried to go past players. Ostensibly playing on the left, he kept cutting inside to find his path blocked by three Arsenal players. Much as he managed to get past them on a few occasions, he was not physically strong enough most of the time.
He found himself dispossessed five times and failed to complete a cross. However, he did some good work defensively, tracking back to support Lampard and Ramires. Oscar won four out of five tackles and completed 91 percent of his passes before being replaced by Ryan Bertrand after 72 minutes.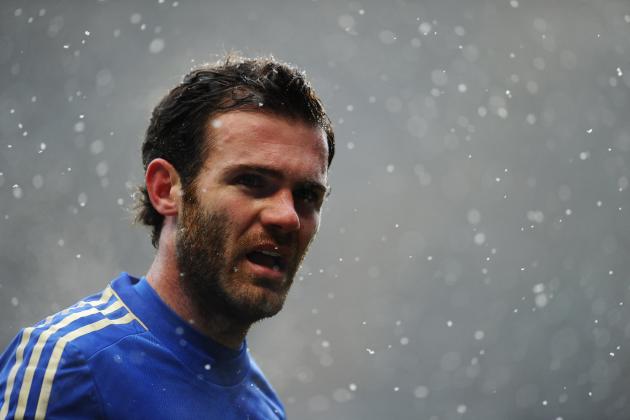 Laurence Griffiths/Getty Images

8/10
Again the centre of Chelsea's chances, Mata linked up well with Eden Hazard throughout the match. He took his goal well, controlling Azpilicueta's pass before lobbing Szczesny whilst under pressure.
His performance dipped in the second half, but when Chelsea managed to break, it was Mata who carried it forward. He completed 43 of 61 passes, a 70 percent accuracy rate, and was only dispossessed once despite having 86 touches.
Mata is Chelsea's engine room, and his performance in this match again proved how vital he is to the team as a whole.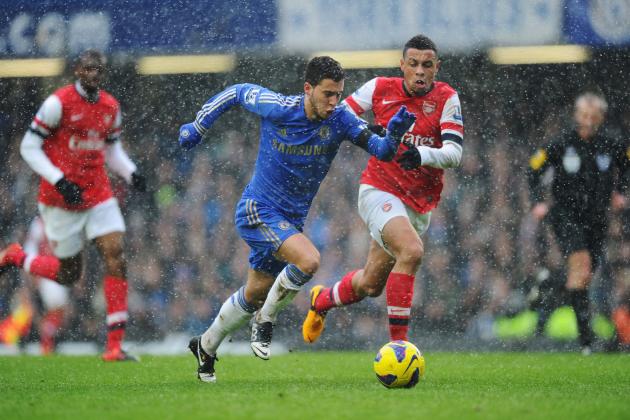 Laurence Griffiths/Getty Images

7.5/10
Hazard played well against Arsenal, providing support for Mata and helping Azpilicueta on the right. He tried a few silly back heels that ended up at the feet of an Arsenal player, losing possession 13 times in total. However, he won possession four times in the defensive third and had a dribbling accuracy of 60 percent.
As well as linking up with Mata, Hazard had two shots saved by Szczesny and completed 34 of 41 passes. Overall it was a good performance, before he was substituted on 88 minutes for Marko Marin.
Clive Rose/Getty Images

6/10
Fernando Torres managed to get his foot on the ball 37 times against Arsenal, 10 fewer than any other player in the starting 11, including Petr Cech.
Again his movement was non-existent, and he spent much of the 81 minutes he was on the pitch trying to get involved in the buildup. In doing so, he created two chances for his teammates, both of which were not converted.
He had two shots, one of which was on target, and completed 17 of 23 passes for an accuracy of 74 percent.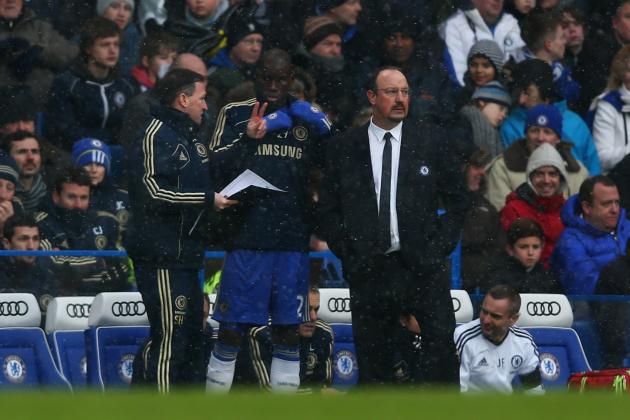 Clive Rose/Getty Images

Ryan Bertrand: 5/10
Bertrand was on the pitch for 18 minutes and completed all four of his attempted passes. He had a shot blocked and won one of his two attempted tackles, all from eight touches.
Demba Ba: 5/10
Ba came on for Torres with nine minutes remaining. He took six touches in that time and nearly scored after rounding Szczesny on the edge of the area, before seeing his shot blocked by a retreating defender.
Marko Marin: 5/10
Marin came on for Hazard with two minutes remaining, leaving him no time to have any impact on the game.