Examining Chip Kelly's 2009 Nike Clinic Presentation: What to Expect in Philly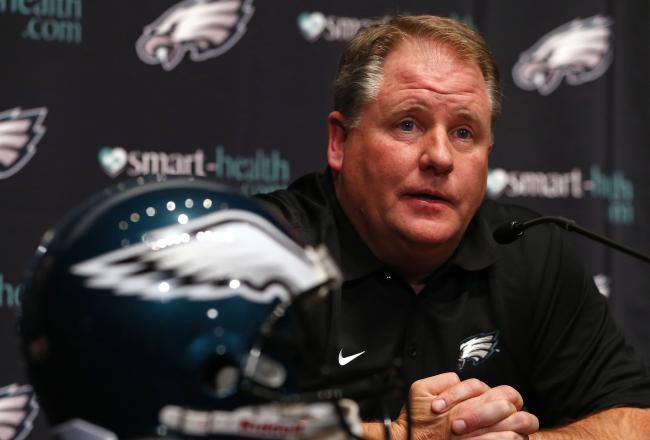 Rich Schultz/Getty Images
In 2009, then University of Oregon head coach Chip Kelly gave a presentation as part of a Nike clinic series. I first stumbled upon that link (thanks to Fishduck.com) when I became interested in Kelly's college spread offense, the one thing that some are skeptical about when it comes to the hiring of Chip by the Philadelphia Eagles.
Since players in the NFL are faster, smarter and bigger than the average college team, read-option plays have only been successful in small doses (take Cam Newton and the Carolina Panthers).
Assuming that Chip Kelly will have neither the personnel nor the ability to run this high-octane offense, what are some similarities that fans might see between the future Eagles and University of Oregon teams of the past?
The first is a preparedness that Kelly speaks of right from the beginning of his presentation.
If you give your players something to hang their hats on, they will perform. If they can run the offense with any scenario they may face, you will be successful in running the ball. If they have all the answers to the problems the defense may give them, they will be good.
This mentality is not specific to any one offense, defense or physical ability of a player. Whether you have speed guys or large guys, being prepared for anything an opposing team can throw at you will lead to inevitable success.
Sure it could have just been rhetoric from the coach, but it's a great sign to see the team's main leader has the ability to preach and teach great characteristics.
The second characteristic is an unrivaled physicality on the offensive line. When describing Oregon's not-so-secret inside zone run play, Kelly doesn't hold back.
We tell our offensive guards and tackles or our centers and guards in their combinations, we want them to be butt-to-butt and cheek-to-cheek in their double-team. We want them handling the defender as if they were a bouncer in a bar throwing him out of the bar.
Because of this physicality and identification by the offensive line, Oregon was able to run slight variations of the same offensive play over and over again for seven to eight yards a carry.
This "over and over again" repetition is the third and final thing Eagles fans can expect from Coach Kelly. From the beginning of the speech, Kelly doesn't hide the fact he likes being simple. While the first two characteristics were to be prepared and to be tough, the third is simply to repeat.
The one thing I cannot understand about [basketball] occurs in the clutch stages of the game. With the game tied and five seconds left, the coach calls a time-out. He picks up a whiteboard and draws a play...If your players have not run that play in a critical situation over a thousand times in practice, you will not have a chance to be successful.
The take away form this quote is, simply enough, why reinvent the wheel? Why hand off to Ronnie Brown on the goal line only to have him chuck it in the end zone, when that play is far from a sure thing?
It goes the other way as well. If the line can be physical enough to create space for your elite running back in LeSean McCoy, why not keep going?
This clinic presentation was really an intermediate explanation on how to run one of the most common and successful Oregon offensive plays. However, at the fundamental breakdown and reasoning is an identity for Chip Kelly. The core of the play represents the coaching potential he brings to the Eagles.
There is no reason why these same characteristics would not and should not translate to the NFL. If Chip Kelly is capable of doing so, Philadelphia may be a team to reckon with for years to come.
This article is
What is the duplicate article?
Why is this article offensive?
Where is this article plagiarized from?
Why is this article poorly edited?

Philadelphia Eagles: Like this team?