2013 NFL Draft: Best O-Line Prospects in This Year's Class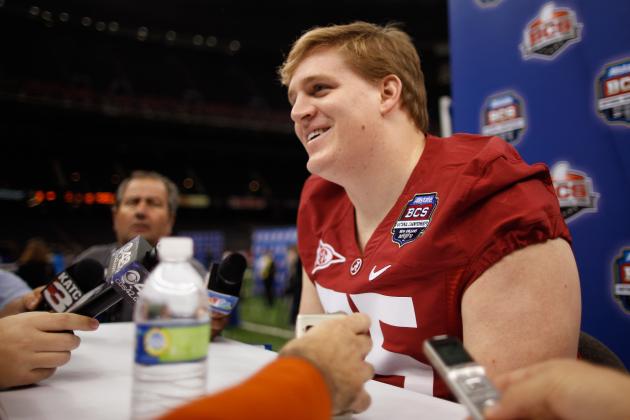 Chris Graythen/Getty Images
Alabama Crimson Tide Center Barrett Jones
Many tend to neglect the importance of offensive linemen, but they are as important as any player on the field and several good prospects will be available at the 2013 NFL draft.
The majority of the teams in the NFL have an issue protecting their quarterback. Plain and simple.
Green Bay Packers quarterback Aaron Rodgers was sacked 51 times during the season, a league-high. San Diego Chargers quarterback Philip Rivers, Cincinnati Bengals quarterback Andy Dalton and Indianapolis Colts quarterback Andrew Luck were each sacked at least 40 times. Twelve other quarterbacks went down at least 30 times.
In order to fix this problem, teams will look to strengthen their offensive lines with some of the top talent coming out of college. Here are the top five offensive line prospects heading into the draft.
Begin Slideshow

»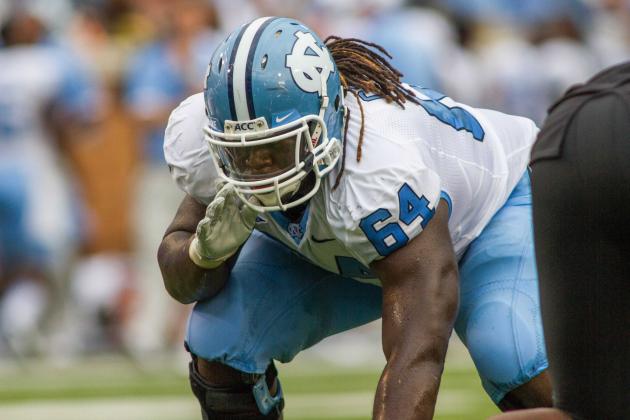 Jeremy Brevard-USA TODAY Sports
North Carolina Tar Heels Guard Jonathan Cooper
Projection: Mid-First Round
Analysis: Named to the Walter Camp All-America First Team, Jonathan Cooper of North Carolina is about as good as a guard as a team will find.
Cooper gets to the second level of defenses with ease and is a fantastic run-blocker. He was a main reason of why the Tar Heels were able to average 193 yards per game through the ground this past season.
Mel Kiper, Jr. of ESPN recently had Cooper going to the Dallas Cowboys with the No. 18 overall pick, noting his completeness as a guard and his ability to move extremely well.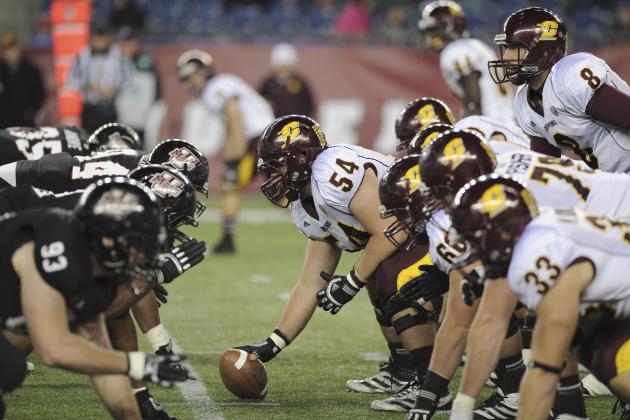 Bob DeChiara-USA TODAY Sports
Central Michigan Chippewas Tackle Eric Fisher
Projection: Early-First Round
Analysis: One of the offensive linemen that will be playing in the upcoming Senior Bowl, Eric Fisher may not be one of the prospects in the public's eye—mainly because he played his college ball at Central Michigan.
But Fisher is bound to be a star once drafted somewhere in the first round in April. Fisher is a big kid, standing around 6'7'' and weighing over 300 lbs., but is still able to move around well. Central Michigan averaged around 400 total yards per game during the year as Fisher was able to help block defenders looking to disrupt the pass and run game.
Mel Kiper, Jr. of ESPN projects Fisher to be taken with the No. 11 overall pick by the San Diego Chargers. As noted in the introduction, Rivers is one of the most-sacked quarterbacks in the league and that's a problem the Chargers are expected to address at the draft.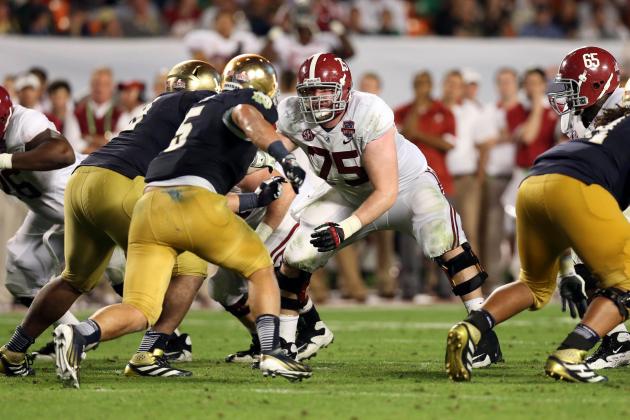 Matthew Emmons-USA TODAY Sports
Alabama Crimson Tide Center Barrett Jones
Projection: Early-Second Round
Analysis: Barrett Jones is the definition of a champion offensive lineman. You will not find a better center in college football no matter how hard you look. He has been a part of three BCS national championship squads at Alabama.
Jones is an extremely intelligent lineman who reads defenses very well. He's an above-average pass- and run-blocker, helping the Crimson Tide finish with one of the top offenses in college football. Jones has the ability to move to either the tackle or guard positions at the next level, although center is where he'd be best off.
Jones doesn't project as highly as the previous two linemen on this list, but that's partly because he has torn ligaments in his foot and will need surgery. If he were healthy heading into the draft, he'd easily be a first-round draft pick. But since that's not the case, he falls into the second round.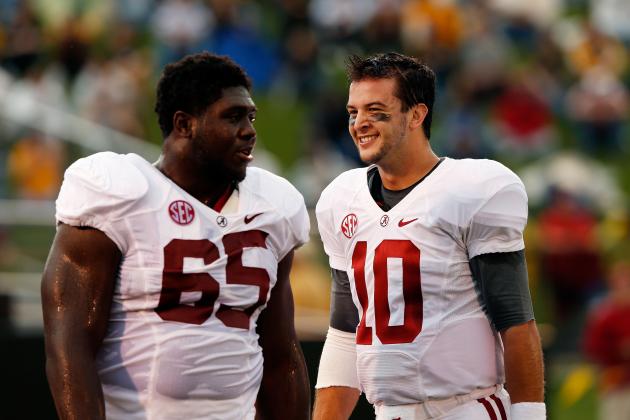 Jamie Squire/Getty Images
Alabama Crimson Tide Guard Chance Warmack
Projection: Top 10
Analysis: Lining up next to Barrett Jones at Alabama has been Chance Warmack, arguably the top guard in the nation. The senior has also won three BCS national championships, but hasn't gotten the attention that he truly deserves over the years.
Warmack is one of the most aggressive linemen available and has no problem getting to the second level of defenses. Although excellent blocking the pass, Warmack's main strength is geared toward the run. He can hold attackers long enough and has the ability to create large gaps for his running backs to run through.
Mel Kiper, Jr. of ESPN projects the Arizona Cardinals to take Warmack with the No. 7 overall pick. Kiper writes that although a true guard hasn't gone in the top 10 since 1997, it's hard to see how Warmack would fall that far. The Cardinals had the league's worst run offense last season and one would assume Warmack would do a great deal to improve that aspect of their play.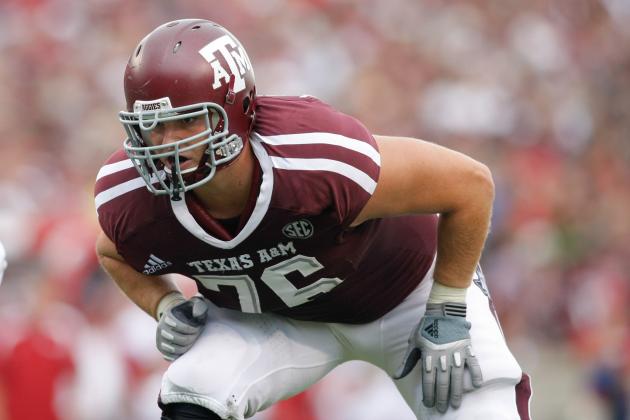 Brett Davis-USA TODAY Sports
Texas A&M Aggies Tackle Luke Joeckel
Projection: Top 5
Analysis: Luke Joeckel may be the best player—not just the best offensive lineman—available at the 2013 NFL draft. The underclassman enters the draft early after helping Texas A&M quarterback Johnny Manziel to a Heisman Trophy-winning year and a successful season for the Aggies.
Joeckel is excellent at blocking the pass and the run, excellent with play recognition and is extremely durable. He is as athletic as you'll find among the lineman available and can move in either direction with ease. He's the type of lineman where if you run the ball his way, you don't have to worry about him missing a block—you can rely on him each and every play.
Mel Kiper, Jr. of ESPN projects the Kansas City Chiefs to take Joeckel with the No. 1 overall pick in the draft. Kiper loves the way he's played against difficult competition and deems him a "gifted technician at left tackle." The Chiefs may decide to go with a quarterback with the coveted first pick, but taking Joeckel is the safest and smartest decision they could make.