5 Burning Questions the NY Rangers Must Answer Early in 2013 Season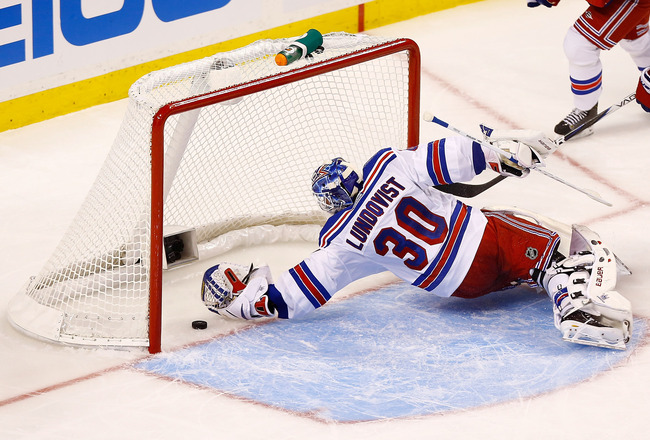 Jared Wickerham/Getty Images
The NHL finally started this weekend and a sample size of one or two games can be enough to identify trends or problems that may affect the Rangers throughout the shortened season.
As expected, it was a sloppy game at TD Garden on Saturday night with both teams shaking off rust.
While an opening night loss is disappointing, the Rangers showed flashes of good and flashes of bad. The flashes of good were mainly from Henrik Lundqvist who single-handedly kept the game close.
As for the bad, let's investigate with five burning questions:
Can They Stay out of the Box?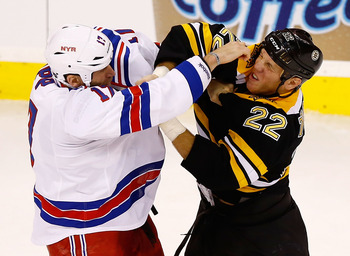 Jared Wickerham/Getty Images
Nineteen seconds into the 2013 NHL season, Carl Hagelin was called for a needless interference penalty.
Trailing by two goals in the third period, the Rangers couldn't attempt a legitimate comeback because they committed two sloppy penalties in the final five minutes of the game.
The Rangers successfully defended all seven of Boston's power plays, but because of how early and often the Rangers were on a penalty kill, they seemed to be on their heels for most of the game, inviting shot after shot.
Will Shot-Blocking Lead to Injury?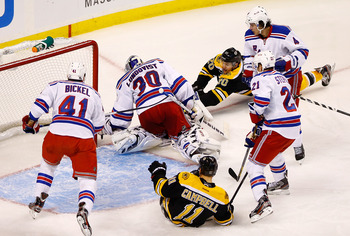 Jared Wickerham/Getty Images
As mentioned in the previous slide, the Rangers spent a lot of time on opening night in their own zone.
As mentioned during the playoffs last spring, Rangers skaters try to block a lot of shots.
While no one was injured on opening night, there were several instances of Rangers players limping back to the bench after getting in front of a shot.
Better forechecking by the forwards will lead to fewer shot-blocking situations, but the Rangers were pinched in a lot. If they play like that all season, someone might get hurt trying to block a shot.
Will They Win More Faceoffs?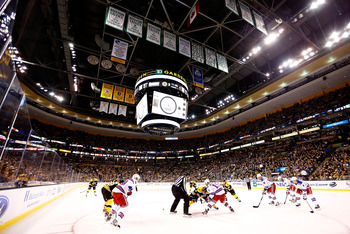 Jared Wickerham/Getty Images
Jeff Halpern was signed by the Rangers largely for his ability to win faceoffs. Halpern went 1-for-5 on his draws on opening night and the Bruins won over 60 percent of the faceoffs in the game.
Boston created many of its chances off faceoff wins, and New York would have done the same if it could have.
With Rick Nash on the team, clean possession of the puck will be crucial to creating quality scoring chances.
In order to score more goals, the Rangers need to win more faceoffs.
How Long Until They Gel?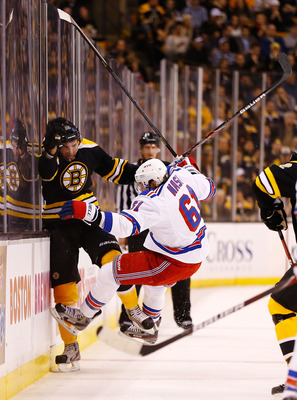 Jared Wickerham/Getty Images
Without a training camp or preseason, no one would expect any NHL team to look really sharp early in the season, but the Rangers didn't seem to have any chemistry on the ice.
Adding a player like Rick Nash is a big change to the offense, and Brad Richards admitted after the game that the Rangers will get to know his tendencies and adapt accordingly, but it will take a little time.
Nash showed he can draw bodies toward him and create space for teammates, it's up to them to identify those open spaces and take advantage.
Let's hope it happens sooner rather than later.
How Awesome Is Lundqvist?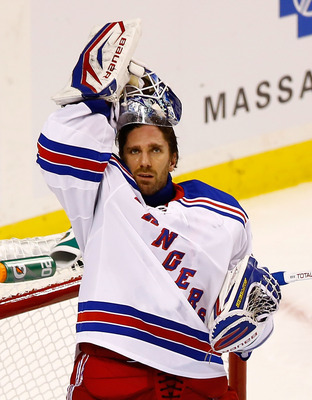 Jared Wickerham/Getty Images
It always sucks when a goalie makes an unbelievable save in a losing effort because the highlight doesn't have the same impact, but Henrik Lundqvist might have made the save of the year on opening night.
Lundqvist obviously won't be happy about allowing three goals, but none were his fault and he was, without question, the Rangers' best player on opening night.
Early in the season, Lundqvist will be leaned on to keep games close while his team figures out how to play together.
Keep Reading

New York Rangers: Like this team?