10 NCAA Basketball Stars Being Asked to Do Too Much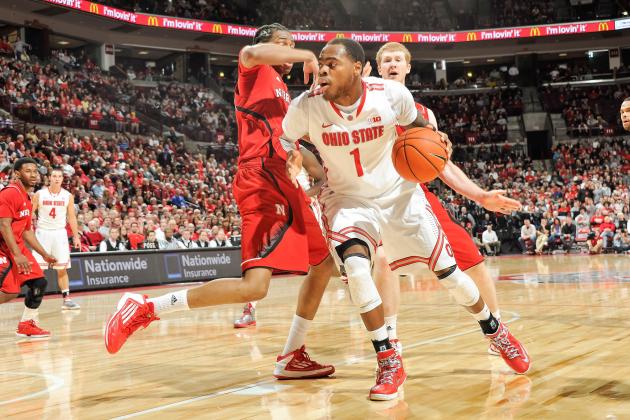 Jamie Sabau/Getty Images

Good college basketball teams rely on their best players to get the most done.
As simple as that sounds, that is one of the big differences between successful and struggling programs.
The head coaches that consistently get the most out of their top talent win the most games.
But there is a fine line between getting the most out of their stars and asking them to do too much.
Over the course of a demanding season, even the game's best players can get worn down and become less effective as the year wears on.
Here is a list of 10 college hoops stars who may being asked to do too much for their respective teams.
Begin Slideshow

»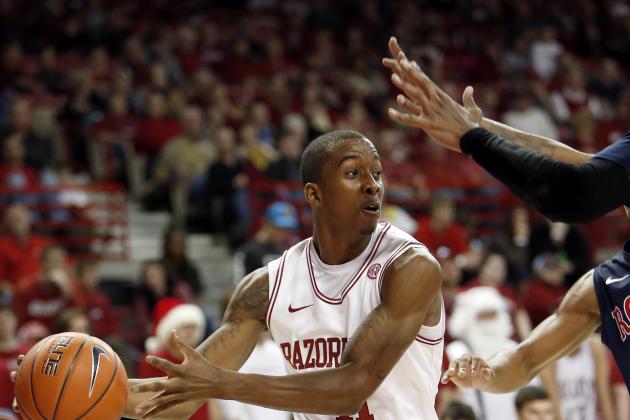 Wesley Hitt/Getty Images

In some games, if sophomore guard BJ Young is not doing it for Arkansas, it just doesn't get done.
He is the Razorbacks top scorer (17.2 ppg), assists leader (4.2 apg) and minutes played leader (28.9 mpg).
It seems like when he's in the game, he's either taking the shots or setting up his teammates for theirs.
After Arkansas' first 17 games, junior forward Marshawn Powell is the only other Razorback averaging double figures (15.2 ppg).
At least there's a little bit of scoring balance between Young and Powell at the top of the Arkansas lineup.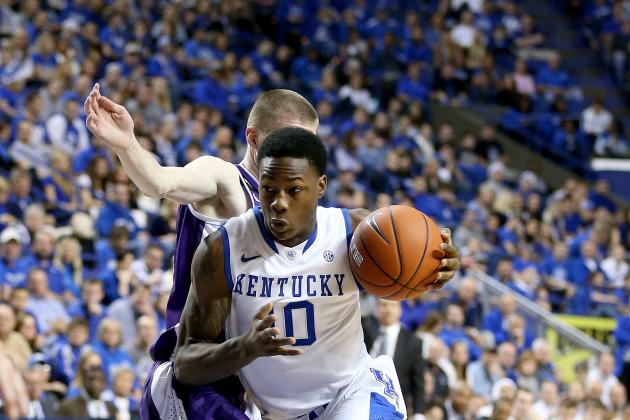 Andy Lyons/Getty Images

Archie Goodwin is a multi-skilled freshman who can play any of the three perimeter positions.
Not only can he, but he has been forced to fill a wide variety of roles for this year's 'Cats team.
Goodwin leads the team in scoring (15.0 ppg) and minutes played (32.2 mpg).
Because Kentucky head coach John Calipari has been searching for stability at the PG this season, Goodwin has had to take on a greater playmaking role than anticipated.
As a result, the 6'5" wing is the No. 2 assist man (3.4 apg) for UK.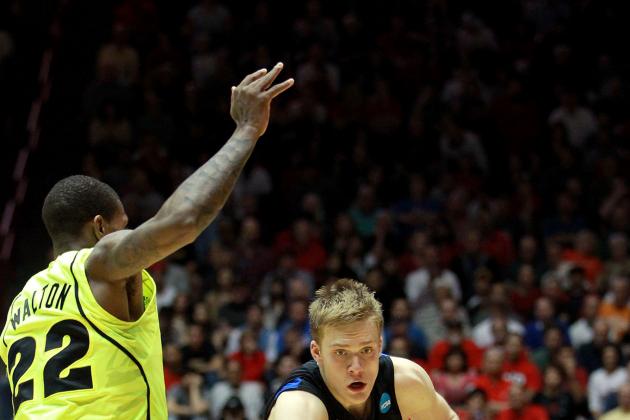 Ronald Martinez/Getty Images

It's hard to take senior guard Nate Wolters off the court for South Dakota State because he is one of the most versatile players in college basketball.
Wolters leads SDSU in scoring (20.7 ppg), assists (5.8 apg) and steals (1.7 spg).
But playing 37.4 minutes per game (also tops on the team) may end up coming to hurt the Jackrabbits down the stretch.
If Wolters can't go full tilt for almost the entire game, SDSU may come up short in the Summit League race and tournament.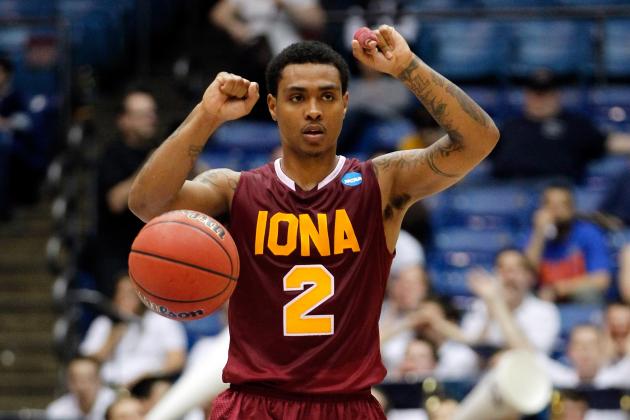 Gregory Shamus/Getty Images

Lamont "MoMo" Jones sets the frenetic pace for Iona's high octane attack (82.6 ppg; No. 3 in the nation).
MoMo leads the Gaels in scoring (22.3 ppg) and assists (4.1 apg).
Reducing Jones' heavy minutes (35.3 mpg) has to be considered if the 6'0" PG from Harlem is going to have anything left in the tank to help his team win the Metro Atlantic Athletic Conference's regular season and tournament.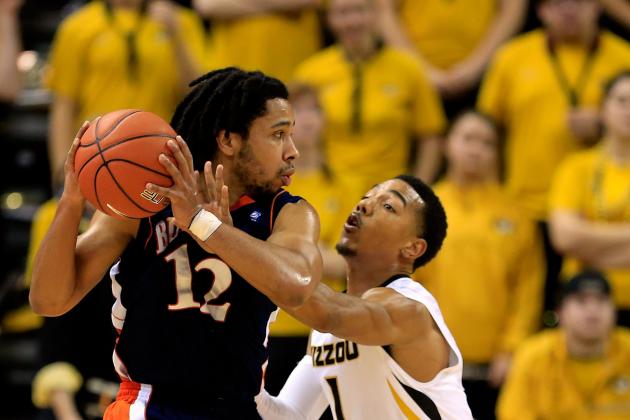 Jamie Squire/Getty Images

Missouri's PG Phil Pressey carries a lot on his shoulders.
The 5'11" playmaker extraordinaire is having to pick up more of the Tigers' scoring load during Laurence Bowers absence (due to injury).
Pressey almost always has the ball in his hands. He leads the team in assists (7.2 apg).
Pressey also logs the most minutes of any Mizzou player, averaging 34.4 mpg, and he has never played fewer than 30 minutes this season.
When the Tigers played an OT thriller at UCLA in December, Pressey played 44 of the 45 mintues.
There's no doubt that Missouri could not be the team they are without Pressey in lineup. Head coach Frank Haith would be wise to give him more of a break now so that he can still effectively run the show come March.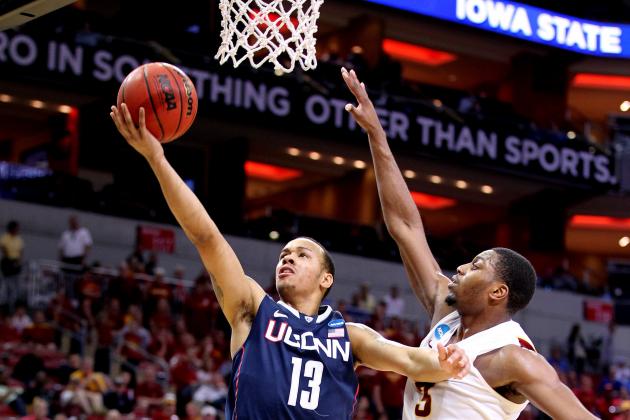 Andy Lyons/Getty Images

UConn's Shabazz Napier is one of the most productive players in the Big East so far in the 2012-13 season.
The 6'1" PG not only leads the Huskies in scoring (16.6 ppg), but he is also the team's second-leading rebounder (4.3 rpg) and has the second-most assists (4.0 apg).
Because UConn lacks quality backcourt depth, Napier rarely is able to get a breather. He leads the team in minutes played with 36.2 mpg.
He has not played less than 32 minutes in any game this year, and in an early-season double-overtime win against Quinnipiac, Napier played 47 minutes. That's almost like a hoops doubleheader.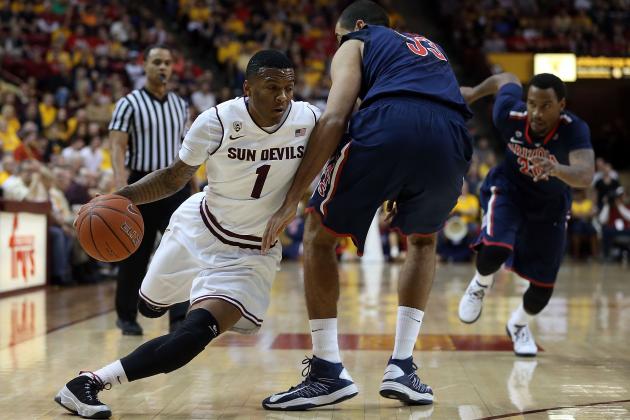 Christian Petersen/Getty Images

Jahii Carson is one of the best freshmen PG's in the nation.
Carson is the Sun Devils' leading scorer (17.3 ppg) and he has twice as many assists (5.3 apg) as any other ASU player.
The 5'10" mighty-might plays over 36 minutes per game.
Arizona State head coach Herb Sendek better hope that Carson is immune to what Dillon Davis of the State News (Michigan State's school newspaper) calls, "one of the most common and difficult barriers in all of collegiate athletics: the freshman wall."
Davis goes on to say:
A talented freshman excels for the first several months of the season before experiencing a sudden and noticeable decline. Though difficult to predict when it might happen or the reason behind its occurrence, it's a physical barrier facing many of college basketball's diaper dandies.
If this happens to Carson over the next several weeks, the Sun Devils can pretty much shut this season down.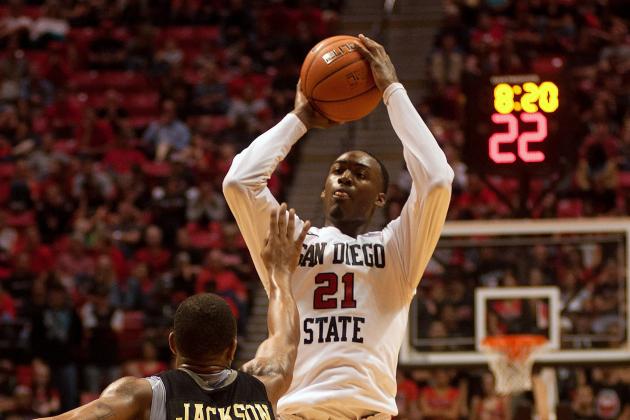 Kent Horner/Getty Images

Jamaal Franklin is one of the best wings in the West.
Very few players of any other D-1 program in the country lead their team in as many statistical categories as Franklin does.
The 6'5" junior leads the Aztecs in scoring (18.1 ppg), rebounding (9.7 rpg), assists (3.3 apg) and steals (1.4 spg).
Franklin can't afford to have a below-average night if SDSU is going to win.
In each of San Diego State's four losses, Franklin has had either a below-average scoring or shooting night.
It's not that Steve Fisher doesn't have other talented players who can pick the Aztecs up. The team simply is significantly impacted when Franklin isn't his normal super-productive self.
It's good that doesn't happen very often.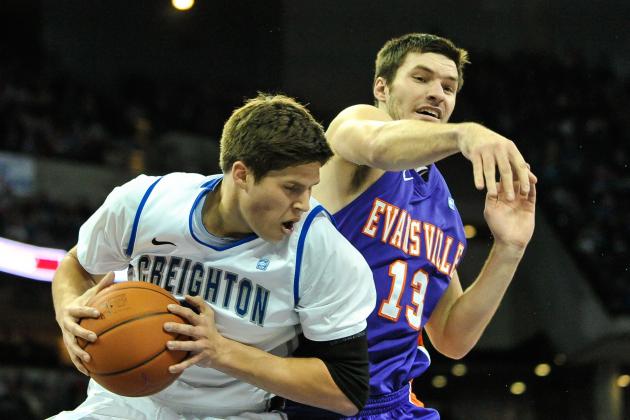 Eric Francis/Getty Images

Doug McDermott very well might be the best player in college basketball, and because of that, Creighton should and does rely on him to do a lot of their heavy lifting.
The 6'8" PF is the nation's No. 2 scorer (24.1 ppg). McDermott scores more than twice as many points as the Bluejays next highest scorer—Greg Echenique (10.1 ppg).
In fact, if you add up Creighton's second through fourth scorers, they only score three more points per game combined than the junior/coach's son.
On top of McDermott's lead scoring role, he is also the Bluejays second-leading rebounder (7.2 rpg).
McDermott and PG Austin Chatman both average over 31 minutes per game. That's tops for the team.
For the sake of the long haul of the MVC season, tournament and NCAA Tournament, Creighton's head coach Greg McDermott would be wise to closely monitor his star's minutes.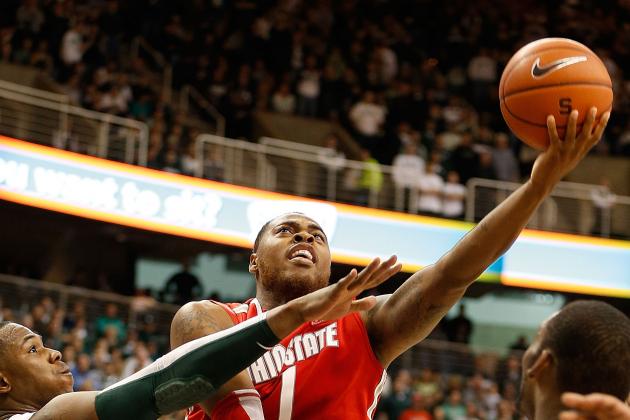 Gregory Shamus/Getty Images

No team asks as much from their star player as Ohio State asks from Deshaun Thomas.
Thomas leads Ohio State in scoring (20.8 ppg; No. 9 in the nation). Only one other Buckyeye, Lenzelle Smith Jr. scores at least double figures (10.1 ppg).
In fact, Smith Jr. and Aaron Craft, Ohio State's No. 3 scorer (8.7 ppg), score two points less combined than the 6'7" junior forward.
Thomas has a nice touch from beyond the arc. He hits 42 percent of his shots from distance. It seems out of balance, though, that Thomas shoots more than one-third of Ohio State's total three-pointers.
The fact that he has shot 43 more three-point shots than Smith Jr. (the Buckeyes No. 2 three point shooter) is surprising. And, if you add Smith Jr. and Craft's attempts together, they only have shot five more than Thomas.
Because Thomas nails almost 80 percent of his FT attempts, you would think that OSU head coach Thad Matta would do everything he could to help him take full advantage of that.
But because they rely on him to be their threat from three, he only takes less than four FTs per game.
Thomas also is the Buckeye's leading rebounder (6.6 rpg). He leads the team on the glass at both ends of the court (78 defensive and 35 offensive rebounds).
And finally, because Thomas does so much for Ohio State, it's hard to take him off the court. He leads the team in minutes played (33.6 mpg), which could become problematic as the Buckeyes fight through the grueling Big Ten schedule.
In the first five games in conference, Thomas is playing more minutes per contest (37.2 mpg) than his season average. This last weekend, he never came off the court in the Buckeyes' loss to Michigan State.
With all that he did in the rest of the game, it is ironic that Ohio State didn't get Thomas the ball in the closing seconds to attempt a three to put it into overtime. After all, he scored 28 of the team's 56 points.