Milwaukee Brewers: Projecting the Opening Day Starting Rotation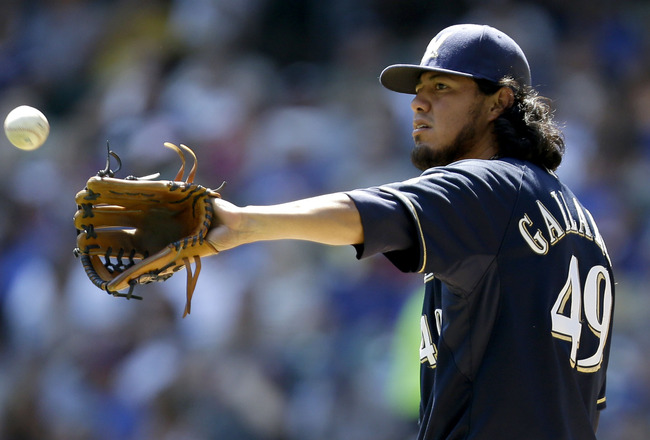 Mike McGinnis/Getty Images
Milwaukee Brewers manager Ron Roenicke, general manager Doug Melvin and president Mark Attanasio have decided to experiment this season.
Instead of addressing their need for a veteran starter in free agency or via trade, management has decided to completely handle the rotation internally. Was it to cut payroll? Or was it to legitimately give some of the budding talent in the minors a chance to start?
Well, probably a little of both.
The Brewers easily could have gone after Zack Greinke if they were willing to shell out the money. Greinke loved his time in Milwaukee and likely would have given them a bit of a discount.
They could have gone after mid-tier options like Ryan Dempster, Edwin Jackson or even their own free agent, Shaun Marcum—guys who wouldn't break the bank, but would give them solid, middle-of-the-rotation innings.
Aside from tossing a few test lines into the water, none of that came to fruition. And while Marcum (remarkably) still remains unsigned, it's unlikely the Brewers will go after him.
To be clear, I think they should. I hope that, as spring training approaches and Marcum can't find a team willing to give him more than two years, the Brewers offer him a fair two-year contract. A lot of people didn't like Marcum for whatever reason, but despite his injuries, he was a very dependable starter when he was on the mound.
Nevertheless, the Brewers have a ton of pitching talent ready to go in the majors, and many of those players won't even be mentioned in this slideshow.
Let's see what the Brewers can cobble together this season.
1. Yovani Gallardo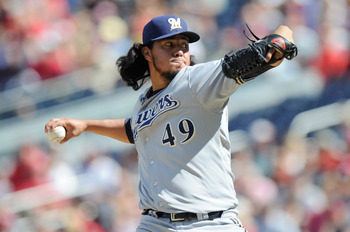 Greg Fiume/Getty Images
Career Stats: 69-43, 3.63 ERA, 916.1 IP, 936 K, 1.293 WHIP, 2.64 K/BB
What He Has
Anyone who's followed baseball over the past few years should have a pretty good idea of what Yovani Gallardo brings to the table.
He's got a good four-seam fastball that typically sits around 92-94 mph, but can hit 96 with a little extra behind it. His best pitch, though, is his hard curveball, thrown in the upper-70s to lower-80s. He also has a tight slider in the low-to-mid 80s, the occasional change-up in the low 80s and has recently begun to throw a nice little cutter between 88-90 mph.
His command and control have both greatly improved over his career, and he's turned into a good ace for this team.
Why He'll Start
The answer to that question is as obvious as they come. Gallardo is one of the best starters in baseball, even if his numbers don't quite support that statement.
His ERA is inflated by a couple of bad outings per year. For about 26-28 starts out of the season, you can expect Gallardo to be as good as anyone in baseball. He is also a ferocious strikeout machine, notching a career high 14 in a single game last season.
Gallardo is the anchor of what will be a very young rotation, and if he can cut down on surrendering homers (he allowed 26 in 2012) and the occasional bad inning, he will be a Cy Young Award candidate.
2. Marco Estrada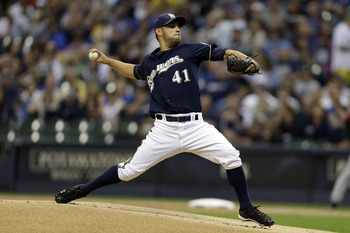 Mike McGinnis/Getty Images
Career Stats: 9-16, 4.32 ERA, 262.1 IP, 263 K, 1.227 WHIP, 3.60 K/BB
What He Has
Marco Estrada's pitching repertoire is not too different than Gallardo's. Estrada's fastball is a strong four-seamer, thrown around 92 mph, give or take. He has a good curveball in the upper-70s and a very good change-up in the low-80s.
His changeup is probably his best pitch, but he has excellent command and control over all of his pitches, especially in his last two seasons. In 2012, Estrada sported a ridiculous K/BB ratio of 4.93.
Why He'll Start
Don't let those somewhat mediocre career numbers trick you...Estrada has become a force to be reckoned with on the mound. His new-found ability to consistently throw strikes has made him a deadly starter.
His command now allows him to pitch off the plate and strike batters out at a high rate. He had four starts last season where he struck out at least 10 batters, and he ended the season with an impressive K/9 of 9.3.
There aren't many pitchers who age like Estrada has. He went from being a no-name reliever with Washington to being a long reliever in Milwaukee, and now he has made the stop at solid, oftentimes dominant, starter.
If last season's performance was any indication (3.64 ERA, 138.1 IP, 143 K, 1.142 WHIP), Estrada is only getting better. The Brewers have a knack for finding diamonds in the rough, and that's exactly what they've done with Estrada.
3. Mike Fiers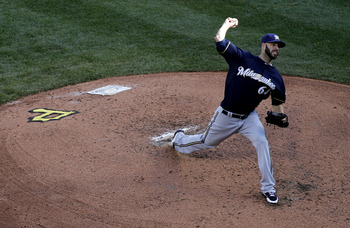 Justin K. Aller/Getty Images
Career Stats: 9-10, 3.68 ERA, 129.2 IP, 137 K, 1.280 WHIP, 3.51 K/BB
What He Has
Mike Fiers is quite the enigma. He has a strange over-the-top delivery that provides deception in all of his pitches. His fastball rarely tops 90 mph. Fiers also has a low-80s slider, an upper-70s change and an upper-60s/lower-70s curveball. And he throws the occasional cutter as well, substituting it for the slider at times.
I wrote back in August of 2012 that Fiers' curveball might be the best pitch in Milwaukee's starting rotation. Sure, it's a slow looper, but he can throw it for strikes and it seriously drops off the table. It's a big part of the reason the righty with no real power is capable of striking out more than a batter per inning.
Why He'll Start
For a few months in the 2012 season, Fiers simply couldn't be hit. He was completely dominant when he was called up to the majors, and though he slumped over the final stretch of the season, the promise he showed after his call-up was brilliant.
We can hypothesize why Fiers has had success so far in the major leagues. He has a pretty expansive repertoire of pitches and is able to command all of his offspeed stuff very well. He's also not afraid to throw a slow curveball early in the count, and then, all of a sudden, that 89 mph fastball looks much faster.
Fatigue caught up to him at the end of the year, though. His combined 182.2 innings between Triple-A and the majors were by far the most he's ever thrown.
Given a full year and better pacing, Fiers has the potential to be one of those rare finesse pitchers that is more than an innings-eater. He proved for a few months last season that he can be an ace when he brings his best to the diamond.
4. Wily Peralta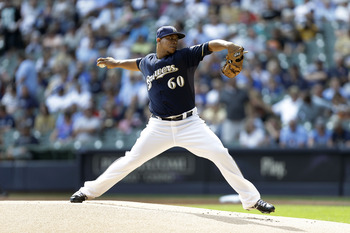 Mike McGinnis/Getty Images
Career Stats: 2-1, 2.48 ERA, 29.0 IP, 23 K, 1.207 WHIP, 2.09 K/BB
What He Has
In terms of pure power, there aren't many starters that can outdo longtime prospect Wily Peralta. His bread and butter is his steaming-hot four-seam fastball, running up into the mid- to upper-90s, even reaching triple digits if he reaches back for a little bit extra.
Peralta complements his four-seamer with a two-seamer coming in a few ticks under his four-seamer; a hard, biting slider in the upper-80s; and a straight changeup in the mid- to upper-80s.
Command and control are issues, and his breaking stuff still has significant room for improvement on the control front. But any guy who can last seven innings and still throw well into the upper-90s is going to turn heads. As far as pure stuff, no one in this rotation can match Peralta.
Why He'll Start
Peralta has been in the Brewers' system since 2006. He is now arguably the top prospect in the system and is right on the doorsteps of Milwaukee's starting rotation. All of this and he is still only 23 years old. He's essentially been pitching professionally for as long as anyone else in this slideshow.
His second-half Triple-A run and brief major league call-up (six games, five games started) showed just how good Peralta can be. Against the New York Mets on September 16, Peralta shined, going eight innings and only surrendering two hits, one walk and no runs.
Ron Roenicke and Doug Melvin have stressed the fact that they want to give their younger guys a chance to start in the rotation this season—a major reason they decided to stay out of the Zack Greinke sweepstakes and avoided cheaper free-agent options like Ryan Dempster and Edwin Jackson.
Simply put, management has been grooming Peralta for over half a decade in the minors. And last season's September call-up was the trailer for the main attraction, which will very likely come this season.
5. Chris Narveson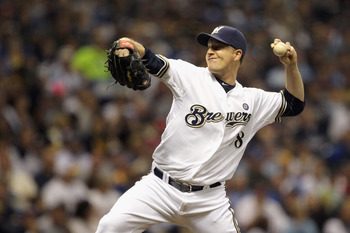 Jonathan Daniel/Getty Images
Career Stats: 26-18, 4.67 ERA, 394.2 IP, 326 K, 1.373 WHIP, 2.19 K/BB
What He Has
Chris Narveson is finesse all the way. Of all of the candidates in the running for a job to start, Narveson's scouting report is easily the least intimidating.
His four-seamer sits squarely in the upper-80s, only touching 90 mph on rare occasions. He mixes it in with a good sinking changeup in the upper-70s and a curveball in the mid-70s. He also has a two-seam fastball that he'll use on occasion. His command is spotty at best, and he tends to run into issues by walking batters.
Despite his low velocity and propensity to walk batters, though, Narveson still manages a very respectable career K/9 of 7.4.
Why He'll Start
Well, there's experience. Aside from Gallardo, this rotation is extremely inexperienced at the major league level. Narveson brings a couple of good years to the table. He's also a lefty, which the Brewers would love in the rotation.
He's proven effective in many cases. While his 4.67 career ERA isn't impressive, Narveson does pitch quite well at times, and his ERA is not at all indicative of what he does when he's at his best. Like Gallardo, he falls prey to a few bad innings. If he could just get a handle on his control and stop giving up big innings, Narveson could be a respectable mid-rotation innings-eater.
Narveson is coming off of a throwing arm shoulder injury, so it will be interesting to see if he can bounce back from the torn rotator cuff that required season-ending surgery after only two starts in 2012. Hopefully he can still chug out an upper-80s fastball. Any loss in velocity for a player with such weak control could be career-ending.
Mark Rogers: Backup Starter/Sixth Starter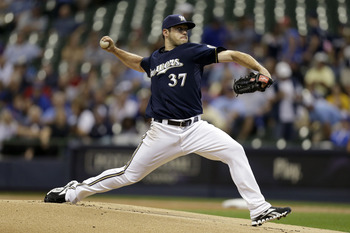 Mike McGinnis/Getty Images
Career Stats: 3-1, 3.49 ERA, 49.0 IP, 52 K, 1.122 WHIP, 3.06 K/BB
What He Has
Drafted fifth overall straight out of high school, Rogers was drafted as the next face of the Brewers' rotation in the same 2004 draft that yielded current ace Yovani Gallardo (who was drafted in the second round). He's a power-righty with a mid-90s four-seamer with good movement, a mid-80s slider with excellent bite, a decent changeup in the mid-80s and a power curveball in the upper-70s.
All of that natural power is why he was so highly-touted, but control and command issues have hampered him. Like Peralta, if he could harness his pure athletic ability, he could be a true ace.
Why He Could Start
If I'm honest, I'm inclined to give the fifth spot in the rotation to Rogers over Narveson, barring a catastrophic spring training. Rogers is injury-prone himself, but with him coming off an impressive major league call-up and a healthy season and Narveson coming off of a season in which he made two unimpressive starts before tearing his rotator cuff, I'd rather to give the nod to Rogers.
It probably won't happen, though. Rogers still has inconsistencies in his game that need to be ironed out before he can be a consistently reliable starter in the majors.
The Brewers also gave Rogers a brief call-up in 2010, where he impressed everyone and was unanimously declared the top prospect in Milwaukee's system heading into 2011. Then the season rolled around, and it was a complete disaster for Rogers, who struggled with control, injuries and rounded out the season by being suspended for 25 games for having an illegal stimulant in his system.
Rogers has worked hard over his career, and with all of his injuries, it's very likely the stimulant was actually therapeutic. But still, he will forever carry the red flags of an injury prone, PED-banned, overly-hyped prospect.
Fair? Not really. But Rogers is going to make the doubters eat grass this season.
He could start the season at Triple-A to give him starter innings, but it's very likely that with the youth and inexperience in the starting rotation and bullpen, Rogers will get extensive time in the majors this season. He's proven time and time again that he can be great. Both of his major league call-ups have been highly productive, and I believe it's time to give him a real chance to start in a long-term capacity.
Hopefully he doesn't have a complete collapse like 2011.
Keep Reading

Milwaukee Brewers: Like this team?