20 Things We Learned from the NFL Conference Championship Games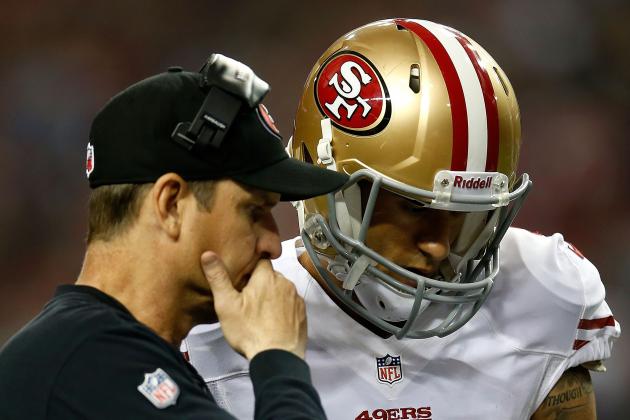 Chris Graythen/Getty Images
Head coach Jim Harbaugh and quarterback Colin Kaepernick have one more game to discuss for the 49ers in 2012.
It's safe to say that it will be an interesting two weeks leading up to Super Bowl XLVII.
For the second straight season, John Harbaugh (Baltimore Ravens) and Jim Harbaugh (San Francisco 49ers) will square off as head coaches in an NFL game.
But while last season's 16-6 win by the Ravens on Thanksgiving night at Baltimore mean that John got dibs on one of the turkey legs, there is obviously a lot more at stake (not steak) this time around.
So what did we learn Sunday about these clubs and the teams (the Atlanta Falcons and New England Patriots) they defeated this weekend?
And what did we learn that will help us decide who will win the Big Game at the Superdome in two weeks?
Let's not waste any more time, please.
Begin Slideshow

»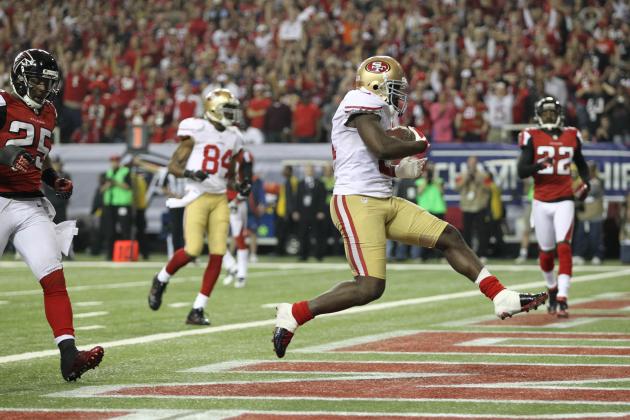 Daniel Shirey-USA TODAY Sports

Let's say we're a little confused by the Atlanta Falcons. In particular, we're eyeing the defensive unit.
One would think that practicing against arguably the game's greatest tight end in Tony Gonzalez would give you an advantage when it comes to defending the position.
Well, so much for that logic.
One of the big factors in the close-but-no-cigar comeback attempt by the Seattle Seahawks in the Divisional Playoffs was the fact that the Atlanta defense couldn't cover tight end Zach Miller, who was target nine times and caught eight passes for 142 yards and a score in the 30-28 loss.
On Sunday, San Francisco 49ers tight end Vernon Davis got his team untracked at the Georgia Dome, targeted six times and totaling five receptions for 106 yards and a touchdown in the team's 28-24 win. And teammate Delanie Walker also hauled in a 20-yard catch.
That's a total of 14 receptions for 268 yards and two touchdowns for tight ends vs. the Falcons' defense the last two weeks.
Item No. 1 on Mike Nolan's offseason "What to Do" list?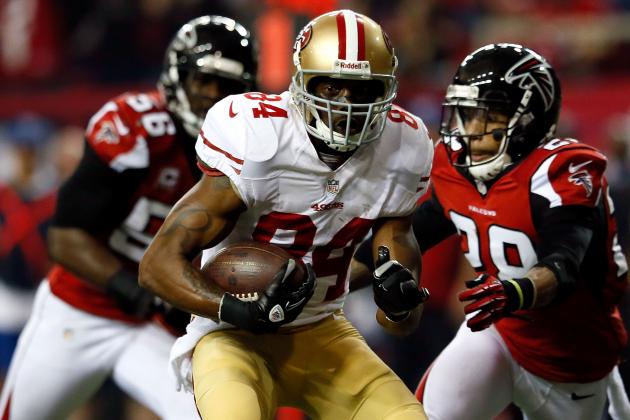 Kevin C. Cox/Getty Images

Guess we found out that the San Francisco 49ers can get the job done even when their defense has an off-day (or half).
And we also learned that no lead in Atlanta in apparently safe.
For the second straight weekend, the Atlanta Falcons got off to a rousing start in a playoff game only to see a big lead disappear.
Against the Seattle Seahawks, quarterback Matt Ryan was able to help rescue his team. Against the 49ers on Sunday, he wasn't as fortunate.
A week ago, the Falcons opened up a 27-7 lead only to fall behind by one point in the final minute. But Mike Smith's team still rallied for a 30-28 win.
History repeated itself against the Niners as Atlanta jumped out to a 17-0 second quarter lead only to see the 49ers come all the way back for a 28-24 win.
In case you're wondering, San Francisco's victory was tied for the seventh-biggest comeback (17 points) in NFL postseason history. And it was also the biggest comeback in an NFL/NFC Championship Game which dates back to 1933.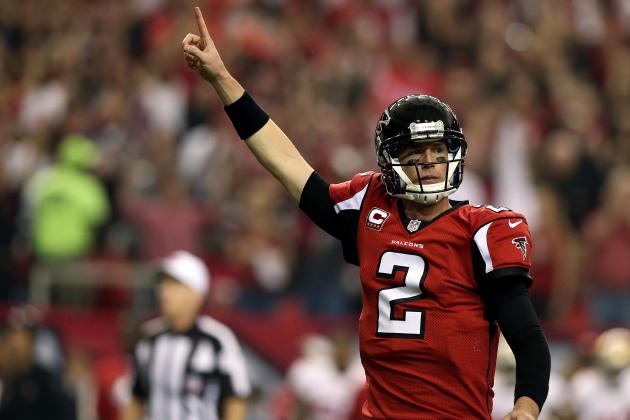 Streeter Lecka/Getty Images

I guess we now know that Atlanta Falcons quarterback Matt Ryan can perform in the playoffs.
The 2012 postseason was a breakout moment for the former third overall pick in 2008, although his team came up short against the San Francisco 49ers on Sunday.
Entering these playoffs, Ryan was winless in three previous playoff games. He threw for less than 200 yards in each contest and managed a total of three touchdown passes in the setbacks.
Against the Seattle Seahawks, Ryan threw for 250 yards and three scores and orchestrated a game-winning field-goal drive in the final minute of the contest. On Sunday vs. the 49ers, the Falcons' quarterback threw for 396 yards and three more touchdowns.
See, this playoff thing isn't so bad.
Unless…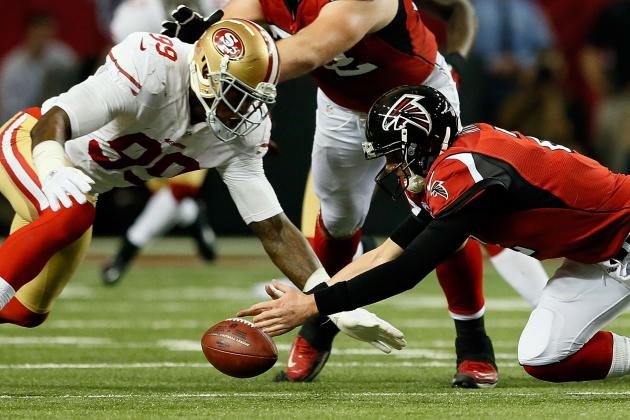 Kevin C. Cox/Getty Images

For all of the positives we saw from Atlanta Falcons quarterback Matt Ryan in this postseason, one thing is also still evident, and it's something the fifth-year quarterback must address.
Despite a combined 646 passing yards and six touchdown strikes vs. the Seattle Seahawks and San Francisco 49ers, Ryan committed a pair of turnovers in each game.
That means in five career postseason performances, Ryan has thrown nine touchdown passes but committed 10 turnovers, including seven interceptions.
During the regular season, Mike Smith's team committed just 18 turnovers in 16 games. But his Falcons gave up the football four times in this year's playoff split, all of those miscues by Ryan.
No doubt ball security will be a big topic come self-evaluation time.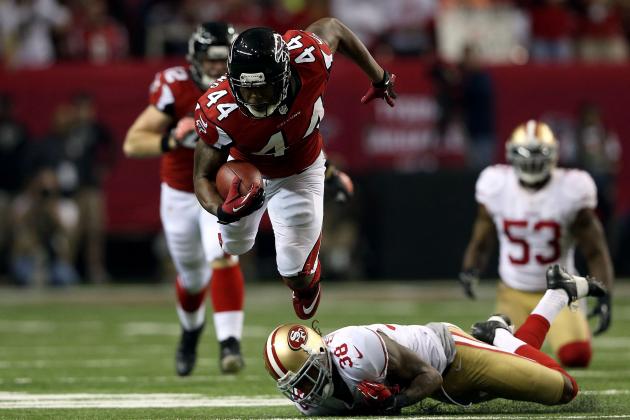 Streeter Lecka/Getty Images

While the San Francisco 49ers are on the way to their first Super Bowl since the 1994 season, they certainly chose the hard way to get there.
Yes, Jim Harbaugh's team did pitch a shutout in the second half of their 28-24 win over the Atlanta Falcons. But Vic Fangio's defensive unit did give up 477 total yards and 24 points, which won't get you an "A" when it comes to grading a performance.
So consider these numbers when you're trying to figure out who will win Super Bowl XLVII.
Including playoffs, the 49ers have now allowed 16 offensive touchdowns in their last five games. Compare that to the same amount of offensive touchdowns given up by the Niners in their first 12 games this season.
Harbaugh's club has also allowed 144 points in their last five outings, including 55 points in the playoff split with the Green Bay Packers and Falcons. The 49ers permitted just 184 points in their first 13 games in 2012.
It's a little food for thought over the next two weeks.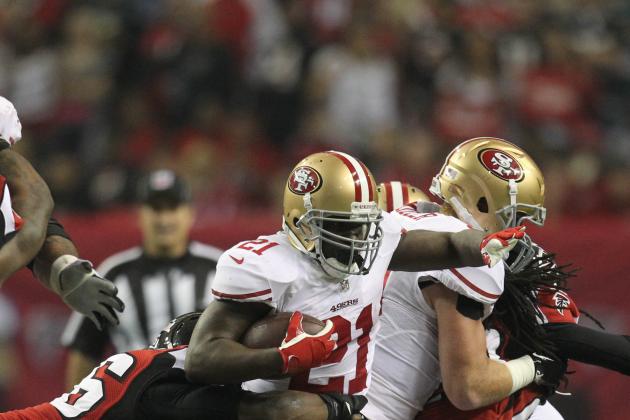 Daniel Shirey-USA TODAY Sports

Atlanta's run defense was an issue all season, and you somehow knew it would come back to haunt them by season's end.
When it was said and done, it was ultimately the reason their season did come to an end.
Despite owning a 17-0 second-quarter lead against the San Francisco 49ers, the Falcons watched as Jim Harbaugh's team would not abandon his game plan against the NFL's 21st-ranked rushing defense.
By afternoon's end, the Niners had totaled 29 attempts for 149 yards on the ground.
In 18 total games this season, Atlanta allowed 100-plus yards rushing in 13 of those outings, including 140 or more yards on the ground in seven of those contests.
The 49ers' persistency in terms of the ground game opened things up for quarterback Colin Kaepernick, who completed 16 of 21 passes for 233 yards and a touchdown.
Look for some changes this offseason in terms of the Atlanta front seven.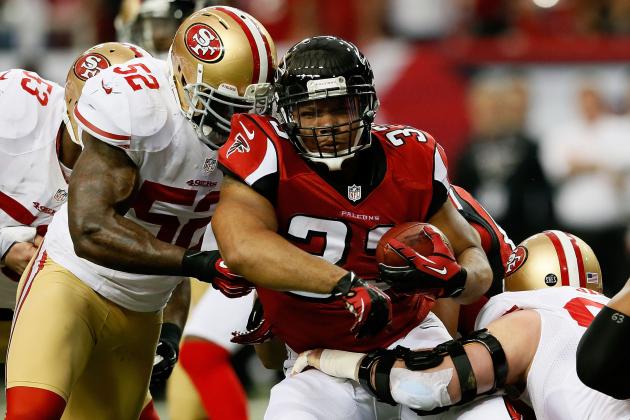 Kevin C. Cox/Getty Images

Despite some deficiencies later in the season, the San Francisco 49ers proved they can still get it done on the defensive side of the football when it counts.
And the key to winning for Jim Harbaugh's team is how they handle opposing teams when it comes to running the football.
One week after rushing for a season-high 167 yards in the playoff victory over the Seattle Seahawks, the Atlanta Falcons were held to less than half of that total (81) in Sunday's loss to the Niners.
Including the playoff sweep of the Packers and Falcons, San Francisco has given up just 977 yards rushing (75.2 yards per game) in 13 wins, holding 11 of their opponents under the century mark on the ground.
That compares to the 715 yards rushing (143.0 yards per game) that the team allowed in four loss and tie in 2012.
It's something the Baltimore Ravens and older brother John are certainly aware of.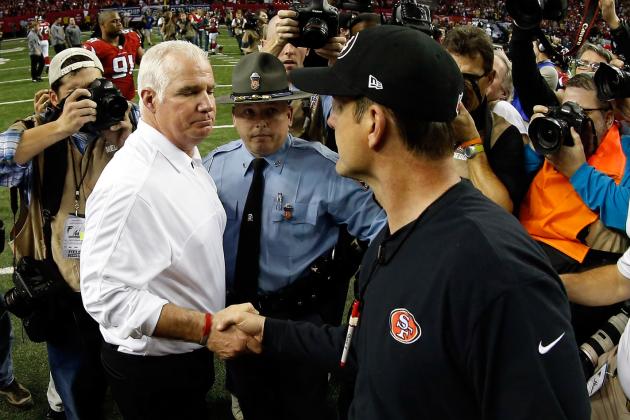 Chris Graythen/Getty Images

We knew this would be the case once the San Francisco 49ers and Atlanta Falcons were slated to meet in the conference championship game, but it bears repeating.
For the last decade or so, the "N" in NFC has stood for "New."
Dating back to the 2000 season, there have obviously been 13 NFC champions. But in this age of postseason free-for-all, it's worth noting that those champions have been distributed amongst 11 teams.
The only clubs not included are the Atlanta Falcons, Dallas Cowboys, Detroit Lions (the only NFC team not to appear in a Super Bowl), Minnesota Vikings and Washington Redskins.
Funny, the only team from the NFC to make more than one Super Bowl appearance since 2000 is "new"…as in the New York Giants.
Of course, this lack of continuity certainly hasn't hurt the conference. NFC teams have won three straight and four of the last five Super Bowls dating back to 2007.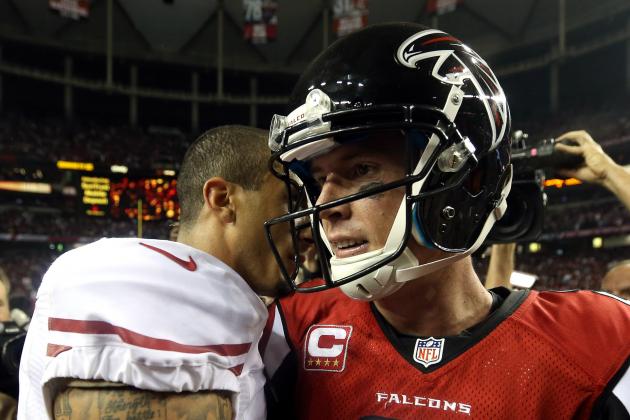 Streeter Lecka/Getty Images

While you will never convince the majority of people that the NFL regular season is meaningless, there's been an overwhelming trend that has continued in 2012.
Both the Denver Broncos and Atlanta Falcons finished the season with a league-best 13-3 record. Obviously, neither is going to Super Bowl XLVII. And that means that for the ninth consecutive season, the team or teams that finished with the best record in the National Football League will not win the championship.
What does this mean? It's hard to tell. But in this era of nine- and 10-win Super Bowl champions, the teams with the best records in the league continue to fall in the postseason on a regular basis.
Keep in mind that the Baltimore Ravens were the AFC's No. 4 seed, and the San Francisco 49ers were the NFC's No. 2 seed entering this postseason.
Also remember that in the previous six seasons, six different seeds have all won the Super Bowl.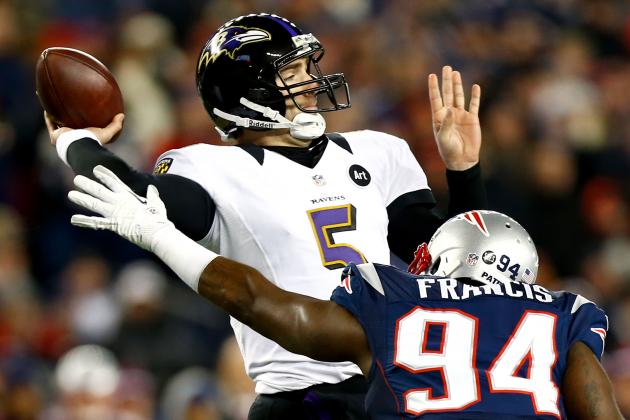 Jared Wickerham/Getty Images

Say it is so, Joe.
Baltimore Ravens quarterback Joe Flacco is on his way to his first Super Bowl, and when it comes to the offensive side of the ball for his team, give credit where credit is due.
In three games this postseason, Flacco has completed 51 of 93 passes (54.8 percent) for 853 yards, eight touchdowns and zero interceptions.
You may notice that less-than-ideal percentage figure. But that number is completely offset by the fact that nearly one-third of Flacco's completions (15) have covered 20 or more yards, with the majority of those throws going very downfield.
Given the play of the San Francisco 49ers' secondary in the first half vs. the Atlanta Falcons, there's the potential for a shootout.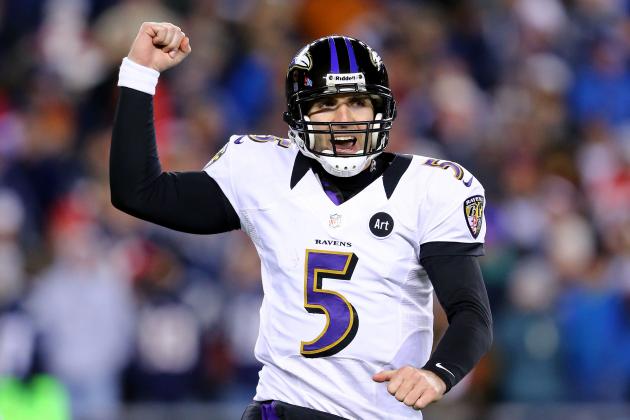 Al Bello/Getty Images

We have already pointed out the stellar postseason that Baltimore Ravens quarterback Joe Flacco is enjoying in 2012.
But what we have mentioned that this is hardly a one-year trend. In fact, the fifth-year pro has put up some pretty impressive numbers the last three years in the playoffs. Add in an 8-4 starting record in the second season and Flacco is starting to open some of his doubters' eyes.
After throwing just one touchdown pass while being picked off six times in his first five playoff outings from 2008-09, Flacco has thrown for 15 scores and served up only two interceptions in his last seven postseason games dating back to 2010.
Combine this year's hot play with plenty of playoff experience and the Ravens will be a tough out at the Superdome in two weeks.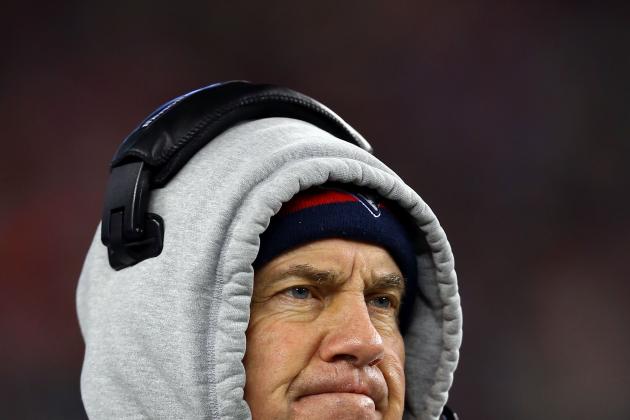 Elsa/Getty Images

What it is they say about learning the hard way?
For the third straight season and the fourth time in the last six seasons, the New England Patriots have put at least 500 points on the board. The team's 557 points scored in 2012 ranks as the third-best single-season total in NFL history.
But in becoming the first team in league annals to have four seasons of 500-plus points, Bill Belichick's team has also managed another feat.
The Patriots have yet to turn any of those performances into a Super Bowl championship. In fact, this season had to be particularly disappointing, considering the Pats not only totaled the aforementioned 557 points but another 41 points in the divisional-playoff victory over the Houston Texans.
But all of that was rendered a moot point after scoring a season-low 13 points in Sunday's loss to the Baltimore Ravens.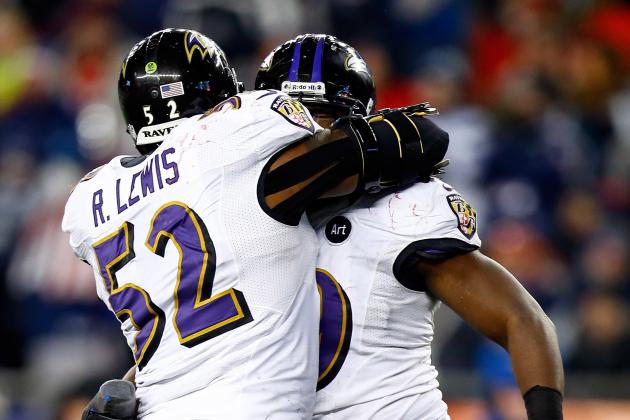 Jared Wickerham/Getty Images

All's well…when you're winning.
During the regular season, the Baltimore Ravens finished 17th in total defense, the team's worst ranking since 2002.
And during the regular season, the Ravens gave up the most rushing yards in a season in franchise history.
Well, the playoffs arrived and so did the defense, led by veteran linebackers Ray Lewis and Terrell Suggs, as well as defensive tackle Haloti Ngata and free safety Ed Reed. And there have been plenty of contributions from the entire unit, including standouts such as linebacker Paul Kruger and strong safety Bernard Pollard.
During this 2012 postseason, the Ravens allowed a total of 57 points, an average of 19 points per game. And 35 of those points came in the double-overtime win over the Denver Broncos.
But even more impressive is the fact that the Baltimore defensive unit allowed only four touchdowns in three games.
It's a job well done. There's only one more assignment to go.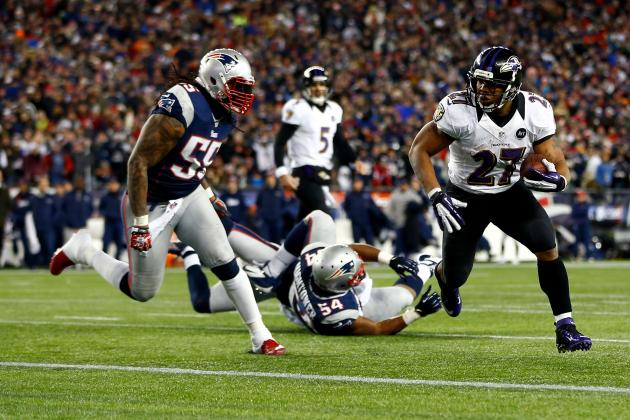 Jared Wickerham/Getty Images

There's work to be done.
Although you could make a case that this season's New England defense was better than in recent seasons, the fact is that it hasn't been good enough in recent years to win a championship.
In 2012, the Pats gave up 331 points, which is still nearly 21 points per game. Now consider that was only 11 points better than in 2011.
Looking for a number that may epitomize the team's recent reliance on offense as well as its inability to stop the opposition?
In last week's playoff victory over the Houston Texans, Bill Belichick's team surrendered 28 points and won by 13. In Sunday's loss to the Baltimore Ravens, Belichick's club gave up 28 points and loss by 15.
There are certainly some promising young players on the Pats defense. And more will be needed to get this unit back into championship form.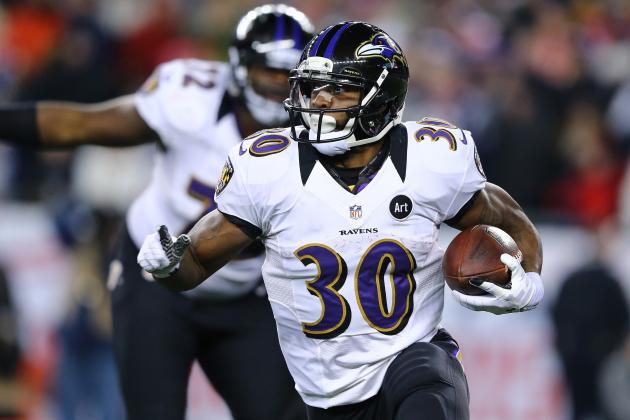 Al Bello/Getty Images

While Baltimore Ravens quarterback Joe Flacco has had a sensational 2012 postseason, the team's offense has shown plenty of balance and will present the San Francisco 49ers with plenty to think about in Super Bowl XLVII.
While Flacco was throwing for 282 yards and two scores against the Indianapolis Colts, rookie running back Bernard Pierce was rushing for 103 yards.
While Flacco was throwing for 331 yards and three touchdowns against the Denver Broncos, veteran Ray Rice was running for 131 yards and a score.
So it was somehow only fitting that the dynamic duo combined for exactly 100 yards on the ground (Pierce with 52 yards, Rice with 48 yards and a touchdown) in Sunday's win over the New England Patriots. Meanwhile, Flacco threw for 240 yards and three scores in the 28-13 victory.
And how perfect a fit are Rice and Pierce in the backfield? You can't spell Pierce without R, I, C and E.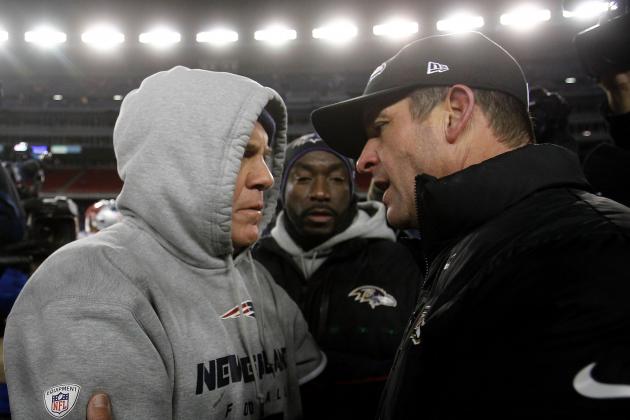 Jim Rogash/Getty Images

For the first time in franchise history, the New England Patriots lost an AFC Championship Game at home thanks to their 28-13 setback to the Baltimore Ravens on Sunday.
But should we be totally surprised by the setback? Because what we continue to learn is that come playoff time, the Patriots have become fairly ordinary in the second season for quite a while now.
After setting an NFL record by winning 10 straight postseason games, all under the guidance of quarterback Tom Brady and head coach Bill Belichick, New England is just 7-7 in its last 14 postseason games starting with a 27-13 loss to the Denver Broncos in the 2005 Divisional Round.
Even more disturbing is the fact that the Pats have played eight consecutive playoff games at home dating back to 2007, but have now lost three of their last five postseason contests at Gillette Stadium dating back to '09, two of those to the Ravens. Belichick's teams allowed 33, 28 and 28 points in those setbacks.
When it's all said and done, the Patriots have been a virtual guarantee to make the playoffs the last decade or so. But they've far from a certainty when it comes to winning for quite a while now.
Jared Wickerham/Getty Images

Timing is indeed everything.
These days, when it comes NFL playoff time, one may speak of a team that gets hot down the stretch and carries that momentum into the Super Bowl.
But how far down the stretch are we talking?
The Baltimore Ravens lost their final game of the regular season in 2012. The San Francisco 49ers took a one-game winning streak into the postseason.
Who knew? Actually, we did.
Regardless of who wins Super Bowl XLVII, the champion will have taken no more than a two-game winning streak into the playoffs for the seventh straight year. And if the Ravens win it all, it will mark the third time in the last six seasons that the eventual Super Bowl champion lost its final game of the regular season.
Al Bello/Getty Images

In some ways, the first 10 games of the 2012 postseason were unpredictable in their own ways.
But when it was all said and done, the formula for success proved that it was all about scoring at the right time in the right round.
In the Wild Card Playoffs, no team scored more than 24 points. In fact, the Green Bay Packers, Baltimore Ravens and Seattle Seahawks hit that number exactly in their victories.
As far as the Divisional Playoffs, 28 points was not enough to win any of the four games, although each of eight clubs managed to at least reach that mark.
But in the Championship Game Round on Sunday, both the San Francisco 49ers and Baltimore Ravens scored exactly 28 points in their wins over the Atlanta Falcons and New England Patriots, respectively.
What will be the magic number in Super Bowl XLVII? Stay tuned.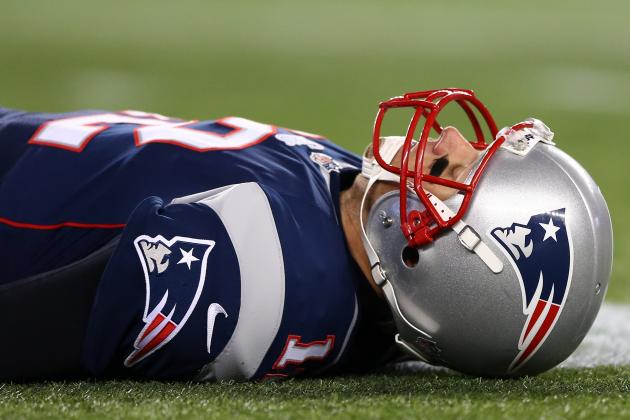 Elsa/Getty Images

Well, so much for the Atlanta Falcons and New England Patriots protecting their houses.
A stadium has never won a Super Bowl or any football game to be exact. Hence, the players in the NFL should get all the credit for winning, especially on the road.
Sunday marked the first time since 1997 that both road teams won on Conference Championship Game weekend. You would have to go back to when the Denver Broncos beat the Pittsburgh Steelers at since-demolished Three Rivers Stadium and the Green Bay Packers defeated the San Francisco 49ers, 23-10, at Candlestick.
Of course, since the playoffs expanded to its current format in 1990, holding serve at home in the title games has had diminishing returns.
From 1990-96, the host clubs were 10-4 in the conference title round. Since 1997, home teams are only 17-15 when playing for the right to get to the Super Bowl.
The lesson learned here? Home may be where the heart is, but heart can be found in many places.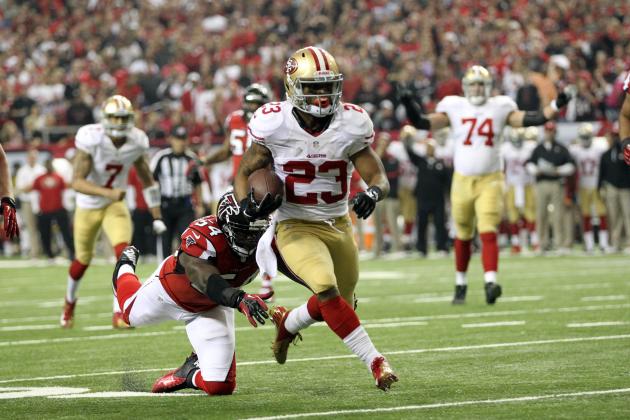 Daniel Shirey-USA TODAY Sports

This is less about what we learned but more a reminder of what we should already know.
Hence, we'll sum things up by looking at the some of the key numbers when it traditionally comes to playoff success.
That would be rushing attempts, rushing yards and turnovers.
The San Francisco 49ers and Baltimore Ravens won the battle in all three of these categories on Sunday, hence why those teams are headed to Super Bowl XLVII.
The Niners ran 29 times for 149 yards against the Atlanta Falcons, who managed only 81 yards on just 23 carries.
The Ravens totaled 121 yards on the ground on 33 tries, while the New England Patriots amassed just 108 yards on the ground on 28 attempts.
And the turnover battle wasn't much of a fight at all. San Francisco (one) and Baltimore (zero) combined for one miscue, while the Falcons got a pair of turnovers from Matt Ryan and Tom Brady had two of his team's three mistakes.
This league may be quarterback driven, but there's still a lot to be said about the rest of the automobile.