Boston Bruins: 4 Takeaways from Their 3-1 Victory over the New York Rangers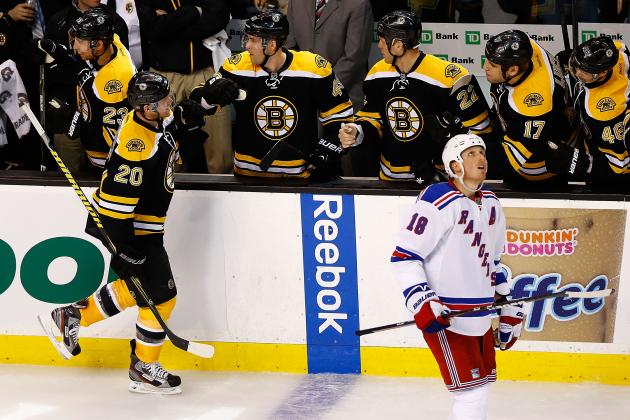 Jared Wickerham/Getty Images
Daniel Paille's second-period strike stood as Saturday's clincher.
After a weeklong cramming session at training camp, Boston Bruins head coach Claude Julien expressed a keen interest in facing a stiff test to commence the belated, shortened NHL season. His pupils passed the opening exam Saturday night with a 3-1 triumph over the New York Rangers, the team that finished seven points ahead of them for first place in the Eastern Conference last year.
Nearly every key oval on the Bruins' questionnaire was filled in the opener. The searing subjects ranged from Tuukka Rask's handling of the goaltending card with reigning Vezina winner Henrik Lundqvist to the readiness of those wholly or relatively new to NHL hockey, to the readiness of those who have played no meaningful hockey since last April.
The one goal in Rask's cage was the only outstanding glitch, which was eclipsed by the three strikes on Lundqvist's tab. Each red light at either end happens to be worth one noteworthy takeaway from Saturday's contest, which shall be reviewed in the following slides.
Begin Slideshow

»
Jared Wickerham/Getty Images

It did not require much education to deduce that the 90-second five-on-three penalty kill that began less than five minutes into the third period would be a make-or-break moment in the game.
The Bruins were safeguarding their 2-1 lead when Milan Lucic and Zdeno Chara went off for boarding and hooking, respectively, a mere 30 seconds apart. As it happened, Rask needed to deal with two New York shots during that two-man disadvantage, and his skating mates proceeded to take the puck the other way and draw an offensive zone penalty on Rick Nash before Chara's jailbreak.
Whether it was on the penalty kill or at even strength, for the better part of the night, Rask's skating mates functioned as tough crocodiles in the moat around his property. Save for a 32-foot wrister by Brad Richards that whittled a 2-0 Boston lead in half, Rask repelled all of a manageable 21 shots with no more than eight tests per period.
Virtually none of those 21 shots came in close pairs. Rather than yield any rebounds, Rask summoned four whistles while, after making other stops, leaving it up to a skater to steer it out of his vicinity. This was a textbook shared winning cause and a pivotal tone-setter for the new No. 1 netminder, especially considering who his mates needed to beat in order to give him offensive support.
On that note...
All three of the goals Lundqvist authorized had to be difficult for him to stomach. More often than not, that is the only way to beat the Blueshirts backstop.
The Bruins reaped rewards by crashing the net in pursuit of fugitive rebounds, reading oncoming shots for tricky deflections and setting up screens to create a pinball puck path. That was how Lucic, Daniel Paille and Johnny Boychuk each tuned the mesh, respectively.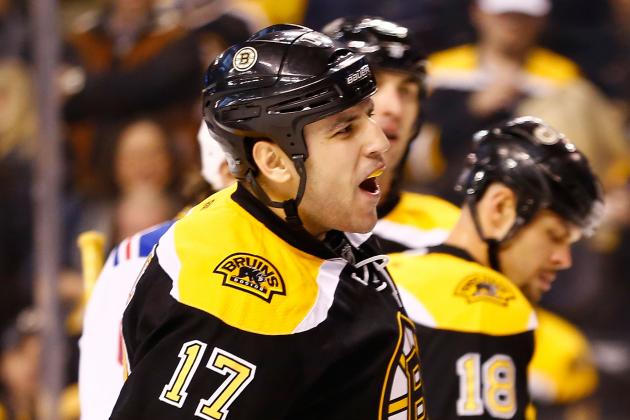 Jared Wickerham/Getty Images

Besides roofing David Krejci's rebound for the icebreaker as one of his three shots on goal, Lucic tied Adam McQuaid for the team lead with four body checks on the night.
For somebody who eschewed overseas action during the lockout, that rather characteristic output speaks to no trouble delving back into extramural engagements.
Granted, his energy yielded less savory stats in the third period, when he took the aforementioned boarding minor and later a 10-minute misconduct. But if his first five years as an NHLer were not enough for the Bruins to accept Lucic's package of passion and all of the pungent pluses and minor minuses that come with it, all hope is long lost in that regard.
Hope is hardly lost for Lucic and his influence on this season, though. If Saturday is any indication, the longer-than-hoped layoff should mean exponential energy as he continues to thaw out.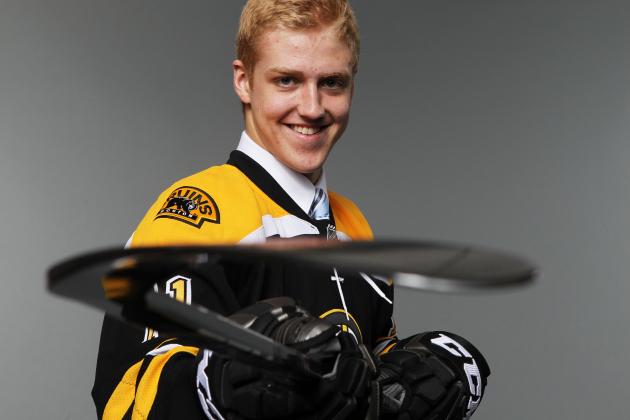 Nick Laham/Getty Images

Seasoned minor leaguer Chris Bourque had slim company in Andrew Ference among those Bruins who brooked a negative rating on Saturday, but the blemishes were pretty much confined to that.
First-year professional defenseman Dougie Hamilton logged 13 minutes and 40 seconds of ice time and landed three of Boston's 27 registered hits.
By the climactic stages of their respective Boston debuts, Bourque and Hamilton were sharing shifts on the power play.
With Carl Hagelin doing time for a hooking infraction cited at 15:02 of the third period, Hamilton was on the ice when Bourque saw an attempted shot go wide. Moments later, Bourque was among the forwards on Lundqvist's porch when Hamilton's power-play blast was lassoed for a stoppage at 16:34.
This was at a point where, while they had a two-goal advantage, any costly blunder on the Bruins' part could have breathed timely life into the Blueshirts with reasonable time to go on a sugar rush and force overtime. In that sense, Julien displayed no shortage of trust in his two new faces, and they both justified that trust.