Packers Mock Draft: Updated 7-Round Projections After East-West Shrine Game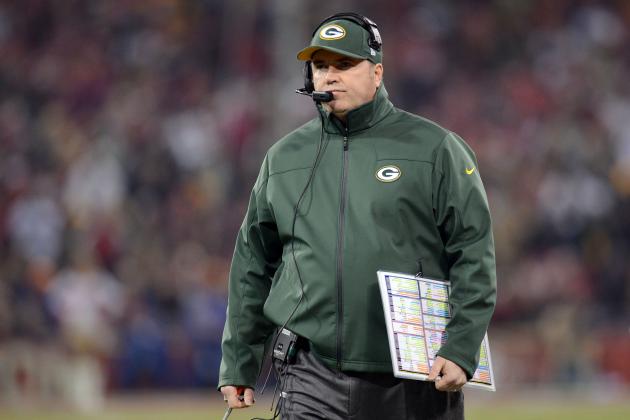 Thearon W. Henderson/Getty Images

As some may know, the East-West Shrine Game was played Saturday.
It's one of the few postseason games NFL prospects can play in, and plenty of scouts were in attendance.
One of the people in attendance earlier in the week was Green Bay Packers GM Ted Thompson.
The East-West Shrine Game isn't loaded with great prospects, but it could offer up the next in a long line of Ted Thompson late-round success stories.
Begin Slideshow

»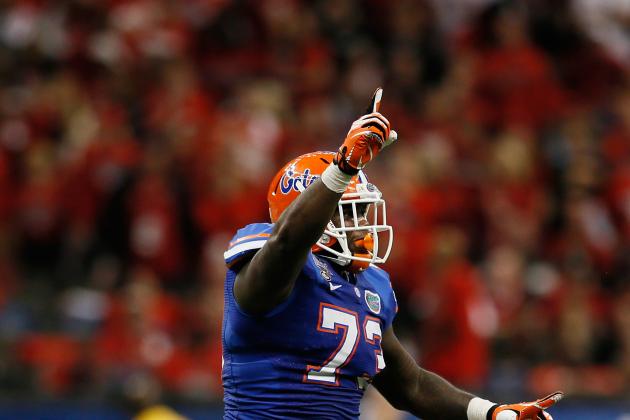 Kevin C. Cox/Getty Images

The first pick is always the hardest.
As of now, free agency hasn't happened and neither has the NFL combine and individual workouts.
I mainly considered four positions here: the defensive line, linebacker, offensive line and running back.
The easy thing to do would be to take Barrett Jones in the first round because of the need at offensive line, but the Packers can wait to take a center.
All in all, Jones, Sharrif Floyd, OSU DL Johnathan Hankins, Alabama RB Eddie Lacy and Georgia LB Alec Ogletree were considered here.
Floyd is an outstanding athlete but isn't sound fundamentally and plays with poor leverage.
The Packers need more pass rush from their defensive line, and Floyd can contribute immediately while improving as he gets coached up.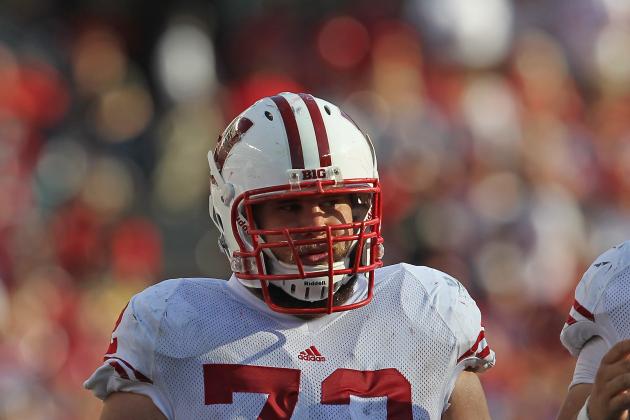 Jonathan Daniel/Getty Images

My only concern with this pick is whether Travis Frederick will last this long.
Frederick—like many Wisconsin offensive linemen—is NFL-ready. He's been playing since he was a true freshman.
After playing guard for most of his career, Frederick moved to center, where he was part of a Wisconsin line that had an up-and-down season.
Frederick could easily be the draft's strongest man and uses his brute strength to pave holes for running backs.
He isn't very quick, but that flaw mainly showed when he was asked to pull, which he likely won't be able to do as a pro.
The Packers will likely want to upgrade their center position and Frederick makes sense as the draft's clear-cut second-best center.
Remember, Jeff Saturday got benched partially because he got next to nothing going in the run game.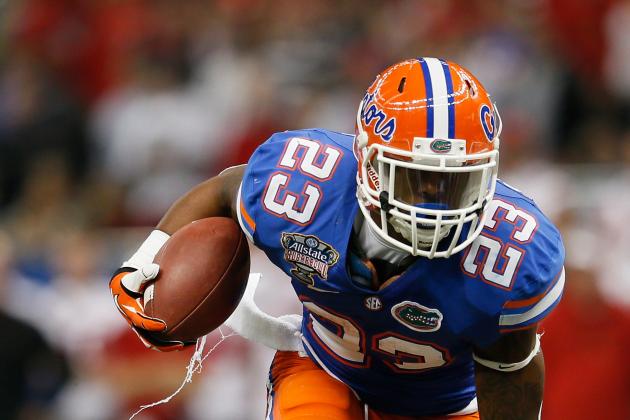 Kevin C. Cox/Getty Images

Personally, I think the Packers should try to trade up and get a running back in the second round like Rutgers' Jawan Jamison.
Unfortunately, they probably won't, and in the third round they finally address their running back woes.
Mike Gillislee is a well-rounded back who was underutilized in his college career until now.
He was one of the biggest surprises of the college football season when he burst onto the scene, and he possesses excellent vision and above-average speed.
Almost as importantly, the former Florida back is adept in protection.
Gillislee would be a solid addition here.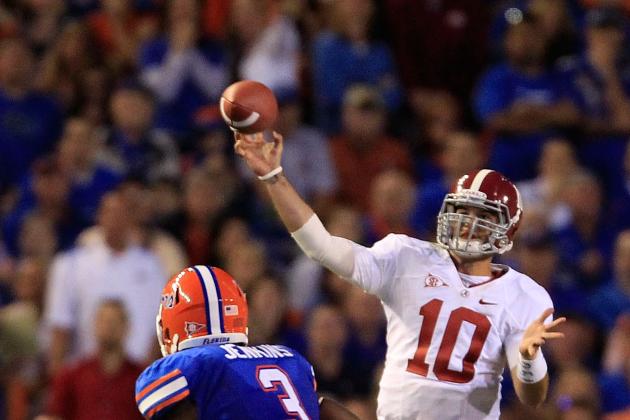 Sam Greenwood/Getty Images

A former 5-star recruit, talent isn't the issue with Jelani Jenkins—it's mainly the injuries.
Jenkins was one of the premier coverage linebackers in college football, using his athleticism and speed to shut down his man or area of the field.
Unfortunately for Jenkins, he missed a lot of playing time with things like broken thumbs and a broken foot.
The Packers have a lot of question marks at ILB, so it'd make sense for them to pick one with the upside of Jenkins if they can.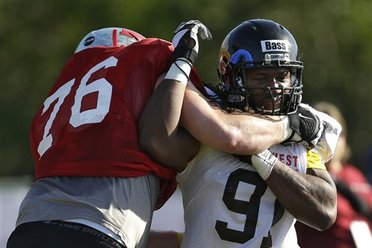 http://binaryapi.ap.org/f660d42f87d941fea59f468a2a8fbf3a/940x.jpg
A relatively unknown prospect, David Bass seems exactly like the type of player Ted Thompson would take.
Bass played ball at a Division II school and posted 11.5 sacks as a senior.
Importantly, Bass was also at the East-West Shrine Game, where Ted Thompson was in attendance.
By all accounts, Bass was nearly unstoppable during practices and was handling Division I linemen with ease en route to an improved draft stock.
At 6'4", 262 lbs, Bass could immediately slot into a backup OLB role and spend time with a knowledgeable position coach in Kevin Greene.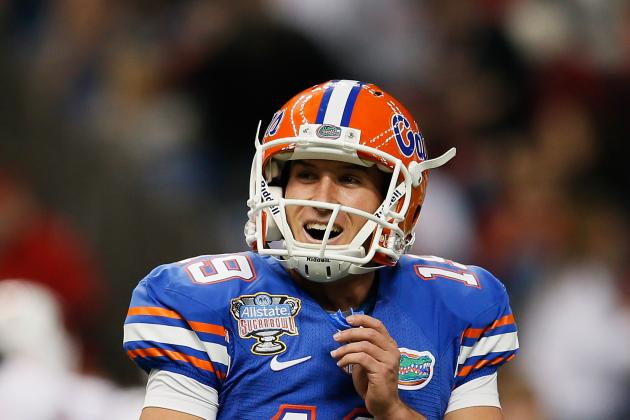 Kevin C. Cox/Getty Images

It's simple: Mason Crosby has struggled and Caleb Sturgis is the best or second-best kicker in the draft depending on how you feel about FSU's Dustin Hopkins.
The Packers would do well to seek out a replacement for Crosby, and Sturgis hit 23 of 27 field goals in 2012, including connecting on all three of his tries from 50-plus yards.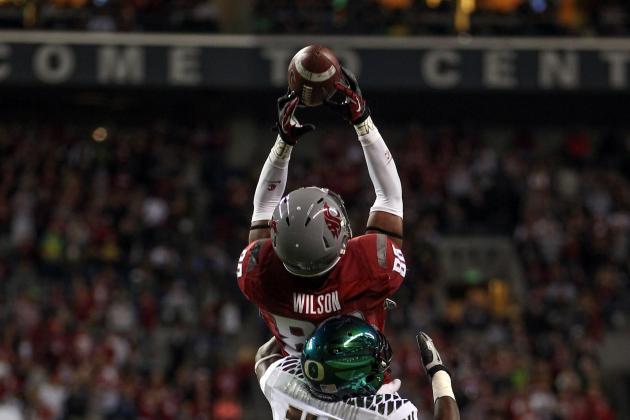 Otto Greule Jr/Getty Images

Marquess Wilson was an uber-productive player well on his way to becoming a second-round pick entering the year.
Then he quit the team after alleging abuse, but no abuse was found after the Pac-12 investigated the situation.
Wilson is a big, talented receiver who plays to his size but lacks noteworthy speed.
He's a headcase with plenty of off-the-field concerns, but Wilson could be an intriguing late-round flier for a team willing to gamble on his upside.
If that team's the Packers, who could use a new fourth receiver to play in spread formations, they could reap a nice reward.
If not, then all they did was waste a seventh-round pick. No harm done.