Ohio State Football: Examining Urban Meyer's 5 Go-to Offensive Plays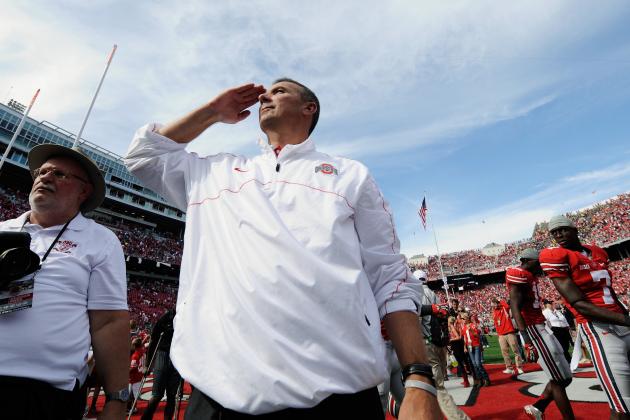 Jamie Sabau/Getty Images
Urban Meyer has his sights set on making his Buckeyes better in 2013.
Urban Meyer is thought of as an offensive guru. His teams seemingly always have a high-powered offense that is predicated on the QB being a dual-threat.
This style of offense has become the norm in college football, but few coaches have been as successful doing it as Meyer.
Meyer has been fortunate to have quarterbacks that run his system well. Josh Harris at Bowling Green, Alex Smith at Utah, Tim Tebow at Florida and now Braxton Miller at Ohio State are all the dual-threat type of QB that Meyer's system thrives with.
Meyer has shown that his system can adapt to a less mobile QB like Chris Leak. Yet, he clearly prefers to have a runner under center, which can be seen by looking at his top five plays.
These plays are not necessarily the five plays he calls the most. In fact his teams rarely run two of them. However, they are the five most effective plays that he has run during his career as a coach.
Begin Slideshow

»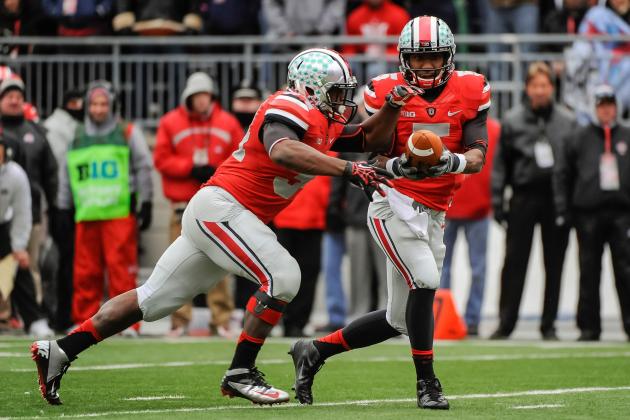 Jamie Sabau/Getty Images
Braxton Miller and Carlos Hyde keyed Ohio State's 12-0 season in 2012.
The zone-read option is probably Urban Meyer's best play and most used play.
That was certain the case in 2012 when Braxton Miller and Carlos Hyde ran the Buckeyes to a 12-0 record.
However, expect Meyer to add a little more variety to this look in 2013 and beyond.
In 2012, Ohio State didn't run many other plays off the zone read like Meyer has done in the past. The Buckeyes used some play action and occasionally used Corey Brown as a pitch man in the triple option, but not often.
With a healthy Jordan Hall and incoming freshman Jalin Marshall likely combining to fill the hybrid receiver/runningback position that Percy Harvin starred in at Florida, the Buckeyes will have more variety.
Whether it be adding in a few more shovel options—Ohio State ran that once in 2012 by my count—or just having the traditional pitch man, it should make the running game even more potent.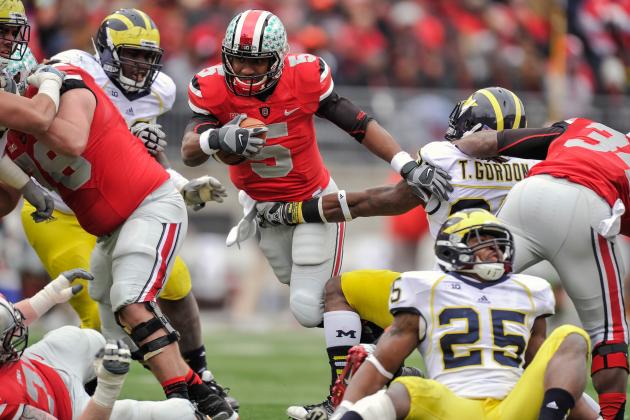 Jamie Sabau/Getty Images
Urban Meyer is not afraid to let his QB's run into the heart of a defense.
These two plays are combined because they are so similar.
The QB power—better associated with Tim Tebow—is a direct snap to the QB who just plows ahead. It is usually used in short-yardage situations.
On the other hand, the QB counter—better fitted to Braxton Miller's running style—has the QB start one way and then go back the other, following the running back and a pulling guard.
The QB counter was probably Ohio State's most consistent running play in 2012. It's perfect for Miller because the delay allows him to choose which lane is the best to run through.
The best example of this play's success occurred during the Nebraska game where Miller broke off a big run to spark the Buckeyes offense.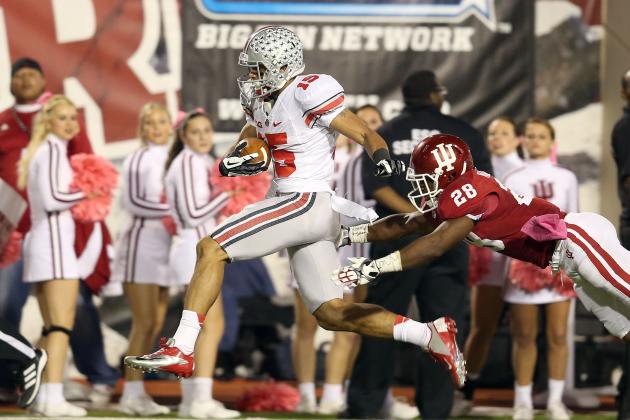 Andy Lyons/Getty Images
Devin Smith was Ohio State's big-play receiver in 2012.
While guys like Braxton Miller and Tim Tebow aren't know as accurate pocket passers, they are both good at throwing the deep ball.
Tebow and Riley Cooper hooked up on several fly routes in their days together at Florida and Miller found Devin Smith behind coverage several times for Ohio State in 2012.
The case could be made that Miller-to-Smith deep balls saved Ohio State on a handful of occasions last season, and none was bigger than the 63-yard connection against Michigan State.
The reason coaches use the QB to run the ball is because it gives the offense an extra blocker—usually the running back—so the blockers outnumber the defenders. The way defenses can stop that is by bringing a safety closer to the line of scrimmage, which opens up one-on-one coverage against receivers.
Both Miller and Smith were members of the 2010 recruiting class and have two more years to play together at Ohio State. With Urban Meyer calling the shots, expect to see the Miller-to-Smith connection on deep balls more often.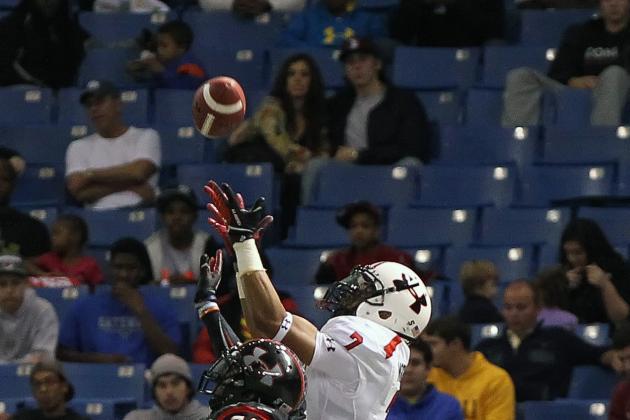 Kim Klement-USA TODAY Sports
Jalin Marshall (#7 in white) could contribute as a freshman in 2013.
The speed sweep is one of Urban Meyer's favorite plays, but he didn't use it often in 2012.
The main reason was the guy who was supposed to run this play—Jordan Hall—was hurt. That left Carlos Hyde, Rod Smith and Bri'onte Dunn in the backfield. All of those guys are downhill runners rather than east-to-west speed guys like Chris Rainey or Jeff Demps.
Meyer is fixing that problem with his recruiting efforts. He already has Jalin Marshall and Ezekiel Elliott in the 2013 class and is out looking for more speed guys.
I'd expect to see this play more often with a healthy Hall along with Marshall and Elliott as other options. However, I think as time goes on and Meyer gets more of his guys in the scarlet and gray, this play will become one of the offense's staples.
Braxton Miller didn't jump, but Ohio State did run a play eerily similar to Tim Tebow's jump pass against Miami of Ohio.
This isn't a play that is called often because—well, the situation doesn't call for it often—but it's always in Urban Meyer's bag of tricks because it is such a tough play to stop.
It's tough to stop for the same reasons the fly route is tough to stop. When Meyer's offense gets down to the goal line, defenses have to worry about the running back, the receiver in motion and the possibility that the quarterback will run.
That forces all 11 defenders to keep an eye on the backfield, which means that their only choice is to step up when Meyer's QB takes a couple steps toward the end zone. That leaves the tight end open in the back of the end zone.