UFC on FX 7 Results: Power Ranking the Main Card Fights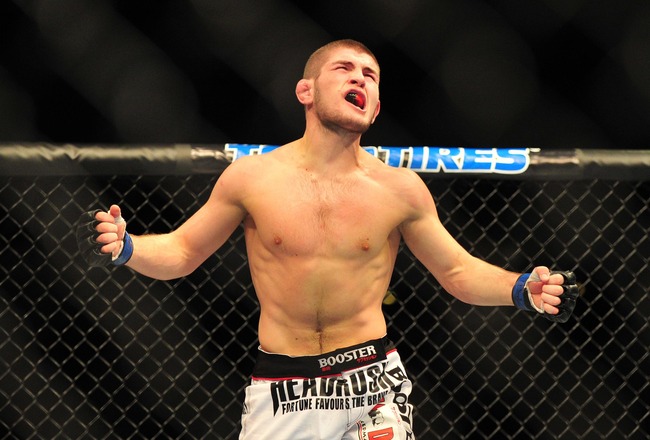 Don McPeak-USA TODAY Sports
With Vitor Belfort's second-round TKO victory over Michael Bisping, UFC on FX 7 is officially in the books.
The event's main card featured four bouts that provided a bevy of finishes, just one making it past the second bell. Though stoppages provided the night with a feeling of consistency, some fights delivered more than others.
Here, we'll take a look back at the night's action and rank each bout in order of how much entertainment it provided.
4. Thiago Tavares vs. Khabib Nurmagomedov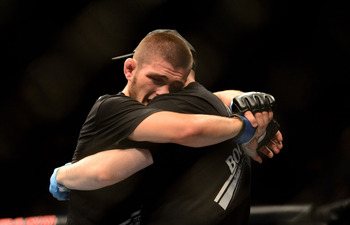 Mark J. Rebilas-USA TODAY Sports
Nurmagomedov defeats Tavares via TKO, Round 1
If you're a Nurmagomedov fan, then this one was fun to watch. If you're a fan of rather slow and agonizing TKOs, then this one was fun to watch. But if you were hoping for a fast-paced, competitive bout that displayed a little bit of variety, this one was disappointing.
The exchanges in the fight's opening moments were solid, but brief. Ultimately, it was an all too fleeting affair that had promise to be a back and forth 15:00 contest, but instead ended inside the 2:00 mark.
The finish was good, but there wasn't a whole lot of what we might call "depth" to this one.
3. Gabriel Gonzaga vs. Ben Rothwell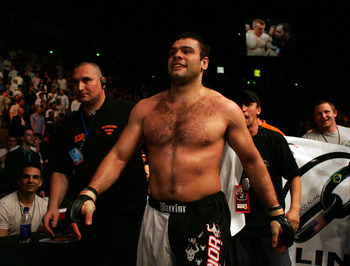 Gary M. Prior/Getty Images
Gonzaga defeats Rothwell via submission, Round 2
The first round of the match was mildly entertaining, if unspectacular, but at least it lasted longer than the first main card affair.
Much of the action centered around clinching and jostling for position against the fence or in the middle of the Octagon, but near the end of the first frame, both guys began letting their hands go a bit.
The second round featured a nice guillotine choke from Gonzaga, who puts another entry into the win column by applying enough pressure to make Rothwell cry uncle.
A nice finish to a mediocre fight.
2. Michael Bisping vs. Vitor Belfort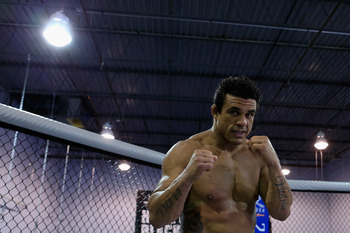 Chris Trotman/Getty Images
Belfort defeats Bisping via TKO, Round 2
Vitor Belfort grasped a W in front of a favorable Brazilian crowd, capping off the action at UFC on FX 7.
The match was decent. The first round that was by no means exhilarating, but it was competitive and somewhat entertaining. It was highlighted by a late head-kick from Belfort that brought the fans out of their seats.
The second frame was brief, but featured another beautiful head-kick from Belfort, this one doing enough damage to put the Brit away.
A big win from Belfort.
1. C.B. Dollaway vs. Daniel Sarafian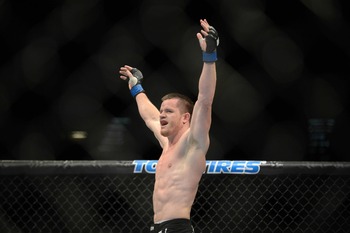 Ron Chenoy-USA TODAY Sports
Dollaway defeats Sarafian via split decision
Dollaway vs. Sarafian was a competitive, quick-paced contest that did enough to hold viewers' interest from bell to bell.
After a first round that belonged to the Brazilian on the strength of a few power punches that put Dollaway on queer street, "The Doberman" mounted a comeback in the second, nearly stopping his foe.
Though he didn't get the finish, he went on to get the win, scoring a split decision victory. The Brazilian crowd disagreed with the judges that gave Dollaway the nod, but it truly could have gone either way.
An outstanding match that served as an ideal lead into the night's main event.
Keep Reading