Mikey Garcia Dominates Orlando Salido to Win Featherweight Title by Decision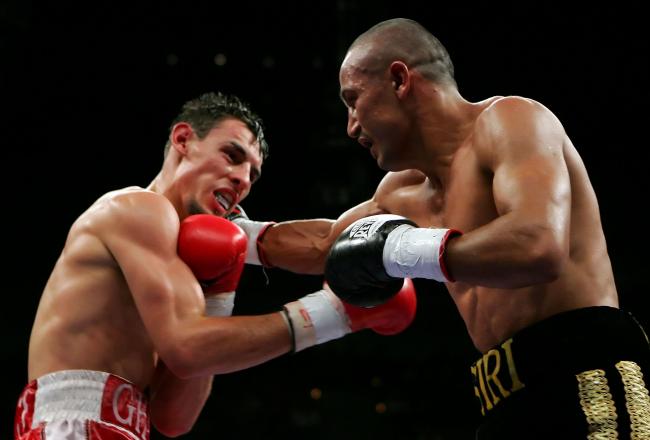 Salido is a late bloomer and will look to once again take down a young upstart.
Ethan Miller/Getty Images
It's a Boxing After Dark triple-header Saturday night live from Madison Square Garden In New York City.
In the opening bout Rocky Martinez retained his WBO junior lightweight title with a disputed and highly controversial draw against Juan Carlos Burgos.
It appeared that Burgos had done enough to win the fight but not on the official cards.
In middleweight action WBA middleweight champion Gennady Golovkin continued his impressive march to the top of the division with a dominant seventh round TKO over a bloody but game Gabriel Rosado.
Golovkin literally shredded Rosado's face, opening several bad cuts and forcing the corner to stop the brutality.
In the main event Mikey Garcia dropped Orlando Salido four times and won the WBO featherweight title by unanimous technical decision after the eight round.
Garcia dominated the action in nearly every round before the fight was stopped due to a broken nose after an accidental Salido headbutt.
That'll do it for us tonight fight fans! Mikey Garcia wins the WBO featherweight world title, Gennady Golovkin defends his middleweight championship and Rocky Martinez and Juan Carlos Burgos fight to a controversial draw.
Thank you for joining us tonight! As always stay tuned to Bleacher Report for all your post-fight coverage!
Tough way for Salido to lose his title. But he got blitzed by a younger, more skilled fighter. Nothing more really to say. You can not like the ending but the kid earned the title.
If you're Garcia why take a chance of fighting with a broken nose when you're up by a million points? It's a no-brainer even if not overly popular.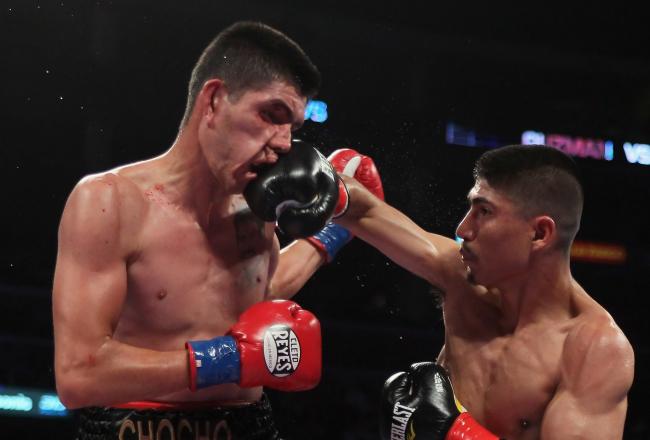 So we go to the scorecards...
79-70, 79-69, 79-69
All for the winner by unanimous technical decision AND NEW WBO featherweight champion of the world Mikey Garcia!!!!
And we will go to the scorecards here after the eighth round. Mikey Garcia has apparently suffered a broken nose as a result of a headbutt.
Salido will lose his title here tonight by a WIDE technical decision.
Garcia hurt badly from an apparent headbutt. Could be a broken nose. They're looking at him in the corner. Could be heading to the cards early...which means a Garcia win.
Exciting round as Salido has become the stalker...needing to do something dramatic. Garcia taking his shots thus far...
Salido laying some serious leather in the seventh. Absolutely his best of the fight. He has five more to look for that knockout.
6-1, 69-60 Mikey Garcia.
Salido doing good work in the sixth...needs a knockout to win and he's gonna go for it...
Garcia opens up again but Salido takes his punches..without falling down. Better round for Salido. Landed some good shots. You could probably argue he even won it.
Argue...yes. But I still think Garcia did enough.
Garcia 6-0, 60-50.
Salido lands a nice right hook..doesn't faze Garcia.
Salido just running away now. Salido needs to do something drastic to avoid an epic washout loss.
Five rounds to zero. 50-41 Mikey Garcia.
HUGE straight right from Garcia and Salido hurt again...bounces off the ropes. Could we be on the way to a fifth knockout...
Mikey Garcia knocks down Orlando Salido...AGAIN. Takes the fourth round.
Up by a ridiculous 40-32 score after just four rounds...
Orlando Salido, sensing the urgency, has really upped the aggression after getting dropped for a fourth time...
This is an absolute blitz. Garcia seems to be knocking down Salido with every punch. He scores his fourth knockdown early in round four. Salido needs a knockout to win at this point it would seem..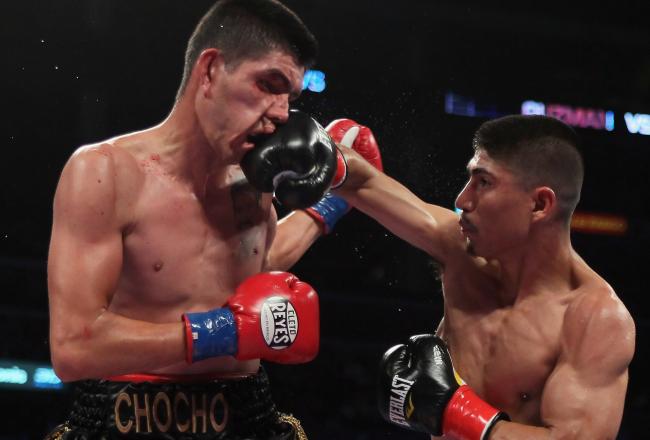 Mikey Garcia has a MASSIVE lead on the cards after just three rounds. He scores his third knockdown of the fight in the third and builds a 30-24 lead.
That was the first knockdown that Salido looked hurt. Up quickly but waaaaaaaay behind on the cards now...
Huge uppercut from Garcia and Salido down for a third time...WOW.
Salido stays upright for the second round but still loses it. Big hole for the champion early.
20-16 Garcia after two rounds.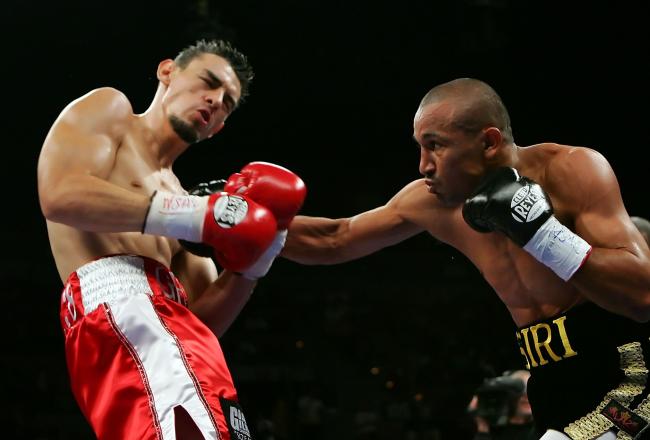 This fight...ain't going the distance...when they get to close quarters there are bombs being thrown...
Garcia opens up land a nice right hand but Salido right back at him in response.
WOW! Garcia drops Salido for a SECOND time to end the first. Weird punch. Looked like a check-hook. Not a hard shot at all.
Garcia wins the first HUGE 10-7.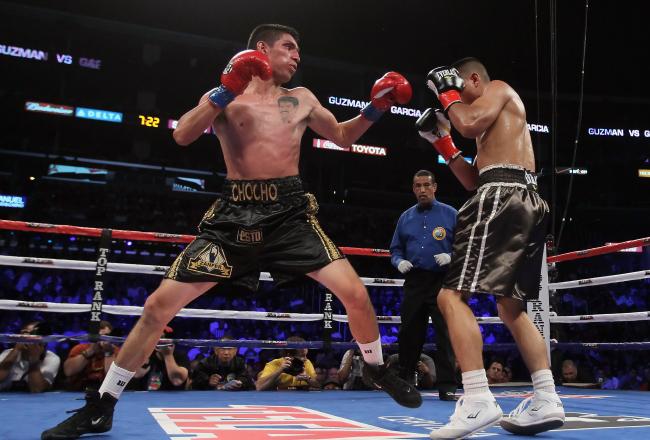 Salido back up..doesn't appear badly hurt but that was very unexpected...
Garcia deposits Salido on his pants early in round one. Didn't see that coming this early..
This article is
What is the duplicate article?
Why is this article offensive?
Where is this article plagiarized from?
Why is this article poorly edited?