Buffalo Bills Mock Draft: 7-Round Projections After East-West Shrine Game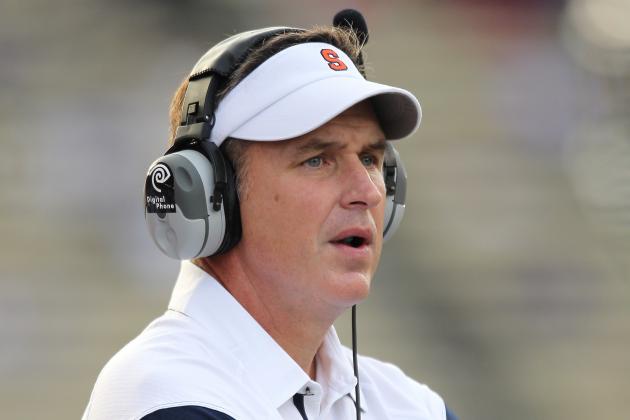 Otto Greule Jr/Getty Images
Buffalo Bills Head Coach Doug Marrone has plenty of work ahead of himself.
Saturday's East-West Shrine Game is in the books, with the West winning 28-13. The game had its fair share of prospects who helped their cause: South Carolina DE Devin Taylor, Texas A&M Christine Michael and Iowa State LB A.J. Klein.
A few other prospects, unfortunately, hurt their stock or did nothing to improve their draft status, namely Kansas State QB Collin Klein and UCLA CB Aaron Hester.
Will any of the players above have their names called by the Buffalo Bills come April? No one knows for sure, but I can say that two players get selected in my latest mock draft!
Please keep in mind, I feel that the Buffalo Bills will do everything possible to trade down in the first round to gain another early pick, but I will not include trades in my mocks at this time.
Last, as all Bills fans know, we do not currently have a 7th round pick after trading the pick for Tarvaris Jackson.
Begin Slideshow

»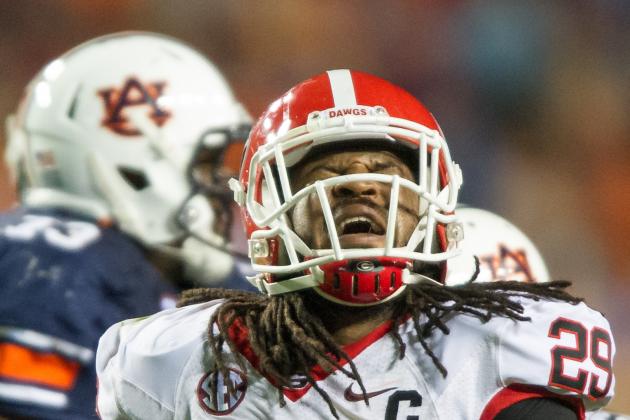 Michael Chang/Getty Images
Jarvis Jones to Buffalo? Sign me up!
The Buffalo Bills need plenty of help defensively, especially at linebacker.
Perhaps it's wishful thinking, but I believe there is a legitimate chance that Jarvis Jones lands with the Buffalo Bills.
Jones has the talent to arguably be the first selection come April 25, but his spinal stenosis could cause him to drop slightly on the draft board.
A serious condition, spinal stenosis has shortened many NFL careers. Marcus McNeill's promising career at LT was cut short due to spinal stenosis. Hall of Famer Michael Irvin also ended his career prematurely due to spinal stenosis. Rob Gronkowski dropped in the draft due to what many believed was spinal stenosis, although his agent denied the report.
That said, Jones does it all defensively. He finished his junior season at Georgia with 85 tackles. Of the 85 tackles, 24.5 of the tackles went for a loss (28.8 percent). He recorded 14.5 sacks, caused seven forced fumbles, had two fumble recoveries and one interception.
Jones is a matchup nightmare for offenses due to his agility and power.
In Buffalo, he'd fit into a defense that will run both 4-3 and 3-4 looks under aggressive defensive coordinator Mike Pettine.
If Jarvis Jones is available at pick eight, look for the Buffalo Bills to run to the podium with their draft card.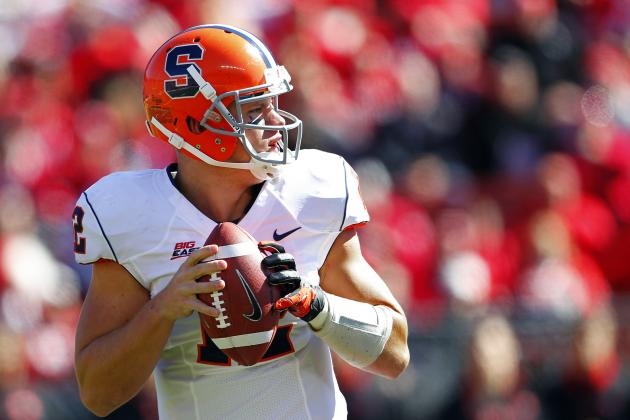 Rich Schultz/Getty Images
Ryan Nassib in Round 2 makes plenty of sense for the Bills.
I've seen mock drafts where Buffalo takes Syracuse QB Ryan Nassib at pick eight of Round 1. Does Nassib on the Bills make sense? Absolutely. His former head coach, Doug Marrone, and offensive coordinator, Nathaniel Hackett, are now with the Bills. Nassib could prove himself worthy with an impressive Senior Bowl and Combine, but right now, he's a second-round talent in my eyes.
That said, no coaching staff has more insight on Nassib than do the Bills'. Marrone needs to find a QB in the 2013 NFL Draft that he feels he can work with. Based on his relationship with Nassib, it seems like an easy choice.
Nassib finished his senior season with 26 touchdowns and 10 interceptions. He threw for 3,749 yards while recording a 143.3 QB rating.
Overall, Nassib's growth in four seasons is pretty impressive. His totals in yards, touchdowns, yards per attempt, and quarterback rating improved every season. His completion percentage also improved each year from freshman year to his junior season. This past season, his 62.4 completion percentage tied his junior season's percentage.
One could argue that Nassib's interception total also went up each season, but his interception totals in four years were one, eight, nine and 10. The one interception came in limited playing time, and an increase of one interception each year isn't bad considering how his pass attempts went up each season. Nassib attempted 57 more passes in his junior season (415) than in his sophomore season (358). In his senior season, he attempted 56 more passes than in his junior season (471).
In his final year at Syracuse, Nassib's most impressive stat may be the increase in his yards per attempt (YPA). He jumped from 6.47 YPA in his junior season to 7.96 in his senior campaign.
If Nassib is available in Round 2 and Buffalo passes on him, it will speak volumes on how his former coaches feel about him as an NFL prospect. However, if he's still there, I think it's safe to believe that Buffalo pulls the trigger.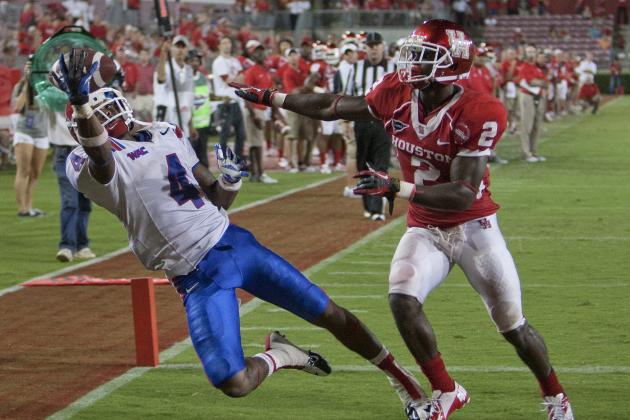 Bob Levey/Getty Images
Quinton Patton has the makings of a solid outside NFL WR.
The Bills selected a wide receiver in Round 3 of the 2012 NFL Draft. In 2013, I believe the team addresses the need again.
Enter Quinton Patton of Louisiana Tech.
In 12 games, Patton caught 104 passes for 1,392 yards and 13 touchdowns. He has good size at 6'2", but is small at 195 pounds.
Part of Patton's impressive stats were due to his team's offense, which averaged a gaudy 51.5 points per game.
Patton has long arms, exceptional hands and is quite elusive. He'll need to add more muscle to his frame, but he has the potential to be an excellent wide receiver in the NFL.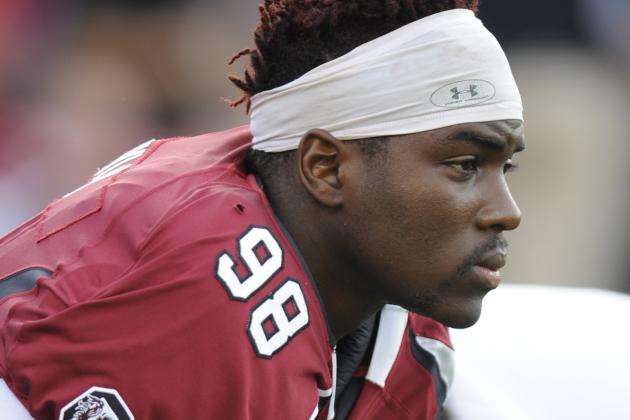 Mary Ann Chastain/Getty Images
Devin Taylor's East-West Shrine Game performance was very impressive.
Devin Taylor makes the Bills' mock draft list after his impressive East-West Shrine Game performance.
The former Gamecock was clearly the MVP of the game. Taylor notched a few sacks, forced two fumbles and used his 6'7" frame to disrupt many passes.
Taylor didn't receive much attention this season, as Jadeveon Clowney was the team's star player.
Heading into the game, Taylor was seen as a late fourth- to early fifth-round draft pick. After his performance, he has a great chance of going early in Round 4.
In Buffalo, he would be able to rotate in at defensive end behind Mark Anderson. There's no doubt that Mike Pettine could use him in his aggressive defensive schemes.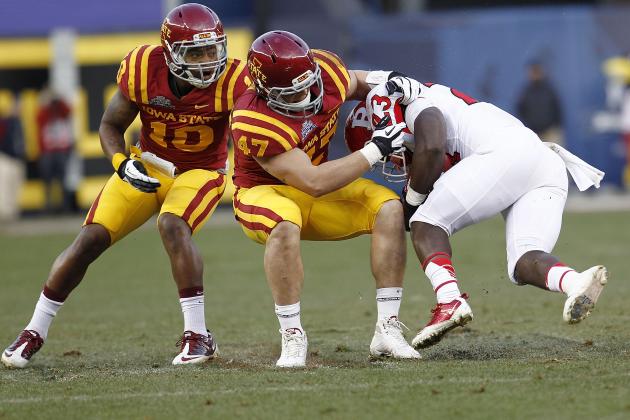 Jeff Zelevansky/Getty Images
I loved A.J. Klein as a value pick before the Shrine Game and he improved his stock with his strong play.
Devin Taylor made my mock draft following his East-West Shrine Game performance, but I did have A.J. Klein going to the Bills in the fifth round before the game.
Following the Shrine Game, I feel even stronger about the Klein pick.
The former Cyclone is athletic and especially solid against the run. He hardly ever misreads plays and has terrific instincts. Based on film that I've watched, Klein takes good angles and is strong in terms of pursuing the opposition.
Klein is best in zone coverages on defense, as he does a great job of reading the opposing quarterback's eyes.
In Round 5, A.J. Klein has plenty of value, especially on a team like Buffalo, which needs help and depth at inside linebacker.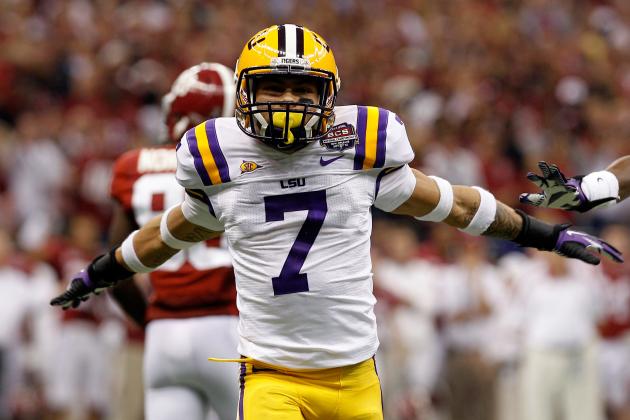 Chris Graythen/Getty Images
A few teams will think about taking a waiver on Tyrann Mathieu.
Plenty of question marks, but plenty of talent.
In the sixth round, Tyrann "Honey Badger" Mathieu is too good of a corner to pass up.
Everyone knows that Mathieu didn't play football this season after being suspended from the LSU Tigers after failing a drug test. And while there are plenty of red flags attached to Mathieu, you can't ignore his ability. In Round 6, someone should take a flier on Mathieu, so why not Buffalo?
All eyes will be on the former Heisman finalist at the NFL Senior Bowl and Combine. Regardless of his performances, sitting out for one season and his height (5'9") will deter some NFL clubs.
The Bills need as much help as they can get at the cornerback position. Plus, Honey Badger Wings would sell themselves in Buffalo! In all seriousness, every player deserves a second opportunity, and Mathieu in the sixth round would be a strong value pick.