2013 NFL Mock Draft: 7 Prospects Solidifying First-Round Status at Senior Bowl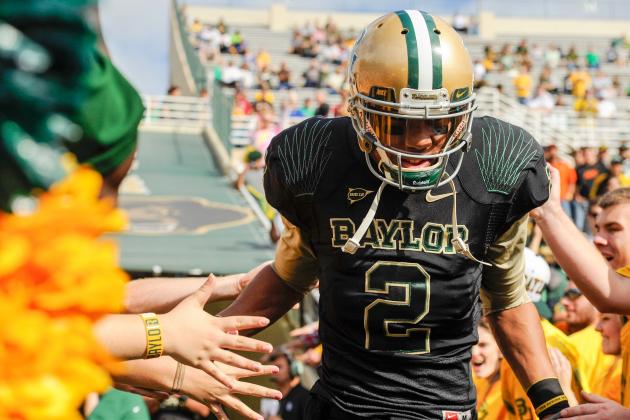 USA TODAY Sports
Baylor's Terrance Williams kept the Bears offense explosive in 2012.
The next step in the 2013 NFL draft process is the Senior Bowl.
Players gain additional exposure to pro scouts and coaches, plus the opportunity to shine against other NFL prospects. Obviously, the stronger week of practice and game performance results in better draft stock.
Take receiver Terrance Williams, for example.
The Baylor Bears had another explosive offense in 2012, and Williams produced despite not having the extensive amount of talent around him as the previous season. Not to mention a strong Senior Bowl showing provides momentum and confidence as the offseason progresses.
It's a similar situation for all prospects invited to this game, because first-round status is at stake. Ahead, we check out another full mock draft and highlight those competing in the 2013 Senior Bowl.
Note: Full view of North and South Senior Bowl rosters and weigh-in courtesy of DraftInsider.net.
Begin Slideshow

»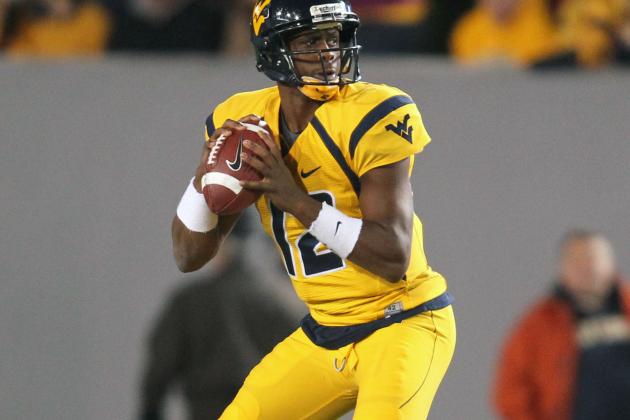 Charles LeClaire-USA TODAY Sports

Obviously the Kansas City Chiefs need a quarterback.
Geno Smith certainly addresses that need and his decision-making will pay immediate dividends.
Still, K.C. could also take Luke Joeckel here or trade back, as Smith is a reach at No. 1 overall. Going through another season with Matt Cassel or Brady Quinn at the helm, though, will be more difficult than taking Smith.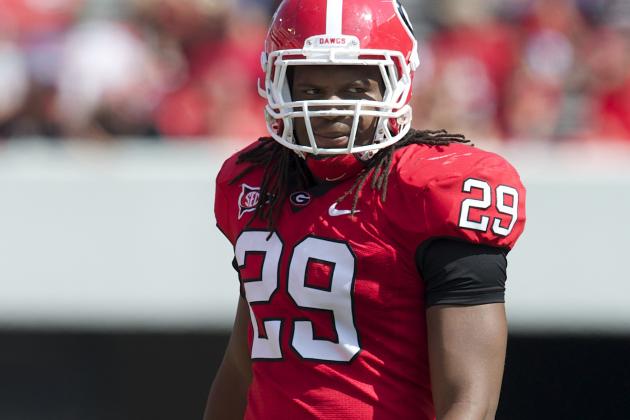 Dale Zanine-USA TODAY Sports

Unless the Jacksonville Jaguars want to field a horrendous rush defense and pass rush like they did in 2012, Jarvis Jones is required.
He's the best pass-rusher of the 2013 class and capable of developing more against the run.
Possessing impressive athleticism, Jones' presence will allow the rest of Jacksonville's front seven to make plays. Not to mention, he will assist the coverage defenders by quickly getting quarterback pressure.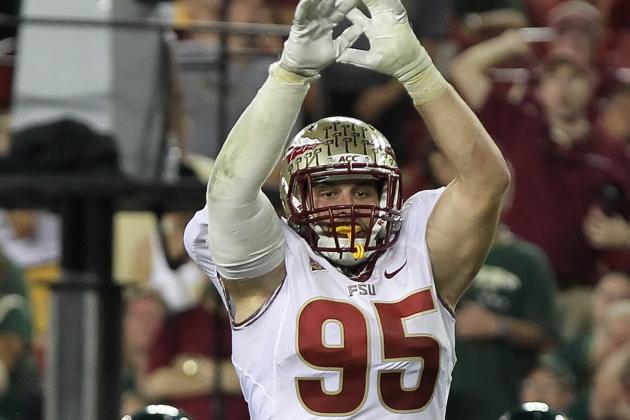 Kim Klement-USA TODAY Sports

Much like the Jaguars, the Oakland Raiders need a standout edge defender to upgrade the pass rush and run defense.
Bjoern Werner is just that—he can hold up contain on the outside and wreck in the backfield when needed.
Even more appealing, though, are Werner's instincts. With 17 defended passes over the past two seasons, Werner knows how to quickly react against the pass and dissect screens and draws.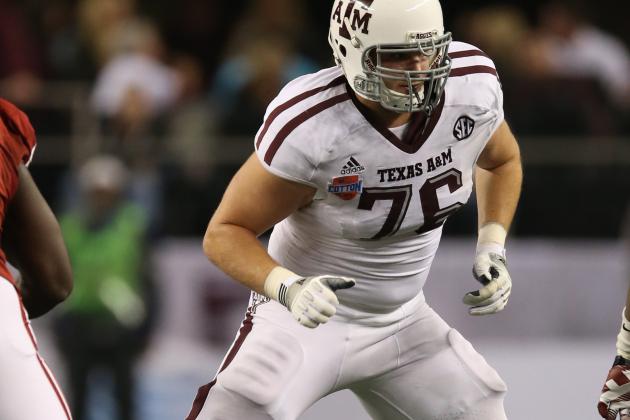 USA TODAY Sports

Provided Luke Joeckel is available at No. 4 overall, the Philadelphia Eagles must select the draft's best offensive lineman.
Lacking pass protection and ground game consistency in 2012, Philly immediately solves those issues with Joeckel.
Although he's a better pass-blocker, courtesy of excellent size and the evidence of Johnny Manziel's impact, Joeckel's athleticism also bodes well on the ground. Given that the NFC East fields solid pass-rushers, landing Joeckel will seal off the edge.
A byproduct of that is setting up the run, which generates balance and keeps defenses honest.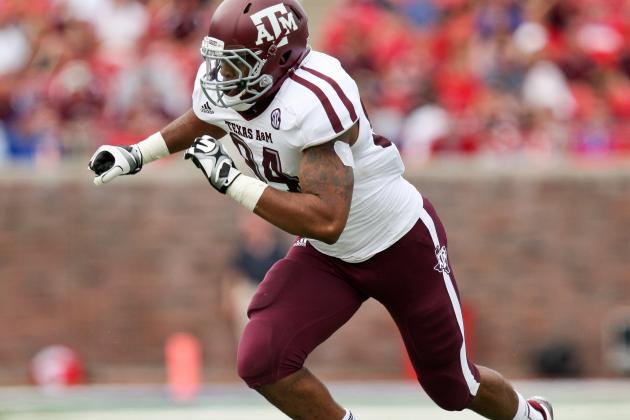 Thomas Campbell-USA TODAY Sports

For the Detroit Lions to consistently compete in the NFC North, a dominant front seven is needed.
Well, Damontre Moore will spruce up the pass rush and youth in Detroit's defensive front.
Kyle Vanden Bosch is turning 35 years old next season, so planning now for the future will get the Lions back on track. Moore's talent to apply pressure and control the line of scrimmage will also help against stronger divisional opponents such as Green Bay and Minnesota.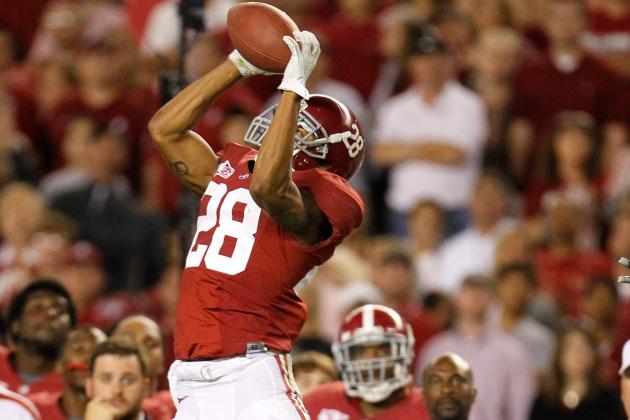 Kevin C. Cox/Getty Images

The Cleveland Browns need a lockdown cornerback opposite of Joe Haden.
Not only does Dee Milliner provide that capability, he's also quite appealing to new defensive coordinator Ray Horton.
Per ESPN.com, Horton became Cleveland's defensive coach last week. While at Arizona, Horton's defense ranked No. 5 against the pass and allowed only a 54.3 completion percentage.
Factor in Milliner's skill set of tackling and field awareness, the Browns would present one excellent defense.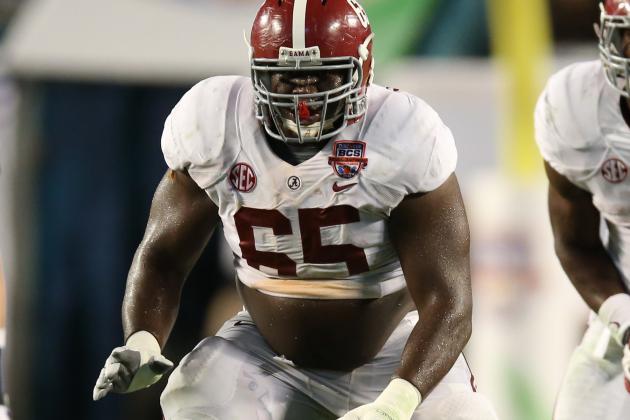 Matthew Emmons-USA TODAY Sports

Considering how much the Arizona Cardinals lacked in 2012, the offensive line was easily the most unreliable.
Chance Warmack addresses this need, however, because he's a balanced player that complements the NFC West.
It's a defensive, tough division where controlling the point of attack is key.
Arizona had atrocious pass protection and a weak rushing attack, so landing Warmack will improve these areas. The end result is a quicker developed pocket for the quarterback and polished running lanes at the line of scrimmage.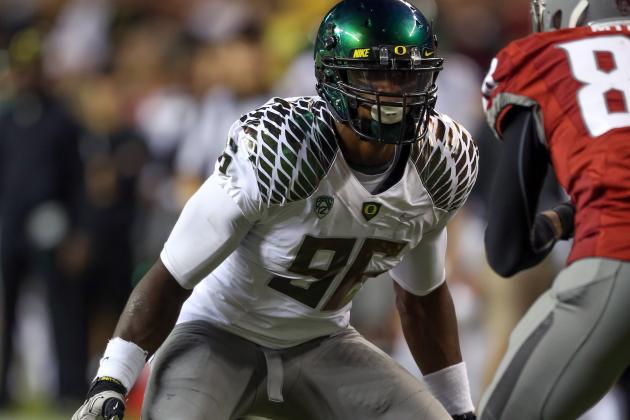 Otto Greule Jr/Getty Images

Just from his size alone, Dion Jordan could help the Buffalo Bills' front seven.
Now yes, Buffalo could reach for a quarterback here to address that dire need.
But Jordan brings the talent to significantly improve the pass rush in assisting Mario Williams. Additionally, he can stifle the opposing ground game at the line and occasionally sink into coverage to knock down passes on quicker developing plays.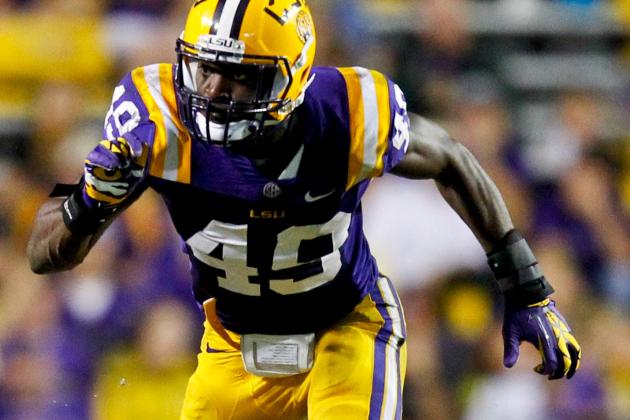 Derick E. Hingle-USA TODAY Sports

Rex Ryan and the New York Jets have to select a linebacker who can rush the quarterback and drop into coverage.
Barkevious Mingo brings this potential, because of his speed and lateral quickness combination.
Certainly, Mingo needs to improve more against the pass. He is, however, a sound rusher and his acceleration alone helps defend the run. Include New York's solid pass defense and Mingo can focus more on expecting the run as well, which will speed up his development.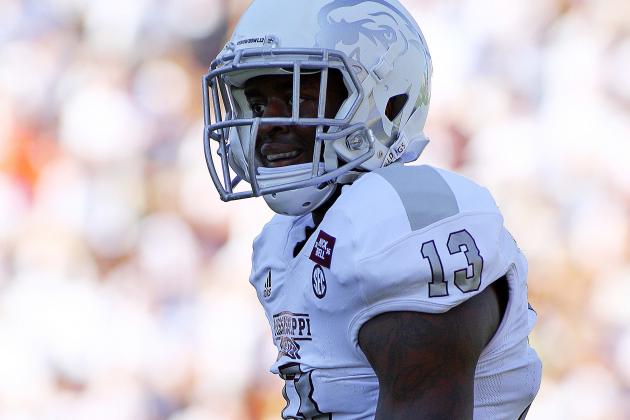 Spruce Derden-USA TODAY Sports

Regardless of how well a defense can stuff the run, or lack thereof, there's no chance of slowing opponents down without consistent coverage.
The Tennessee Titans allowed a 66.3 completion percentage in 2012 and gave up 31 passing touchdowns.
Yikes.
Therefore, selecting Johnthan Banks takes care of that problem. Providing impressive man coverage and zone awareness, Banks will isolate half of the field for Tennessee. In turn, the rest of the Titans defense can shield in coverage and focus on stopping the run.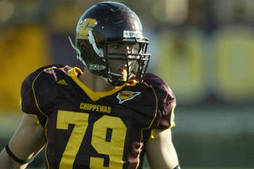 Photo Credit: Tim Fitzgerald, Central Michigan University Athletics
Senior Bowl
The only real knock on Central Michigan's Eric Fisher was not having faced the best talent in college football on a weekly basis.
The MAC simply pales in comparison to most conferences, especially the power conferences, but Fisher still brings excellent potential.
After all, the San Diego Chargers allowed 49 sacks of Philip Rivers this past season. Even worse was the ineffective rushing attack that averaged a mere 3.6 yards per attempt. Even though pro football is a pass-oriented league, possessing the ability to run the rock on a when-needed basis must be present.
Otherwise, an offense becomes emphatically one-dimensional and the play-calling more predictable in key situations. The addition of Fisher, though, quickly gives balance to San Diego's offense.
He's patient as a pass-blocker and knows when to extend, as this prevents the rusher from making an easy move. On the ground he's simply quick. And that attribute allows him to redirect in any direction and create a nice lane for the ball-carrier.
Ryan Mathews will get inflated production when going off tackle and slicing inside of Fisher on counters.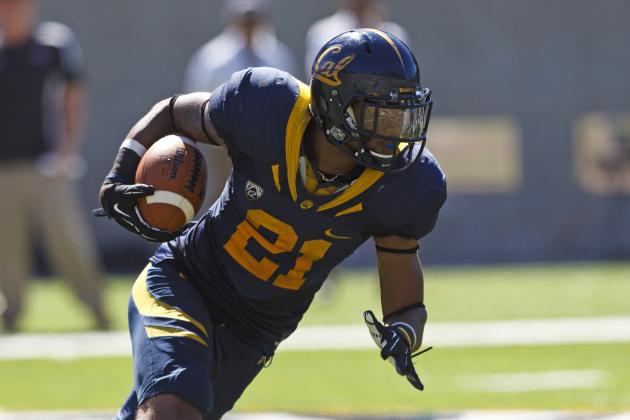 Jason O. Watson/Getty Images

The Miami Dolphins may have finished 7-9, but they weren't too far away from being postseason contenders.
Having lost five games by a touchdown or less, Miami is a big play receiver away from turning it around.
Keenan Allen is the answer, because his size and explosiveness will benefit from Ryan Tannehill's strong arm and mobility. And with Allen stretching defenses, this allows Davone Bess and Brian Hartline to face one-on-one mismatches when going underneath.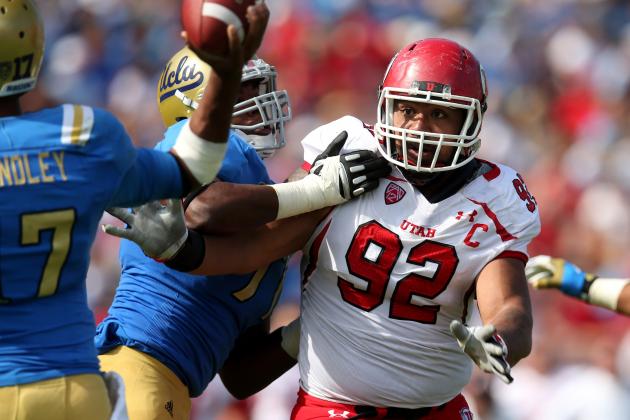 Stephen Dunn/Getty Images

Because the Tampa Bay Buccaneers are so young across the board, their first pick in 2013 can go a few ways.
One is to address the pass defense, as it ranked No. 32 this past season.
Another is taking Star Lotulelei to enhance the defensive front. Although the Bucs ranked No. 1 against the run, it's from so few teams attempting to run against them. Not to mention Tampa lacked a pass rush as well.
Getting Lotulelei will easily clog running lanes and draw double-teams to free up the rest of the front seven. We then see a more consistent pass rush, which assists the young secondary (aside from Ronde Barber) to make more plays.
Jeff Blake-USA TODAY Sports

The next step for the Carolina Panthers is upgrading the run defense.
With other sound defenders in Luke Kuechly, Josh Norman, Charles Johnson and Charles Godfrey, drafting Sheldon Richardson would improve Carolina in the trenches.
Richardson has a knack for getting into the backfield and generating turnover opportunities. That impact closes running lanes up front and the Panthers control the line at a more consistent rate. Doing so also lets the linebackers and secondary react quicker when defending the pass.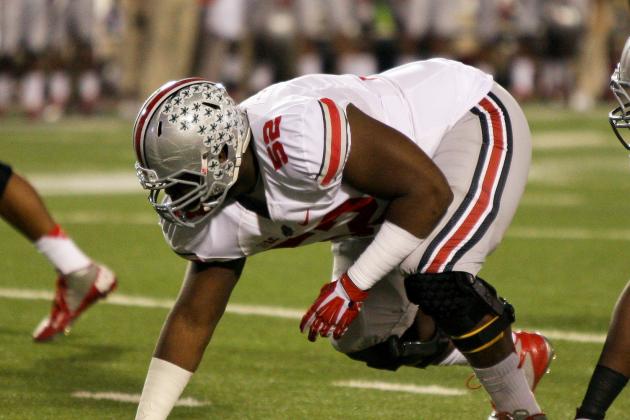 Pat Lovell-USA TODAY Sports

The biggest reason why the New Orleans Saints struggled in 2012 was run defense.
The Big Easy gave up an average of 5.2 yards per rushing attempt, as well as 147.6 per game.
New Orleans immediately fixes this gargantuan defensive problem with Johnathan Hankins. He's strong, aggressive and powerful at the point of attack.
This level of tenacity is what the Saints need up front, because he'll get quarterback pressure and also draw double-teams.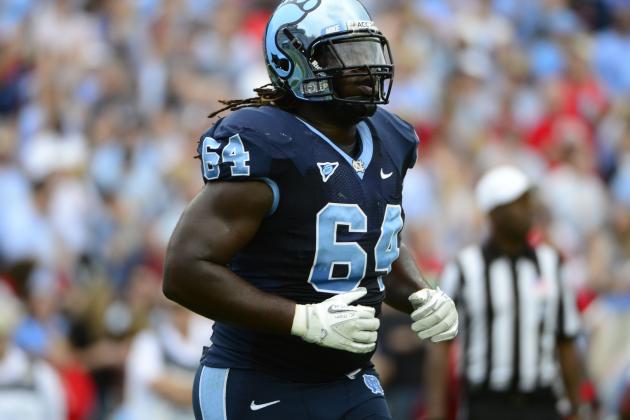 USA TODAY Sports

For the St. Louis Rams to continue rising as NFC West contenders, improving the offensive line with Jonathan Cooper must happen.
Cooper is a key reason for Giovani Bernard's quick success, because he can move fast laterally and get upfield to extend running lanes.
His ability as a run-blocker fits the mold in a tough division, plus a better ground attack sets up play-action. And Sam Bradford has the capability to spread defenses with his dynamic receiving corps.
Matthew Emmons-USA TODAY Sports

All of Manti Te'o's off the field distractions aside, the Heisman Trophy runner-up is a great fill for the Pittsburgh Steelers.
Given the Steelers' aging front seven, Te'o's impact will help keep Pittsburgh dominant against the run.
The Steelers have the personnel to control the edges and A-gaps, so Te'o will be given a limited capacity of responsibility while he develops. Now count his playmaking skills and the Steelers get more consistent coverage at the intermediate level.
This assists the pass rush as well, and we see the Steelers create more turnovers in 2013.
USA TODAY Sports

Senior Bowl
Including his age, turns 32 before next season, Jay Ratliff is in the midst of some off the field problems for the Dallas Cowboys.
Per Calvin Watkins of ESPNDallas.com:
Starting nose tackle Jay Ratliff has met with team owner and general manager Jerry Jones about being arrested and charged with driving while intoxicated, according to a source.

Ratliff's status with the team was in doubt after playing in just six games during the 2012 season because of injuries and declining play.
So, enter John Jenkins who can fill Ratliff's place in 2013 should the Cowboys part ways with the veteran defensive tackle. And even if Ratliff remains, Jenkins' potential will make a strong impact.
Despite his size, Jenkins can rush the passer and knife between double-teams to crash the backfield. Dallas has to improve its front seven against the run, and Jenkins' overall talent will win the interior part of the line of scrimmage.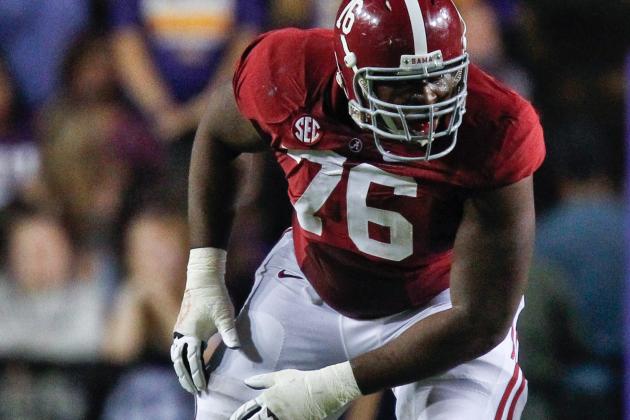 Derick E. Hingle-USA TODAY Sports

Senior Bowl
It's quite easy to overlook D.J. Fluker. The Alabama Crimson Tide present so much talent for the NFL, that he can get lost in the shuffle.
Eli Manning, though, needs a younger offensive line, because age is beginning to catch the New York Giants despite having offered consistent pass protection. Fluker has the size and power to dominate the trenches and extend running lanes.
His lateral quickness does need to improve, but his solid base and hands will wall off the edge. Combine Fluker facing the speed of the SEC and quarterback A.J. McCarron getting sacked only 22 times in 14 games, the potential exists.
Lest we forget about Big Blue's rushing attack and the Giants will develop his talent nicely.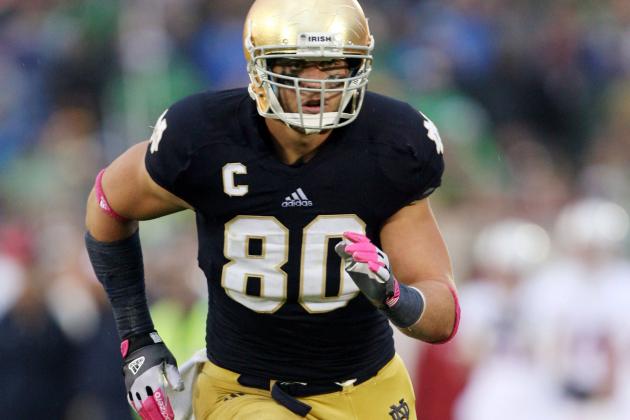 Brian Spurlock-USA TODAY Sports

Without question the Chicago Bears need a more reliable offensive line.
At the same time, Chicago still averaged 4.2 yards per rushing attempt.
So the impact of Matt Forte and Michael Bush will continue to hit defenses up front. Selecting Tyler Eifert simply provides Jay Cutler with another big receiving target to field a balanced attack.
Plus, the taller receiving targets allows for quicker developing plays to negate a pass rush. Eifert has the ability to beat anyone man-to-man and his run-blocking dependability is better than advertised.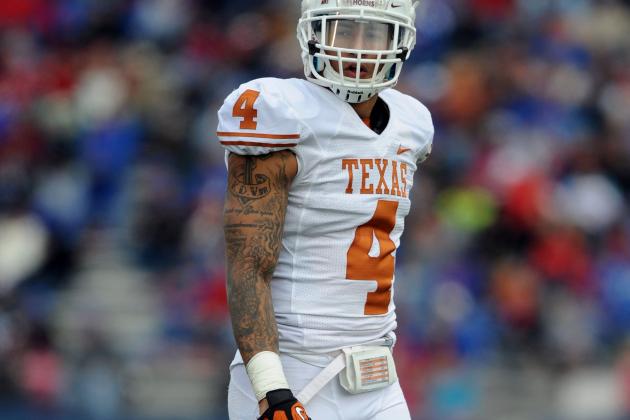 John Rieger-USA TODAY Sports

Allowing a 61.8 completion percentage and failing to consistently generate turnovers cost the Cincinnati Bengals in 2012.
Although Kenny Vaccaro only recorded five picks in college, he's well-versed in man coverage and reacts quickly in zone.
The Bengals are also aging in the secondary, because Terence Newman is 34, Nate Clements is 33 and Chris Crocker is 32. Provided Vaccaro improves his ability to remain under control and get off blocks more consistently, he'll then create more turnovers and defend even better against the run.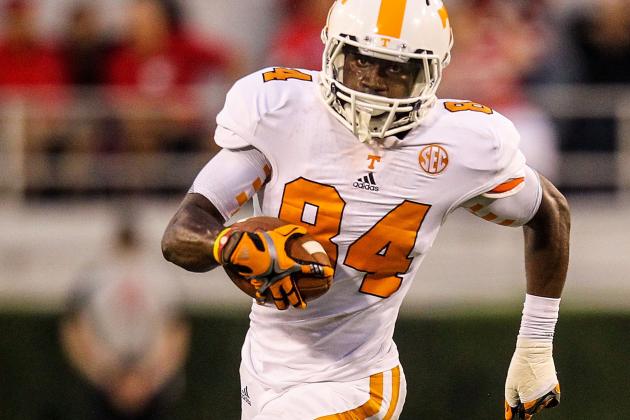 Daniel Shirey-USA TODAY Sports

Sam Bradford does have a solid receiving corps, but adding Cordarrelle Patterson gets St. Louis to another level.
Patterson's size alone will pay dividends inside the red zone and when Bradford launches a few downfield.
Also, he can go over the middle and accumulate yards after the catch against man coverage. Now with a balanced offense that possesses greater explosiveness, the Rams will contend for a postseason berth.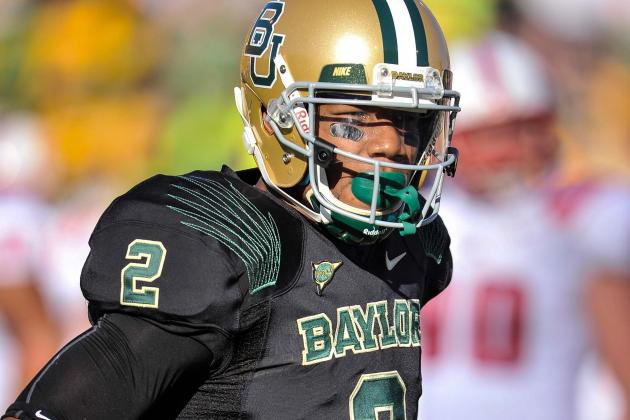 Jerome Miron-USA TODAY Sports

Senior Bowl
The Minnesota Vikings need a receiver that can push defenses back and rack up massive yards after the catch.
Terrance Williams is just that guy, because his size and acceleration will burn defenders in Cover 1 and split Cover 2 zones. Williams will also benefit largely from the rushing threat of Adrian Peterson.
Every defense will continue stacking the box with at least eight players, which leaves the coverage incredibly vulnerable. As a result, Williams will never face double coverage or even a bracketed zone over the middle.
Christian Ponder is not an elite quarterback, but his mobility and arm strength does work on play-action. Combine all the elements and Williams is given plenty of time and space to take advantage of any coverage.
The outcome is a more potent offense from Minnesota to keep pace with any high-powered opponent. In short, controlling the game tempo and scoring more consistently.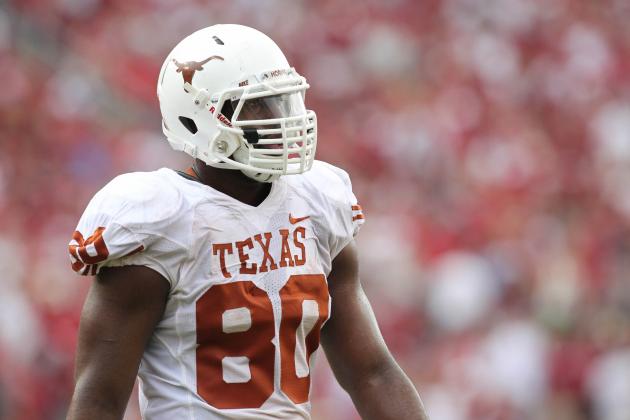 Tim Heitman-USA TODAY Sports

Senior Bowl
The Indianapolis Colts lacked a pass rush and run defense throughout 2012.
Despite the unreliable defense, finishing 11-5 after going 2-14 offers much promise to the immediate future.
By selecting Alex Okafor, the Colts get a versatile defender that can play a 4-3 or 3-4 defensive end or a 3-4 outside linebacker. His instincts are among the best around, because he can track down a ball-carrier in the midst of a cutback or sneak into coverage and knock down a pass.
He's also a sound pass-rusher with quick hands and impressive power.
Factor in Okafor'a size and athleticism, and Indy drastically upgrades its quarterback pressure and ability to win the battle up front.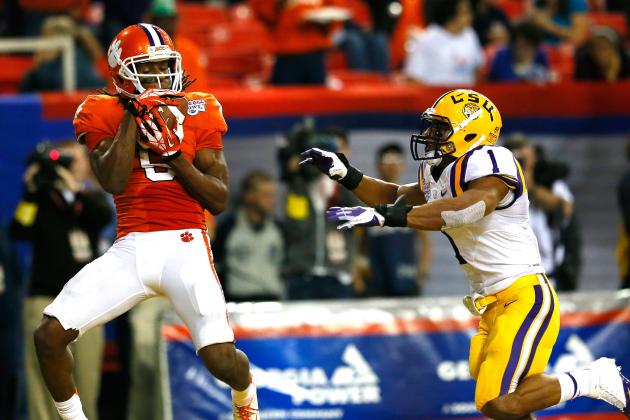 Kevin C. Cox/Getty Images

Russell Wilson already has a reliable set of receiving targets, but another explosive player to stretch defenses will take this offense to an unreal level.
DeAndre Hopkins brings the big play threat to complement Sidney Rice and will out-jump anyone man-to-man.
Averaging 17.1 yards per reception in 2012, Hopkins is a red zone competitive advantage, and he'll never be given double coverage. Seattle's rushing attack with Marshawn Lynch and Wilson's mobility are too threatening for a defense to try and isolate one receiver.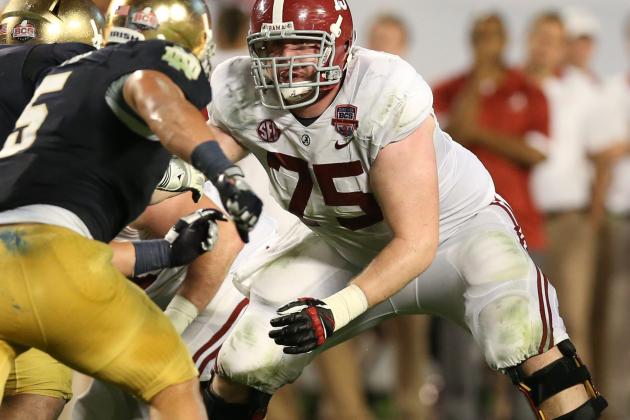 Matthew Emmons-USA TODAY Sports

Barrett Jones is the most dynamic offensive lineman in the 2013 draft class.
That versatility is extremely appealing to the Green Bay Packers, because Aaron Rodgers was sacked 51 times during the regular season.
Include the Packers needing to establish a more consistent ground game and Jones is the perfect pick. He brings the cerebral approach to play anywhere on the line and his complete ability is proven through impressive college success.
Given the efficiency of Rodgers in 2012 despite a lack of protection, just imagine Rodgers with more time to survey the field.
No defense would stand a chance.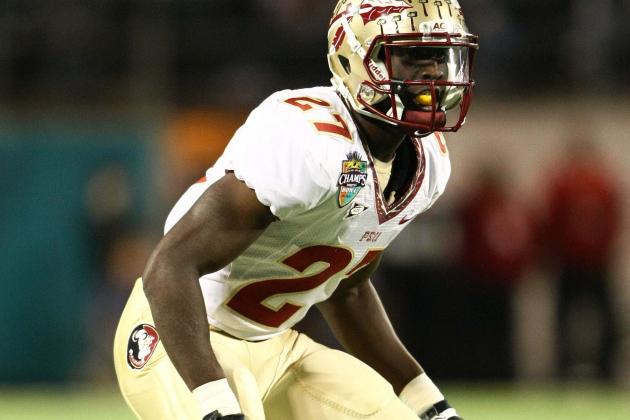 Douglas Jones-USA TODAY Sports

Pass defense was the costly vulnerability of the Houston Texans in 2012.
Although the Texans only allowed a 53 completion percentage, Houston gave up 29 passing scores and recorded a mere 15 interceptions.
Needing a prospect that can shut down in man coverage, Xavier Rhodes provides Houston the size and wherewithal to shield half the field. Possessing solid field awareness and proven playmaking skills, Rhodes can also tackle well and his size is an advantage for press coverage.
The more physical Houst can be against the pass in 2013, the increased odds of a stronger playoff run.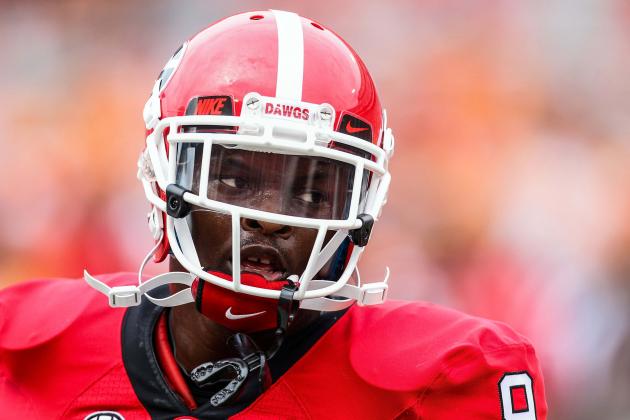 Daniel Shirey-USA TODAY Sports

The Denver Broncos can definitely go with a cornerback or safety here, but Alec Ogletree really completes the front seven.
Middle 'backer Keith Brooking will be 38 years old in the middle of next season and Wesley Woodyard is fully capable of controlling the inside.
So, the Broncos have to address opposite of Von Miller to create an extensively more athletic defensive front. Ogletree can blanket tight ends and slot receivers in coverage and is consistent against the run. His presence quickly fixes Denver's run defense that was exploited by the Ravens in January's playoff game.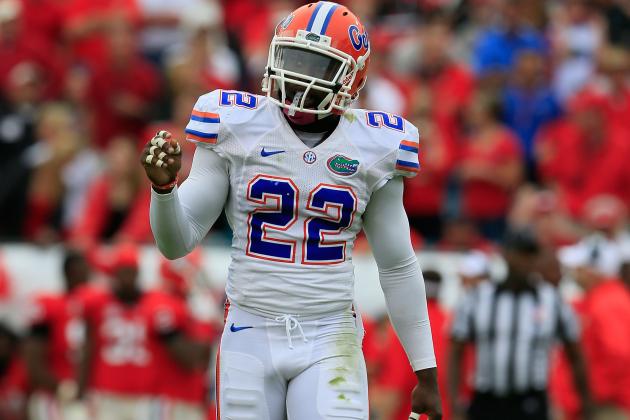 Sam Greenwood/Getty Images

The inability to defend the pass over the middle crushed the New England Patriots' hopes for another Super Bowl appearance.
It was suspect all regular season and the Ravens capitalized in the postseason.
Therefore, selecting Matt Elam helps with more reliable man coverage back deep and awareness when in Cover 1, 2 or 3. Elam is a proven playmaker who will patrol the middle and also quickly help the cornerbacks over the top.
The offense still possesses the talent to move the ball, it's Bill Belichick's defense that must step up.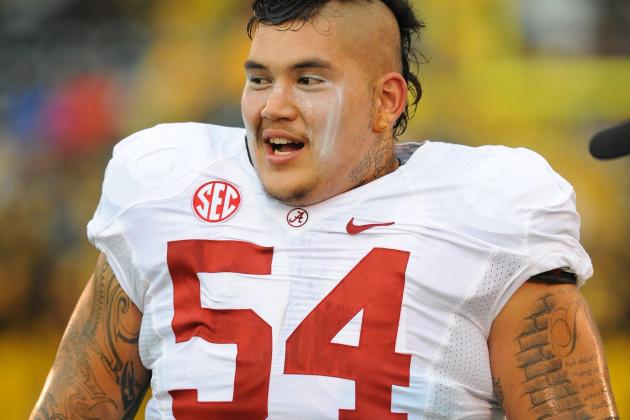 Denny Medley-USA TODAY Sports

In two playoff games the Atlanta Falcons allowed 272 rushing yards and an average of 4.7 per carry.
Prior to the postseason kicking off Atlanta's defense had allowed 4.8 yards per rush and 123 per game.
When it came down to crunch time, controlling the line of scrimmage came back to bite the Dirty Birds. Fortunately, a defensive tackle in Jesse Williams will solve that problem.
Williams will draw double-teams and he can quickly beat man-to-man and stuff the running lane from the snap. The guy also brings impressive toughness to the position, which is a competitive advantage in a defensively suspect NFC South.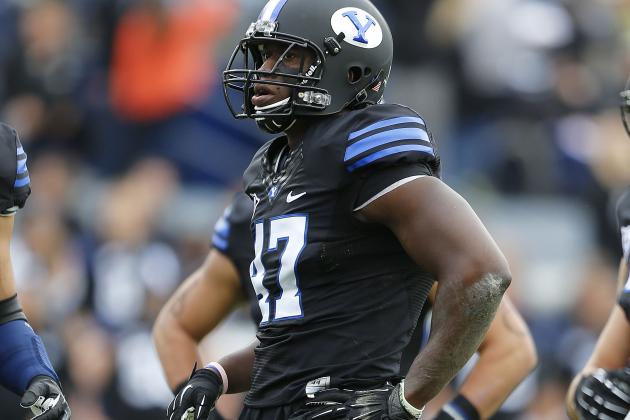 George Frey/Getty Images

Senior Bowl
One area where the Baltimore Ravens can improve is run defense and pass rush.
They allowed four yards per carry during the regular season and recorded only 37 sacks. Obviously part of that is attributed to the front seven being banged up, but these areas must get upgraded to repeat as AFC champs.
Not to mention pass-rusher Paul Kruger is set to be a free agent this offseason. Given his production, Baltimore can keep him and still take Ezekiel Ansah for talent and depth.
Or, should Kruger go elsewhere, Ansah becomes the next man in line to complement Terrell Suggs and Courtney Upshaw. Ansah brings the size and instincts to dominate against the run, and he can knock down quick passes or apply quarterback pressure.
The better appeal is the versatility. Because of solid athleticism, Ansah can contribute as a defensive end or outside 'backer for the Ravens. The end result is greater dominance throughout 2013 that carries over from 2012.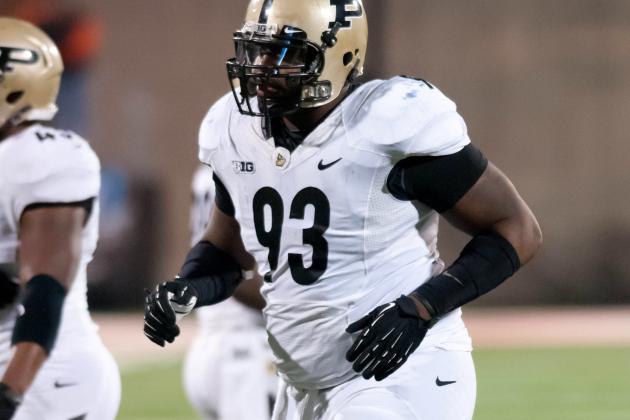 Bradley Leeb-USA TODAY Sports

Senior Bowl
The San Francisco 49ers aren't getting any younger along the defensive line.
Although Justin Smith and Isaac Sopoaga are still dominant players, San Francisco has to replenish with youth to maintain annual consistency up front.
This begins and ends with Kawann Short.
Coming in a bit undersized, Short still possesses the talent to constantly wreck a backfield. With 45 tackles for loss, 19.5 sacks and 14 defended passes over the past three years, Short's natural instincts and awareness will impact in 2013.
And through development in one of pro football's top defenses he will build consistency at controlling the line. Given the overall talent of the 49ers defense, Short will never face double-teams and opponents won't be able to expose his inexperience.
The ultimate result comes from Short eventually taking over in the trenches, and San Francisco winning the physical battle at the point of attack.
Follow John Rozum on Twitter.