Cardinals Mock Draft: Updated 7-Round Projection After East-West Shrine Game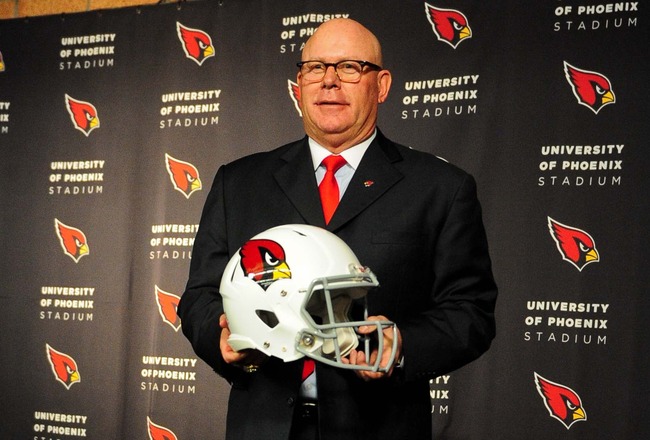 Arians will coach the Cardinals in 2013.
Matt Kartozian-USA TODAY Sports
On April 25, the Arizona Cardinals will have the seventh pick in Round 1 of the NFL draft. With the hiring of Bruce Arians as head coach, how will that shape the team's draft philosophy? Also factor in new defensive coordinator Todd Bowles, who is replacing Ray Horton.
Horton was released from his contract and quickly snapped up by Cleveland to be the Browns' defensive coordinator.
This mock draft includes updates and changes based on the East-West Shrine Game held yesterday at Tropicana Field in Tampa Bay. Most of the players who stood out were in positions that are considered draft luxuries rather than necessities. Also, the 28-13 win by the West was a sloppy game that featured eight total turnovers (four on each side). There were still some players who made their way into the mock as a result of their performances.
We have a new first-round pick in this mock draft after Jake Matthews chose to go back to Texas A&M, but the Shrine Game had some impacts in the later rounds of this mock.
Without further delay, this Cardinal mock is on the clock. Start the slideshow and see who Arizona should take with its first-round pick.
Round 1: Eric Fisher OT Central Michigan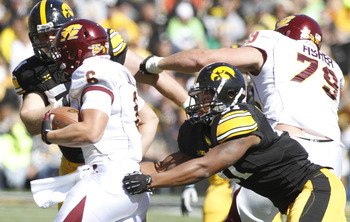 Fisher (right) clears the way against Iowa.
Matthew Holst/Getty Images
Eric Fisher of Central Michigan gets the call here in Round 1 as the Cardinals need to upgrade their offensive line. Fisher comes in at 6'7", 305 pounds, and would address a hole at the tackle position. He was a three-year starter for the Chippewas on the blind side. Arizona needs help protecting whoever their quarterback might be. The Cardinals have allowed 163 sacks over the last three seasons.
Fisher's size will be great for keeping oncoming rushers away in pass protection. Fisher also has great footwork, which will help him compete on the NFL level. In the run game, he's able to get to the second level quickly so he can get out and throw blocks for the running backs.
His height is his only drawback. Being 6-foot-7, he might have problems with shorter rushers getting under his pads and driving him backwards. But that's a chance teams would be willing to take.
Drafting Fisher would give Arizona the chance to move Levi Brown back to right tackle, hopefully solving some of the issues the porous offensive line has had over the years.
Fisher didn't play in the East-West Shrine Game but will be in next Sunday's Senior Bowl.
(The pick formerly was Jake Matthews of Texas A&M, but Matthews chose to return to the Aggies.)
Round 2: Kyle Long OG Oregon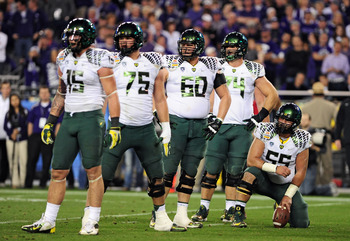 Long was part of a very nimble Oregon line.
USA TODAY Sports
Long still stays in the second-round position in our mock draft after the East-West Shrine Game. It would have been difficult to find a lineman to benefit Arizona that would have had their stock rise to the point where they could have knocked Long out of this position.
Long will play in next week's Senior Bowl so all eyes will be on him then and his second-round position in this mock could change.
With the offensive line issues more under control, let's try to fix the running game with the next pick.
Round 3: Montee Ball RB Wisconsin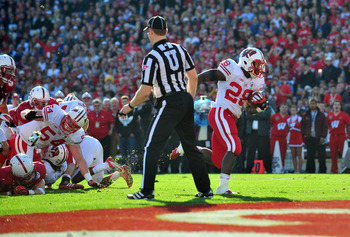 Ball finds the end zone in the Rose Bowl.
Gary A. Vasquez-USA TODAY Sports
Montee Ball continues to hold this spot in the third-round for Arizona. Ray Graham of Pittsburgh didn't do enough to try and supplant Ball from his spot in this mock. It would be difficult to put another running back ahead of Ball in this year's class which is thin at the position.
Ball has shown he can be consistent from year-to-year and then find that next gear in the open field with his breakaway speed. None of the running backs in the Shrine Game had as much skill or upside as Ball so that's why he stays here in round three.
Round 4: Chad Bumphis WR Mississippi State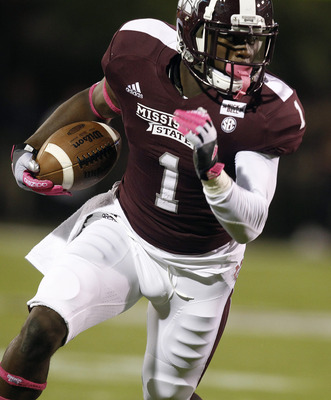 Bumphis would be a strong addition to the receiving core.
Butch Dill/Getty Images
Bumphis, the wide receiver out of Mississippi State, would make a nice addition to the Cardinals if they want another threat in the passing game. Bumphis led the Bulldogs in receiving this past season with 58 catches for 922 yards and 12 touchdowns.
He'd be a nice compliment to the bigger receivers of Larry Fitzgerald and Michael Floyd as Bumphis is 5-10, 202 with a 4.46 40-yard dash time.
Additionally, he might get some looks as a kick returner in the NFL to really utilize his blazing speed.
At the East-West Shrine Game, Bumphis stole the show with a 57-yard touchdown catch. He finished the day with four catches for 92 yards and the touchdown which was the best offensive performance of any individual on the day and was the game's offensive MVP.
Bumphis's big play ability and speed make him a great pick and the value if he was here late would be amazing.
Round 5: Ray Graham RB Pittsburgh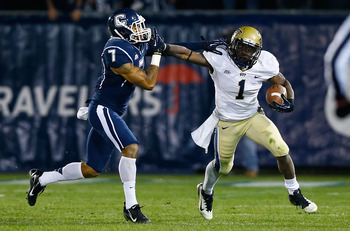 Graham stiff-arms a Connecticut defender.
Jared Wickerham/Getty Images
Ray Graham of Pittsburgh could be another weapon that Arizona could pick up to bolster the backfield if they miss out on Montee Ball of Wisconsin.
Graham performed poorly at the Shrine Game, fumbling on his second carry of the day. That fumble looked bad in front of the scouts but shouldn't sour the Cardinals on the overall value of him in the backfield. He finished with six carries for 23 yards.
Graham was the offensive key for the Panthers in 2012. Last season he ran for 1,042 yards and 11 touchdowns while adding 36 catches for 340 yards and two more scores. The two previous seasons, he averaged 940 yards and eight touchdowns so he has the consistency that coaches want.
He would be able to give the Cardinals a threat they haven't had in a while, a pass-catching back, and be able to add a new wrinkle to the Arizona offense.
Round 6: Zach Sudfeld TE Nevada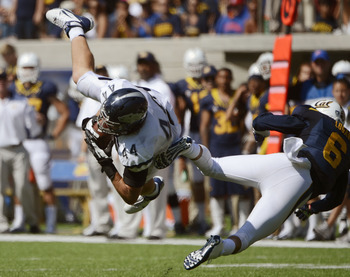 Sudfeld gets upended by a California defender.
Thearon W. Henderson/Getty Images
(This pick stayed the same from the previous mock.)
At the East-West Shrine Game, Sudfeld was targeted twice and caught one pass for nine yards. The numbers don't scream "Wow," but Sudfeld had a good game and a good week of practices.
Michael Schottey, Lead NFL Writer here at B/R, said Sudfeld's stock was up this week based on his performance.
Arizona tried a tight-end-by-committee approach in 2012, and it didn't produce much to help the offense. Tight ends scored exactly zero touchdowns last season, and none of them had more than 420 yards receiving.
The Arizona Cardinals have used the tight end as more of a blocker than a pass catcher due to the weakness of the offensive line. The rest of the league is going in the opposite direction on this, and this pick will help Arizona try to catch up with the times.
Zach Sudfeld put up a solid receiving line for the University of Nevada this season with 45 catches for 598 yards and eight touchdowns. He added a ninth score when he fell on a fumble in the end zone. With Arizona's passing game being more of a dink-and-dunk approach, Sudfeld should fit right in to the scheme and contribute right away.
With his size (6'7", 255 lbs) and speed (4.76), he would be the largest tight end on the team and a natural option when Arizona gets in the red zone. His size would make him an asset when he';s needed to block, but he could flare out on delay patterns and cause mismatches in the middle of the field.
The Cardinals have scored a total of 11 touchdowns from the tight end spot in the last five seasons. By comparison, Rob Gronkowski had 10 this season for the New England Patriots before breaking his arm and missing four games.
Round 7 Manase Foketi OT West Texas A&M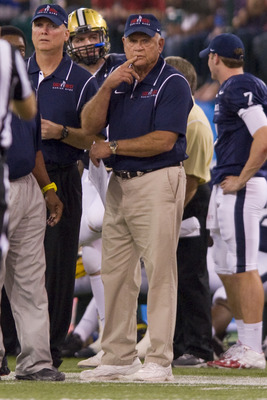 Leeman Bennett coached the West All Stars in the Shrine Game.
Jeff Griffith-USA TODAY Sports
Foketi is a Division-II player who is could be late-round prospect on the offensive line for Arizona. He's got the size to succeed at the NFL level at 6-5, 333 and had a good showing at the East-West Shrine Game.
He was able to manage the oncoming rush in the Shrine Game and shows more promise as a pass blocker. The Buffaloes of West Texas A&M made the NCAA quarterfinals for the first time in school history. That offense was averaging 341 yards per game passing and 485 yards total.
Foketi was also a finalist for the Gene Upshaw Division II Lineman of the Year Finalist. He could be another one of these small school success stories in the NFL and should be available in the seventh round.
Keep Reading

Arizona Cardinals: Like this team?