Ravens 2013 Draft: Potential Prospects from East-West Shrine Game
prweb.com
Seldom do All-Star games provide a truly competitive environment for an entertaining game. The outcome rarely seems to matter as the contest turns into an opportunity for self-promotion and resume building.
College football tends to buck that trend with their collection of "games" after the conclusion of bowl season. There are several showcases for draft-eligible players to get their name on the map and into the mouths of NFL scouts. The practices are scouted as closely as the game, and for many, it is the last live-game action to make a great impression, or any impression.
The 88th East-West Shrine Game took place Saturday afternoon in St. Petersburg, Florida at Tropicana Field. In case you were wondering, the West won the game 28-13. Former NFL coaches Jerry Glanville and Leeman Bennett called the shots for their respective sides, and Chad Bumphis of Mississippi State took home MVP honors with four catches for 92 yards and a touchdown.
The chemistry is typically off as teams have a very short time to prepare. That was to be expected as sloppy play ruled the game. There were some impressive performances, though, and some names that you will definitely hear mentioned during the countless hours of draft coverage.
Over 90 players from last year's game saw action in the NFL this year. The Baltimore Ravens, known for their savvy in the draft, most certainly had eyes on some prospects this week. The Shrine game typically doesn't feature the players that you will see drafted in the first three rounds, but it gives some players outside the spotlight an opportunity to shine.
Here's a look at some of the top potential draftees for the Ravens.
Begin Slideshow

»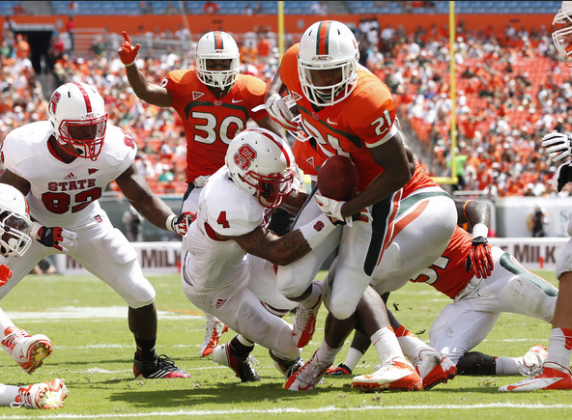 Brandon McGee, CB, Miami: 6'0"/197 pounds

Scouts were amazed at the athletic ability of the Miami corner. He might need to fill out more to play on Sundays, but McGee has great hands, electric speed and can jump with anyone on the field. McGee showed great improvement this year with 54 tackles and two interceptions.
Khalid Wooten, CB, Nevada: 5'11"/200 pounds
Wooten showed some playmaking ability Saturday with an interception. He was the best cover corner on either team during the week (via Optimum Scouting) and was on full display Saturday afternoon, blanketing the receivers on the East. Wooten improved his stock a great deal Saturday and would be a nice fit in the Baltimore secondary.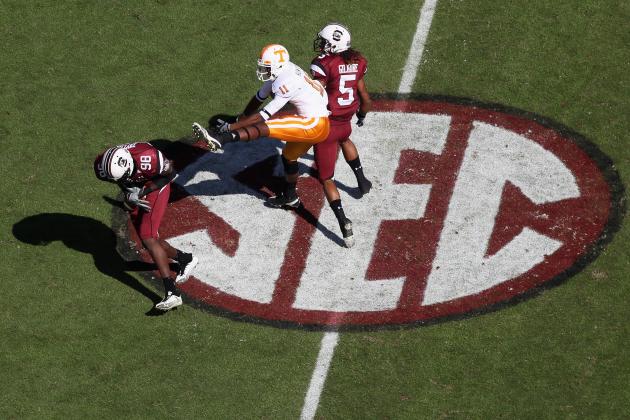 Streeter Lecka/Getty Images

Devin Taylor, DE, South Carolina, 6'8"/267 pounds
Taylor is a specimen and had plenty of dominant moments in the game. Surprisingly agile for his size, Taylor created havoc all afternoon for the East defense.
It was noted by Matt Miller of Bleacher Report that Taylor was not given an invite to the Senior Bowl. Miller was not as impressed by Taylor, pointing out the South Carolina end was going up against "sub-par prospects." He has been overshadowed all season by his headline stealing line-mates, but Taylor picked the right game to shine in.
A.J. Francis, DT, Maryland, 6'5"/315 pounds
Francis plays at the tackle position and was a solid contributor for Maryland all four years. He had 43 tackles in 2012, including nine for a loss and four sacks. Francis is projected to go late if he is even drafted at all, but the Ravens could take a chance on the local kid in the sixth or seventh round by picking him up for some interior line depth.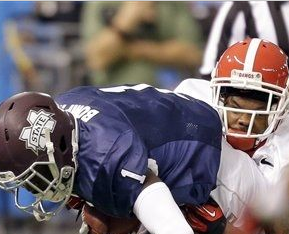 espn.com
Chad Bumphis, WR, Mississippi St.: 5'11"/198 pounds
Bumphis surprised many with his performance Saturday, running great routes and showing some terrific hands on a couple of tipped passes. Again, Bumphis isn't exactly an elite option at wide receiver, but could be a late-round steal as a slot receiver. Bumphis had a nice senior year with 52 receptions for 922 yards and 12 touchdown catches.
Marcus Davis, WR, Virginia Tech: 6'4"/225 pounds
Forget about Davis' game yesterday because his quarterbacks were atrocious. He only had one catch for 16 yards, but Marcus Davis could be a steal at this year's draft. With his size and speed, Davis has the physical gifts to be a playmaker on Sundays.
In a down year for a traditionally good Virginia Tech program, Davis finished with 51 catches for 953 yards and five touchdowns.
Armstead impressed in practice and in the game. patsfans.com
Terron Armstead, OT, Arkansas-Pine Bluff: 6'5"/310 pounds
Armstead comes from a smaller school but impressed against players from larger schools all day. He has been on various draft boards as a second-to-fourth-round pick and might have solidified his status in the earlier rounds. With Baltimore's needs in the offensive line trenches, Armstead could be a gem available in the later rounds.
T.J. Johnson, C, South Carolina: 6'5"/320 pounds
Johnson had an above-average game for the East and is projected as a late-round pickup. What I like most about Johnson as a sleeper is that he practiced against some of the best defensive linemen everyday with South Carolina. He was a four-year starter with the Gamecocks and faced premier defensive units in the SEC every week.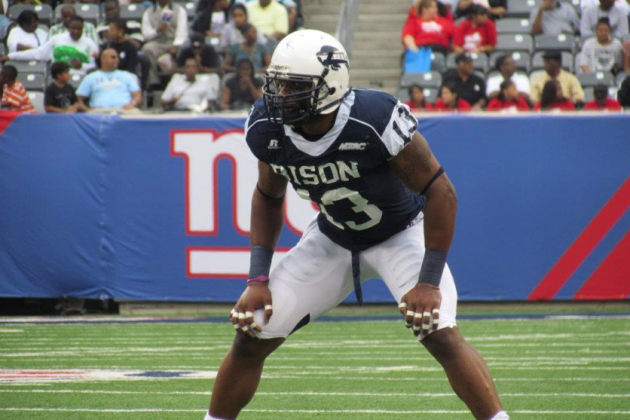 bloguin.com
Keith Pough, OLB, Howard: 6'3"/235 pounds
The small school linebacker showed impressive athletic ability all week in practice and during yesterday's game. Pough plays with a relentless energy and loves contact. He finished his senior year at Howard with 72 tackles, including 10 for a loss. Pough plays a violent physical "Ravens" style of defense and could be a late-round steal.
Sio Moore, LB, Connecticut: 6'2"/229 pounds
Moore entered the week as a mid-round prospect and improved his status yesterday with a solid performance. He was good against the run and also dropped well in coverage.
Moore was an All-Big East selection and finished a stellar career with the Huskies with 274 tackles and recorded 16 sacks. He definitely improved his stock on the national scale, and Baltimore would be wise to keep an eye on the ball-hawking linebacker.