Michigan State Squeaks By Ohio State in B1G Thriller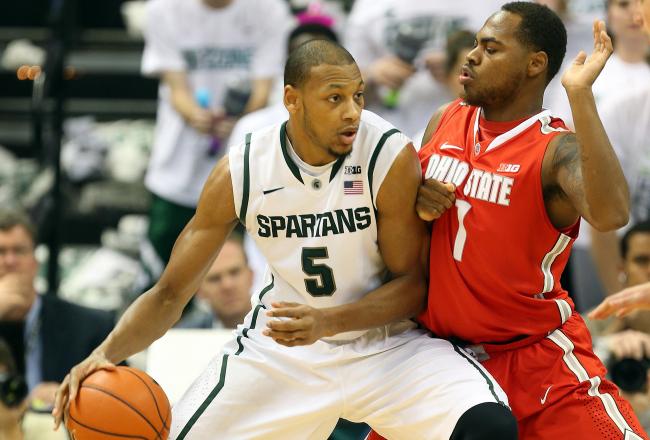 Adreian Payne scored 14 points to help Michigan State upset Ohio State at home.
Mike Carter-USA TODAY Sports
Final Score - Michigan State 59, Ohio State 56
The No. 11 Ohio State Buckeyes may have had the best individual player on the floor, but the No. 18 Michigan State Spartans used a balanced scoring rotation and outstanding defense to top the Scarlet and Grey 59-56 at the Breslin Center on Saturday evening.
Despite junior small forward Deshaun Thomas' 28-point effort, the Buckeyes could not overcome 14 turnovers, or find an answer for Michigan State's offense late in the game.
Junior point guard Keith Appling took over for the Spartans in the closing minute and scored Michigan State's final six points. Appling finished the game with 15 points.
Senior centers Adreian Payne and Derrick Nix also managed to expose Ohio State's lack of a defensive presence in the post by combining for 22 points and 14 rebounds.
With the exception of Thomas, none of the Buckeyes scored more than six points and sophomore guard Shannon Scott's game-tying shot in the closing seconds was well off the mark.
Michigan State improved to 16-3 overall and 5-1 in Big Ten Conference play, which will keep the Spartans in a tie for second place in the league.
The Buckeyes fell to 13-4 overall and 3-2 in Big Ten games.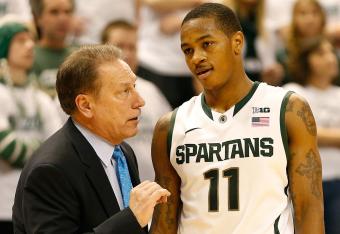 Michigan State did a much better job defending the lane and kept everyone beside Deshaun Thomas in check, which is the key to beating Ohio State.
Keith Appling took over down the stretch when the Spartans need him to make plays and the junior point guard scored Michigan State's final six points.
The Spartans also forced 14 turnovers and knocked down 12-of-14 free-throws to close out the Buckeyes at the Breslin Center.
Derrick Nix and Adreian Payne were outstanding in the post for the Spartans, though the latter struggled to defend Thomas.
If Michigan State can continue to get that kind of production from their bigs and Appling makes plays late in games the Spartans are going to be in the Big Ten Conference title race until the very end.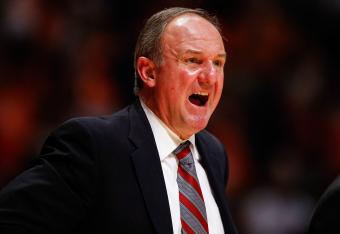 There were no surprises from Ohio State in its loss to Michigan State tonight.
The Buckeyes still do not have a true scorer outside of Deshaun Thomas, whose 28 points were not enough to topple the Spartans' very balanced scoring attack.
Aaron Craft missed a wide-open three-pointer late in the game and Sam Thompson was a complete non-factor for Ohio State.
The lack of a dominant post player also hindered Ohio State yet again. The Spartans were able to turn too many of their misses into baskets thanks to a lack of boxing out and Adreian Payne and Derrick Nix combined for 22 points.
Ohio State did not match up well with the Spartans coming into the game, so I can't say it's shocking Michigan State pulled out the victory at home.
MSU 59, OSU 56 - End of Game
Shannon Scott threw up a three-pointer from the corner with plenty of time left even though he had Thomas trailing him.
Scott clearly knew he made a mistake as soon as he let that one go.
MSU 59, OSU 56 - 7.9 seconds
Appling hits a pair of clutch free-throws to make this a three-point game.
I don't think there is any question this game-tying attempt will be in the hands of Thomas for the Buckeyes.
No denying Craft is an outstanding defender:
Craft has 5 steals, ties Ohio State career record with 204.

— Dan Wallenberg (@OSUADAthComm) January 20, 2013
Michigan State takes a timeout after struggling to get the ball inbounds. The Spartans do not have anyone that shoots better than 80 percent from the charity stripe, so two free-throws are not a guarantee here.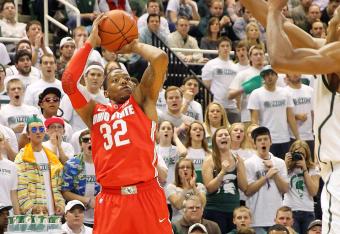 MSU 57, OSU 56 - 10.8 seconds remaining
Craft misses an open three from the corner and a quick outlet pass from Dawson to Appling leads to an easy dunk.
Lenzelle Smith Jr. hits a three-pointer to bring the Buckeyes within striking distance.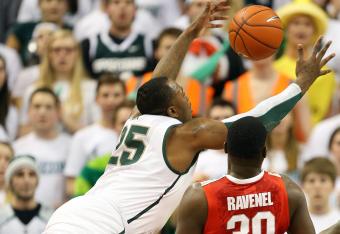 MSU 55, OSU 53 - 25.4 seconds left
Ohio State gets a fresh shot clock after the ball goes out of bounds off Thomas' missed three.
Timeout Ohio State.
The ball should not go to anyone but Thomas for the Buckeyes' game-tying or go-ahead shot.
MSU 55, OSU 53 - 37.5 seconds remaining
Craft comes up with a steal near the sideline and feeds Thomas near the bucket. Thomas got fouled by Payne, but knocked down two free-thros to tie the game up.
Thomas now with 28 points.
Appling answers with a drive and finish of his own to put the Spartans back on top. Great play when Michigan State needed it the most.
MSU 53, OSU 51 - 1:08 2nd Half
Tom Izzo calls a timeout with 23 seconds on the shot clock and close to one minute left. Look for this ball to go into the post to Payne, or for Appling to take it to the bucket himself.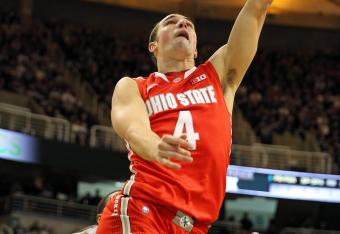 MSU 53, OSU 50 - 1:21 2nd Half
Thomas drove right into a triple team and couldn't finish. This is where the Buckeyes need someone else to become a scorer, because Michigan State will be keying in on Thomas.
Craft comes up with a steal to negate the previous miss and feeds Ravenel in the post, who will go to the line for two free-throws.
MSU 53, OSU 50 - 2:04 2nd Half
After a quiet spell and disappearance, Adreian Payne has re-surfaced for the Spartans and converts a crucial three-point play.
Eleven Warriors highlights Thomas' outstanding stat line:
Thomas is 6-10 from downtown. 26 points to go with 7 rebounds.

— Eleven Warriors (@11W) January 20, 2013
MSU 50, OSU 50 - 2:33 2nd Half
Payne gets a huge bucket off of a Spartan miss. Nobody from Ohio State is boxing out the Spartans under the basket to limit second-chance points.
Thomas wets a three-pointer from the top of the key to tie this one up. Michigan State needs to at least get a hand in his face.
Kyle Rowland of Eleven Warriors has a point, but as it stands right now the Buckeyes have nobody else with more than five points. Thomas has 23 on his own:
Ohio State can hang around. No doubt about that. One more scorer and they'd be much more dangerous.

— Kyle Rowland (@KyleRowland) January 20, 2013
MSU 48, OSU 47 - 4:59 2nd Half
Appling misses back-to-back treys for the Spartans and Deshaun Thomas brings Ohio State within one by driving to the bucket for another lay up.
Michigan State cannot let Thomas continue to drive to the rim down the stretch.
MSU 48, OSU 45 - 6:45 2nd Half
Harris blows right by Shannon Scott for a tough finish at the basket. Michigan State needs more of that from him and Appling.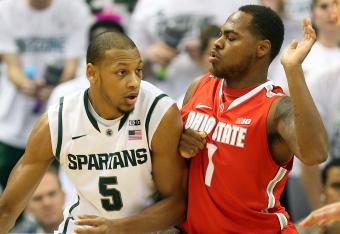 MSU 46, OSU 44 - 7:33 2nd Half
Freshman mistake there by Matt Costello setting the moving screen. Ohio State and Michigan State trade some misses before Thomas gets to the tin for an easy lay up.
Thomas now with 21 points.
MSU 46, OSU 39 - 9:16 2nd Half
Gary Harris boxes out Deshaun Thomas for a rebound and draws a foul on the way down. None of the Buckeyes boxed him out at the other end of the floor and Harris cleaned up a miss for two points.
All of Harris' four points have come in the second half.
MSU 44, OSU 39 - 10:34 2nd Half
Jumpers out of the half-court continue to draw nothing but iron for Ohio State.
Meanwhile, the Spartans have found some success going to the basket in the second half.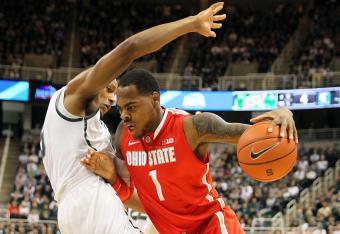 MSU 42, OSU 39 - Under-12 Media Timeout in the 2nd Half
Derrick Nix is being much more assertive in the paint now for the Spartans. He just drew a foul on Ravenel to get to the free-throw line.
No one can stop Thomas, who now has 19 points for the Buckeyes.
Scott has done a better job of containing Appling and Harris:
Call me crazy, but Thad may want to think about putting Scott back into the game.

— Eleven Warriors (@11W) January 20, 2013
MSU 42, OSU 36 - 12:50 2nd Half
Branden Dawson forces Ohio State to take a timeout after tipping in another basket off of a Michigan State miss.
Somebody has to put a body on him when a shot comes off of the iron.
MSU 40, OSU 36 - 13:20 2nd Half
Great take to the basket by Gary Harris. Nix set the screen up top and Harris used his speed to get to the rack.
The Spartans follow up a strong defensive possession with a quick turnover trying to run the floor too quickly.
This article is
What is the duplicate article?
Why is this article offensive?
Where is this article plagiarized from?
Why is this article poorly edited?