Dallas Cowboys: How 2 Lucky Catches Sabotoged Innovation in Dallas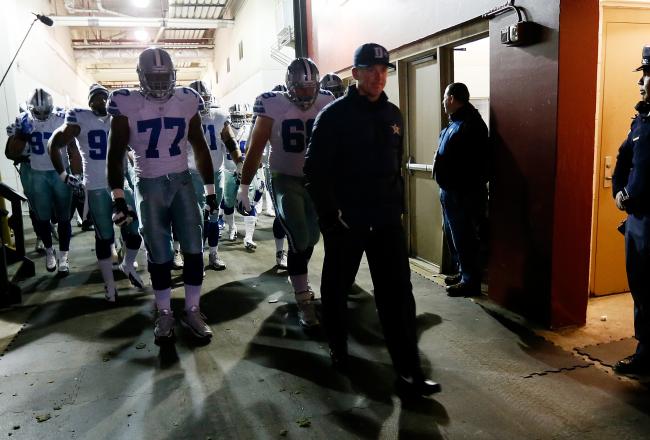 Rob Carr/Getty Images
The Dallas Cowboys are finally considering offensive renovations that many had hoped for years ago. As popular as the cliche' may be that the NFL is "a copy cat league", the truth is that most NFL clubs are conservative by nature and slow to abandon what is known and what is comfortable. Which is why it has taken until now for so many teams to consider "college offenses."
Way back in the previous millennium, the Buffalo Bills launched a no-huddle air attack at the NFL and made it to four Super Bowls. Given that most clubs would kill just to get to one Super Bowl, you would think that "copy cat" offenses would have sprung up everywhere. But the Bills didn't win any of those Super Bowls so their accomplishments were diminished.

Second place impresses few people, especially in the NFL.
Flash forward to 2005. Bill Belichick had just completed back-to-back Super Bowl victories but was unhappy with his offensive production. He had been watching the spread offense run by Urban Meyer and was intrigued. He sent Josh McDaniels to Florida to learn all he could from Meyer.

Within two years, New England was running a no-huddle, spread offense, tailored to their own personnel and leading the league scoring.
In fact, New England has ridden their high-powered offense to two Super Bowls in the last five years. But again, failure to win those Super Bowls has led to few imitators.
This is remarkable, considering the string of ten win seasons that New England has put together and the number of times they have led the league in scoring.
What is even more remarkable is the fact that the Patriots didn't lose those Super Bowls because of some flaw in their offensive system. In the first meeting with the Giants it took a miracle catch by David Tyree to put the Giants within striking distance in the final seconds.
Nine times out of ten that pass would have been incomplete and the Patriots would have won that Super Bowl. In the second meeting, New England suffered multiple uncharacteristic drops by receivers that allowed the Giants to come from behind once again and win. And again, a tremendous, somewhat lucky throw and catch factored heavily into the Patriots defeat.
Had those two lucky catches not occurred, the Patriots would own all the records for postseason success and Super Bowl trophies earned. And the league would already be full of no-huddle, spread offense imitators.
I believe the NFL reached a tipping point sometime in 2009 in which offenses now have such a structural advantage that it is foolish, in the extreme, to run anything less than a wide open, high-powered offense.
Defenses are at such a disadvantage that you can actually win a Super Bowl with a great offense and relatively poor defense. That has been proven in the last three Super Bowls.
Unfortunately, the Cowboys tend to cling to the past as long as possible, rather than embracing innovation. This is the single most disappointing thing about Dallas recently. No stomach for innovation, no creative inspiration anywhere to be found. Nothing about the Giants offense was terribly innovative when they beat the Patriots. Which is too bad, because it convinced Dallas that innovation wasn't necessary to win it all.
The Giants two Super Bowl wins were more a story of a team that got hot at the right time. To make matters worse, the Giants got it done last year with a mediocre offensive line. A rare feat that may have contributed to Dallas signing two guards in free agency that might not even be backups on playoff teams.

The Giants run may have been just the kind of story Jones wanted to buy into so that he could stay the course with Garrett's predictable offense and his under-talented line.
Tom Landry put this team on the map through innovation. The 4-3 that Dallas will be returning to, at long last, was invented by Landry. So were many of the staples of the pro offense. There are too many to list here, in fact. But if you are to call yourself a Cowboys fan, you owe it to yourself to learn about the genius that was Landry in his prime.
As Dallas continues to shop for offensive coordinators, the best thing for Dallas fans would be victories by the 49ers and Patriots this weekend. These are the teams that have shown the most innovation this year. A Super Bowl between these two would assure that innovation was the winner this year.

Maybe the Cowboys front office will take notice.
This article is
What is the duplicate article?
Why is this article offensive?
Where is this article plagiarized from?
Why is this article poorly edited?

Dallas Cowboys: Like this team?