Philadelphia Eagles: 2013 Seven-Round Mock Draft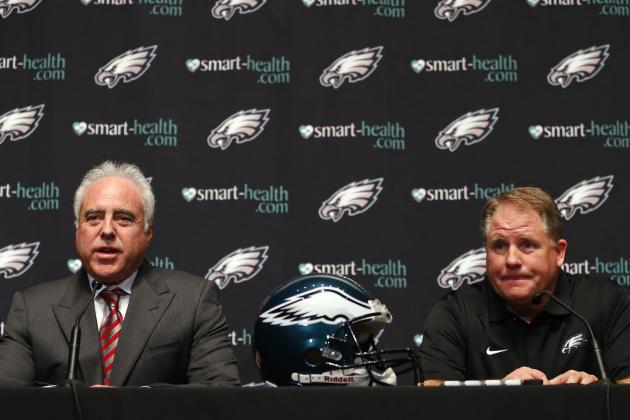 Rich Schultz/Getty Images

The NFL draft is still months ahead but it isn't too early to start looking at which players the Philadelphia Eagles will select.
The team has recently locked up a coach, acquiring controversial college coach Chip Kelly to run the team. Kelly's unorthodox offense at the University of Oregon garnered national attention, and he relies heavily on speed. He is a gambler who isn't afraid to go for fourth downs and two-point conversions in the first quarter.
Kelly has a lot of work to do to make the Eagles competitive. The offensive line failed to protect Michael Vick last season. The defensive line put little to no pressure on the opposing quarterback. And the secondary was as awful of a unit as there was on any NFL team.
There's probably not a quarterback available that fits Kelly's offense ideally. Kelly may need to go with Nick Foles for year one and build a better, more efficient offense that can score points before implementing his quarterback of the future.
Begin Slideshow

»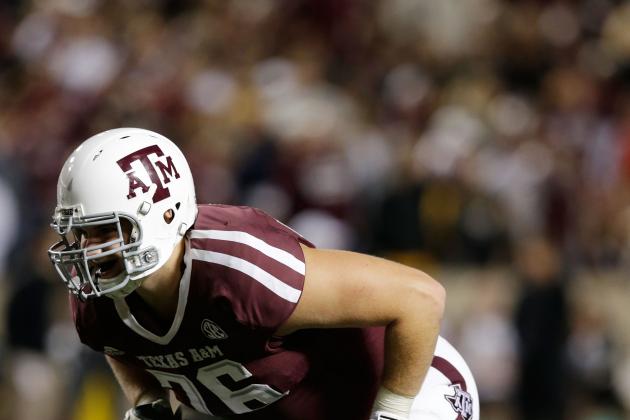 Scott Halleran/Getty Images

This would be a bargain if the Philadelphia Eagles can land Luke Joeckel with the fourth overall pick. The nation's top offensive tackle may go to the Kansas City Chiefs at number one considering how much Andy Reid loves linemen.
Joeckel would instantly upgrade an Eagles offensive line that was shaky in 2012. Joeckel would be able to step in at right tackle, allowing veteran Todd Herremans to move to right guard for the ineffective Danny Watkins.
That would give the Eagles a terrific line from left to right: Jason Peters, Evan Mathis, Jason Kelce, Herremans, and Joeckel. Peters becomes a free agent after the '14 season, so the Eagles could allow him to walk if they see fit, and slide Joeckel over to left tackle.
If Joeckel is gone, there are still some solid options for the Eagles. A quarterback like Geno Smith is probably too risky with Nick Foles having shown promise as a rookie (although Chip Kelly may want that kind of a player leading his team). But it's probably more likely Kelly goes with Foles or a veteran next year before trying to land Johnny Manziel in 2014.
The defense is the main priority, and players like Star Lotulelei (defensive tackle), Damontre Moore (defensive end), and DeMarcus Milliner (cornerback) could instantly shore up the team.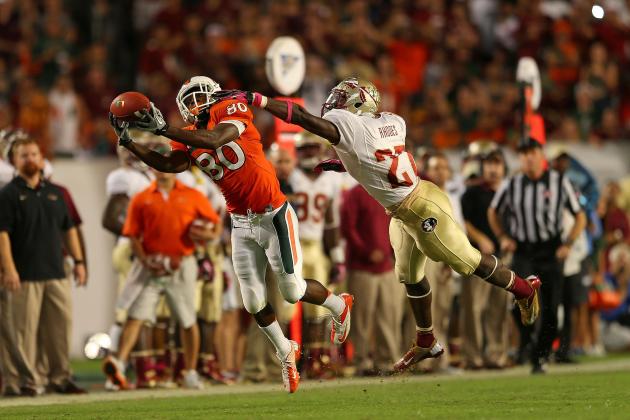 Mike Ehrmann/Getty Images

Most mock drafts have Xavier Rhodes going somewhere in the second round, so pick 35 shouldn't be too much of a stretch for the Philadelphia Eagles.
Cornerback is a position of necessity for the team. Dominique Rodgers-Cromartie is hitting free agency, and he may not return. Likewise, $60 million corner Nnamdi Asomugha may be released for poor play unless he agrees to restructure his deal.
Rhodes would likely have to start from day one if he becomes an Eagle. He's a physical corner with good ball skills, he's a sound, fundamental tackler and he's aggressive. Rhodes only ever played zone coverage in college, so it could take some time for him to adjust to the NFL.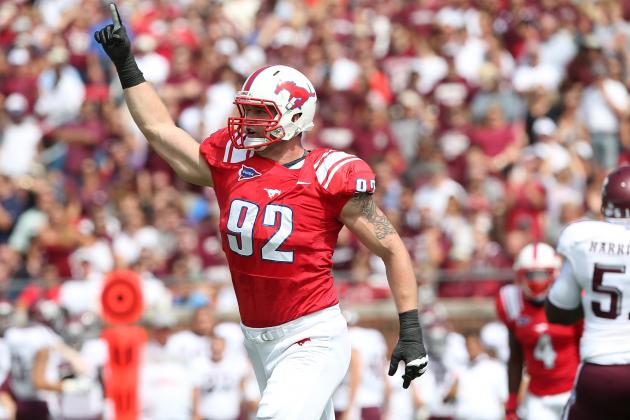 Ronald Martinez/Getty Images

Margus Hunt is an extremely raw football player but he's a physical freak if there ever was one. He stands six feet, eight inches tall and weighs in at 280 pounds. Hunt has an 82-inch wingspan and he finished his collegiate career with a ridiculous 11 blocked kicks.
There has been speculation that the Philadelphia Eagles will switch to a 3-4 defense now that Chip Kelly is on board. If that's the case, Hunt is a must. He would start from day one, as the Eagles would likely move Brandon Graham and Trent Cole to outside linebacker.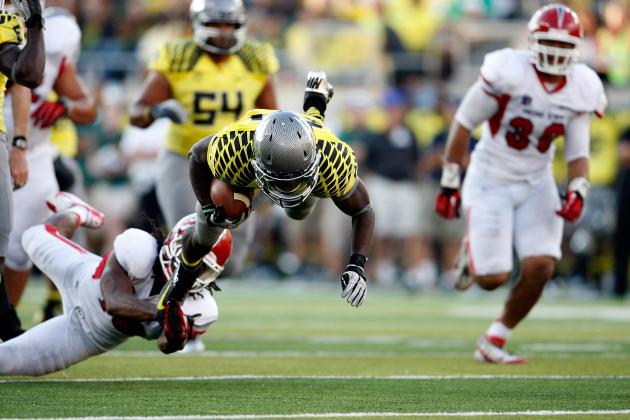 Kevin Casey/Getty Images

The Philadelphia Eagles can't possibly go into another season with Kurt Coleman and Nate Allen as their starting safeties.
There's a good chance the Eagles sign a veteran like LaRon Landry or Yeremiah Bell in free agency. The Eagles could also opt to go the young route through free agency, like Jairus Byrd.
But at least a mid-round pick on a safety is a must. Phillip Thomas of Fresno State led the nation in interceptions last year. He would instantly help a secondary that was historically awful down the stretch in 2012.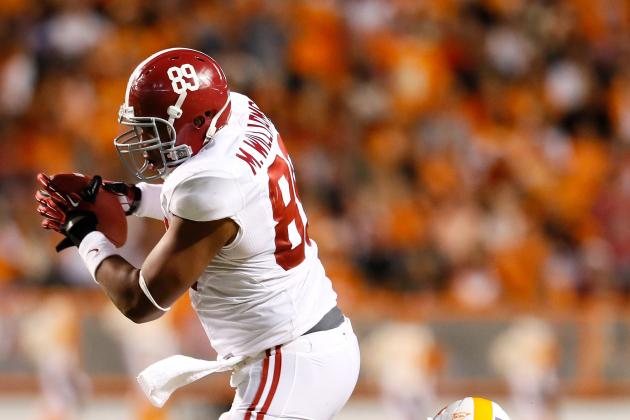 Kevin C. Cox/Getty Images

The Philadelphia Eagles need help in their secondary, and Eric Gordon would offer depth to a depleted unit.
Brandon Boykin will probably enter the season as the nickel corner again, although injuries could force him into a starting role. Gordon is a similar player to Boykin, in that he's undersized and probably best utilized in the slot.
He's speedy and a good cover man. NFL teams so frequently use three and even four-receiver sets in these days, so Gordon will see significant time even as a rookie.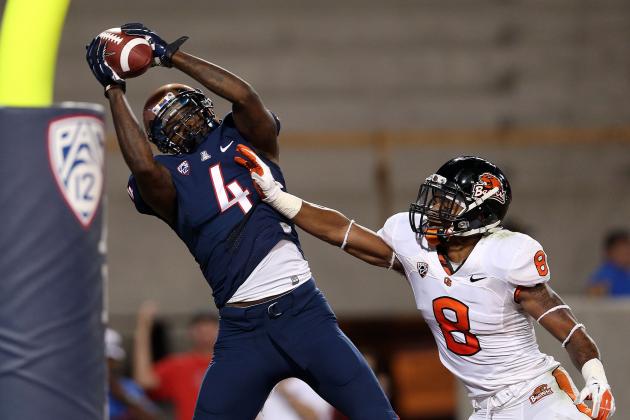 Christian Petersen/Getty Images

Dan Buckner was one of Nick Foles' primary receivers in college, and this would reunite the two together again.
Buckner is a big red-zone target at 6'4" and 215 pounds. The Eagles need that kind of a receiver, and Riley Cooper hasn't been the answer (although Cooper remarkably led all Eagles receivers in touchdown catches last season).
Even if Chip Kelly doesn't go with Foles, Buckner would be a good addition. His excellent size are his best attribute, and the Eagles lack big players with DeSean Jackson and Jeremy Maclin as their two go-to guys.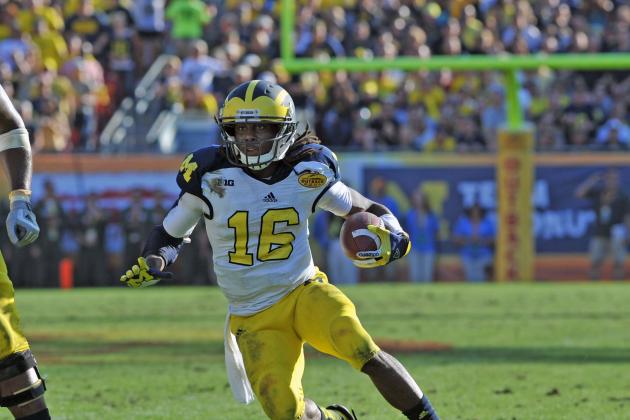 Al Messerschmidt/Getty Images

No one in their right mind thinks Denard Robinson could make it in a conventional NFL offense. But with Chip Kelly as the new head coach, the Eagles may be intrigued.
Robinson is more of a running back or a wide receiver at the NFL level than a quarterback. He threw just nine touchdowns all season in 2012, running as many as 25-30 times per game.
Now that the spread offense is the new glory of the NFL, Kelly may want to take a chance with Robinson. If Robinson doesn't work, it's a seventh-round pick wasted. And if Kelly can get a little magic out of Robinson, it will make the offense one of the top running games in the league.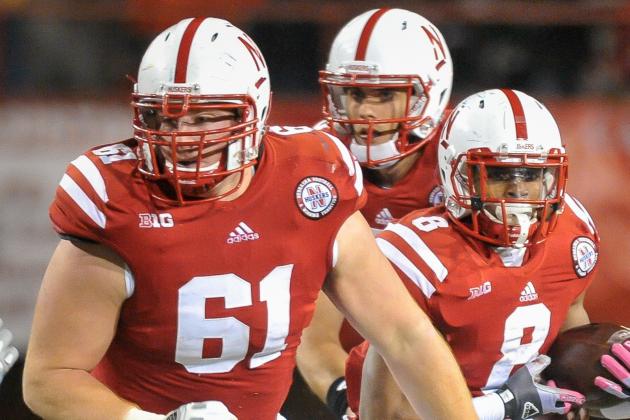 Eric Francis/Getty Images

The Philadelphia Eagles didn't really have any depth to their interior offensive line in 2012. Jason Kelce went down early with a knee injury and Danny Watkins was sidelined with a chronic ankle injury.
Veteran Jake Scott was forced into a starting spot at right guard, and there were times when the Eagles suited up just one or two backup offensive linemen.
Spencer Long would add some depth to the team for next season. He's a big physical lineman who would battle Mike Gibson and Julian Vandervelde to be the backup guard in '13.