Predicting Stats for the Vancouver Canucks' Top 10 Players in 2013 Season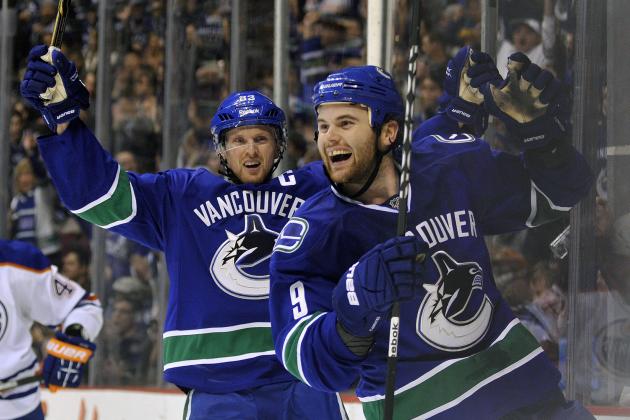 Rich Lam/Getty Images
The Vancouver Canucks have their work cut out for them to repeat as Presidents' Trophy winners.
Two games into the 2013 NHL season, the Vancouver Canucks are off to their usual slow start. With the condensed schedule, they don't have much time to spare if they want to compete for the Presidents' Trophy or for any individual awards.
I'm predicting that this will be a different sort of season for the Canucks. The fact that all games will be against Western Conference rivals could lead to a logjam in the standings. Don't be surprised to see Vancouver battling it out with several other teams in April for one of the last playoff spots.
With moderate expectations of about 60 points through a 48-game season, here's a look at what to expect from the Canucks' top players in 2013. The top 10 have been determined based on players' actual contracted salaries for 2012-13, not their cap hits (per capgeek.com).
How do you think the Canucks will fare this year? Which players do you think will do better—or worse? Sound off in the comments below.
Begin Slideshow

»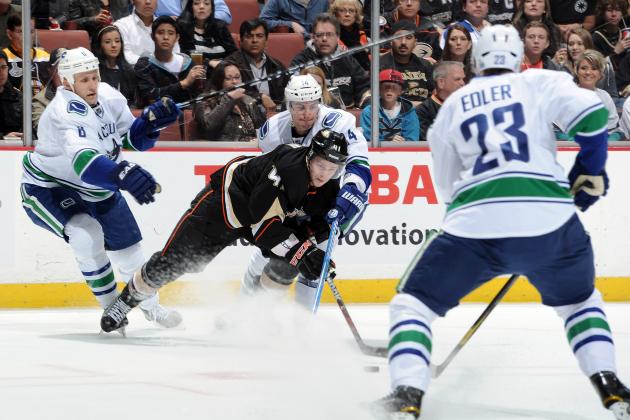 Harry How/Getty Images
Burrows and Edler will do their part this season.
Both Alex Burrows and Alex Edler were key components of the Canucks' 2011-12 roster. They're not among the top-10 earners this year, but each has now signed a lucrative contract extension that will take effect in the 2013-14 season.
Some pricey performers won't be able to justify their salaries, but these two should more than shoulder their expected load.
Alex Burrows
2013 Salary: $2 million
2011-12 Stats: 80 GP, 28-24-52
Burrows hasn't been prominent in the first two games, but he'll find his legs. As a relatively durable player, he should be able to play the complete season.
Prediction for 2013: 48 GP, 16-14-30
Alex Edler
2013 Salary: $3.25 million
2011-12 Stats: 82 GP, 11-38-49
Edler now has big responsibility to go with his big contract extension. He has been one of the Canucks' ice-time leaders in the first two games and already has two goals to show for his efforts.
Edler tends to be streaky, and has back issues that flare up from time to time. His play will ebb and flow but his production will be solid on the whole.
Prediction for 2013: 40 GP, 13-25-38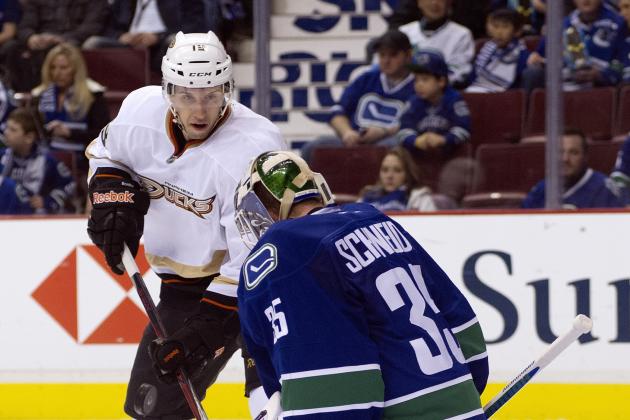 Rich Lam/Getty Images
Cory Schneider will bounce back from a rough season opener.
2013 Salary: $3.5 million
2011-12 Stats: 33 GP, 20-8-1-3, 1.96 GAA, .936 save percentage
Cory Schneider's tenure as the Canucks' No. 1 goaltender got off to a rocky start when he was pulled after allowing five goals on 14 shots in the team's debut against the Anaheim Ducks.
After just a week-long training camp, Schneider looked shaky but also didn't get much defensive help from his team. He will bounce back, and by season's end he should be playing the majority of the minutes. He won't match his stratospheric numbers from last year, but he'll show why Canucks' management has faith in him.
Prediction for 2013: 34 GP, 16-10-1-3, 2.15 GAA, .910 save percentage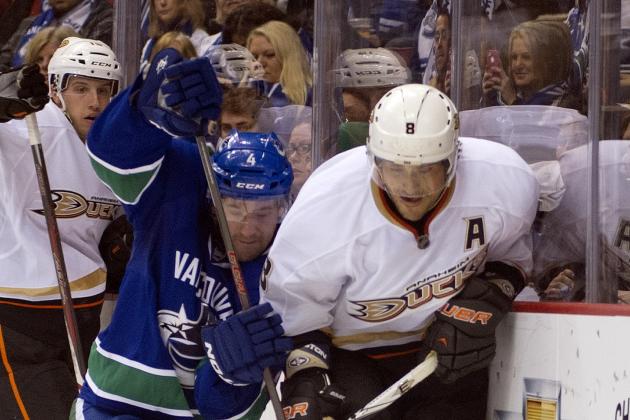 Rich Lam/Getty Images
Keith Ballard will be called upon to play key defensive minutes this year.
2013 Salary: $4.2 million
2011-12 Stats: 47 GP, 1-6-7
Following the departures of Sami Salo and Aaron Rome, Keith Ballard has logged regular minutes on Vancouver's third defensive pairing in the first two games of the season. This may be the year that Ballard finally works his way out of Alain Vigneault's doghouse and stays in the lineup more consistently.
Although he has often been a healthy scratch in the past, Ballard is injury-prone and likely won't see much special-team play. His numbers will be humble, and aren't worth $4.2 million, but they could be his best as a Canuck.
Prediction for 2013: 38 GP, 2-12-14
Rich Lam/Getty Images
Hamhuis will continue to play a mostly defensive role.
2013 Salary: $4.25 million
2011-12 Stats: 82 GP, 4-33-37
With one goal in the Canucks' first two games, Dan Hamhuis is currently on pace to easily eclipse his previous season high of seven, which he logged twice with the Nashville Predators.
Such torrid production is unlikely over 48 games. Once again, Hamhuis is expected to be the anchor when his partner Kevin Bieksa gets adventurous. His first couple of games haven't been great, but expect Hamhuis to return to his usual steady style as the season unfolds.
Prediction for 2013: 46 GP, 3-17-20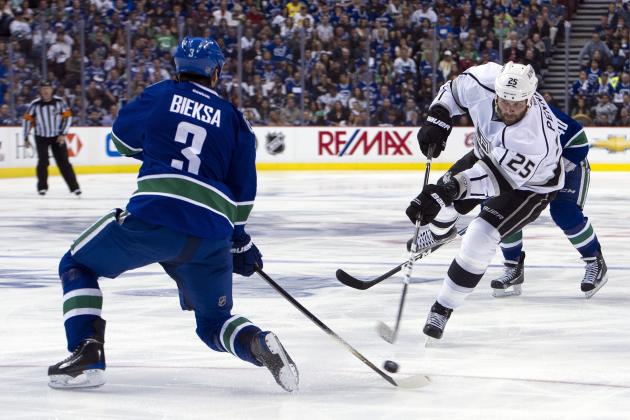 Rich Lam/Getty Images
Kevin Bieksa will give the Canucks another solid season.
2013 Salary: $4.5 million
2011-12 Stats: 78 GP, 8-36-44
Kevin Bieksa has logged his usual top-pairing minutes in the Canucks' first two games, but has yet to hit the scoresheet. More importantly, he needs to tighten up defensively and bring a physical edge to his game.
Last year's numbers were typical of a good year for Bieksa. Expect his stats to drop a bit this season.
Prediction for 2013: 45 GP, 5-19-24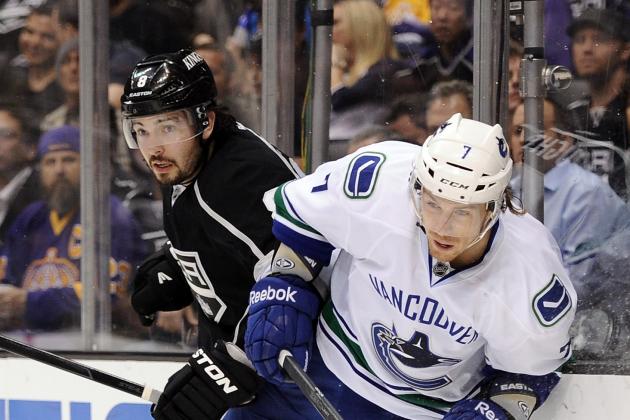 Harry How/Getty Images
Canucks.com lists David Booth as day-to-day with a groin strain.
2013 Salary: $4.5 million
2011-12 Stats: 56 GP, 16-13-29
David Booth hasn't lived up to his promise since coming to Vancouver in an early-season trade last year. He showed flashes of offensive talent, but a knee injury in December 2011 derailed a promising start to his career as a Canuck.
This year, he suffered a groin strain just before training camp that's estimated to keep him out for 4 to 6 weeks (per espn.com). That could wipe out more than a quarter of his season, and will likely leave him playing catch-up once he is ready to hit the ice.
Prediction for 2013: 32 GP, 9-8-17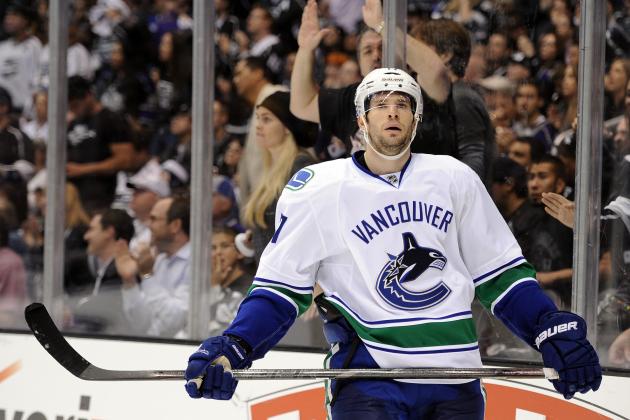 Harry How/Getty Images
Ryan Kesler remains on the injured list.
2013 Salary: $5 million
2011-12 Stats: 77 GP, 22-27-49
As I documented in this story on January 6, Ryan Kesler remains sidelined after offseason shoulder and wrist surgeries, with no timeline for his return.
The absence of the 2010-11 Selke Trophy winner creates a big hole for the Canucks. At his best, Kesler is a force at both ends of the ice.
For the moment, Andrew Ebbett has been called into service to help fill Kesler's minutes, and Alain Vigneault is rolling four lines more than fans have seen in the past.
Perhaps Kesler will come back in March. He'd bring a blast of energy through the stretch run and hopefully be a force in the playoffs.
Prediction for 2013: 20 GP, 10-15-25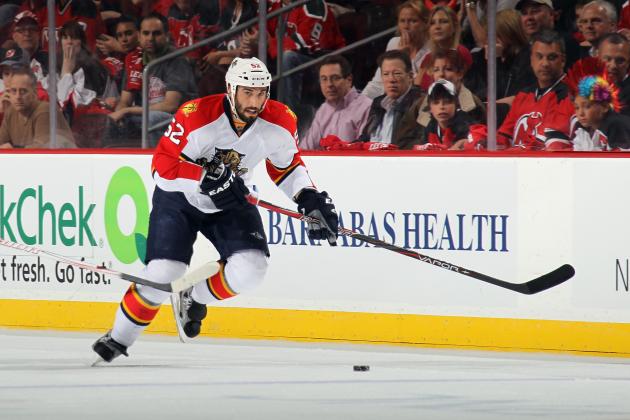 Bruce Bennett/Getty Images
Jason Garrison looks to find his place on the Canucks.
2013 Salary: $5.5 million
2011-12 Stats: 77 GP, 16-17-33
British Columbia native Jason Garrison was signed as a free agent this summer primarily for his offensive production.
Garrison has yet to record his first point, but he does have four shots on goal and is one of just three Canucks who are plus-one so far (the other two are Henrik Sedin and Maxim Lapierre).
The power play has not yet revved up to the razzle dazzle of past seasons, but Garrison and his big shot will likely figure prominently once it gets going.
Prediction for 2013: 44 GP, 10-15-25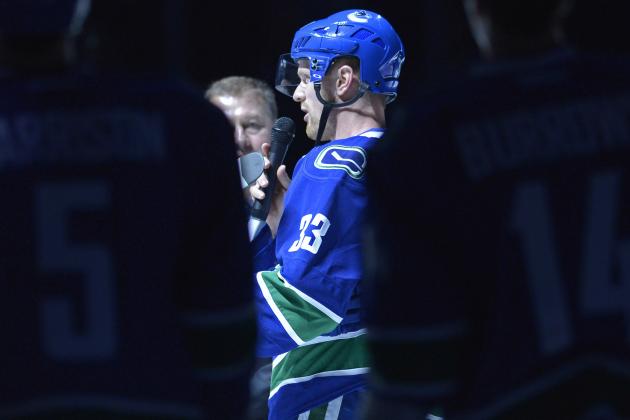 Rich Lam/Getty Images
Captain Henrik Sedin will lay down another consistent season.
2013 Salary: $6.1 million
2011-12 Stats: 82 GP, 14-67-81
Henrik Sedin hasn't missed a game since before the 2004-05 lockout, so it's a good bet that he'll play all 48 games this year. As usual, count on more than a point per game from the reliable captain.
Prediction for 2013: 48 GP, 8-46-54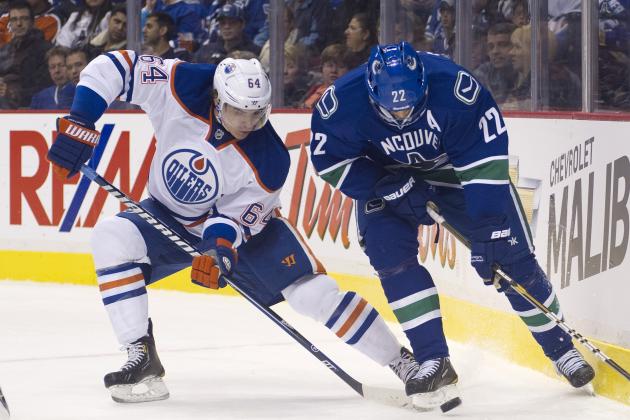 Rich Lam/Getty Images
Daniel Sedin has returned to form after his March 2012 concussion.
2013 Salary: $6.1 million
2011-12 Stats: 72 GP, 30-37-67
After missing the last 10 games of the 2011-12 regular season and the first three games of the playoffs with concussion-related symptoms, Daniel Sedin looks to be back to his usual form.
The offensive half of the Wonder Twins machine is tied for the Canucks' team scoring lead with three points in two games. His teammates will be hard-pressed to knock him off that perch at any point this season.
Prediction for 2013: 48 GP, 25-35-60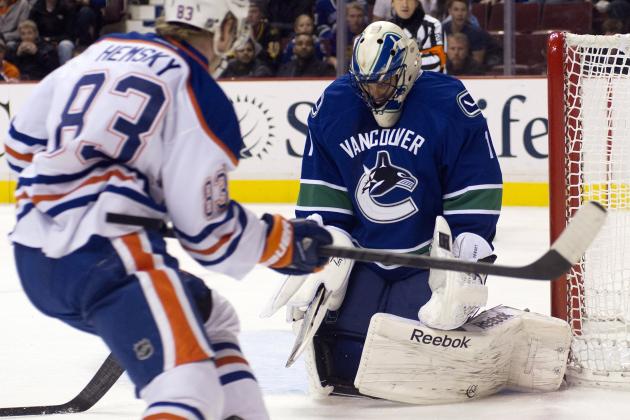 Rich Lam/Getty Images
Roberto Luongo is back in Vancouver for the foreseeable future.
2013 Salary: $6.714 million
2011-12 Stats: 55 GP, 31-14-8-5, 2.41 GAA, .919 save percentage
The NHL's highest-paid backup goalie continues to make headlines. Despite all the trade rumours during the offseason, Roberto Luongo has returned to Vancouver.
So far, Luongo has played 98 of the team's first 125 minutes of hockey and backstopped the team to its first point of the year against the Edmonton Oilers—though he did still go 0-for-2 in the shootout.
The Canucks' goaltending situation is as murky as ever. I'm predicting that Luongo will be in Vancouver at least until the trade deadline. He'll continue to be an important—and controversial—part of the Canucks team.
Furthermore, the season opener won't be the last time fans will see Schneider and Luongo in net during the same game.
Prediction for 2013: 20 GP, 10-5-1-2, 2.20 GAA, .915 save percentage
Thanks for reading. For lots more Canuck thoughts throughout the season, follow me on Twitter: