5 Bold Predictions for the Washington Capitals' 2013 NHL Season
Greg Fiume/Getty Images

After yet another lengthy lockout, the 2013 NHL Season is upon us, and like all of the league's other 29 teams, the Capitals hope that the condensed schedule plays to their strengths.
With their third head coach is less than 18 months, Washington has to be hoping that Adam Oates' system and personality will help the club reach the Eastern Conference finals for the first time since Oates was the team's No. 1 center way back in 1998.
Heading into what should be a crucial campaign for this nucleus of players, the Caps' core has remained relatively similar for the past five seasons, with the exception of the departure of Alexander Semin, and another disappointing postseason performance won't be tolerated.
With that in mind, here are five bold predictions for the Caps' 2013 season.
Begin Slideshow

»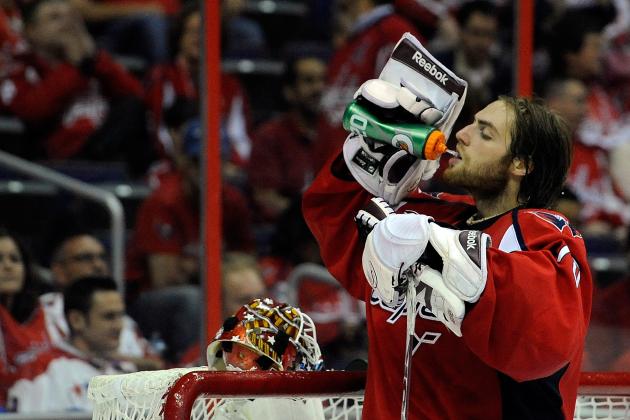 Patrick McDermott/Getty Images

Both Michal Neuvirth and Braden Holtby have led the Capitals to Eastern Conference semifinals appearances, but after Holtby's overwhelmingly impressive showing last summer, even Adam Oates admitted (via The Washington Times) that the relatively untested youngster has the edge for the No. 1 job.
"I would say that I would think that the guys expect Holts to be in the net based on last year, for sure," Oates said Monday.
Obviously, Holtby will have to build on his 2012 postseason to keep the job, but unless he falters, it seems very unlikely that Neuvirth will be able to wrestle the job away from him.
Neuvirth is certainly a capable NHL goaltender, but given that he's struggled to remain healthy (which is why Holtby got the nod last spring to begin with), and Holtby's ability to win big games against both Boston and New York, Neuvirth will probably remain in backup position.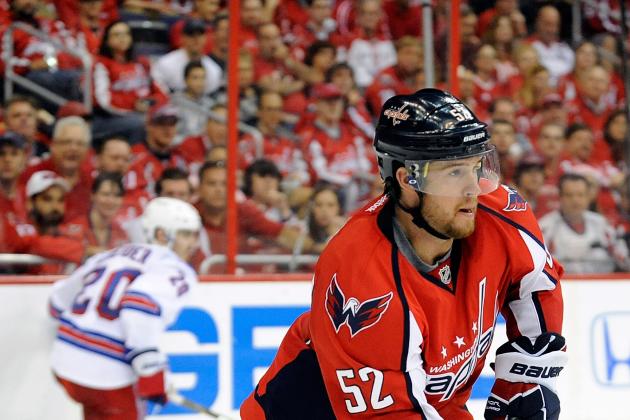 Greg Fiume/Getty Images

Since being selected to the NHL All-Star Game in 2011, Mike Green has struggled to stay healthy and hasn't been the same offensive presence on the Capitals blue line.
But Green looked better during the 2012 postseason, and he has clearly impressed Adam Oates, who is regarded as one of the game's best coaches when it comes to setting up a power play, which is Green's bread and butter.
In fact, on the eve of the Caps' season opener, Oates (via The Washington Post) announced that for the first time since Green entered the league in 2003-03, the two-time Norris Trophy finalist would serve as a team captain.
On Saturday, Oates announced to the team that the quartet will serve as this year's captains. Ovechkin remains the captain while Backstrom, Laich and Green are the alternates.

"They are the core of this team," Oates said recently. "They've been together for a long time and a real good nucleus, obviously, and talented guys. It's their job to be the pros of this team and let their habits rub off on the other guys. And it's their team."
Green has all the tools to be an elite offensive defenseman, and with Oates at the helm, he'll have the freedom needed to pile up the points.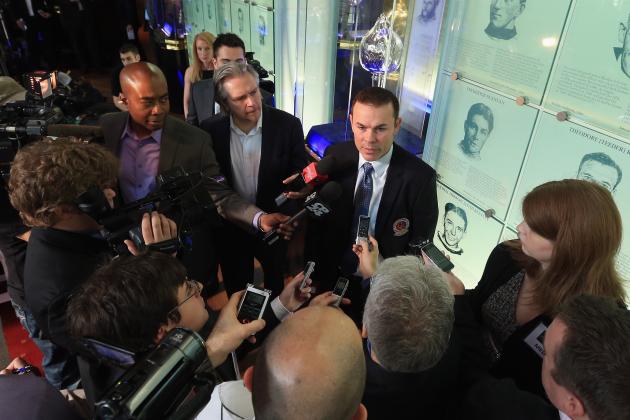 Bruce Bennett/Getty Images

It seems like yesterday that the Capitals had one of the league's most potent power plays, but since 2009-10, Washington has struggled mightily, especially during the prolonged absences of both Mike Green and Nicklas Backstrom.
However, with Adam Oates in the fold, that may change.
That's because during Oates' time with the Lightning and later the Devils, the former power-play specialist designed dangerous extra-man units for both, which were big reasons why both teams managed to make Eastern Conference finals appearances with Oates on the bench.
In D.C., Oates has more than enough offensive weapons to craft an impressive power-play group, and that'll go a long way toward helping the Capitals capture their fifth Southeast Division title in six years.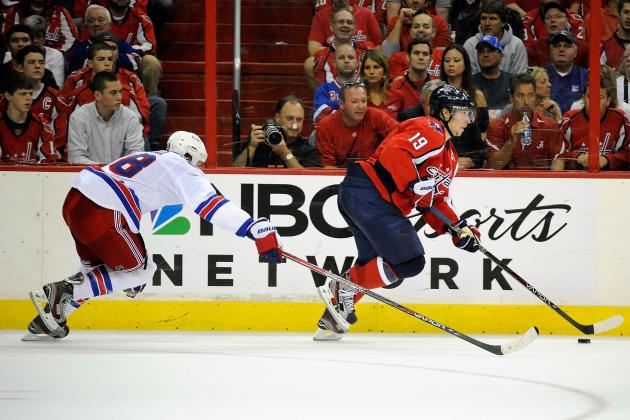 Greg Fiume/Getty Images

In 2009-10, Nicklas Backstrom emerged as one of the NHL's most effective setup men, as he posted a 100-point season alongside Alex Ovechkin, who tallied his fourth career 50-goal season.
But since then, Backstrom's numbers have taken a hit, though last season the silky Swede was on pace to exceed 80 points, until Rene Bourque's dirty elbow knocked him out for virtually all of Washington's remaining schedule.
Now, with Backstrom still recovering from a neck injury sustained while playing for Moscow of the KHL, he might need a few games to get back to full strength. But once he does, he'll get back to being the Caps' offensive catalyst, and in doing so, he'll aid Ovechkin in his quest to rediscover his scoring touch.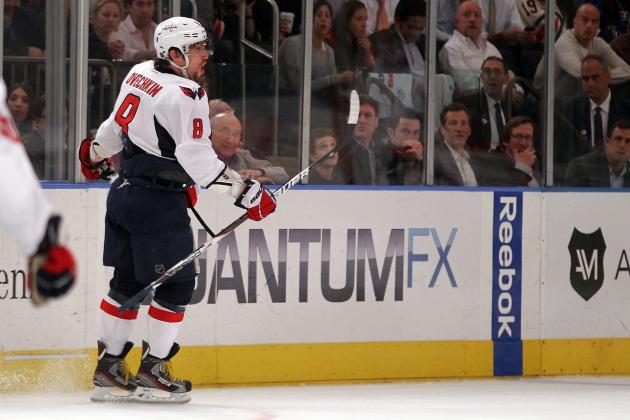 Bruce Bennett/Getty Images

Do you remember who led the NHL in scoring the last time there was a lockout-shortened season?
Peter Bondra, who potted a remarkable 34 goals in 48 games for Washington in 1994-95. While Ovechkin won't top that number, he will continue to score at the impressive pace he'd been on in the KHL, especially now that the Caps look poised to trot out one of the game's most potent power plays.
Even if Ovechkin and Backstrom don't rekindle the magic that made them arguably the league's most dynamic duo, the Caps now have a legitimate top-flight playmaker in Mike Ribeiro, who is more than capable of creating opportunities for the two-time league MVP.
Ultimately, Ovechkin won't be judged upon anything other than whether he can lead the Capitals to the promised land, but collecting another Rocket Richard Trophy will be a step in the right direction.