UFC on FX 7: Final Odds and Predictions for the Main Card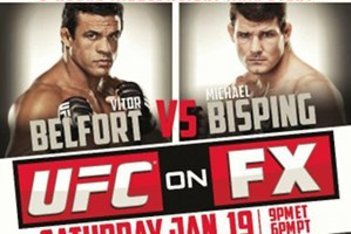 bloodyelbow.com
The UFC returns to Brazil with a middleweight clash that has UFC title implications written all over it. The UFC on FX 7 event will also feature some of the best Brazilian prospects like Daniel Sarafian and Edson Barboza as well.
In the main event, Vitor Belfort will face Michael Bisping. Both guys have been with the UFC for quite some time, and as the pre-fight press conference showed, neither man is a big fan of the other.
If Bisping can defeat Belfort, Dana White has said that Bisping will earn a title shot.
The evening's co-main event will feature Sarafian taking on former TUF finalist C.B. Dollaway.
Sarafian looked very impressive during his time on TUF: Brazil and would have competed in the finale if not for an injury that forced him out of the contest. Dollaway made it to the finals on his season of TUF but lost to Amir Sadollah in the finale.
Also featured is a heavyweight clash between Ben Rothwell and Gabriel Gonzaga.
Rothwell is one of the most durable fighters in the sport and has shown a renewed interest in his MMA career. Gonzaga also seems to have found his desire to compete. After entering a brief retirement, Gonzaga has won two straight fights.
(All betting lines courtesy of www.betonfighting.com.)
Begin Slideshow

»
mmamania.com
Kicking off the night, lightweight Thiago Tavares faces Khabib Nurmagomedov.
Tavares is coming off two straight wins, while Nurmagomedov has yet to taste defeat in 18 professional bouts.
Tavares will look to use his Brazilian jiu-jitsu game against the Russian, but expect Nurmagomedov to keep the fight standing. The last time Tavares lost in the Octagon, he suffered an ugly KO from Shane Roller, who is a wrestler by trade.
Nurmagomedov has been training at American Kickboxing Academy, so expect to see a more diverse striking game from the Russian this time around.
Prediction: Nurmagomedov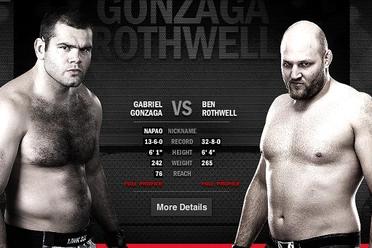 prommanow.com
The battle between Ben Rothwell and Gabriel Gonzaga won't affect the heavyweight title picture, but that doesn't mean it won't be exciting.
Rothwell is very experienced and one of the toughest guys in MMA, and Gonzaga is one of the most talented grapplers in the division.
Rothwell made a name for himself by competing mainly in the IFL and Affliction Entertainment promotion. Since joining the UFC's ranks, however, Rothwell has alternated wins and losses. This lack of momentum has kept Rothwell in the role of gatekeeper thus far in his UFC career.
Gonzaga is also familiar with that role. The Brazilian has been stuck as a gatekeeper since losing a title fight to Randy Couture. Gonzaga even retired from MMA after his loss to Brendan Schaub at UFC 121.
Since coming out of retirement, Gonzaga has looked sharp in picking up two straight victories.
This fight comes down to Rothwell's ability to keep the fight on the feet. Gonzaga's chin is questionable, and Rothwell has the striking skills and power to test it. Unfortunately for Rothwell, he may look like a fish out of water if Gonzaga gets this fight to the mat.
Prediction: Gonzaga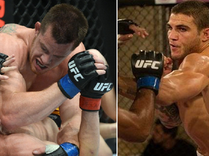 mmamania.com
Two The Ultimate Fighter veterans will square off in Saturday's co-main event.
Daniel Sarafian was supposed to fight in the middleweight finale for TUF: Brazil, but an injury forced him out of action. Now the Brazilian will make his UFC debut against a very tough opponent.
C.B. Dollaway hasn't won that signature bout thus far in his UFC tenure but is still a talented fighter. The former All-American wrestler at Arizona State University has used his wrestling game to amass a 6-3 record in the UFC.
Dollaway doesn't have the standup skills to win the fight on the feet and has been caught before, which Sarafian will likely look to do early and often. Of course, looking to land a powerful strike will open him up for a counter. For Dollaway, his counter will be the takedown.
Expect Dollaway to give Sarafian a lesson in American wrestling, much to the dismay of the Brazilian crowd.
Prediction: Dollaway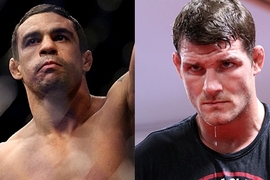 mmaweekly.com
What everyone will be waiting for is the showdown between Michael Bisping and Vitor Belfort.
The Englishman has spared no expense in trashing Belfort leading up to the fight, and it's been quite some time since we've seen the former champion this upset.
Belfort is coming off a loss, but that shouldn't affect his stock in the middleweight division as it came against the UFC light heavyweight champion, Jon Jones. Belfort, stepping in on late notice, came very close to forcing Jones to tap to an armbar.
Prior to the Jones loss, Belfort had won two straight in the middleweight division. Both wins came in the first round.
Bisping is perhaps the closest he's been to a title shot and knows he has a lot on the line. He is incredibly tough and loves to bring the fight to his opponent. Coming from a kickboxing background, Bisping will look to use kicks and knees as well as punches in his effort to knock out Belfort.
There are two X-factors coming into this fight.
The first is Belfort's conditioning. Belfort is older than Bisping and has years of wear and tear on his body, which could become a detriment as the minutes tick by. Bisping has never had any issues with his conditioning, so I don't expect him to slow down in the later rounds.
The other X-factor is the ground games of Belfort and Bisping. So much focus has been on their striking games and rightfully so, but that doesn't mean we should forget about Bisping's improving ground game and Belfort's Brazilian jiu-jitsu black belt.
One fighter's ground game could mean the difference on the scorecards.
Prediction: Belfort