Pittsburgh Penguins Defeat Philadelphia Flyers 3-1 in NHL Season Opener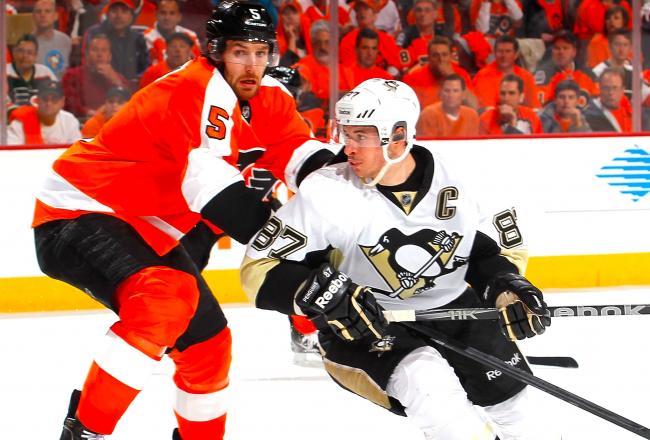 The Pittsburgh Penguins defeated the rival Philadelphia Flyers 3-1 at the Wells Fargo Center on Saturday afternoon in a fast-paced season opener.
Pittsburgh took a quick 2-0 lead in the first period and played well defensively over the final 40 minutes to earn a crucial two points in the standings.
Special teams was the difference in this game as the Penguins converted on two of their three power-plays opportunities, while the Flyers were 0-5.
Both teams will travel to New York for their next game on Sunday. The Penguins will take on the New York Rangers and the Flyers will play the Buffalo Sabres.
Final Stats
Score: Penguins 3, Flyers 1 (Kennedy, Neal and Kunitz for Pittsburgh, Giroux for Philadelphia)
Shots: 27-27
Faceoffs: Flyers led 40-37
Hits: Penguins led 35-27
Power-play: Penguins 2-3, Flyers 0-5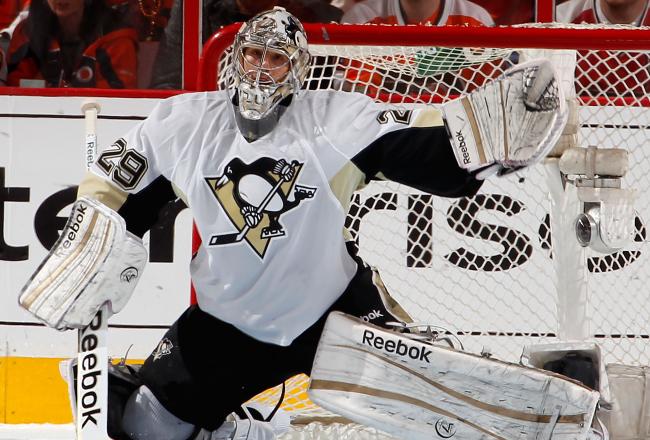 Marc-Andre Fleury has set a new record for wins by a Penguins goaltender with 227.
Penguins defeat Flyers 3-1.
GOAL!
Chris Kunitz scores an empty-net goal and the Penguins lead 3-1. Penguins intercepted a pass in the neutral zone and the puck bounced to Kunitz's stick and he found the net.
Pittsburgh 2, Philadelphia 1 (0:27 3rd Period)
Penguins have a short powerplay for remainder of 3rd period.
Flyers have taken a timeout with 1:02 remaining.
Pittsburgh 2, Philadelphia 1 (1:02 3rd Period)
Giroux takes a tripping penalty. Bryzgalov goes back to his net and it will be 4v4.
Pittsburgh 2, Philadelphia 1 (1:10 3rd Period)
Flyers net is empty as Bryzgalov heads to the bench!
Giroux sets up a scoring opportunity with a pass into the crease but Hartnell cannot find the back of the net as he shoots it wide.
Malkin takes a high-sticking penalty. Referees check for blood but there is none so it will be a minor penalty.
Flyers are 0-4 on the power-play.
Pittsburgh 2, Philadelphia 1 (2:35 3rd Period)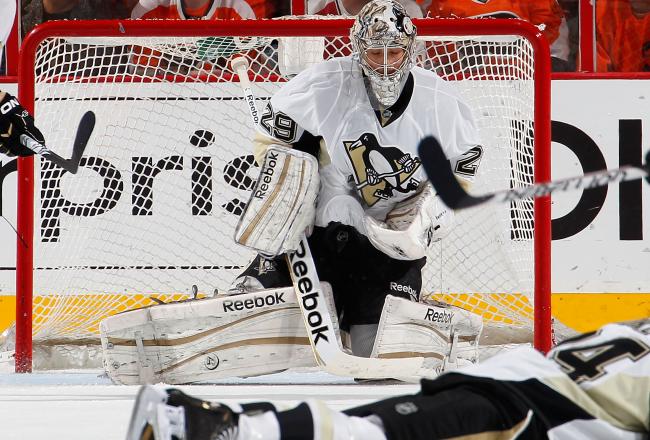 Fleury has been magnificent today. He has battled lots of traffic in front of his net over the last two periods and has been in good-position to make saves. He's also been the team's best penalty killer thus far with some huge saves on the Flyers power-plays.
Pittsburgh 2, Philadelphia 1 (3:16 3rd Period)
Penguins kill the penalty. Flyers 0-4 on the power-play.
Fleury makes a big save in his crease as four or five players pile into the crease and the whistle is called for the face-off. Giroux set up Hartnell but he didn't have a great angle with the back hand shot.
Flyers begin the power-play with a shot off the post and a scramble in front of the net but no one can jam it past Fleury as the Penguins clear the puck up the ice.
This has been a fast-paced 3rd period but both teams have just three shots on goal.
Pittsburgh 2, Philadelphia 1 (5:52 3rd Period)
Flyers will go on the power-play with 5:52 left in the 3rd period. This may be their best chance to tie the score. Philadelphia is 0-3 on the power-play thus far.
Expect a lot of Giroux and Hartnell in the next two minutes.
Claude Giroux is in mid-season from today, and the same can be said for Evgeni Malkin. Each player is creating chances with clever passes.
Playing overseas definitely helped these stars.
Pittsburgh 2, Philadelphia 1 (7:05 3rd Period)
Kris Letang takes a shot from the point that is deflected by Matt Niskanen and hits the post! Best chance for the Penguins in the last few minutes.
Deryk Engelland also took a shot from the point that saved was by Bryzgalov and covered up after he lost the puck for a moment.
Pittsburgh is spending a lot of time in the Flyers' zone by winning puck battles along the boards and not letting the Philadelphia defenseman get off a clean pass out of the zone by forechecking aggressively.
Pittsburgh 2, Philadelphia 1 (9:15 3rd Period)
Fatigue has not been a factor in the third period. Both teams playing at a fast pace with playoff-like intensity.
Scott Hartnell makes a beautiful long pass to Claude Giroux but he is barely offside at the blue line. The Flyers captain would have had a breakaway versus Fleury.
The Flyers' top line of Giroux, Hartnell and Schen has easily been their best line thus far. All three players have tons of energy and are creating the bulk of the team's scoring chances.
Pittsburgh 2, Philadelphia 1 (11:25 3rd Period)
Bryzgalov has been fantastic since the start of the 2nd period. He has made 15 straight saves since the Penguins took a 2-0 lead in the 1st period.
He's been composed with traffic in front of his net and has made some athletic saves.
Pittsburgh 2, Philadelphia 1 (13:25 3rd Period)
There hasn't been a lot of scoring opportunities in the 3rd period thus far. Lots of play in the neutral zone. Flyers have 2 shots, Penguins have none.
This article is
What is the duplicate article?
Why is this article offensive?
Where is this article plagiarized from?
Why is this article poorly edited?