East-West Shrine Game 2013: Live Score, Stats and Highlights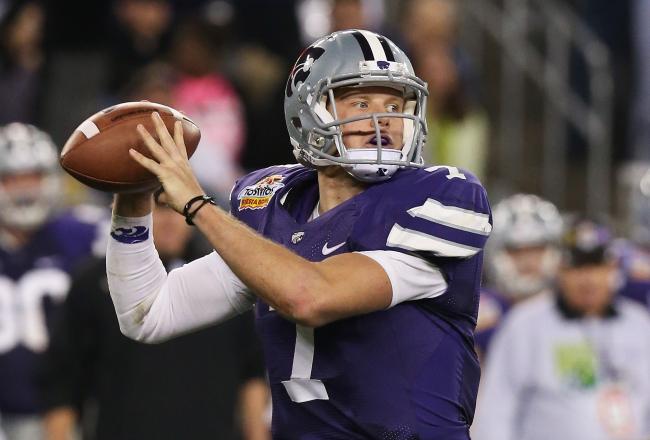 Stephen Dunn/Getty Images
As teams across the National Football League prepare for April's NFL draft, the first of college football's "all-star" games gets underway on Saturday, as players from across the country gather for the East-West Shrine Game in St. Petersburg, Fla.
The game features stars such as Kansas State quarterback and Heisman finalist Collin Klein, and as Saturday's game progresses, we'll be updating you in the latest big plays and top performers.
For those wondering when and where to catch the game on TV, the 2013 East-West Shrine game kicks off at 4:00 p.m. ET and will be televised on the NFL Network.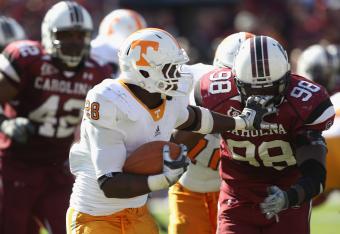 The East pitches in one more field goal, and that's it.
28-13, the West wins.
The MVP is an easy call, as South Carolina defensive end Devin Taylor was easily the game's most dominant player.
That wraps things up here, but there's loads more Shrine Game coverage here at Bleacher Report, so be sure to check it out!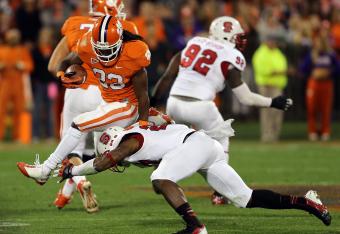 One good pick deserves another.
North Carolina State cornerback Earl Wolff makes a nice play on a Seth Doege pass in the end zone, getting the ball back for the East and keeping things from getting too out of hand.
Some lousy quarterback play in this game that won't do anything for the perception that this is a weak class under center.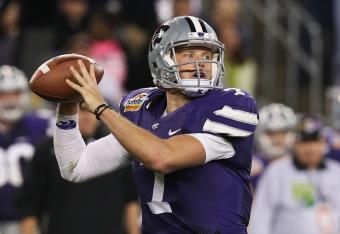 Collin Klein comes back in for the East at quarterback and promptly gives his critics something to chew on, badly underthrowing a deep ball that's picked off by Nevada's Khalid Wooten.
He's just not an NFL quarterback, folks.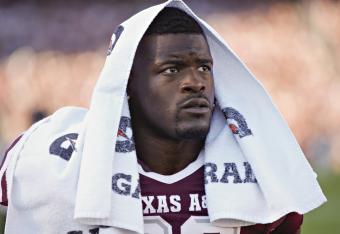 The East finally got on the board, but the West responded, as Texas A&M running back Christine Michael punches it in to give the West a 28-10 lead.
Michael's 42 yards on 13 carries is far from awe-inspiring, but the coaches apparently saw something they liked in practice this week or Michael wouldn't have gotten this heavy a workload.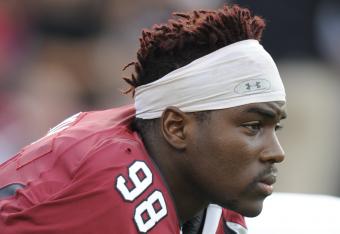 It's Devin Taylor's world, and we're all just living in it.
No player has helped his stock more in Saturday's game itself than the 6'7" defensive end, who has been all over the place and just notched another sack to force a West punt.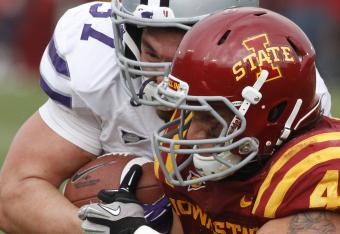 Very nice game Saturday from Iowa State linebacker A.J. Klein, who Mike Mayock pointed out as a player whose stock improved this week.
At least one Klein did well in Florida.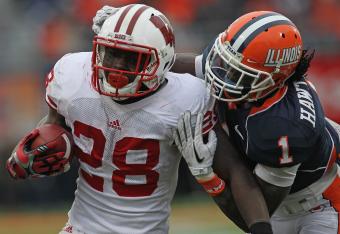 UCLA cornerback Aaron Hester picks up his second pass interference penalty of the drive to keep the East moving.
You like to see a young defensive back be aggressive, but that aggression needs to be controlled,
Nice sack on the next play by Brandon Thurmond of Arkansas Pine-Bluff, who led all FCS players with 17 sacks in 2012, and on the following play the West continued its' dominance on an interception by Illinois cornerback Terry Hawthorne.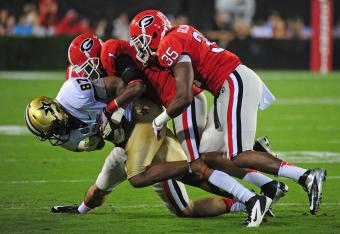 Branden Smith gets a measure of redemption, as a terrible throw by Carder is picked off over the middle.
No idea where he was trying to go with that.
Alex Carder of Western Michigan is in at quarterback for the West.
Prototypical size, big arm, but very raw.
However, Carder's probably the closest thing to an NFL prospect at the position we've seen so far in the game.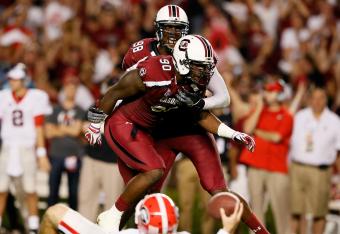 The East may be down big on the scoreboard, but the player of the game so far hails from that squad.
South Carolina defensive end Devin Taylor has been a force so far, notching a sack and forcing a pair of fumbles in the first half.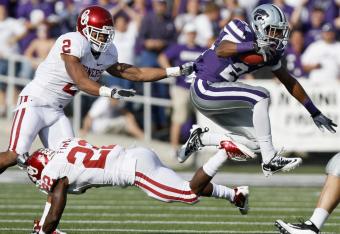 Georgia cornerback Branden Smith needs a do-over.
The 5'11" 182-pound senior mis-timed his jump, and the result of that gaffe was a 57-yard scoring pass from Scott to Chad Bumphis of Mississippi State.
Then, in the blink of an eye, a poor decision and worse throw by Louisiana Tech's Colby Cameron results in a pick-six for Kansas State's Nigel Malone.
Two scores in 15 seconds, and just like that it's 21-3 West.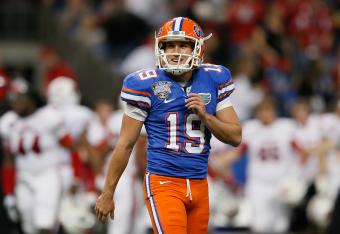 Florida kicker Caleb Sturgis bangs one through from 48 yards out, and the East is on the board.
Utah State's Kirby Williams follows that up with a 38-yard kickoff return, and as the first half winds down a couple of special teamers make a nice impression.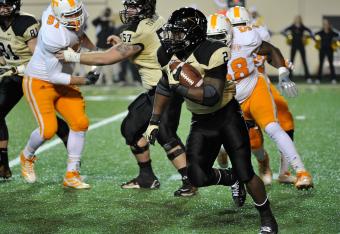 Vanderbilt running back Zac Stacy is in the game for the East.
At 5'9" and 214-pounds Stacy, much like Christine Michael, is one of the more intriguing prospects at the position in this year's game given his "feature back" build.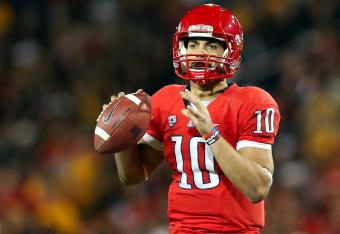 Arizona quarterback Matt Scott leads a 12-play West drive, but a hooked 33-yard field goal attempt wasn't even close and the score remains 7-0.
Nice drive from Scott though, who much like Collin Klein is trying to prove that he can be an effective passer at the professional level.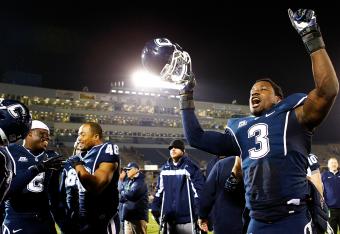 Nice backside pursuit and tackle from Connecticut linebacker Sio Moore, who drew raves from Jerry Glanville in practice this week.
The 6'2" 229-pound senior also didn't hurt himself this week by volunteering to play on special teams, which is where many of the players in this game will likely find themselves early in their NFL careers.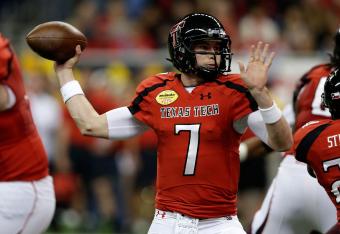 A strip sack of Texas Tech quarterback Seth Doege by South Carolina defensive end Devin Taylor sets up the East with excellent field position.
Doege missed the open read off of play action, which is a big no-no in there sorts of games.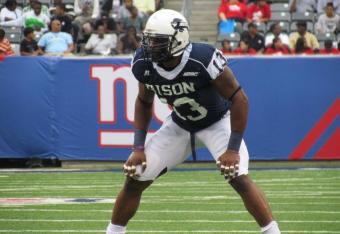 Mayock on Howard LB Keith Pough:
"He probably ran his mouth more than any 10 guys this week".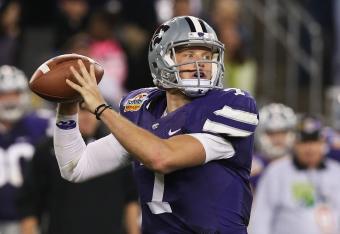 Collin Klein completes his first pass of the game to Emory Blake, son of former NFL quarterback Jeff Blake.
Klein followed that up with a scramble that was negated by a penalty, but after a miserable week of practice Klein needs to do more throwing and less running in this game.
His mechanics are a mess.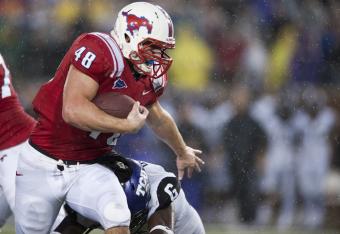 SMU's Zach Line, who had three straight 1,000-yard seasons for the Mustangs, is now in at tailback.
Line, who was the Conference USA offensive player of the year in 2012, may project more as a fullback in the NFL, but NFL Network analyst Mike Mayock that Line's a player that an NFL team "needs to find a spot for."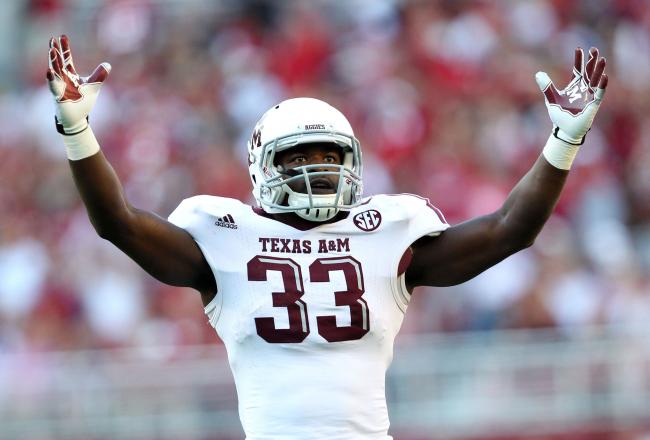 A couple of hard runs by Texas A&M running back Christine Michael sets up a West touchdown for the game's first score.
Good burst by Michael, who ran with authority and showed some nice agility with a jump-cut that turned a loss into a short gain.
West leads 7-0.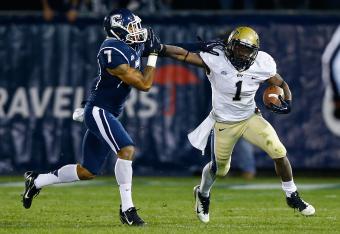 Rough start for Pittsburgh running back Ray Graham, who fumbled while changing hands on his first carry of the game.
Not the way to impress NFL scouts.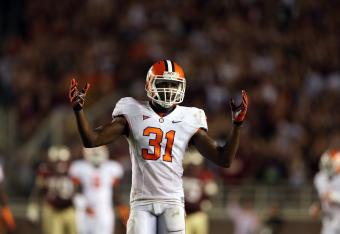 Jerry Glanville said in his pre-game interview to keep an eye on Clemson safety Rashard Hall, who Glanville called "awesome".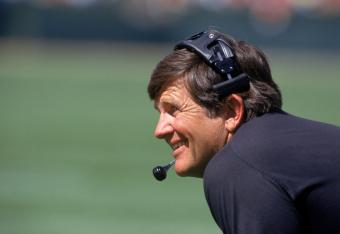 The two teams in today's East-West Shrine Game will be coached by a pair of men who at one time were head coaches of the Atlanta Falcons.
Leeman Bennett will guide the West squad, while the East team will be led by Jerry Glanville.
I wonder if Glanville left a ticket at will-call for Elvis.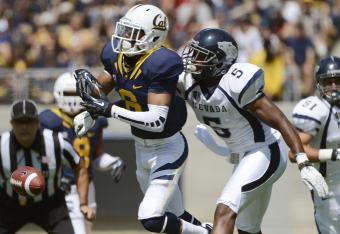 Some defensive players worth monitoring at Saturday's East-West Shrine Game.
1.) Will Campbell - DT, Michigan: A highly touted prospect coming out of high school whose production never matched his potential at the collegiate level, the 6'5" 308-pound senior has looked "unblockable" at times in practice according to Draft Insider's Tony Pauline but has been inconsistent.
2.) Keith Pough - LB, Howard: The 6'2" 241-pound linebacker was the 2012 MEAC defensive player of the year and is another small school star who has excelled in practice this week, with Dane Brugler of CBS Sports calling Pough "one of the top prospects on the West" team.
3.) Duke Williams - S, Nevada: A punishing hitter who racked up over 100 tackles for the Wolfpack in 2012, Williams is another small-school player who has impressed in this week's practices, with Bucky Brooks on NFL.com stating that some West Coast scouts believe Williams has the talent to be a "star" in the NFL.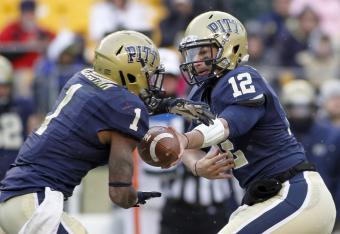 Here's a look at five offensive players to keep an eye on during Saturday's game.
1.) Ray Graham - RB, Pittsburgh: The 5'9", 190-pound senior topped 1,000 rushing yards and scored 11 touchdowns in 2012, and while Graham lacks the size to be a "feature" back at the professional level he could appeal to NFL teams as a change of pace option.
2.) Alex Carder - QB, Western Michigan: At 6'2" and 225 pounds Carder has the size and arm strength that NFL scouts drool over, but Carder is a very raw prospect who could do a lot for his draft stock with a strong performance Saturday.
3.) Christine Michael - RB, Texas A&M: Michael was on a 1,000-yard pace in 2011 before a knee injury cut that season short, and while this year was basically a wash if the 5'11" 220-pounder has been the top running back in practice this week according to Daniel Jeremiah of the NFL Network.
4.) Terron Armstead - OL, Arkansas Pine-Bluff: These sorts of games can be huge for small school stars trying to make an impression, and Jeremiah reports that Armstead has made the most of that opportunity this week in practice.
5.) Joseph Fauria - TE, UCLA: The nephew of former NFL tight end Christian Fauria the 6'7" 255-pounder isn't much of a blocker, but his size and long arms combine to make him an excellent target in the red zone.
This article is
What is the duplicate article?
Why is this article offensive?
Where is this article plagiarized from?
Why is this article poorly edited?