Pro Sports' Biggest Busts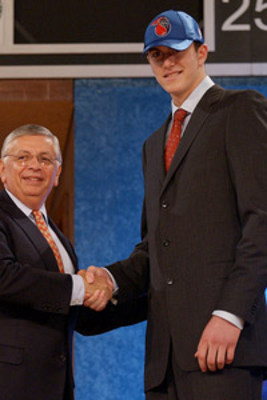 With the NFL Draft just around the corner it's important to remember the errors of the past before they are repeated.
Many athletes either become the flavor of the month at the right time, putting up huge numbers against inferior competition, or simply have their potential over evaluated.
The following 10 sports busts were all thought to have a world of potential, yet crashed and burned for whatever reason.
These are the real busts and not promising prospects like Sam Bowie, Pervis Ellison, Jay Williams, or Ki-Jana Carter, who had their careers hampered by injury.
Enjoy and when your team takes a questionable player in the draft, don't say you weren't warned.
10. Tim Couch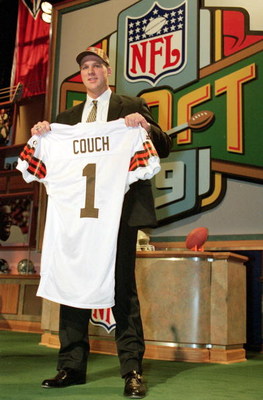 Draft Status: No. 1 overall pick by the Cleveland Browns in the 1999 NFL Draft
Players the Browns Could Have Had: Donovan McNabb, Edgerrin James, Champ Bailey, or Jevon Kearse.
After a record setting career in both high school and at the University of Kentucky, Tim Couch was a can't-miss prospect for the expansion Cleveland Browns.
Under constant pressure from a makeshift offensive line in his five NFL seasons, Couch threw 67 touchdowns to 69 interceptions, completed under 60% of his passes, and had a quarterback rating of 75.1.
Couch did have some high points during his career including a 9-7 campaign in 2002 and a playoff birth. However, one season later after an infamous meltdown he was benched in favor of little known Jeff Garcia.
He would never again return to the NFL.
9. Brien Taylor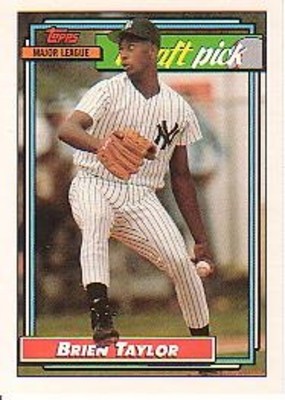 Draft Status: No. 1 overall pick by the New York Yankees in the 1991 MLB Draft
Players the Yankees Could Have Had: Manny Ramirez, Shawn Green, Tyler Green, Aaron Sele, Dimitri Young, Derek Lowe, or Nomar Garciapara.
There have only been two players drafted before 2005 who have never played Major League Baseball, one of them is Brien Taylor.
Taylor was a legend before his 17th birthday. Hailing from rural North Carolina he had a 95 mile an hour fastball and an agent before he turned 18.
Through agent Scott Borus, Taylor held out for a $1.5 million contract and threatened to play at a local junior college if the Yankees did not meet his demands—they did.
In 1992 Taylor began his career as the Yankees top minor league prospect, before tearing his labium in a bar fight. By 1998 he was out of professional baseball, never pitching above the class AA level.
1991 might have been one of the deepest drafts in MLB history, yet all the Yankees had to show for that season's draft was a potentially talented player whose career ended because of his own stupidity.
8. Alexandre Daigle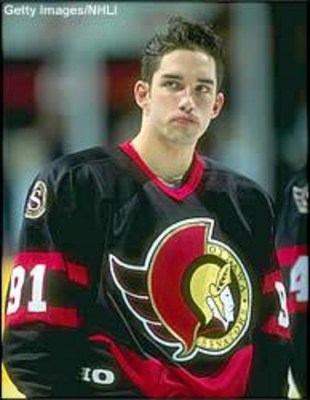 Draft Status: No. 1 overall pick by the Ottawa Senators in the 1993 NFL Draft
Players the Senators Could Have Had: Chris Pronger, Paul Kariya, Viktor Kozlov, or Miroslav Satan.
Alexandre Daigle was supposed to be the next Wayne Gretzky and the best French-Canadian prospect since Guy Lafleur.
Things didn't quite turn out that way.
Before the draft, the struggling Senators (and the rest of the hockey world) were so enamored with Daigle that they turned down a deal from the Quebec Nordiques that would have given them a young Owen Nolan, Peter Forsburg, and one of the best goalies in the game, Ron Hexstall, for the first overall pick.
Daigle took his multi-million dollar contract and spent more of his nearly five year tour in Ottawa at nightclubs than he did at the rink.
After tallying only 74 goals in over 200 games, Daigle was traded to Tampa Bay and then made stops at four other teams in six years, scoring only 49 goals.
7. Tony Mandarich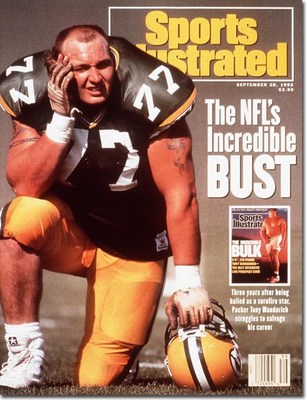 Draft Status: No. 2 overall pick by the Green Bay Packers in the 1989 NFL Draft
Players the Packers Could Have Had: Barry Sanders, Derek Thomas, Deion Sanders, or Steve Atwater.
During the late 1980s, the NCAA's steroid testing procedures were notoriously lax, which is why you have a case like Tony Mandarich.
Heralded as the best offensive line prospect of all time, Mandarich was taken second in the 1989 draft, ahead of hall of famer (the late) Derek Thomas, and future hall of famers Barry and Deion Sanders.
Aside from being a bust on the field, Mandarich caused major problems in the Packers locker room with his attitude toward his coaches and teammates.
In a 2008 interview, Mandarich admitted to using anabolic steroids in college, explaining that his performances suffered when he had to quit using the drugs due to the NFL's stringent testing procedures.
6. Darko Milicic
Draft Status: No. 2 overall pick by the Detroit Pistons in the 2003 NBA Draft
Players the Pistons Could Have Had: Carmelo Anthony, Dwayne Wade, Chris Bosh, or Josh Howard.
With the success of Dirk Nowitski, Pau Gasol, and Tony Parker, the biggest trend in pro basketball circles in the early 2000's was to find the next great European player.
Leading up to the 2003 Draft, it was a foregone conclusion that Lebron James would be the top pick, but debate raged among NBA insiders about who the Piston's should take with the second pick; Carmelo, D-Wade, or Milicic?
The Piston's took the seven foot Serbian, and he spent the next three years sitting on the bench in Motown.
Luckily for the Pistons they already had assembled a solid team that would win an NBA Championship in 2004, so the pick of Milicic didn't hurt them much.
However, in retrospect, imagine those Piston's teams with Bosh, Anthony, or Wade rather than a player whose career high was averaging eight points a game in Orlando.
5. Winston Bogarde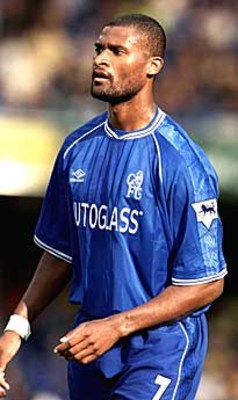 Signed by Chelsea, of the English Premier Leagu,e for a £2 million pounds per year (around $3 million U.S) contract for four years.
Players Chelsea could have signed: Rio Ferdinand, Frank Lampard, Robert Pires, or Robbie Keane.
Winston Bogarde is unknown to Americans, and probably forgotten by most Englishmen, but his story is one of arrogance, laziness, and downright stupidity on the part of the club that signed him.
Bogarde was a talented Afro-Dutch defender in the mid-90s, having put together a few good seasons with the Amsterdam club Ajax. Bogarde signed with two of Europe's glamor clubs in AC Milan and then Barcelona in 1997.
In those four seasons in Milan and Barcelona, Bogarde proved to be tempermental, lazy, and arrogant, not to mention not nearly the player he was thought to be.
However, despite his dismal showings and bad attitude, one of London's top clubs, Chelsea, offered Bogarde a four year guaranteed contract worth over $3 million a year.
During those four years, Bogarde did not score and only played in 11 games, which made his compensation $1.2 million PER GAME without ever having scored a goal.
In an attempt to get Bogarde to quit the team, Chelsea demoted him to practicing and playing with their teenage trainees, but Bogarde showed up every day. He once said: "I am the worst deal in the history of the Premier League but I don't care because this nigger bows down to nobody."
4. Chris Washburn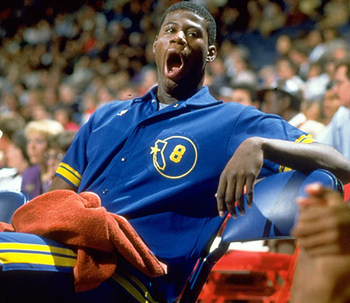 Draft Status: No. 3 overall pick by the Golden State Warriors in the 1986 NBA Draft
Players the Warriors Could Have Had: John Salley, Mark Price, Dennis Rodman, or Drazen Petrovic .
"Cocaine is a hell of a drug." Rick James
The 1986 NBA Draft should be known as "the cocaine draft", and Chris Washburn is its poster boy.
In a draft where no less than six players were known cocaine addicts, one player died of a drug overdose, only one player drafted in the first round was an all star selection (Brad Daugherty), and only three had meaningful NBA careers (Daugherty, Ron Harper, and Arvydas Sabonis). Any player worth his salt could have shined.
Chris Washburn was not one of those players.
Even dating back to high school Washburn had the reputation of "not being as good as advertised". However, in his one year of action at N.C State, he averaged 17 points and 10 rebounds a game and showed flashed of brilliance, outplaying Daugherty in two games that season.
The flip side was that by the end of his first season in Raleigh, he was developing a cocaine habit, and paired with his proclivity to laziness, Washburn was a trainwreck waiting to happen.
In his two seasons with the Warriors, and one in Atlanta, Washburn spent more time on the bench than on the floor, averaging only three points and 1.5 rebounds a game.
After only a 72 game career, Washburn was banned for life by the NBA for failing his third drug test.
3. Anna Kournikova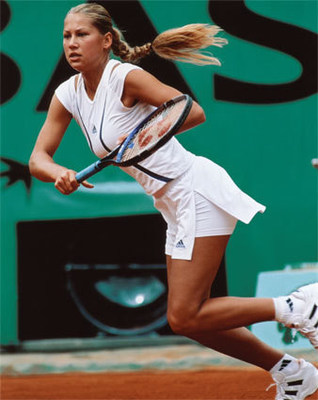 International Tennis Federation's top ranked junior girls player in 1995.
Players behind Kournikova in the rankings: Serena Williams, Venus Williams, Amelie Mauresmo, and Cara Black.
When asked, tennis swengali Nick Bolatterri will have no problem telling you who the best girls junior tennis player he ever saw was.
It wasn't one of the Williams sisters, nor Seles, Hingis, or Sharapova. It was Anna Kournikova.
Coming from the former Soviet Union at the age of 10, Kournikova's mother notoriously began grooming her daughter at an early age to be two things; a tennis player and a sex symbol.
As a junior player Kournikova was ranked as the top junior in the world, edging out the Williams sisters, and was headed for stardom when she was named the WTA Newcomer of the Year in 1996.
In 1997, at the age of 16, she reached the Wimbledon semifinals in her debut. That would be her best singles finish in a grand slam event.
Over the next 10 years, Kournikova would make millions as one of sport's best known sex symbols. However, as a tennis player, she never won a WTA singles event.
2. LaRue Martin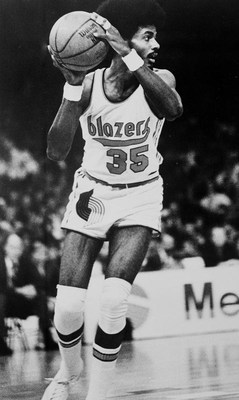 Draft Status: No. 1 overall pick by the Portland Trailblazers in the 1972 NBA Draft
Players the Blazers Could Have Had: Julius Erving, Bob McAdoo, Paul Westphal, or Dave Twardzik.
No player has ever gotten more mileage out of one great game than LaRue Martin.
In the 1971-72 season, his lowly Loyola of Chicago team nearly knocked off mighty UCLA, led by superstar Bill Walton, in a game where Martin clearly outplayed Walton in every aspect of the game.
Portland scouts didn't need to see anything else as they made Martin their No. 1 draft choice, passing on hall of famer's Bob McAdoo and Doctor J.
Martin would later spend much of his career sitting on the bench behind that same Bill Walton in Portland.
Widely viewed as the worst first overall pick in NBA history (sorry Michael Olawakandi), Martin played only four years, averaging 5.2 points and 4.6 rebounds a game for his career.
1. Ryan Leaf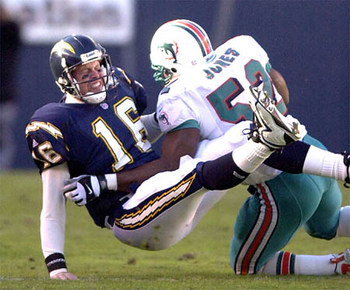 Draft Status: No. 2 overall pick by the San Diego Chargers in the 1998 NBA Draft
Players the Chargers Could Have Had: Charles Woodson, Fred Taylor, Takeo Spikes, or Randy Moss.
Arrogant, petulant, temperamental, immature, classless, and overrated. These are just some of the adjectives used to describe the greatest bust in sports history.
There is a tape of Ryan Leaf in the locker room after one of his many embarrassments, reading a prepared letter of apology in an "I couldn't care less" dead pan voice, expressing his sorrow for being such a jerk. Then less than a minute later, that same tape shows Leaf trying to physically attack a reporter and having to be restrained by Junior Seau.
Typical Ryan Leaf.
Going into the 1998 draft, the raging debate among draft geeks wasn't if Leaf would be a good pro or not, but rather was he going to be better than Tennessee signal caller Peyton Manning.
The Chargers were so impressed with Leaf that they actually traded two first round picks, and a second round pick, to Arizona for the rights to draft the Washington State star.
Leaf was a talented player with a horrific attitude toward just about everybody he encountered, who felt he didn't have to listen to anybody, in particular his coaches.
In his only full season in San Diego, Leaf might have had the worst season of any quarterback in NFL history, finishing the year with two touchdowns, 15 interceptions, a 45% completion percentage, and a passing rating of 39.
For his career Leaf finished with 25 games played, a 47% completion percentage, 14 touchdowns, 36 interceptions, and a passer rating of 50.
Ryan Leaf might have been as talented as Peyton Manning, but he's also a poster boy for the old cliche; "your attitude determines your altitude."
Keep Reading