Duke Basketball: Ranking the Blue Devils' Toughest Remaining Games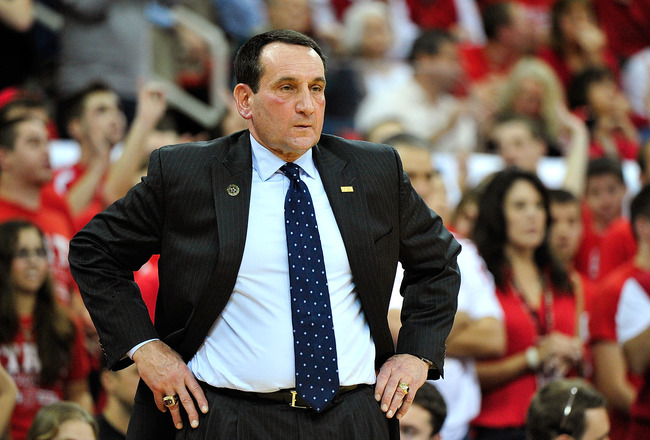 Grant Halverson/Getty Images
Mike Krzyzewski's Duke Blue Devils are arguably the best team in the college basketball universe, but they still face some very challenging contests in the coming months.
Previously ranked No. 1 in the country, the team is dealing with injuries to senior leaders Seth Curry and Ryan Kelly, which led to its first loss of the season against North Carolina State.
The Blue Devils have the tough task of playing the Wolfpack again this year, which ranks highly on the team's list of most difficult games remaining, but which other games make the cut? Read on to find out.
5. North Carolina (Feb. 13)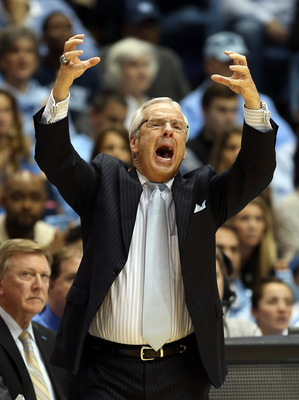 Streeter Lecka/Getty Images
One of the top-five games that could be a challenge for Duke is at home against arch-rival North Carolina on February 13.
Whenever you play your biggest foe, you have to circle the date on the calendar, and there's no telling what can happen. Magnify that about 10 times, and then you have the intensity of Duke-North Carolina.
The Tar Heels are still a very talented team, despite not being ranked, and will bring a passionate team to Durham as they try to knock off Duke at home.
4. Miami (Mar. 2)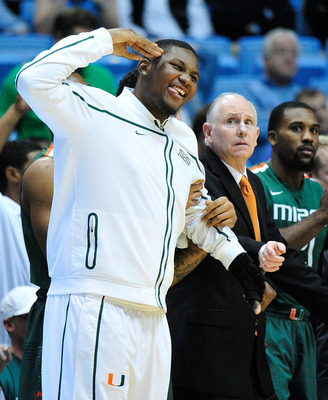 Grant Halverson/Getty Images
Duke's tough game against Miami is not the road battle on Wednesday, but the home game in March.
Miami is going to be problematic for the Blue Devils. Duke is dealing with an injury to big man Ryan Kelly, which leaves the frontcourt depleted. It also puts a lot more pressure on Mason Plumlee. We don't know when Kelly will be back, but if he misses this game, the team is in trouble.
That is huge for The U, as center Reggie Johnson is a 6'10", 295-pound big man who can dominate inside when he comes back from his injury.
Johnson dominated the Blue Devils last year, going for 27 points and 11 rebounds as the team beat Duke on the road in overtime. Look for him to do so again this year, which could be a death sentence for Mike Krzyzewski's crew.
3. Maryland (Feb. 16)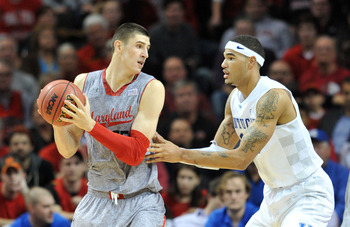 Jason Szenes/Getty Images
In another game that brings with it a big man who can dominate the Blue Devils inside, Duke will have to go on the road to play Maryland in mid-February.
This will be the final meeting between these two teams in ACC play, as Maryland is heading to the Big Ten next year.
Alex Len is going to pose problems for Duke, as he brings his 7'1", 255-pound frame against Mason Plumlee inside.
Maryland has the clear advantage in the post, which is going to make the matchup between backcourts crucial. If Quinn Cook, Rasheed Sulaimon and (possibly) Seth Curry struggle on the outside, the Blue Devils could be in trouble.
2. North Carolina State (Feb. 7)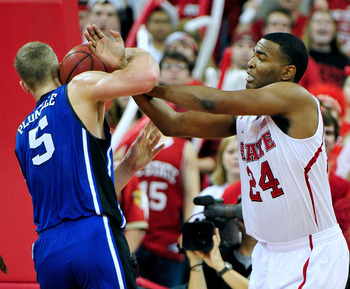 Grant Halverson/Getty Images
No. 14 North Carolina State already handed Duke its only loss of the season, and the two will play again in Durham on February 7.
Mark Gottfried's incredibly talented squad beat Duke by eight points the last time these two teams met. N.C. State was led by Richard Howell and C.J. Leslie inside, who combined for 41 points and 24 rebounds.
We already know that the Wolfpack can knock off the Blue Devils, and Duke will be looking for revenge when the two teams clash again.
1. North Carolina (Mar. 9)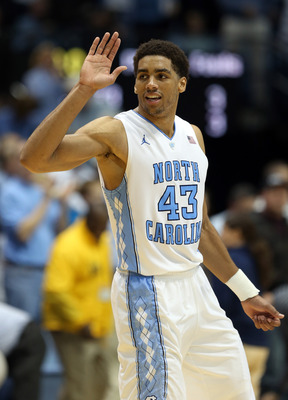 Streeter Lecka/Getty Images
The toughest contest left on the slate for the Blue Devils comes, once again, against North Carolina.
When Duke has to go on the road to play Roy Williams' crew in the last game of its season, the team is going to have some problems.
North Carolina will certainly be ready for this game, and the team is much more talented than its record says.
The Tar Heels are still developing but could be ready by the end of the year, and if that's the case, the team could look to knock off a Top-Five team at home to end the season.
Anything goes in this rivalry, and that should worry Duke fans.
Keep Reading

Duke Basketball: Like this team?