3 Most Important Lessons from Barca's 1st Loss of the Liga Season
David Ramos/Getty Images
Lionel Messi scored a goal, Pedro made it 2-0, but Real Sociedad came back and handed FC Barcelona their first loss of the La Liga season in a 3-2 win for La Real on Saturday.
Messi had the first chance for Barcelona in the fifth minute as a solid pass by Cesc Fabregas found Leo onside, but Messi's shot went wide left.
But two minutes later, Messi got his goal. It was Messi's first goal at San Sebastian in his career. The goal also made it 10 straight games with a goal or more. Leo is only the third player to do this (Martin, Ronaldo) in FC Barcelona history.
In the 14th minute, Pedro nearly had a golazo, but the ball hit the post.
Antoine Griezmann's shot went just wide right for Real in the 17th minute.
Pedro got his goal in the 25th minute. Xavi made a terrific pass to Dani Alves who stayed onside, and Alves crossed it low in and found an open Pedro for the second Barcelona goal. Great teamwork on that play.
What looked like a goal for La Real was taken away as offsides in the 33rd minute.
Xavi had another fantastic pass—this time to Messi—whose lob shot over the charging goalkeeper Claudio Bravo hit the right post.
In the 40th minute, Real Sociedad got their goal. Carlos Vela found Chori Castro to his left, and the Uruguayan slotted it past Victor Valdes for the 1-2 scoreline.
A powerful shot by Messi was nicely stopped by Bravo in the 44th minute.
In the second half, Gerard Pique was booked for the second time on the night in the 56th minute. Barcelona went down to 10 men for the rest of the game. A minute later, Carlos Martinez's shot was blocked by Sergio Busquets. Cesc Fabregas was taken out of the game to add an extra defender. Javier Mascherano came in for Fabregas.
Real Sociedad took the one-man advantage and leveled the game in the 63rd minute as Castro's shot on goal was deflected off Mascherano's knee and deflected off Valdes' hand and into the back of the net for the equalizer. Mascherano now has three own-goals this 2012-13 season in all competitions.
Just when it looked like the game was going to end in a draw, a great cross combined with bad Barcelona defending saw Imanol Agirretxe put the game-winner into the back of the net to send the San Sebastian in a joyous uproar.
FINAL: Real Sociedad 3 - 2 FC Barcelona
If you saw the game, you don't need a list of reasons for you to know why FC Barcelona lost.
Bad defending.
Missed opportunities/bad luck for the Barca offense.
Pique being sent off was bad for Barca.
But most importantly, great La Real play.
Let's talk about the three most important lessons "From the Mind of Xoel" from FC Barcelona's first loss this season in La Liga.
Give Credit to Real Sociedad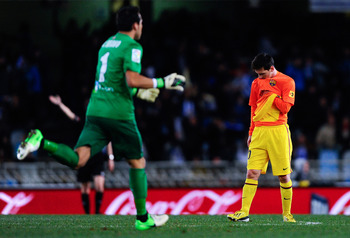 David Ramos/Getty Images
As soon as the game ended, I noticed on Twitter that there were many Barcelona fans making excuses about Barca's loss.
Please stop.
Give credit to Real Sociedad and their players, as well as their fans.
As my friend Michael Cerna pointed out during his live stream coverage of the game for B/R, Inigo Martinez and Mikel Gonzalez did a nice job containing Leo Messi.
Chori Castro has scored two goals against Barcelona this season. Castro's shot on goal was deflected off Javier Mascherano and was credited to the Barca defender for the second La Real score. Nevertheless, Castro seems to have the magic touch against this Barca defense.
I'm sure Florentino Perez and Real Madrid are calling Real Sociedad to try to sign Castro.
I'm kidding, of course.
Carlos Vela and Antoine Griezmann both had a tremendous game as well.
Philippe Montanier kept his team focused, and yes, they took advantage of Gerard Pique's second yellow card. But even before Pique was sent off, La Real were playing solid and had made it a 2-1 game.
Congrats to Real Sociedad and their fans.
Good win, and good game.
The Barca Defense: Still Very Shaky
David Ramos/Getty Images
Well, we knew this day would come.
Barcelona were going to lose.
And once again, it's the defense that falls short.
I can't complain too much about the offense. Messi was not great, but he was good. Cesc Fabregas unfortunately had to be taken out due to Pique's second yellow card. Pedro got his goal. Dani Alves was solid. Perhaps Andres Iniesta wasn't at his best, but overall, the offense was not the issue.
The issue was Real Sociedad, and yes, the Barcelona defense.
Mascherano's own-goal was his third own-goal of the 2012-13 season in all competitions. No bueno at all.
Gerard Pique's first yellow card was ridiculous. Not that he didn't deserve the card, because he did. It's the way he got the yellow card that was silly. Gerard was standing in front of a Real player, not allowing him to start the quick free kick.
Completely unacceptable.
After the game, Tito Vilanova spoke to the media about Pique's sending off (h/t Twitter). "I told Pique at halftime to be careful, that his first foul would be a second yellow."
I'm sure Tito Vilanova had a strong talk with Pique.
Nevertheless, credit goes to Real Sociedad.
This is the second straight game that the Barcelona defense allows a late-game goal as well. Puyol, Mascherano and Pique are getting beat, and if Barcelona are going to win the UEFA Champions League or the Copa del Rey, the CBs are going to have to set it up.
Perhaps Marc Bartra or Alex Song need to be inserted into some games.
Time to set it up, boys.
A Fitting End to One Tough Week...Now Time to Rise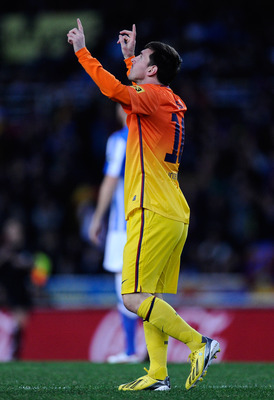 David Ramos/Getty Images
This loss to Real Sociedad is a good learning lesson for FC Barcelona.
And it's also the end of a tough week for the club.
First came the stunning draw to Malaga at the Camp Nou in the Copa Del Rey, followed by Victor Valdes' stunning decision to not even look at a contract offer from Barcelona.
And no, Pep Guardiola going to Bayern Munich is not one of the things that has made this a tough week for Barcelona. We're all happy for Pep.
After the game, Carles Puyol said (h/t barcastuff, Twitter) it was a tough loss, but credit goes to La Real, "We could've scored more in the first half, but even with 0-3 it wouldn't have been over. They have a great team."
Xavi said (h/t barcastuff, Twitter), "It's a pity, we could've finished it with the shot against the post of Messi in the first half. Loss had to happen one day, move on."
Tito Vilanova kept it classy in the post-game press conference ((h/t barcastuff, Twitter):
"Congrats to Real Sociedad. Their win is more due to them playing, than to us not playing well."
That's our manager.
While going unbeaten would have been great, it just wasn't meant to be for FC Barcelona in 2012-13. Let's give credit to Real Sociedad for the win. Hopefully, Messi and the rest of the squad have learned a valuable lesson, and will respond to this loss.
Now, it's time to rebound and get a win against Malaga. It will be a hostile environment at La Rosaleda, but if Barcelona wants to have the proper response to this slump, they need a convincing victory. It doesn't need to be a blowout, but Barca does need to impose their will on Malaga.
Champions rise when they have fallen down.
Time to rise, FC Barcelona.
Vamos!
Xoel, The Voice of FC Barcelona
Don't forget to check out my other columns
Pep Guardiola Joining Bayern Munich From a Barca Fan's Perspective
Top 10 Barcelona Throwback Kits All Fans Must Own
Keep Reading

FC Barcelona: Like this team?