NHL Free Agency: Why All Eyes Will Be on Pittsburgh Penguins' Evgeni Malkin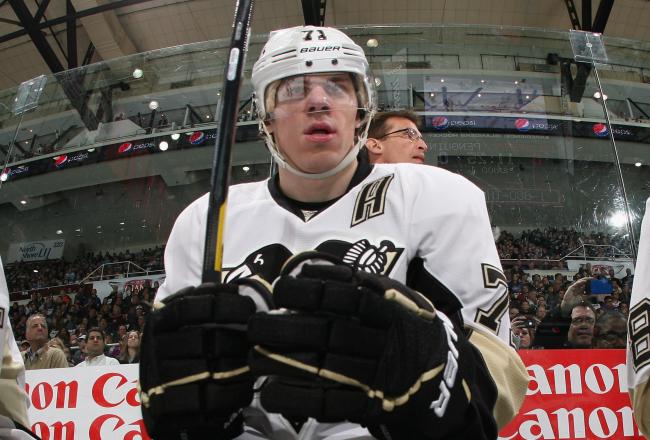 Bruce Bennett/Getty Images
The 2013 class of NHL free agents isn't particularly loaded with big-name players in the prime of their careers. No one will say that Alexander Semin, Jarome Iginla, Corey Perry and Ryan Getzalf are scrubs, but if you're looking for a player that is going to set the market under the new NHL collective bargaining agreement, you won't find that player in the class of 2013.
If you jump ahead one year and glance at the list of potential free agents during 2014, you will find a name that will set the market, and that player is Evgeni Malkin.
Malkin's five-year $43.5 million deal will run out at the end of the 2013 NHL campaign. When Malkin signs a new deal, it will set the market for all elite players that have contracts expiring during the life of the new CBA. Chief among that group will be Tampa Bay Lightning superstar Steven Stamkos. Stamkos' deal with the Lightning expires at the end of the 2016 season.
Odds of Malkin becoming a free agent are slim to none. The Pittsburgh Penguins would be positively insane to let him leave, but he is not their only pending big-name free agent, as defenseman Kris Letang also has a deal that expires at the end of the 2014 season. The Penguins can negotiate extensions with both players beginning on July 1 of this year.
The Penguins will almost definitely want to get Malkin signed for the maximum term allowed under the new CBA, which will give him an eight-year deal. As for the salary that Malkin will command, that's where things will get dicey.
Ray Shero told Triblive.com that he had discussions with Sidney Crosby about Malkin becoming the highest paid Penguin on the roster, meaning that the team will be looking to pay him more than the $8.7 million per season that both Crosby and Malkin are currently pulling in. The question is how much more than Crosby will he make.
Should Malkin earn more than Crosby?
Triblive.com speculated that Malkin's deal could max out at $102.88 million over the eight-year term. This would essentially make Malkin the second highest paid player in the NHL, earning (on average) $12.86 million per season, putting him behind only Shea Weber, who will pull down $14 million in each of the next four seasons.
That's a hefty pill for any team to swallow, especially with the new restrictions on salary variance and a drop in the salary cap coming.
All eyes will be on Shero and Malkin beginning on July 1. Other NHL general managers will look to see how he handles term and salary under the new CBA, especially thinking long-term. Star players will keep an eye on the salary that Malkin makes and where they will fall for their next deal. The NHLPA will be watching and hoping that Malkin gets as much as he can from the team so the increase in pay trickles down to all future deals.
Penguins' fans will watch and wonder how long the team can keep its core together and still compete with so much money tied up in two players. Opposing fans will watch and hope that talks break down and Malkin opts to become an unrestricted free agent, and on and on and on.
The CBA may be out of the way and the game may be headed back to the ice, but the behind the scenes work is never done. There's always another battle to be fought and the Malkin deal will be that next battle.
Stay tuned; it's going to be a wild ride.
This article is
What is the duplicate article?
Why is this article offensive?
Where is this article plagiarized from?
Why is this article poorly edited?

Pittsburgh Penguins: Like this team?