Montreal Canadiens: Predicting Stats for the Habs' Top 10 Players in 2013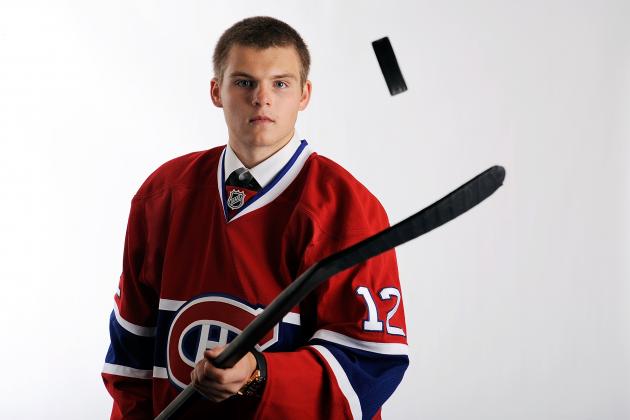 Jamie Sabau/Getty Images
Alex Galchneyuk of the Montreal Canadiens.
Predicting stats of players over the course of a season is not an exact science. In fact, it's really not a science at all. I checked. There is no degree you can get in fantasy sports, unless we're talking burns to all those who chose goalie Carey Price in their pools last season, expecting a repeat of 2010-11.
That being said, the shorter season does play to the favor of Price and the Montreal Canadiens. Clearly, Montreal is outgunned by most teams in this league. Of course, letting loose the grenade that is Scott Gomez on the rest of the league does even the odds slightly, but over 82 games this team is incapable of making the playoffs.
Over 48, though? It's anyone's guess, really, especially in regard to just how the Habs themselves will perform with lowered expectations and a shorter stretch to the finish.
With that, here are the projected stats of 10 of the Habs' top players for the upcoming season.
Begin Slideshow

»
True story: TSN's Darren Dreger selected Galchenyuk as the No. 10 rookie to watch in 2013.
Of course, the rookie defenseman he selected in TSN's fantasy-draft special a night earlier, Edmonton Oiler Justin Schultz, was No. 1, so there's a chance, albeit an infinitesimally small one, that he's not all that objective.
There's still little denying Galchenyuk's skill, even though his future this year with the team is up in the air. After making the opening-night roster, he can play up to five games with the Habs before eating up the first year of his professional contract, meaning he will have to impress out of the gates to stay.
Considering that he's penciled in to play on a line with the potentially sub-100-percent Tomas Plekanec, who may be rusty after nursing a rib injury during training camp, and Brian Gionta, who may be rusty after nursing an inability to play well over the last few seasons, it may be impossible for Galchenyuk to make a lasting, positive impression in that time.
Projected Stats

GP: 5
G: 1
A: 1
P: 2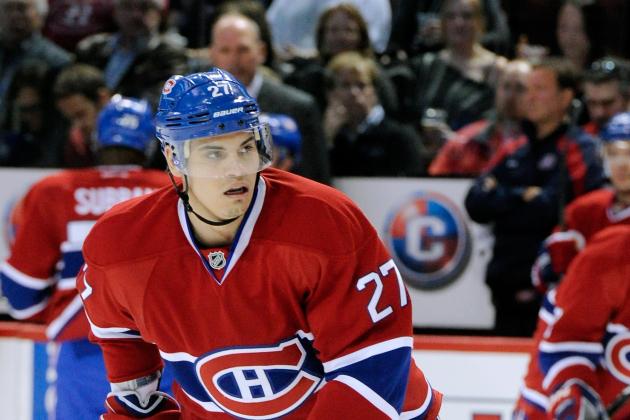 Richard Wolowicz/Getty Images
Rene Bourque of the Montreal Canadiens
Rene Bourque is the heir apparent to Galchenyuk's spot on the second line if the latter does end up getting demoted.
Admittedly, his size and skill set may be more consistent with a third-line role, which is what he currently has, along with a seemingly incurable case of chronic numbness to external stimuli, whether it be a puck put square on his stick two feet from the goal line or a high-volume screaming match on just how to care (maybe too much) from new head coach Michel Therrien
However, no one can take his three 20-goal seasons as a Calgary Flame away from him. He can undeniably put the puck in the net, and that's something that just can't be taught (at least not to him last year as a Hab).
Look for him, given the chance, to nonetheless rebound somewhat.
Projected Stats
GP: 39 (based on his average amount of games played per season)
G: 10
A: 7
P: 17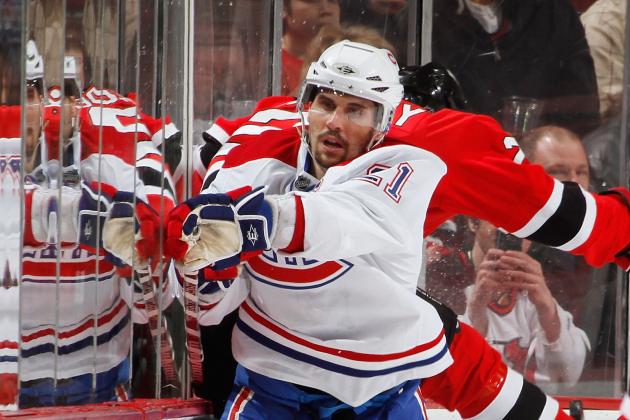 Paul Bereswill/Getty Images
Brian Gionta of the Montreal Canadiens
The lockout may have given captain Brian Gionta the chance to recuperate from his upper-body injury, but there's little recovering from his God-given lack of size and 34 years of age.
By now everyone knows of his success coming out of the last lockout. After scoring just 29 points (including 21 goals) in 2003-04, his production skyrocketed to an incredibly unexpected 89 points (48 goals) in 2005-06.
However, he has yet to even come close to replicating that kind of production in any subsequent season.
Look for Gionta's slow descent into mediocrity to continue this season.
Projected Stats
GP: 48 (based on his being healthy right now and that he has played 82 games in a season three times before)
G: 10
A: 9
P: 19
Andrei Markov is presumably healthy or, more accurately, as healthy as a guy who's had more leg surgeries in the past few years than he has legs can be.
Assuming his time spent in the Kontinental Hockey League during the lockout is an indication of what he can bring to the table, though, he can theoretically stay healthy. He did play 21 games with HC Vityaz Chekhov, after all, one game more than he played in the last two seasons combined with Montreal.
However, he also only put up one goal and four assists in those 21 games, which is far off from the production to which Habs fans have grown accustomed over the years from him.
So, in theory, the Habs will either get the power-play quarterback they've grown to love over just a part of one season or a shell of that same defenseman for all 48 games (or close to it). They can't have both.
Projected Stats
GP: 24 (Considering his injury history, having him play half the season is a conservative estimate)
G: 3
A: 13
P: 16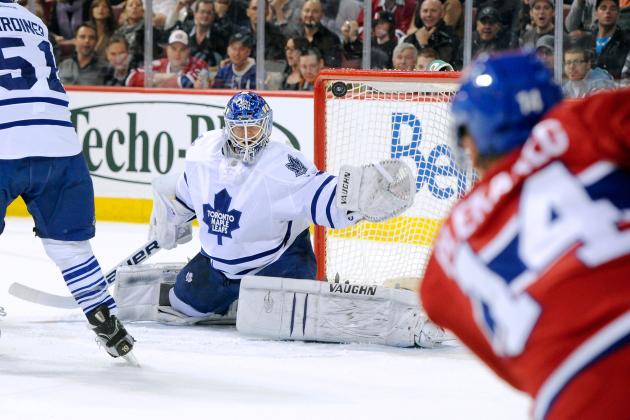 Richard Wolowicz/Getty Images
Tomas Plekanec of the Montreal Canadiens.
Playing for his hometown Rytiri Kladno hockey team of the Czech Extraliga did wonders for Tomas Plekanec's game during the lockout.
Granted, the level of play cannot compare to that of the National Hockey League, but, for the first time in his career, including his time prior to making the Habs, he was better than a point-per-game player. In fact, he notched 46 points in 32 games.
Unfortunately, Plekanec cannot be realistically expected to tear up the league to that degree this 48-game season (although it would be nice), especially not with his current linemates in Galchenyuk and Gionta. However, Plekanec is a valuable member of the team who can play in all situations.
His stats may not always reflect this fact, but he will nonetheless get his fair share of points.
Projected Stats
GP: 47 (based on the fact that he has only missed 10 NHL games over the last six seasons)
G: 12
A: 17
P: 29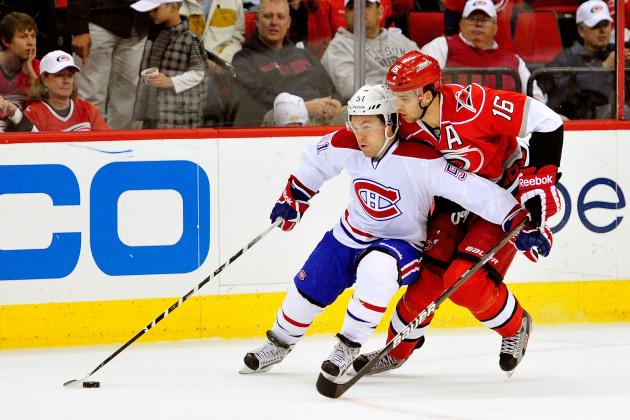 Grant Halverson/Getty Images
David Desharnais of the Montreal Canadiens
No one saw David Desharnais's breakout season coming. Considering his 5'7" height, he himself might have had to get a boost over the shoulders of everyone else just to get a glimpse.
Short jokes aside, the 60 points he put up playing alongside Max Pacioretty and Erik Cole are definitely indicative of his skill. His linemates were as much the beneficiaries of his playmaking abilities as he was of the room they created for him.
However, he and they no longer have the element of surprise to their advantage.
In other words, opponents will see them coming…well, at least Pacioretty and Cole, without having to look down.
Projected Stats
GP: 47 (based on the fact that he played 81 games in his only full NHL season)
G: 9
A: 16
P: 25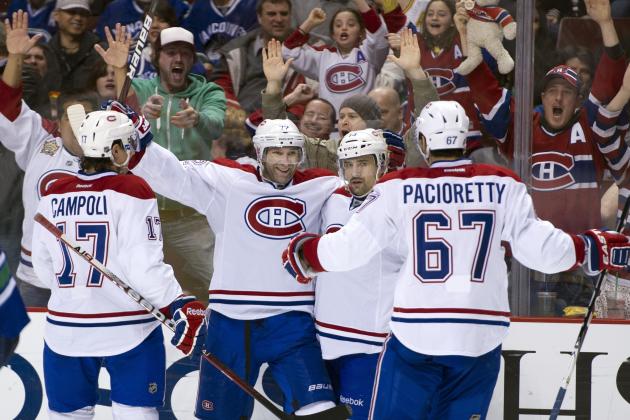 Rich Lam/Getty Images
Erik Cole (center) of the Montreal Canadiens
Erik Cole may have defied all laws of nature by recording a new career high in goals (35) last season. However, he won't get nearly that many in 2013.
Of course, a large reason for that lies in the fact that there will just be 48 games. Other reasons to factor in, though:
1. He's a year older (34),
2. His history of injuries, for one of which he's due after playing two-straight 82-game seasons and
3. Lightning just won't strike twice, as far as the success of Montreal's top line is concerned
Projected Stats
GP: 35 (based on the general lack of resilience he has displayed over his career)
G: 10
A: 12
P: 22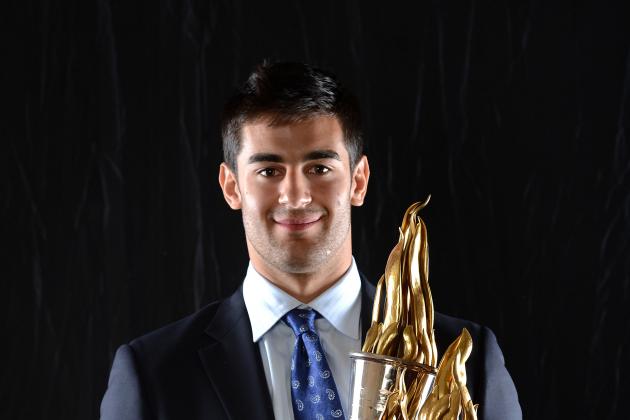 Harry How/Getty Images
Max Pacioretty of the Montreal Canadiens and the Bill Masterton Memorial Trophy
It was just two seasons ago that Max Pacioretty drew the ire of many bloodthirsty Montreal Canadiens fans when he said he would rather stay with the Hamilton Bulldogs than get promoted to the Habs only to get a few minutes of ice time every night.
Ironically, that year served as a coming-out party of sorts, during which, once called up, he scored 14 goals in 37 games before Boston Bruins Zdeno Chara checked him into a Bell Centre stanchion, breaking his neck and ending his season.
Following a miraculous comeback, he not only regained his scoring touch but improved upon it when he scored 33 in a relatively full 79-game season.
However, despite his undeniable chemistry with Desharnais, Pacioretty will likely see his production drop slightly due to a combination of the aforementioned factors.
Projected Stats
GP: 46 (based on his 79 games played last year)
G: 17
A: 13
P: 30
Everywhere Montrealers turn these days, hockey analysts are saying that the still-as-of-yet-unsigned P.K. Subban needs to grow up, be a professional, take his lumps and end this foolish holdout of his.
It's a funny sentiment, seeing as, during the lockout, despite his seemingly endless string of appearances in the media, he was the most behaved of all the Habs who dared to comment on contemporary events.
He didn't say anything stupid and was respectful of both the league and the overall negotiation process, all the while maintaining his desire to stay in Montreal.
But that was last month.
Just what has Subban done lately, in other words? All he was as recently as last season was the team's top defenseman. Sure, his production may have dropped slightly from his rookie-season totals, but he's still a key component of this lineup, one without which the Habs have little chance for success.
Obviously, Subban is not Drew Doughty. One has a Stanley Cup ring. The other probably has some unnecessarily loud and obnoxious ringtone on his cell phone. But, by the same token, there are parallels that people can't ignore, starting with the fact that they're just months apart in age and both scored the same amount of points last season.
When Doughty signed his $56-million deal last year to end his holdout, he got overpaid.
But you can't argue with the results.
Obviously, Subban won't play in all 48 games of the season, but he will play in most of them, because the need for him in Montreal is greater than the need for Marc Bergevin to save face (and money) on the eventual deal the two sides sign.
Projected Stats
GP: 40 (assuming he continues to hold out for eight games before he gets signed)
G: 7
A: 15
P: 22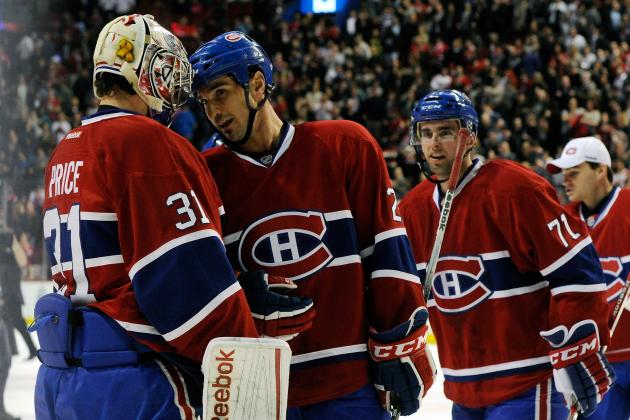 Richard Wolowicz/Getty Images
Carey Price (left) of the Montreal Canadiens
I would say Carey Price needs to stand on his head in order for the Habs to make the playoffs, but in such a scenario, he would risk damage to his countless masks.
The sentiment nonetheless rings true.
The Habs are not a playoff team unless Price steals game after game this season, and that's something he was unable to do last season under similar circumstances.
In spite of the additions to the team, like Brandon Prust, Colby Armstrong and Francis Bouillon, Montreal has much the same lineup as the team behind which Price went 26-28-11.
The only potential game-breaker would be Galchenyuk, but, honestly, even if he does last the entire season in Montreal, who expects him to lead this team in anything other than talkings-to from Therrien?
One difference would be the schedule, in that Price has a good chance to start close to all 48 games this season. However, his 37-percent winning percentage last season wasn't that much better than Budaj's 29 percent for it to make that much of a difference for the better.
Projected Stats
Starts: 44 (based on the shorter season and his ability to play a large portion of games if need be)
W: 20
L: 20
OT: 4
GAA: 2.39
SP: 0.919
Predicted Finish of the Team as a Whole
21-22-5
No. 12 in the Eastern Conference