What We Learned from Bayern Munich's 2-0 Win Against Greuther Fuerth
Victor Fraile/Getty Images
Bayern Munich picked up where they left off in December on Saturday as they started the second half of the Bundesliga season with a 2-0 win against fellow Bavarian side Greuther Fuerth.
Exactly a month and a day after beating Augsburg 2-0 in the DFB-Pokal, the Bavarians dispatched Fuerth thanks to a pair of goals from Mario Mandzukic (26', 61'). And although the final score was decisively in Bayern's favor, the result could have tipped even further towards the German record champions based on the flow of play.
The result saw Bayern maintain their nine-point lead over Leverkusen atop the Bundesliga table, and brought some lessons for both of the Bavarian contestants at the Allianz Arena. Click "Begin Slideshow" for a rundown of the major talking points to come from Saturday's match.
Bayern Have Hit the Ground Running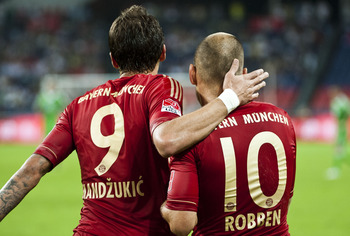 Victor Fraile/Getty Images
Bayern have in recent years been very strong when firing on all cylinders, but have often struggled to find their stride in the first few weeks of each round.
In 2009-10, for example, they took just two points from their first three matches. And in 2010-11, they started the season with eight points from seven matches. The second round hardly started better, with the German record champions claiming just 13 points in their first eight matches.
This season has been a different story. Bayern won their first eight matches, a Bundesliga record, in the fall, and now look ready to do the same this spring. A successful winter training camp in Doha saw them fully prepared for the Fuerth test, which they passed with flying colors.
Bayern completed 680 passes on the day, a figure that will be music to the ears of incoming coach Pep Guardiola. Six players had 100 or more touches of the ball, with Javi Martinez falling slightly short at 99. The Bavarians' dominance suggested a far greater margin of victory, but Fuerth's utter unwillingness to venture out of their own half, coupled with a relative lack of sharpness in front of goal (only five out of Bayern's 22 shots tested Fuerth goalkeeper Wolfgang Hesl) produced a 2-0 result.
Mario Mandzukic Is Jupp Heycneks' First Choice Striker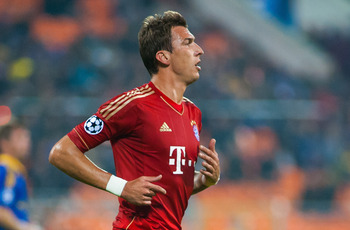 EuroFootball/Getty Images
The debate as to whether Mario Gomez or Mario Mandzukic is Bayern's best striker may forever rage, but for now we know one thing: the Croatia international is Jupp Heynckes' first choice striker.
When Mandzukic signed for Bayern in the summer it appeared that he would serve as backup for Gomez, but after the latter's ankle injury opened the door for the former, Mandzukic took his chances.
Towards the end of the first round, Gomez was only beginning to regain his fitness and Mandzukic was in prolific form. The Germany international only made his return as a substitute in a 1-1 draw with Valencia on November 20, and was slowly brought back to speed. To his credit, he scored four goals and gave two assists in just 317 minutes. Mandzukic, meanwhile, ended the first half of the campaign with an impressive 12 goals.
Bayern's training camp in Doha was the time for a restart: Mandzukic no longer had momentum and Gomez finally had a proper preseason to prepare. Both had a chance to stake their claim to a starting role. And on Saturday, Heynckes gave the start to Mandzukic.
Fuerth Are Barely 2. Bundesliga Quality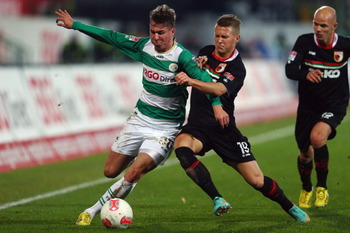 Getty Images/Bongarts
Full credit to Bayern for their win, but Fuerth play a brand of football more suited to the lower tiers of the English league structure: Purely defensive, and with no plan B once they go behind. On Saturday they played into the stereotype that the only Bavarian team capable of playing proper football is Bayern Munich as they were outshot and out-posessed by the league leaders.
In the first half, Fuerth completed less than 70 percent of their paltry 76 passes according to the Bundesliga.de live ticker, had just 27.9 percent of the touches on the ball and far less possession. They took just a single shot at the Bayern goal, a hopeful effort from outside the box that never tested Manuel Neuer.
After Mandzukic made it 2-0, Bayern took their foot off the gas somewhat and Fuerth occasionally had space with which to work. They did nothing with it, and forced just one save from Neuer, who stopped Ilir Azemi's tame effort from the right. Bayern barely broke a sweat, covering just over 110km on the afternoon.
The sad part is, Fuerth's performance was by no means an anomaly: 18 games into the season, they've scored an embarrassingly low 11 goals.
To be fair, Fuerth aren't exactly performing below their level. Their entire wage bill is €12.5 million, only slightly more than Franck Ribery's salary. The fact is, they're far, far out of their depth in the Bundesliga. They, along with Augsburg, are almost sure to be relegated.
Keep Reading