Bully Says "I Do" and Taz Turns: 5 Things We Learned from Jan. 17 TNA Impact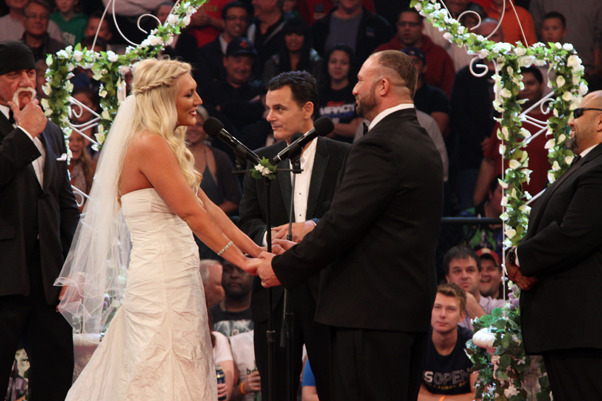 Photo courtesy of Impactwrestling.com
Well, that was unexpected. If you watched the Jan. 17 edition of TNA Impact!, then you know what I mean.
Aside from the obligatory swerve that no one saw coming, we had a great tag match between Bad Influence and the team of TNA World Champ Jeff Hardy and James Storm. We had the furthering of the Kenny King and Christian York feud, which should have X-Division fans salivating. We had a Genesis rematch between Gail Kim and Velvet Sky, and we had the wedding of Bully Ray and Brooke Hogan. We also got a chance to see some of what the TNA and Bellator cross-marketing partnership will bring.
There were more segments than actual wrestling, which irked me. So I give this episode a C-. I would give it a lower grade, but I really like what they're doing with King, York, Daniels and Hardy.
But let me just say this to TNA Impact!:
I like what you're doing business-wise. The Bellator deal looks like it should pay off, dropping to only four pay-per-views a year is great, and the King Mo special that you and Bellator aired Thursday was brilliant. Just don't let the business overshadow the creative. You're trying to compete with WWE.
Not mirror them.
Now, let's get into this week.
Begin Slideshow

»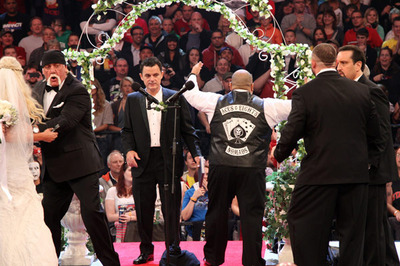 Photo courtesy of Impactwrestling.com
Okay, let's just get this out of the way now.
For all the people tired of the Aces and Eights storyline (I don't happen to be one of them, but I'm weird), this episode marked the beginning of the end for the angle.
This Thursday, in a moment I don't believe anyone saw coming, Taz turned out to be a member of Aces and Eights. As a member of Bully's wedding party, he was able to get close enough to the bride and groom to distract everyone long enough for the callous cavalry to crash the carousal (English degree like whoa!).
There are several things about this swerve that actually impress me, but more on that later. As for right now, the most important moment was when everyone had been laid out, and with Aces and Eights standing tall, Hogan was overheard by the microphones begging Brooke to check on Bully to see if he was okay.
Finally, Bully is on Hogan's good side, so the turn can begin in earnest.
Now for the bad news: It may take a while.
If there's anything that TNA has proven, it's that they will stretch an angle until it's so thin that it almost becomes transparent. Bully wasn't going to just turn heel overnight—first he had to gain Hogan's trust, and now he has to slowly show signs that he's been on the wrong side all along so that the eventual reveal seems more like an event.
TNA knows we already know that's where they're going. So it's no longer about a surprise, it's about the story—and Hogan is a story guy and always has been. I wouldn't be surprised if they carry this all the way to Bound for Glory—that's if they don't abandon the angle midway.
This idea of an ongoing Bully angle may sour a few fans to TNA, but that's why it's good that they still do one thing right...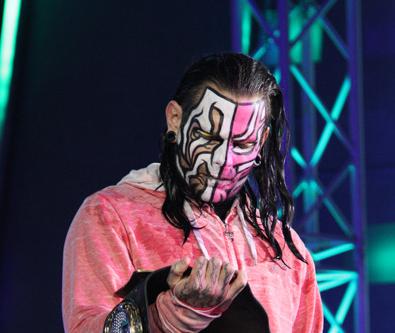 Photo courtesy of Impactwrestling.com
You can argue about why Jeff was given the belt, but what you can't argue is that his run so far has been incredible.
In every pay-per-view he has headlined, he has given some of the greatest performances of his career. The matches with Aries were massive; as was his match with Roode; as was his most recent match with them both at Genesis.
Give Hardy his credit. Even if he was given the belt as an incentive to re-sign with the company, he didn't take the opportunity to rest on his laurels and phone matches in. No, he's giving his all every night and that should be commended.
Also, we have to give credit to TNA creative, because they share a lot of the credit. Aside from Hardy's in-ring performance, another thing driving this run is the quality of opponent thrown at Hardy.
Both Roode and Aries were as over as any heels in the business. But unlike other world title challengers in other promotions, both Roode and Aries were built to look like credible threats. I was not alone in thinking that Hardy was going to lose that belt at Genesis. Google it; everybody thought that belt was going to change hands. And that's a good thing.
That means that TNA had built up both Roode and Aries to the point that it made sense for them to win.
Compare that to Ryback and now the Rock for WWE. Does anyone really think Rock will take that belt from CM Punk at Royal Rumble? Did anyone ever expect Ryback to win? Same with Ring of Honor. Did anyone really think El Generico was getting that belt off Kevin Steen?
This is where TNA stands tall over its competition. Now Hardy is going against Chris Daniels. Daniels, a man who in recent years has served mostly as a foil for AJ Styles, has been reinvented entirely. Now he is one of the most entertaining heels in wrestling.
And I can totally see TNA giving him the belt.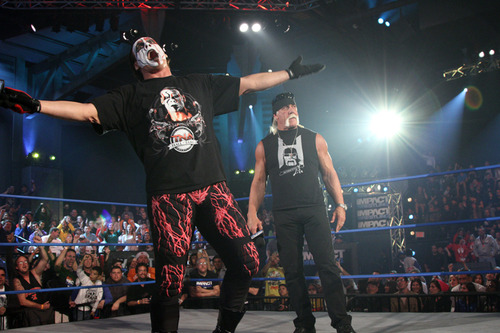 Photo courtesy of Impactwrestling.com
Now to the bad and ugly of Thursday's episode.
Two hours of show and there were only three matches; count 'em, three. The rest of the show centered around Bully and Brooke's wedding. And although there was a decent amount of Bully, as well as a surprise visit from brother Spike and Tommy Dreamer, there was also a lot of Hogan and Sting on screen as well.
Look, I get it and I don't like the Hogans or Sting taking up time from the younger wrestlers either. But TNA had a lot riding on Thursday.
Thursday was the first night of Bellator's MMA tournament on Spike TV. Advertising for it had been running nonstop on the channel, as well as others, for weeks. Commercials for Bellator, along with Thursday's episode of Impact, even ran during Monday Night Raw. Thursday would signal the kickoff to the two companies' relationship, a relationship that saw TNA Impact get mentioned all night long.
This was a big deal and as sad as it is to say, TNA couldn't gamble with this type of opportunity on unknown names like Roode, Storm, Daniels and Morgan.
Still, as much business sense as it makes, it doesn't bode well for us fans of wrestling. Was this a one-time deal, or is this a sign of things to come? I certainly hope it's the former rather than the latter.
TNA has done too much right over the course of two years to throw it away now, no matter how much business sense the decisions make.
With all that I said in the last slide taken into consideration, TNA is really behind Christian York and Kenny King!
Think about it: There were only three matches Thursday and two of them involved the storylines surrounding TNA's world titles (the men's and women's). To be asked to perform the only non-title related match out of all of the guys in the back is impressive.
Thursday saw King and York clash in the ring again. This match was made as a result of the cheap shot King gave York before the latter's match with Rob Van Dam at Genesis.
The match was decent and involved York dominating King throughout before being rolled up and losing to King, who had a handful of his opponent's tights.
This was an average performance that nonetheless progressed the feud. With this win, York now has reason to hate King and pursue one more rematch. The fact that an inevitable match with RVD is at the end of this road is even better.
No matter who wins, I wouldn't be upset or surprised if he then gets the belt from RVD.
That sounds familiar.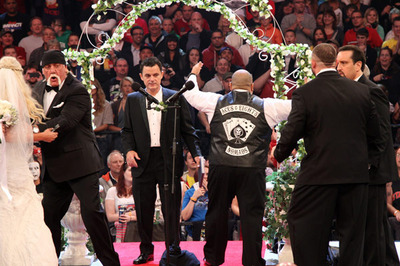 Photo courtesy of Impactwrestling.com
On Nov. 15, 2012, Todd Keneley inexplicably joined Mike Tenay and Taz at the commentator desk. At the time, I thought the move signified that someone was going to be leaving the company and/or replaced.
No reason was ever given, however. The three would continue to work together, albeit clumsily, as Taz seemed overly rough on Keneley, often berating him and ribbing him a bit too much for my taste. When no one left, things became curious again, for me at least. But again, no reason was ever given. Fans were left to assume that this was TNA, once again, making something harder than it needed to be.
This Thursday, everything suddenly made sense. Almost three months after Keneley joined the commentator desk, Taz was revealed as a secret member of Aces and Eights. Now Taz is free to interact with the story, the commentators have returned to their normal number, and Taz's new subtle foul attitude has finally been explained.
But three months, really?
For fans of TNA, this isn't anything new. The company only deals with storylines that stretch over the course of months, sometimes even years. How long has Joseph Park been finding out about his brother? How long has James Storm been chasing the belt? How long has this Aces and Eights story been going on?
TNA storylines sometimes get so inflated from the constant snowball effect they're subjected to that they collapse under the strain of their own weight. Most of the time, the expectations of some super payoff following such an enormous build are so high that the company ends up disappointing everyone to some degree.
Sometimes it does work, however. Hogan's face turn at 2011 Bound for Glory was a great example of a long storyline that had a good payoff. Similarly, Bobby Roode and James Storm's blood feud has been running since Roode cost Storm his world title, and that was over a year ago. That story has been kept fresh with creative making it more of an on-again, off-again affair.
But this Aces and Eights storyline may not be on the good side of that coin. Even though I stated in my first slide that Bully gaining Hogan's trust symbolizes the beginning of the end for the angle, I don't think it's going to be pretty.
I do think the payoff will be exciting, but for all the time put into it, I'm not sure it will be worth it.
What do you think, does TNA's long, in-depth and possibly drawn-out style of storytelling hurt more than help?
Sound off in the comments and thanks for reading, as always.