7 Takeaways from Friday Night's Dramatic NBA Action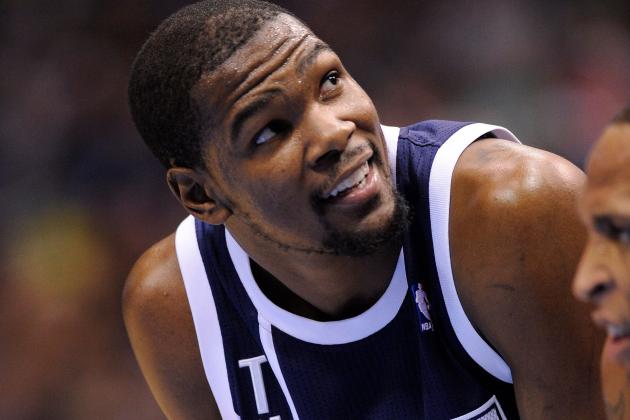 USA TODAY Sports

Friday night in the NBA produced all sorts of drama, suspense and action—everything you want in terms of entertainment value.
Three games went extra minutes, and three more were decided by six points or less.
If you stayed up to watch it, Kevin Durant dropped a career high in points, putting on a masterful performance that will go down in the books.
The Charlotte Bobcats earned a win, John Wall was surgical for the Washington Wizards and the Boston Celtics dropped one at home despite 30 points from Rajon Rondo.
Begin Slideshow

»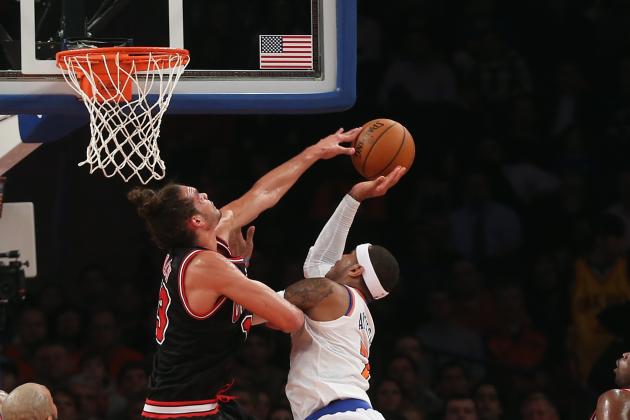 Bruce Bennett/Getty Images

Joakim Noah is playing the best ball of his career, and he deserves to be rewarded for it.
As usual, Noah was all over the place against the Celtics, wreaking havoc on the interior and making plays as a facilitator.
That's right—a facilitator. He's averaging over four assists per game this year, and he showed off his passing talent in the fourth quarter. Noah made a number of passes from the perimeter that resulted in easy layups for teammates.
Noah made the All-Star voting process seem silly after outdueling Kevin Garnett, the starter for the East.
His energy, intensity and fearlessness have played a significant role in the success of Chicago, which is still without Derrick Rose, and could now be without Luol Deng, who left Friday night's game after aggravating a hamstring injury.
Now that he's getting better fundamentally, developing a reliable mid-range jumper and improving his free-throw percentage to a remarkable 80 percent, Noah has become a two-way player and NBA stud.
The fact that Chicago is still a threat just makes the All-Star case for Noah even sweeter.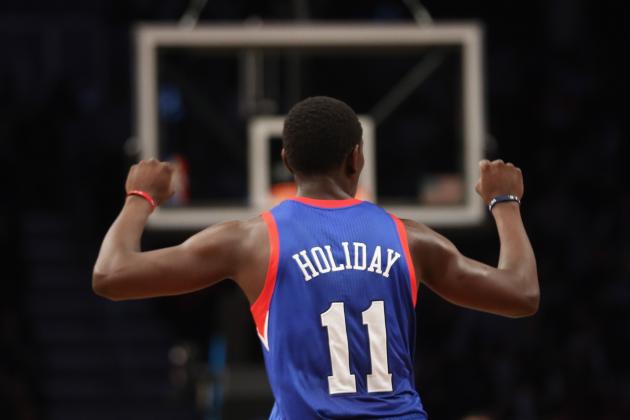 Bruce Bennett/Getty Images

Down two in the final seconds, the Sixers drew up a play, no pun intended, for their star guard who didn't disappoint.
Jrue Holiday took the ball to the rack and finished in traffic to send the game into overtime; at one point the Sixers had trailed by 19 in the second half.
Holiday's stat line was ridiculous: 33 points, 14 assists, five boards and three steals. But it wasn't like he just caught fire from downtown. He only finished with one three-pointer. Holiday made 12 field goals inside the arc, showing off everything from step-back jumpers to aggressive takes to the basket.
He's become a legitimate star in this league capable of generating his own offense in the half court.
Assuming Andrew Bynum can eventually shake the injury bug, Philadelphia has two attractive long-term building blocks to work with.
He's averaging 19 points, 8.8 assists and 4.2 boards per game.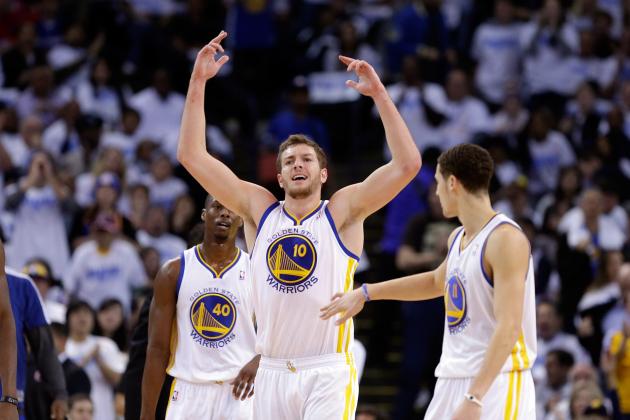 Ezra Shaw/Getty Images

In San Antonio, the Golden State Warriors played the Spurs tough down to the final minute of the game.
Without Stephen Curry, Golden State's depth proved valuable. Jarrett Jack and Carl Landry combined for 35 points, with Jack adding 10 dimes to go with it.
The Spurs ended up with the W, but it would be irresponsible to recap the game without praising Golden State's tenacity.
There's just a noticeable difference in maturity between this year and last year's team. The Warriors are playing with discipline, which can be attributed to Mark Jackson's leadership combined with a bunch of young players all evolving at the same time.
They may not be a contender, but the Warriors are going to a tough out in the first round for whichever team they draw.
Jared Wickerham/Getty Images

Rajon Rondo finished with 30 points and seven dimes, and the Celtics still couldn't pull out a win.
Kevin Garnett and Paul Pierce combined to shoot just 10-of-33 from the floor, looking slower and weaker than the guys across from them.
With the Bulls obviously missing Derrick Rose, and Luol Deng exiting the game early, the Celtics still couldn't manage to steal one at home.
Even though they've played better as of late, there's just no way the C's are in position to contend for a title. And the long-term outlook is even worse. Without many young building blocks to work with outside of Rondo and Jared Sullinger, who looked great Friday night grabbing 15 rebounds, Boston might have to revert to a quick rebuilding phase in the near future.
In the short term, the wear on Garnett's, Pierce's and Jason Terry's tires just looks too overwhelming to overcome considering the fresh legs on the teams they'll have to beat.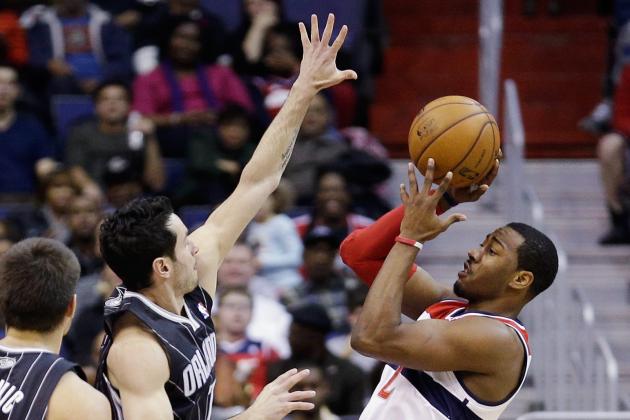 Rob Carr/Getty Images

John Wall is one of the best in the game at creating open looks for teammates. For the first time all season, some of the Wizards' players were actually open.
The Wizards got a nice win on the road in Denver, behind Wall's 12 assists in 26 minutes and game-saving block on Ty Lawson.
Wall is super quick off the bounce and has end-to-end speed that rivals the fastest in the league.
His ability to break down the defense and beat his man creates four-on-threes and open shooters in the drive-and-dish game.
Wall's presence has been huge for rookie Bradley Beal, who posted his fifth 20-plus-point night of the month.
With Wall in the lineup, the Wizards are 3-1 with wins over Denver, Orlando and Atlanta.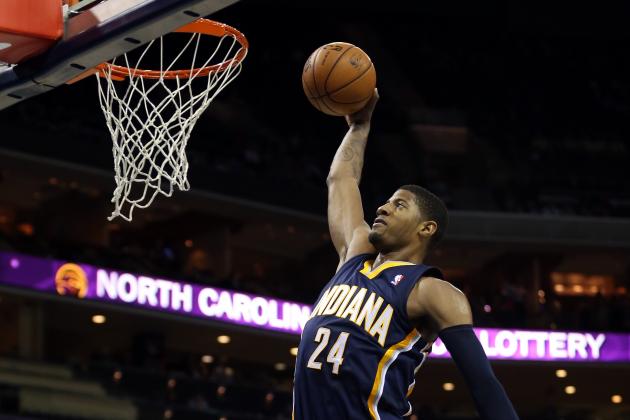 Streeter Lecka/Getty Images

With a win over the Houston Rockets, the Indiana Pacers improved their record to 25-16, good for third in the Eastern Conference.
Indiana has evolved into a feared NBA team following the same formula the Memphis Grizzlies use. The Pacers rank No. 1 in the NBA in opponent field-goal percentage and No. 1 in points allowed, just ahead of Memphis at No. 2.
At full strength, both teams have balanced rosters of youth and established talent: Roy Hibbert and David West versus Zach Randolph and Marc Gasol up front, with Rudy Gay and Danny Granger as the go-to scoring wings.
The only major difference is that the Grizzlies have defensive stopper at the 2 in Tony Allen, while the Pacers have a dominant two-way player in Paul George.
George dropped 31 points and collected five steals in Friday's win and has emerged as one of the bright young scorers in the NBA. He's lethal offensively and a provides an active defensive presence, giving the Pacers a guard who can play on and off the ball.
This is going to be one of the more interesting teams to watch once Granger returns to the lineup.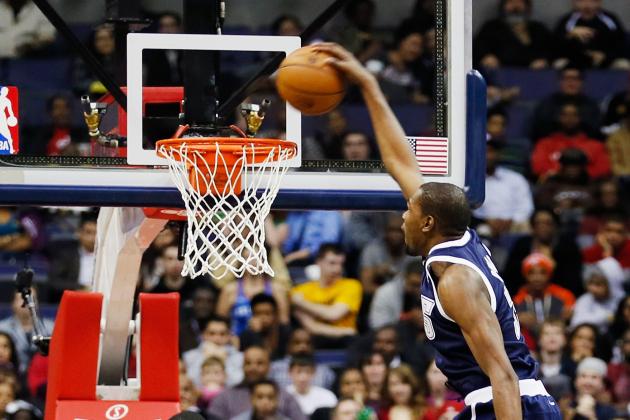 Rob Carr/Getty Images

Kevin Durant scored a career-high 52 points in an overtime win over the Dallas Mavericks, showing off his usual offensive repertoire unlike anything we've seen.
Durant shot 21-for-21 from the free-throw stripe to help salvage what wasn't his best shooting day. Not many players can score 50-plus after shooting 13-of-31 from the floor.
Every shot he takes is an open look because of his length and ability to consistently create separation on the perimeter. His shot chart looks like someone splattered green and red paint all over the half court.
It was the third time in the last five games that Durant scored at least 40. I'm having a hard time calling Miami the title favorite anymore.