Does Parity on PGA Tour Help or Hurt Golf?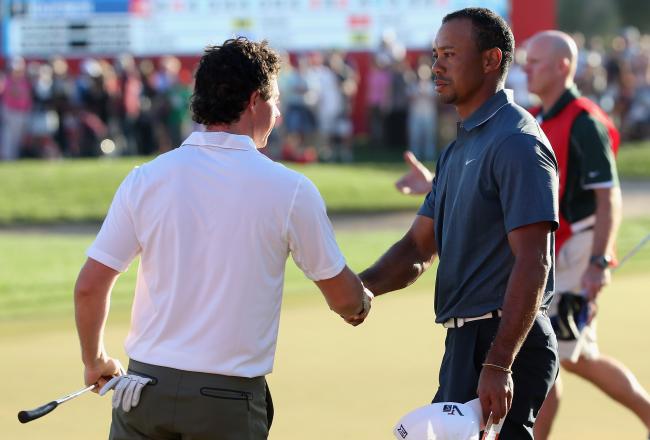 The PGA Tour needs Tiger Woods and Rory McIlroy to dominate.
Andrew Redington/Getty Images
Parity.
In the National Football League, parity is not only and accepted way of life, but it's encouraged.
Lots of teams in contention, lots of interest not only in each market but across the league, makes money for everyone.
When the Pittsburgh Steelers won four Super Bowls in six years in the 1970s, they were deified in Western Pennsylvania but vilified around the league.
How about golf?
It seems to me the idea doesn't work nearly as well in golf. As a matter of fact, I think it hurts golf, period.
Throughout the history of the game, it was a rare time that there was not at least one top dog, maybe two.
Bobby Jones, Gene Sarazen, Ben Hogan, Sam Snead, Byron Nelson, Arnold Palmer, Gary Player, Jack Nicklaus, Greg Norman, Vijay Singh, Tiger Woods and now Rory McIlroy all have been in a position of domination in the game of golf.
But when one of those rare times did occur, and the superstar of the day was not shining brightly, the glitter just wasn't there.
A perfect example took place in recent years. Woods, the gold standard by which everyone else was measured, was off to a monstrous season in 2008. He won his first three starts, was second at the Masters and then won the U.S. Open at Torrey Pines on basically one leg (the other was fractured along with knee issues).
He won over $5 million in seven events and didn't play after the Open. After surgeries to correct his injuries, he came back in 2009 to win six times and win over $10 million.
And then his world imploded with the events of Thanksgiving night and golf lost its glitter for a couple years.
Sure, there were others—Luke Donald, Lee Westwood, Martin Kaymer, for instance—ascended to that top spot in the World Golf Rankings, but they were never able to take that role, grab it and show they deserved to have it.
As a result, the buzz became barely audible. Westwood and Donald and Kaymer flip-flopped between first and second, but without Woods, the game suffered in the eyes of the public.
PGA Tour commissioner Tim Finchem spoke to the parity issue in a press conference at the Tour Championship in Sept. 2011.
"We've gone very quickly from a point in time when we were very much a sport that had a dominant player (Woods) to all the way to the other end of the spectrum," Finchem said at the time. "We're at a point of total parity. Anybody out here can win any given time. So far the fans seem to really like it, and it'll be interesting to see what develops in that regard going forward."
What happened going forward was that the swing changes and the mental and physical rehabilitation began to click in and Woods' game returned in a big way in 2012. And the only reason he hasn't returned to his familiar spot atop the World Golf Rankings is because of young Rory McIlroy.
But the combination of Woods' resurgence and McIlroy's emergence has put the kind of buzz into the game that's been greatly missed.
This is in no way to diminish the accomplishments or the skills of guys like Phil Mickelson, Jason Dufner, Adam Scott, Keegan Bradley, Dustin Johnson, Bubba Watson or Rickie Fowler.
All are high-quality players with the potential to do great things, but they don't ring the bell like Woods did and still does.
McIlroy obviously has the greatest talent package of anyone in the game and is expected to do great things this year. (This discussion, by the way, has nothing to do with how poorly the top two players performed this week in Abu Dhabi.)
The anticipation that surrounds each appearance by Woods and McIlroy, even though neither will play more than 17 or 18 events, carries the tour even during the times the big names aren't working.
There is a certain beauty to the fact that the quality on the PGA Tour these days is such that you can look deep into the field of any tournament and find a winner.
And it's always a good story when a George McNeill or John Huh wins an event.
And sponsors who put up the money for tour events without Woods and McIlroy are thrilled to get champions of the quality who constantly stare at the tailpipes of golf's dynamic duo.
But in the long run, the tour would not flourish on parity alone. It needs the show-stoppers, the needle-movers. It needs Woods and McIlroy.
This article is
What is the duplicate article?
Why is this article offensive?
Where is this article plagiarized from?
Why is this article poorly edited?