Cost-Effective Moves Houston Texans Can Make This Offseason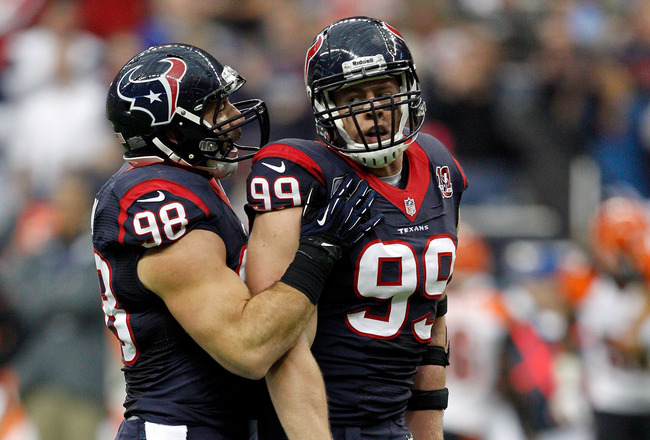 Bob Levey/Getty Images
Difficult business decisions have to be made by teams around the league every NFL offseason. The Houston Texans know that as well as any team.
The most cost-effective decision often isn't the most popular, but these decisions are made every offseason with the future of the team in mind.
It's probably been hard for most fans to see Vonta Leach and Jacoby Jones have success with the Baltimore Ravens in the playoffs. They're now headed to the Super Bowl after spending the early part of their careers with the Texans.
Houston had to make cost-effective decisions at the time when those players were not retained. Similar difficult decisions have been made since then and will be made again this offseason.
Here is a look at some cost-effective moves the Texans could possibly make between now and the start of next season.
Let Connor Barwin Walk in Free Agency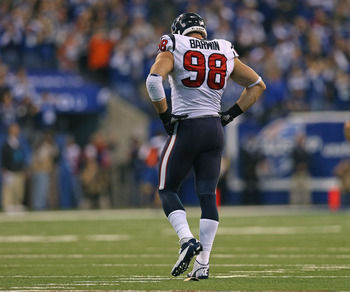 Jonathan Daniel/Getty Images
The biggest storyline heading into the offseason is the pending free agency of Connor Barwin. As an unrestricted free agent, Houston's starting weak-side linebacker will be free to sign with any team.
It remains to be seen how active the Texans will be in retaining him. The most cost-effective move for Houston would be to allow him to depart in free agency.
After spending a first-round pick on outside linebacker Whitney Mercilus in the 2012 NFL draft, the Texans prepared themselves for the possibility of a life after Barwin. Mercilus would be counted on to step into Barwin's all-important role as the team's blindside rusher.
Connor's best attribute as a converted 3-4 outside linebacker is his ability to hold up against the run. His pass-rushing is far too often inconsistent or just not good enough.
He'll likely be paid more off of his successful 2011 campaign (11.5 sacks) than his subpar 2012 season (three sacks). Houston should let some other team pay him for his big year two years ago.
While Barwin hasn't been bad by any stretch of the imagination, he's likely reached his ceiling as a player. The Texans need more from their edge rush, so it wouldn't make sense to invest long-term in someone who isn't the answer.
Re-Signings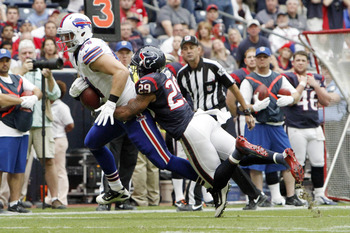 Brett Davis-USA TODAY Sports
Along with Barwin, there are a few other Texans who will have the opportunity to test the waters of free agency.
Glover Quin is one of them and should be at the top of Houston's list of players to re-sign.
While the team's fourth-year safety had a poor second half to the season, he's still one of the more important players on the defense. His versatility as a safety inside and outside of the box allows him to stay on the field at all times. He has plus instincts for the position and wouldn't be easy to replace.
The team should also make it a point to retain James Casey. He's probably underutilized as a weapon on the offense at this point in his young career. He'll continue to be a matchup problem for defenses as a jack-of-all-trades fullback/tight end/wide receiver.
It shouldn't be a priority, but retaining the team's starting nose tackle wouldn't be a bad idea either. Shaun Cody will come cheap, and he'll continue to give the team depth at nose tackle. It's probably too soon to turn over all of the nose duties to Earl Mitchell and a rookie (assuming they would draft one to replace Cody).
All of these signings should come relatively cheap. Retaining these important pieces to the puzzle, while not breaking the bank, would be cost-effective for the Texans.
Shrewd Approach in Free Agency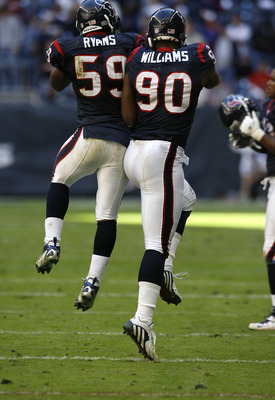 Bob Levey/Getty Images
While the Texans should have more cap room this offseason compared to last year, a similarly shrewd approach in free agency should be expected.
The downside to drafting as well as Houston has in recent years is having to face paying these talented players down the line. If the Texans gave a contract to every one of their own free agents, the team would be facing a horrid cap situation eventually.
The team will need to be shrewd enough in deciding which one of its own free agents to re-sign. The idea of giving a big contract to a big-name free agent just isn't cost-effective.
The last time Houston backed itself into a poor cap situation, it had to dispose of nearly the entire 2006 draft class (Mario Williams, DeMeco Ryans and Eric Winston).
Staying ahead of the game by not getting carried away in free agency is the best way to maintain a healthy cap situation.
Down the line, this will give the organization the flexibility needed to make impact moves. It'll also allow them to retain a select group of their own pending free agents.
Use the Draft Wisely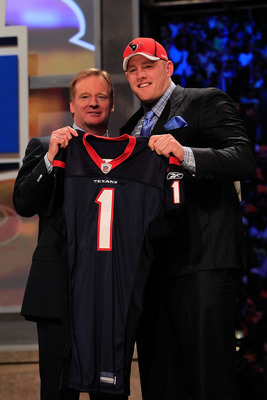 Chris Trotman/Getty Images
This should go without saying: The Texans need to continue to use the draft wisely.
The team has more needs than you might expect heading into this offseason, and the biggest opportunity to address those needs is through the draft.
Depending on which angry fan you ask, most would generally agree the team's need areas include inside linebacker, wide receiver, right tackle and safety. Houston could also stand to add some depth at running back, defensive line and cornerback.
Compensatory picks will be awarded to the Texans at some point before the draft, so even more opportunities to add talent are on the way.
After stringing together some quality drafts lately, the front office will need to swing for the fences again this year.
Start Talking Extensions?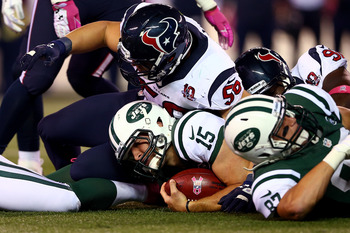 Elsa/Getty Images
Along with their own free agents this year, the Texans are faced with the pending free agency of a few other players of their own down the line.
Brian Cushing is slated for unrestricted free agency in 2014 (via Spotrac). His season-ending knee injury in 2012 clouds his future with the team, to an extent. However, anyone who saw how poor the team's inside linebacker play was without him knows how vital he is to the team.
As long as Cushing proves he can bounce back from the injury, Houston should be interested in getting an extension done with him as soon as possible.
An extension of Antonio Smith's contract would also be cost-effective. Like Cushing, he is slated for unrestricted free agency in 2014. He's still playing at a high level, and an early extension could give the Texans a discount on his eventual 2014 cap number.
Don't look now, but J.J. Watt will be a free agent following the 2014 season. It wouldn't be crazy to start talking about an extension for the league's most dominant defensive player at some point. The problem? He'll likely command the biggest contract for a defensive player in the NFL.
Needless to say, the Texans will be faced with having to hand out some serious dough in the future. Getting a head start on these extensions will allow the Texans to pay their price before the players have a chance to reach free agency.
Keep Reading

Houston Texans: Like this team?