Washington Redskins' 2013 NFL Draft Wish List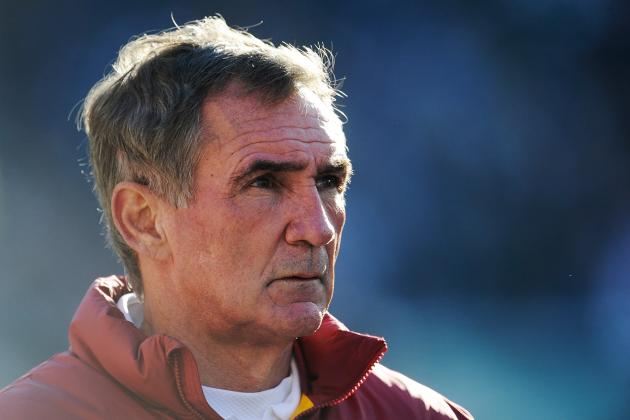 Patrick McDermott/Getty Images

Winning a division title and making the playoffs for the first time in five years is all well and good, but the Washington Redskins have a lot of work to do with their roster. Though they have a solid core group, they lack depth and could stand to upgrade some key positions.
With their season over, they can look forward to free agency and, more importantly, the draft.
After the 2012 draft class, highlighted by sixth-rounder Alfred Morris, Mike Shanahan has shown he can find talent even deep into the draft, which should come in handy this year.
The Redskins don't have a first-round pick this season; it was part of the package they sent to St. Louis for the right to draft Robert Griffin III, but they have seven total picks and can help themselves a great deal.
Everyone else may be watching the Super Bowl, and April is still a few months away, but here is Washington's 2013 NFL Draft wish list.
Begin Slideshow

»
Otto Greule Jr/Getty Images

As well as DeAngelo Hall played down the stretch, including limiting a red-hot Dez Bryant in the season finale against the Dallas Cowboys, he is due $16.5 million over the next two seasons. Though he has voiced his willingness to restructure his contract, the Redskins need depth and talent in their secondary.
Hall and Josh Wilson both had sub-par years, and revealed the need to upgrade, or at least bring in some insurance at corner.
Jordan Poyer excels in coverage, which is an area of great concern for Washington's corners. However, he hasn't shown much skill in run support, which Hall and Wilson have at least shown a willingness and passing ability to help and make tackles.
Though he could stand to improve not just his run support, but his press coverage, Poyer possesses great vision and ability to diagnose plays. He is a smooth cover corner who won't give up the big play, though it remains to be seen if he can reach shutdown-corner status with his limited strength and straight line speed.
Overall, Poyer is a smart player and that's what seems to be lacking in Washington's secondary these days.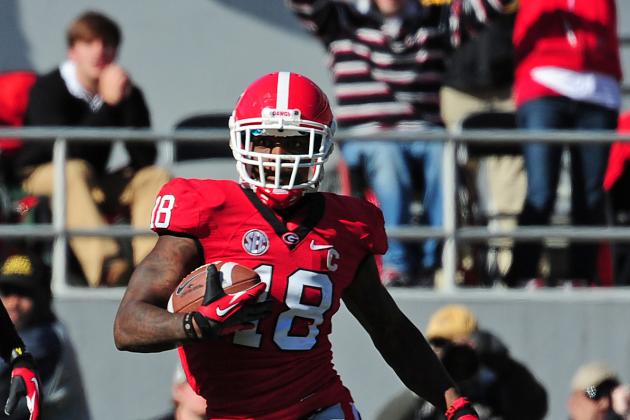 Scott Cunningham/Getty Images

Perhaps Hall and Wilson wouldn't have had such terrible seasons if the Redskins had any sort of talent or reliability at either safety position. The free safety position in particular has been a revolving door of injuries, inconsistency and inadequacy ever since the death of Sean Taylor.
Washington could use a heavy-hitting ball hawk like Bacarri Rambo to keep offenses honest and provide the necessary safety help that was lacking last season.
Rambo has size, speed, and great ball skills that helped him tally 16 interceptions in his career, including three returned for touchdowns. He had a great junior season, highlighted by eight interceptions, and 16 pass deflections, but off-the-field troubles slowed the start of his senior season.
Rambo finished his college career strong, though, tallying a career-high 73 tackles to go along with three interceptions and three forced fumbles, including one recovery returned for 49 yards.
If coaches and scouts can look past the character concerns, he could see his draft stock climb back into the second round. The Redskins, however, need him to fall to them in the third.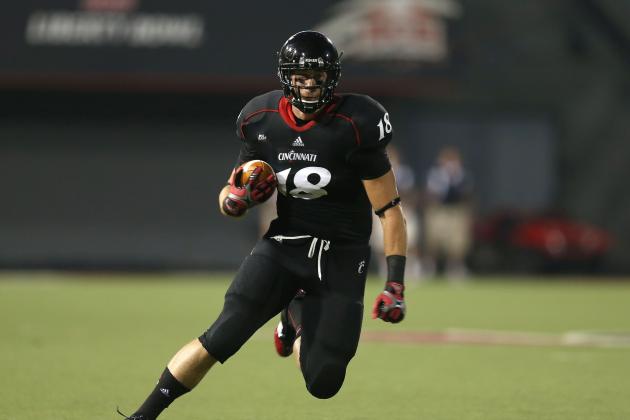 Andy Lyons/Getty Images

The Redskins used the franchise tag on Fred Davis this season in hopes that he would rebound from his four-game suspension and earn the big contract he showed flashes of being worth in 2011. Instead, he failed to reach the end zone in seven games before landing on IR with a torn Achilles.
Couple Davis' possible exit with the growing concern surrounding RGIII's playing style following his ACL/MCL surgery, and a big tight end could be the perfect addition to the 'Skins offense.
Travis Kelce caught 45 passes for 722 yards and eight touchdowns as a senior for the Bearcats, and he would be a huge addition to the Redskins offense, which lacked a go-to red-zone receiving threat.
Kelce isn't a physical freak of a tight end, but he is a big body with speed down the field, impressive blocking skills and soft hands.
Thearon W. Henderson/Getty Images

It is a stretch to think that the Redskins will revamp their entire secondary with this draft. However, Washington's secondary proved to be holier than Swiss cheese and stunk worse than Limburger. In desperate need of youth, depth and talent, Washington can't pass up the opportunity to help their ailing secondary in this draft.
Reed Doughty put in a tremendous playoff performance against Seattle with 13 tackles and two sacks, but he is best used as depth and in spot duty.
Duke Williams is a big hitter with great awareness and underrated ball skills. He finished his senior season with 105 total tackles, one interception and one fumble recovery, which shows his potential to play around the line of scrimmage in run support.
He is solid in coverage, but his biggest asset is his potential for big hits and creating turnovers by separating the ball from would-be receivers.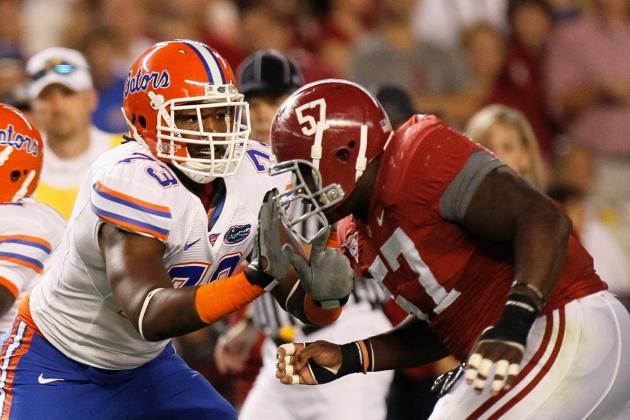 Kevin C. Cox/Getty Images

Jammal Brown is almost assuredly out of Washington after failing to appear in a single game due to a nagging hip injury. Tyler Polumbus, as admirable as his performance as starting right tackle may have been, is not a long-term solution for the Redskins.
Xavier Nixon is a mauler of a right tackle who could bring some solidarity as a proper bookend on the 'Skins line.
Beyond being an upgrade in pass protection, Nixon would give the Redskins the ability to run with more frequency to the right side. Their top-ranked rushing offense did most of its damage behind Trent Williams and Kory Lichtensteiger on the left side.
Opposing defenses still couldn't stop Alfred Morris and Co., but the added threat of being able to run to the right just as successfully as the left is terrifying for the opposition. Nixon could be a sleeper based on an illness that caused his weight and performance to fluctuate during his sophomore and junior seasons.
That fact could lead scouts to believe he hasn't shown any consistency, but he earned SEC All-Freshman honors for a reason, and can be a stud at right tackle for the Redskins.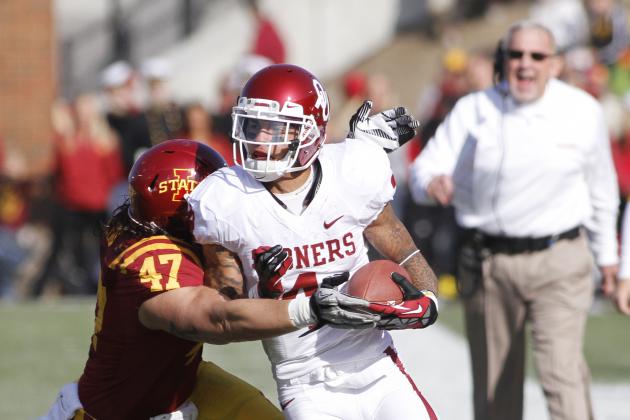 Matthew Holst/Getty Images

Sure-fire Hall of Fame linebacker London Fletcher is coming to the end of his storied career, and pending his decision of whether he wants to return for 2013, the end could be sooner rather than later.
Perry Riley has proven himself capable, albeit inconsistent, alongside Fletcher, but the Redskins need to replace the heart and soul of their defense with, at the very least, another tackling machine.
Keenan Robinson has good range, but injury cut his season short and puts him back having to fight for a roster spot.
A.J. Klein finished three of his four seasons at Iowa State with over 100 tackles, proving his consistency and nose for the ball. He also showcased great ball skills, intercepting five passes and returning four for touchdowns. Like Fletcher, Klein knows where to be at all times and doesn't make big mistakes.
It may be a dream for a player with the production and potential of Klein to fall to the sixth round, but sometimes talent falls through the cracks, much like one John Carroll product in the past.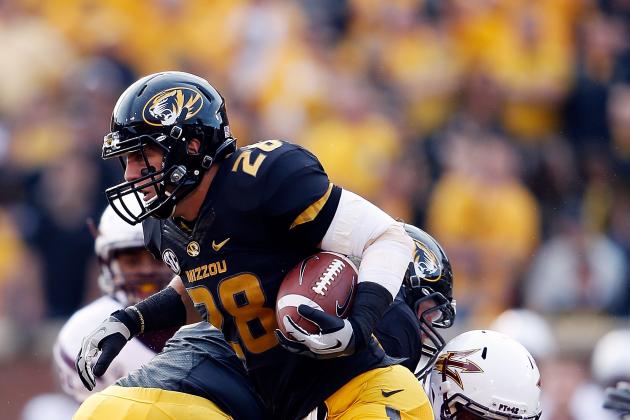 Jamie Squire/Getty Images

As a slot receiver, Santana Moss enjoyed one of his best scoring seasons in a long time. He caught eight touchdown passes this season, the third most of his career, second most as a Redskin and the most since his first season with the team.
Moss is also going on 34 years of age, and can't be expected to keep up, or improve, upon that production in years to come.
T.J. Moe is the same type of player Moss was coming out of college, minus the blazing speed, of course. He runs well out of the slot and can be a contributor on special teams if necessary. Robert Griffin III had a great relationship with Kendall Wright at Baylor and could have a similar relationship with Moe in Washington.
The Redskins need a go-to receiver to run underneath and pick up extra yards to take some pressure off of Pierre Garcon, and while they don't have that clear-cut second receiver, it would go a long way to have a young slot receiver like Moe to open up the offense.