AFC Championship Game: 5 Bold Predictions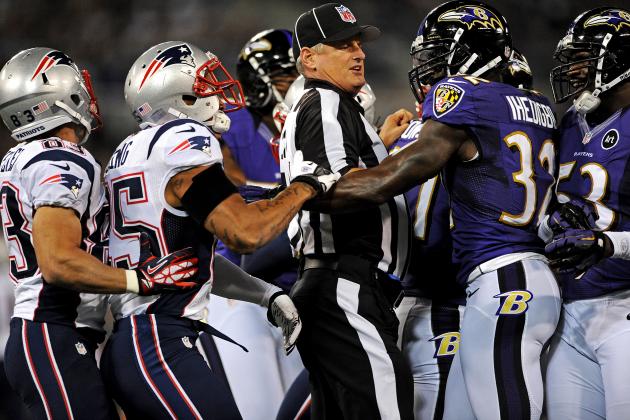 Patrick Smith/Getty Images

For a second consecutive season, the Baltimore Ravens and New England Patriots face off in the AFC Championship Game with a trip to the Super Bowl on the line.
Last season, Baltimore's season ended in traumatic fashion with Billy Cundiff missing a game-tying field goal and Lee Evans dropping a potential game-winning touchdown.
As these teams face off once again in the playoffs, the Ravens, will look to revenge last year's heartbreaking loss.
After upsetting the Denver Broncos last week, Baltimore enters Sunday as the underdog once more; however, the recent play of Joe Flacco and his run of success against New England, suggests this game will be much closer than the odds say.
New England, looking to make its second consecutive trip to the Super Bowl, is coming off a huge 41-28 win over the Houston Texans where the Tom Brady-led offense looked nearly unstoppable.
Here are five bold predictions for Sunday's AFC Championship Game between the Ravens and Patriots.
Begin Slideshow

»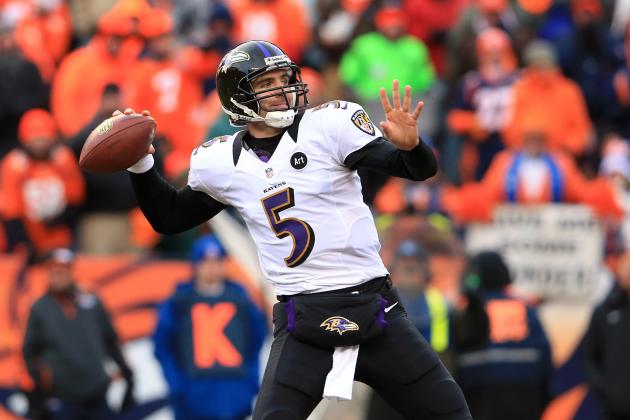 Doug Pensinger/Getty Images

After outplaying Peyton Manning last week, Joe Flacco will face off against another future Hall of Fame quarterback in Tom Brady.
For Flacco, the quarterback who is quickly proving he is very capable of matching throws against the league's best, his performance could very well dictate whether or not he gains the respect from the league that he feels he deserves.
I fully expect Flacco to put up big numbers once again this week against the Patriots—a team he has had recent success against.
In his last two games against New England, Flacco has thrown for 688 yards and five touchdowns. In the past, New England has struggled to contain Flacco from throwing the ball deep down the field.
The strong-armed quarterback is very capable of making every throw, and when given time, Flacco can be deadly. It also can be argued that Flacco has as good, if not better weapons to throw to than Brady does this weekend.
Having come so close to the Super Bowl last year, look for Flacco to put up big numbers Sunday and carry Baltimore to the Super Bowl.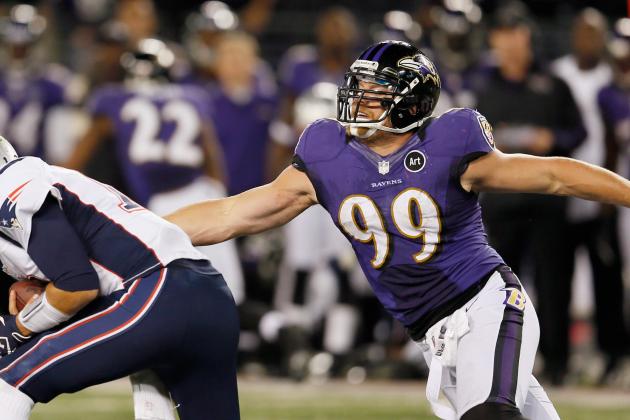 Rob Carr/Getty Images

The only way a defense can beat Tom Brady is by getting defenders in his face and laying hits on the New England quarterback. If Brady has any bit of time, the veteran will carve up any defense.
Look for Baltimore and its vastly improved pass rush to get after Brady Sunday.
In the regular-season meeting between these two teams, the Ravens sacked Brady two times and recorded six hits on him. Despite getting some pressure last time, Baltimore was still picked apart by Brady in that earlier game—he threw for 335 yards and one touchdown.
For Baltimore, getting to Brady will be difficult—he was sacked just 27 times in 637 pass attempts (4.2 percent of the time).
While the task of sacking Brady seems improbable, Baltimore's defense has been getting after opposing quarterbacks lately. With Terrell Suggs and Paul Kruger coming off the edges, Haloti Ngata coming from the middle and the occasional blitz from Dannell Ellerbe or Bernard Pollard, Baltimore has a great shot at generating some sacks Sunday.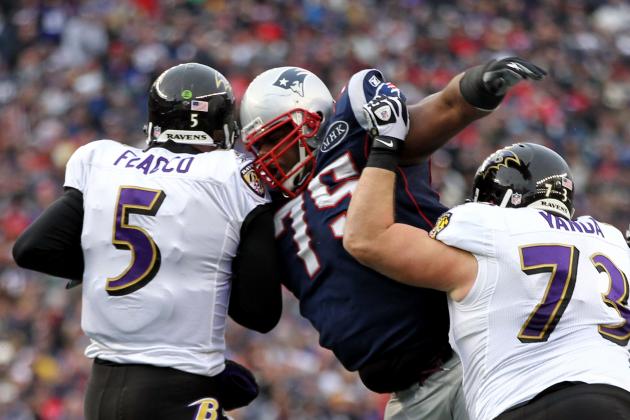 Jim Rogash/Getty Images

Vince Wilfork is one big man—at 6'2", 325 pounds, Wilfork is one of the most dominant interior linemen in the NFL.
What makes Wilfork special for his size is his athleticism. The massive lineman can throw a football 60 yards and has made numerous plays over the years that make people wonder how such a big human being could move his body the way Wilfork can.
Over the years, Wilfork has been one of Baltimore's biggest nemeses. In last year's AFC Championship, Wilfork dominated the Ravens offensive line, recording one sack and three tackles for a loss.
Baltimore's center has struggled over the years against Wilfork, who has superior strength to Birk.
However, what is different this time around is switch of Kelechi Osemele from right tackle to left guard. Since the Ravens reshuffled their offensive line at the beginning of the playoffs, Flacco has been sacked just twice.
Osemele, who stands at 6'5", 335 pounds, will match up well against Wilfork Sunday. With a nasty mean streak, the rookie guard will join Birk and Pro Bowl guard Marshal Yanda to shut down Wilfork.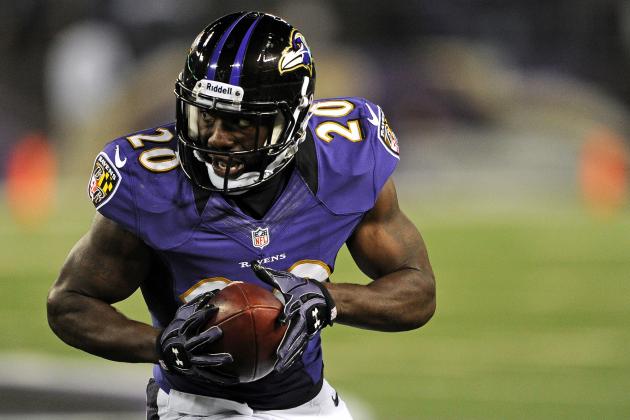 Patrick Smith/Getty Images

One of the greatest playmakers to ever play defense, Ed Reed is on the latter part of his career. Despite his graying beard, Reed is still one of the most dangerous safeties in league when it comes to patrolling the field in pass coverage.
This postseason, Reed has come close to an interception on a couple occasions.
Sunday's game is setting up to be an offensive shootout, meaning there will be a number of balls thrown by Brady. The Baltimore pass rush will get to Brady, which will result in the New England quarterback rushing a throw or misfiring. Reed will intercept one of those balls and return it for a touchdown.
Look for the ball-hawking safety to come down with a batted ball (something Baltimore has been very good at as of late).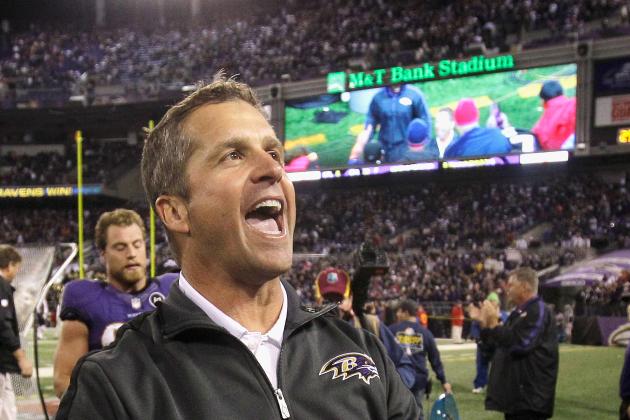 Rob Carr/Getty Images

In the last five games (including playoffs) between New England and Baltimore, New England has won three games and Baltimore has won two. Only one game has been decided by more than six points.
One could make the argument that the Ravens outplayed the Patriots in the AFC Championship Game last year and should have won. Regardless of your opinion, it is obvious that Baltimore is fully capable of beating New England on Sunday.
I do agree with the oddsmakers making the Ravens the underdog Sunday. With Baltimore traveling to face the Patriots, it will enter a hostile Gillette Stadium.
However, what makes me believe in Baltimore is the fact that the players themselves believe they can win. So close to the Super Bowl last season, it is quite clear this team is hungry to avenge the loss from a year ago.
Earlier this week, Anquan Boldin made an emphatic declaration that his team would win Sunday (h/t Gary Dzen, Boston.com). Some might call Boldin and his teammates arrogant and cocky, but in truth, this team looks like a team destined for greatness.
Boldin and his teammates want to send the great Ray Lewis out a winner, and Joe Flacco desperately wants to prove to the league he is elite and get the monkey off his back.
The Ravens, a team that has overcome countless obstacles this season, is battle tested—their armor, though dented and scratched, will not break this weekend.