NHL Free Agency: 12 Players Who Should Test the Waters in 2013
Bruce Bennett/Getty Images
Daniel Alfredsson, Jarome Iginla and Alexander Semin are All-Star caliber players who could (and should, for various reasons) test the sometimes-refreshing waters of free agency in 2013.
While these players, and all of the others listed in this article, may have fit into the plans of their respective teams prior to the CBA's pushing the salary cap down, that may not be the case now.
Also factored into the list are personal agendas (winning a cup for veterans, playing time for youngsters, a shot at starting more games for netminders and so on) and the needs of the team they are currently signed with.
For instance, if a team has 14 guys competing for nine blue line spots, maybe that team lets one of these guys walk in free agency.
You may notice a few big names missing from the list, namely Ryan Getzlaf and Corey Perry. They aren't listed because they aren't going anywhere, as much as the other 29 teams in the NHL would love a shot at these guys.
That's another discussion for another time, however. Here are some players I believe should and will give free agency a shot in 2013.
Alexander Semin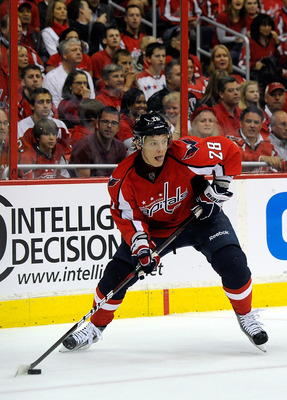 Patrick McDermott/Getty Images
Say what you want about Alexander Semin. At least he is consistent.
When it comes to signing one-year deals, that is.
Semin inked another single-year pact with the Carolina Hurricanes for more money than just about anyone thought he would command. If his season doesn't go smoothly, this might have been his last big dollar deal.
What he seems to have figured out though, is that someone, somewhere, will always be willing to take a gamble. He scoots up to the table with his talent, the team puts the money down hoping for the blackjack and he walks away a monetary winner.
I can see this cycle going on for at least another few years before Semin tries to find a permanent home.
The single-year deal has served him well so far, and I don't see him changing his approach any time soon.
Tim Thomas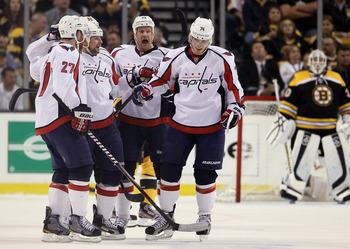 Elsa/Getty Images
Given his interest in politics, it's not a stretch to imagine Tim Thomas signing with the Washington Capitals as a free agent, where he really could begin to finetune his career focus as he nears retirement.
Sarcasm, of course.
Thomas will be one of the more interesting goaltending options available on the free market, however. While there are several younger netminders who will no doubt be looking for either security or dollars, the former Boston Bruins backstop could provide teams with a cheaper, single-year option.
At this stage in his career Thomas likely won't be looking for more than the chance to steal some starts, so why no put him behind a younger guy to light that competitive fire?
There may be some misplaced fear that Timmy T isn't worth the sideshow that he would bring with him. But his fall from grace in Boston had as much to do with the media as it did with him.
Give this ultra-competitor a shot on the ice and he won't let you down too often.
Jaromir Jagr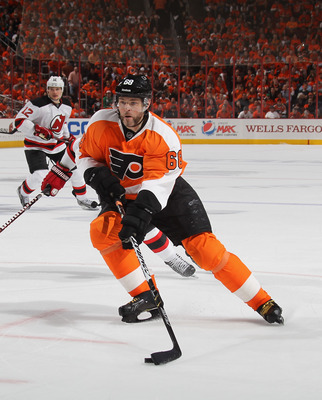 Bruce Bennett/Getty Images
Jaromir Jagr is still kicking and effective beyond 40, which makes me believe he spent some of his $101 million-plus accumulated fortune on convincing Chris Chelios to reveal to him the location of the fountain of youth.
As long as he is still scoring points and there is money on the table somewhere, Jagr will be in the NHL.
No questions asked.
If his one-year stay in Dallas doesn't end with his not putting up more than 10 goals or with an unfortunate injury, Jagr will still be in the league next year, pulling a paycheck somewhere.
Too many teams need a touch of help up front, and Jags actually turned into quite the positive locker room influence while in Philadelphia.
Sergei Gonchar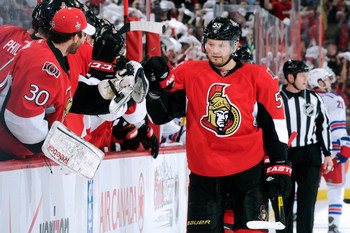 Richard Wolowicz/Getty Images
I'm not sure if Sergei Gonchar makes much money from endorsements, but he should contact the duct tape guys to see if maybe they could use an NHL presence.
After all, at this point I am pretty sure that is all that is holding this guy together.
Defying age, logic and various injuries, the guy can still play the point on a power play and get the job done in his own end as well.
The Ottawa Senators will have plenty of cap room to keep him, but they have another 11 free agents of varying importance to deal with as well.
If Gonchar is looking for anything near the $5.5 million that he will make this season, he'll need to look elsewhere.
It's unlikely he'll get it, but a few million aren't out of the question for the crafty blueliner.
Rob Scuderi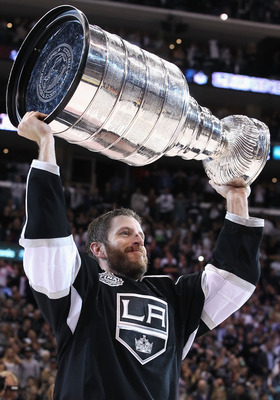 Christian Petersen/Getty Images
What does a rock-solid defender with two Stanley Cups on his resume and a plethora of mid-range skills that allow him to play in all situations go for these days?
Rob Scuderi would be wise to find out once free agency hits in 2013.
He may not have much of a choice though, as both Slava Voynov and Alec Martinez will be at the end of their respective entry-level deals and looking for raises.
The future of the blue line for LA may not include Scuderi. That doesn't mean he'd have a shortage of suitors.
He can play top-pairing minutes and is excellent on the penalty kill, and the experience and grit he brings to the table are invaluable.
Jarome Iginla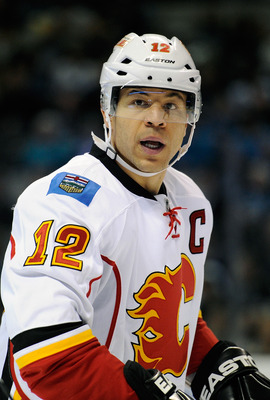 Thearon W. Henderson/Getty Images
You have to share this slideshow on your Facebook and Twitter accounts if you clicked through all the slides up to this point just looking for this one.
Seriously, I'll wait a second and let you do it. At this rate I could go viral.
Before you chastise me for having the audacity to write that Jarome Iginla will leave the Calgary Flames in free agency, hear me out.
Anyone who knows anything knows that Iginla has been the heart and soul of the Flames since the Dallas Stars traded him to the franchise back in 1995.
That was a long time ago, and try as they might (and close as they've come), the Flames haven't been able to deliver a Stanley Cup with or for Iggy.
Jay Feaster also, for whatever reason, seems to continue to think that this Flames roster (more or less as is) can make a run at the Cup, despite missing the playoffs for three consecutive seasons. He also steadfastly denies that any team in the NHL has any prayer of acquiring his captain through trade.
That makes this a tough situation for Iginla.
He is obviously a rigorously loyal and classy player. You'd be hard pressed to find a better guy to wear the C in this league.
But at the same time, Iginla has seen guys coming and going, and this year the biggest offseason move was bringing in Jiri Hudler?
With your team right up against the cap, how would you feel?
If you asked him if he thought this squad could win a championship, he'd say yes, and he'd believe it. And then he'd do everything in his power to try to make that idea become a reality.
But that wouldn't be anything new for Iginla.
Lets say his contract runs out, he isn't extended in time and, for the first time in a long, long while, Iginla doesn't have to think of himself as a Calgary Flame.
The right call from the right contender could lure the guy.
It's a heartbreaking situation for fans and player alike, but for the Hockey God's sake, if anyone in the NHL deserves a ring, it's this guy.
It's just a matter of what is more important to Iginla: retiring a Flame without a Cup or attempting to win one elsewhere.
Niklas Backstrom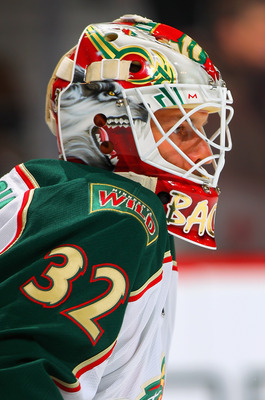 Doug Pensinger/Getty Images
The Minnesota Wild have finally starting spending like the big boys.
Sadly, long-time netminder Niklas Backstrom probably won't be around to reap any rewards for his consistent services. After six years and nearly 330 games played for Minnesota, his team may have priced itself out of his range.
While it's unlikely Backstrom could command another $6 million contract, it's equally as unlikely that the cap-crunched Wild will be able to make even a little bit of room for him.
If he were the only player coming off the books, maybe there would be a chance. But the Wild will need to deal with resigning six other players as well, despite not being close to cap compliant once the 2013-14 year starts.
Backstrom won't have an issue finding a team to play for in free agency, as he has always been consistent, and the Wild will be forced to ride with Josh Harding at the wheel.
There are few more capable backups in the NHL, but it may not be quite the wash that Minnesota hopes.
Roman Cervenka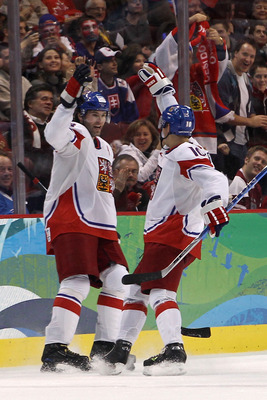 Bruce Bennett/Getty Images
Roman Cervenka was considered by some onlookers to be the best player not in the NHL in 2011-12. The Calgary Flames were hoping he could finally add some strength down the middle for a team that has been lacking talent there for a long while.
If he can shake this blood clot issue, he'll have the chance to show those in the NHL what he can do.
And what he can do is substantial.
The Flames will need to shed considerable cap space to get under the limit for next season, and if they let Iginla walk they'd be right on the line before needing to resign seven other players outside of Cervenka.
Since keeping the talented center would make sense (in light of good health), I'm going to assume that the unenlightened Jay Feaster lets him sign elsewhere.
Of course all of this is contingent on him kicking the health issue, in which I wish him the best. That's not a debilitation to be taken lightly.
Alex Edler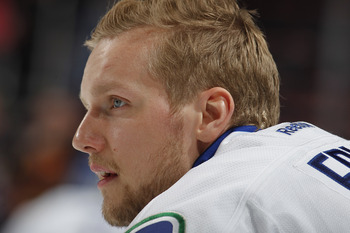 Joel Auerbach/Getty Images
There isn't a more lucrative job in the NHL than being an "offensive defenseman," aside from being "Sidney Crosby."
In a league where just being able to complete a high percentage of your breakout passes and score 20 points a year nets you ridiculous amounts of dollars, Alexander Edler could be poised to cash in, in a big way, in 2013.
The Vancouver Canucks are in Zdeno Chara-sized trouble, with 12 expiring contracts and several noteworthy players set for new deals and possibly mild raises.
Edler will probably be among the highest priorities to be resigned, but the room just may or may not be there.
Even if an offer is tabled, Edler could do worse for himself than just visiting the options that would be available on the free market.
After all, he is coming fresh off of a season where he almost put up 50 points.
If Dennis Wideman and Ryan Suter got the attention that they did last season, what kind of feeding frenzy would Edler set off?
A big one. Jaw-sized. Possibly one too large for the young blueliner to ignore.
UPDATE: Roughly a half hour after publication, the Vancouver Canucks and Alex Edler announced that they had reached a six year extension. Financial terms of the deal are not known at this time.
Thomas Greiss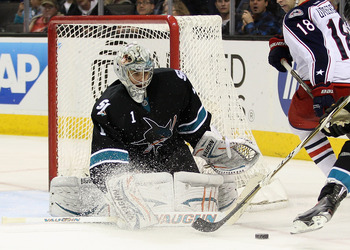 Ezra Shaw/Getty Images
Thomas Greiss has to be thinking one thing as he enters free agency in 2013: If Anders Lindback can get a shot at being a starting netminder in the NHL, why can't I?
Lindback started 38 games for the Nashville Predators before getting dealt to the Tampa Bay Lightning. He posted a 16-13 record, accumulating a 2.53 GAA to go along with a .914 save percentage.
Greiss has started 28 games for the San Jose Sharks, going 16-12 with a 2.52 GAA and a .911 save percentage.
Kind of like looking in a mirror, right? Except for the fact the Lindback probably needs two full-body mirrors to see himself from head to toe, while Greiss would require one.
The two are remarkably similar, and if you don't think Greiss has noticed this, you're dead wrong.
The Sharks have Antti Niemi locked up until 2015-16.
If you were Greiss, you'd at least listen to some reasonable offers from teams looking for help in net, right?
Daniel Alfredsson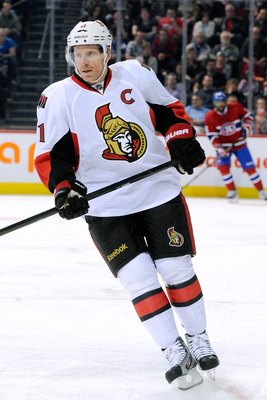 Richard Wolowicz/Getty Images
The situation with Daniel Alfredsson isn't quite as clear-cut as that of Jarome Iginla.
In fact, all they have in common is that they are world-class hockey players and outstanding captains who have made it to the Stanley Cup final one time—only to be denied—and have yet to make it back to the dance.
And they are getting old, but you wouldn't know it by looking at their numbers.
Yeah. I think that's about all they have in common.
Because the Ottawa Senators have actually managed to draft enough young players to complement their older core and have plenty of cap room to splurge should they see fit.
So for Alfie it's just a matter of faith and timing.
I sincerely doubt anything is about the money at this point. He may have two seasons left in the tank, and I'd be willing to bet my life savings that he'd like to lift the Stanley Cup at some juncture.
This could be the most sensitive "stay or go" scenario in recent memory, so I'm not going to call this one outright and obvious.
I can't imagine the kind of introspection that will occur before Alfredsson makes up his mind about what to do with the last few breaths of his hockey life.
Mike Smith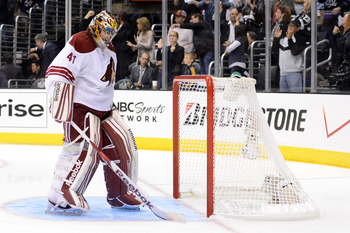 Harry How/Getty Images
Mike Smith and the Phoenix Coyotes could find themselves in a fascinating situation following the lockout-shortened season.
The netminder proved to be quite the timely masked savior in the desert for the 'Yotes after the departure of Ilya "LoL" Bryzgalov. If he provides more of the same steady play, then the Coyotes could find themselves in the situation of needing to resign their franchise netminder before he hits free agency.
Once he hits free agency, who knows what kind of price tag Smith could bring.
The team would be wise to lock him up before he gets there, but what if he starts out the seasons shaky? Do the Coyotes listen to tales of woe, like that of Steve Mason, or do they roll the dice and lock the man up?
Who knows for sure, but it will be an interesting story line to follow, nonetheless.
Franklin Steele is a hockey analyst for the Bleacher Report. Follow him on Twitter for entertaining hockey media from around the Web and for random musings about the sport, or like him on Facebook. He'll make you chili and send you an Internet high-five.
Keep Reading