UFC on FX 7 Live Results and Play by Play for 'Bisping vs. Belfort' Fight Card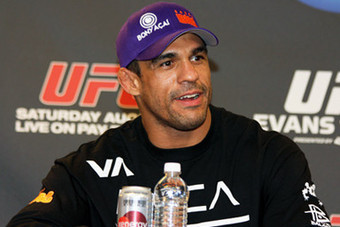 Photo by Josh Hedges/Zuffa LLC/Zuffa LLC via Getty Images

Vitor Belfort defeated Michael Bisping by TKO in the main even of UFC on FX 7. Scroll down for updates and analysis from throughout the fight card.
Quick Results:
-Vitor Belfort defeats Michael Bisping by TKO at 1:27 of the second round
-C.B. Dollaway defeats Daniel Sarafian by split decision (29-28, 28-29, 29-28)
-Gabriel Gonzaga defeats Ben Rothwell via submission (guillotine) at 1:01 of the second round
-Khabib Nurmagomedov defeats Thiago Tavares by KO at 1:55 of the first round
-Godofredo Castro defeats Milton Vieira by split decision (28-29, 29-28, 29-28)
-Ronny Markes defeats Andrew Craig by unanimous decision (29-28, 29-28, 29-28)
-Nik Lentz defeats Diego Nunes by unanimous decision (30-28, 30-27, 30-26)
-Edson Barboza defeats Lucas Martins by TKO at 2:38 of the first round
-Yuri Alcantara and Pedro Nobre fight to a no contest due to accidental illegal strikes
-Ildemar Alcantara defeats Wagner Prado via submission (kneebar) at 2:39 of the second round
-Francisco Trinaldo defeats C.J. Keith via submission (arm triangle) at 1:50 of the second round
Final Thoughts:
Not a bad start to 2013. The co-main and main event ended the event strong and Belfort shows he is still one of the top middleweights in the world. Bisping, unfortunately, will not get a title shot and the future is uncertain for Anderson Silva.
For more thoughts you can follow me on Twitter:
Round Two
Bisping opens up the second frame with a low leg kick. Belfort sensing he can explode for the finish. Bisping lands another leg kick. Head kick and Bisping falls. Belfort ends the fight with a flurry on the mat. Blood is spilled. Bisping seemed to be defending, but I'm not sure he would have survived that onslaught.
Official Result: Belfort defeats Bisping by TKO (head kick & punches) at 1:27 of the second round.
Round One
Bisping is the one who is coming forward early. Belfort is being patient. Bisping lands a jab as Belfort comes forward. Belfort tries a spinning back kick. Belfort is turning it up now. Bisping closing the distance, and Belfort looking for a huge counter. Laser straight left misses the mark from Belfort. Bisping trying to work off his jab. Bisping throws a spinning something. He ran out of space before it developed. Leg kick from Belfort. Head kick from Belfort lands!
Bleacher Report scores the round 10-9 Bisping.
Vitor has never won a UFC fight that went past the first round.

— Jonathan Snowden (@mmaencyclopedia) January 20, 2013
Song 2 vs. 300 Violin Orchestra. Entrance music advantage goes to Belfort.
Where is joe rogen??Hopefully the main event is followed by a Larry Merchant interview in which he taunts the winner

— Aaron Rodgers (@AaronRodgers12) January 20, 2013
I'm not sure why Belfort has his UFC Light Heavyweight Championship belt in a case. Is he really that proud of accidentally slicing Randy Couture's eye?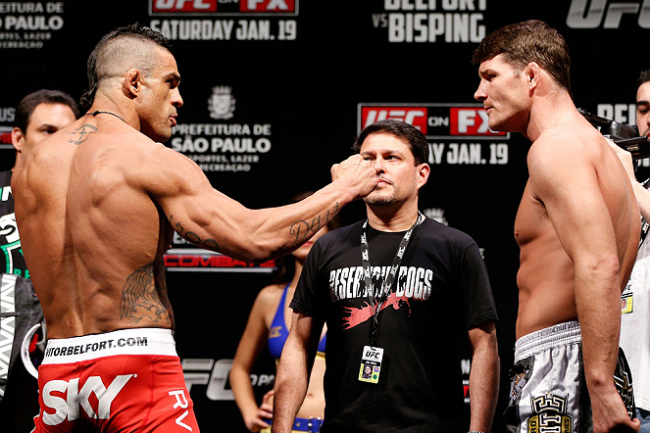 One fight remains, and it could give us the next title challenger. This is an extremely interesting main event. Michael Bisping vs. Vitor Belfort.
Official Result: Dollaway defeats Sarafian by split decision (29-28, 28-29, 29-28).
A pretty good co-main event. Dollaway stole the second round with a big shot that nearly earned him the finish, and controlled most of the third frame. Sarafian had his opportunity in the third round, but was just too tired to do anything.
Round Three
Sarafian is tired and hurt. Dollaway's end to the second round may have stolen the fight for him. Dollaway lands a good right. Sarafian lands a big right. Dollaway connects! Dollaway finally takes this fight to the mat, and that could be the beginning of the end for Sarafian. Dollaway mounts. Sarafian gets back to his feet. Dollaway with another takedown, and he is on Sarafian's back as he tried to get up. Sarafian sweeps Dollaway! He has less than two minutes to work some offense. Sarafian passes to mount. Sarafian takes Dollaway's back. Dollaway reverses back to top position and is in Sarafian's guard. Sarafian gets back to his feet and lands strikes as the fight closes.
Bleacher Report scores the round 10-9 Dollaway, and the fight 29-28 Dollaway.
Round Two
Sarafian is light on his feet. Dollaway lands another kick, but Sarafian clinches. The fight is back at range. Big right from Sarafian! Dollaway hanging tough, but he needs more offense in order to win this fight. Dollaway is starting to look slow, and he has started throwing one strike at a time. Sarafian catches a kick and briefly has Dollaway on the mat, but he bounces up. A terrible wheel kick thrown by Sarafian. Dollaway may be getting to a point where he needs to finish the fight. Dollaway hits him with an uppercut that drops Sarafian, and Dollaway is all over him as the horn sounds! WOW! Stole that round!
Bleacher Report scores the round 10-9 Dollaway.
C.B. Dollaway would be winning this fight if he had more tattoos. #MMA #UFC

— McKinley Noble (@KenTheGreat1) January 20, 2013
Round One
Sarafian charges out to the center right out of the gate. Dollaway trying to use his jab early. Both come forward with hooks. Dollaway gets hit and smiles back at Sarafian. Body kick lands by Dollaway. Sarafian drops Dollaway. Dollaway's wrestling instincts kicked in and survives momentarily. Another good kick from Dollaway. Sarafian countering well and with power. Sarafian connects again and then goes to the body. Dollaway working that jab again.
Bleacher Report scores the round 10-9 Sarafian.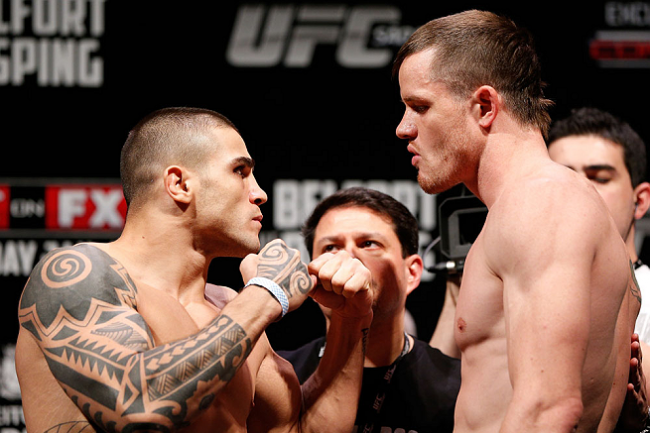 C.B. Dollaway and Daniel Sarafian will lock horns in the co-main event coming up next.
Closing Odds: Sarafian (-160) against Dollaway (+130).
Round Two
Rothwell pressing forward and pushing Gonzaga. Gonzaga landing on the counters. Gonzaga hanging on to a guillotine, and drops down with it. Rothwell taps!
Official Result: Gonzaga defeats Rothwell via submission (guillotine) at 1:01 of the second round.
Round One
Gonzaga puts Rothwell down, but cannot keep him there. Gonzaga wants this fight on the mat badly. Rothwell is unable to shake him thus far. The referee separates them and we are back at range. Gonzaga throws a strike, but only to close the distance and get back inside. Rothwell defends and they are back to striking. Gonzaga has no interest in striking with Rothwell. Good straight right from Gonzaga, and another. Gonzaga with a terrible shot in for a takedown. Rothwell lands a combination. That five minutes went by quickly.
Bleacher Report scores the round 10-9 Gonzaga.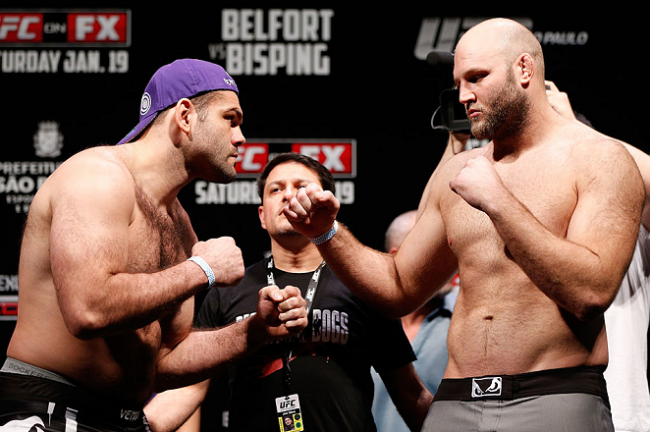 Heavyweight action is next on the main card. Gabriel Gonzaga and Ben Rothwell will try to finish one another.
Closing Odds: Even (-115) via Bovada.lv.
Ok that is officially the END of Dan M!!!! Guys head is straight up his ass 2 night!!!! 17 vicious strikes!!!! After he was already hurt

— Dana White (@danawhite) January 20, 2013
Round One
Tavares comes forward and Nurmagomedov circles as the first 30 seconds passes. Good combination from Nurmagomedov. Tavares working the leg kicks early. Nurmagomedov drops Tavares, and follows up with huge elbows. Nurmagomedov knocks Tavares out with ground and pound. Vicious!
Official Result: Nurmagomedov defeats Tavares by knockout at 1:55 of the first round.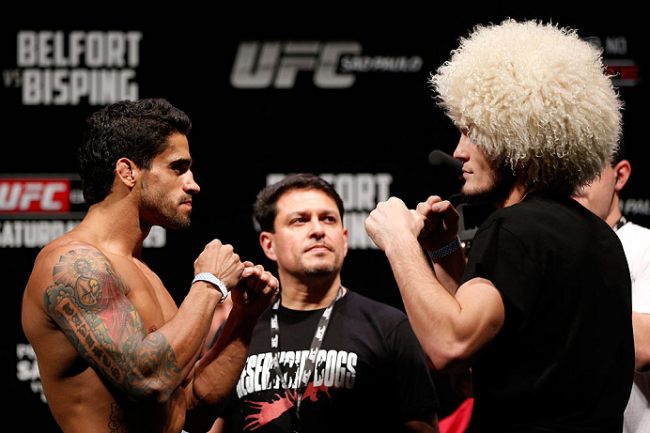 First fight on the main card is Thiago Tavares vs. Khabib Nurmagomedov.
Closing Odds: Nurmagomedov (-190) against Tavares (+155) via Bovada.lv.
Ten minutes until the main card. Snack and bathroom breaks for everyone! I hope they did not want me to stick around for the FUEL TV studio analysis.
Official Result: Pepey defeats Vieira by split decision (28-29, 29-28, 29-28).
Solid fight with quality ground work. The striking was sloppy, but that is where both fighters are constantly evolving. It was a relatively close fight, but I agree with the Brazilian crowd that Vieira won.
Round Three
Slower start to the third round. Left from Pepey lands. Vieira lands a very good straight right, and Pepey tries to respond but the answer misses. Vieira with another right. The action is starting to heat up when Pepey clinches with Vieira. Vieira goes for a Kimura, but Pepey defends and a small scramble occurs. Vieira on top. Mario Yamasaki stands them up in spite of Vieira working from top. The fighters exchange knees that don't quite find the mark. Another good takedown from Vieira. Pepey tries for a triangle, but Vieira defends well. The fight ends with Vieira throwing strikes from inside the guard.
Bleacher Report scores the round 10-9 Vieira, and the fight 29-28 Vieira.
Round Two
Pepey still charges forward with careless strikes, and Vieira easily counters with a takedown. If this were a test for Fight IQ then Pepey would have red pen marks all over his exam. Pepey goes for a Kimura, and Vieira is holding on to his leg to prevent it. Pepey uses it to sweep and is on top. Pepey has his back. Body triangle is locked in. Pepey is peppering Vieira in the hopes something will open up. That will be how the round ends.
Bleacher Report scores the round 10-9 Pepey.
Round One
Pepey and Vieira are feeling each other out early on. Neither one wants to make a critical error right away. Pepey opening up with the strikes, and a few land. Vieira gets a takedown. Pepey is neutralizing Vieira early. Pepey is threatening from bottom, but Vieira is not in any danger thus far. Vieira lands some good shots on the ground. Scramble results in Vieira nearly getting his back, but they are back to their feet now. Bout is halted due to a low blow by Pepey. And the action continues. Pepey with a combination right away. Vieira counters a knee with a takedown. Pepey pops up, but Vieira sticks with him across the cage. They are back at range. Pepey wildly throws punches.
Bleacher Report scores the round 10-9 Vieira.
This article is
What is the duplicate article?
Why is this article offensive?
Where is this article plagiarized from?
Why is this article poorly edited?