Toronto Blue Jays: The 5 Best Bargain Buys of the Last Decade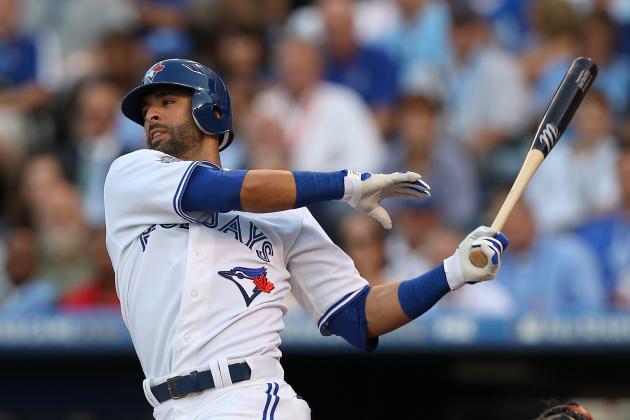 Jonathan Daniel/Getty Images

The 2013 Toronto Blue Jays may not look like a team that is strapped for cash.
For a long time, Jays fans were frustrated by the team's unwillingness to spend money on talent to win baseball games.
When the Blue Jays hired JP Ricciardi, they tried to adopt the "moneyball" approach to building a baseball team. Three years after firing Ricciardi, general manager Alex Anthopoulos has added over $40 million in payroll this offseason, and it seems that money may be not be an object to the Jays' owners, Rogers Communications.
However, that doesn't mean the Jays haven't been able to find gems on the free-agent and trade market.
First, some terminology clarifications: "buys" in this context will refer to any player acquired. Really, when you think about it, acquiring baseball players always "costs" something. Whether it's giving up other players in a trade, money in a signing or a draft pick, there is always a cost.
With that in mind, here's a look at the players who have given the Jays the most bang for their buck over the last 10 years.
Begin Slideshow

»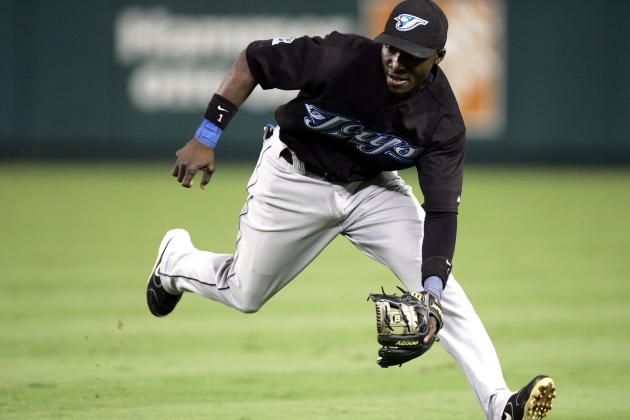 Harry How/Getty Images

Orlando Hudson was a nice surprise for the Blue Jays.
Drafted in the 43rd round of the 1997 draft, Hudson was never really supposed to play a game in the major leagues. Thus far, he has played over 1,300 in his 11-year career.
It began in Toronto, where he split time with Joe Lawrence and Dave Berg, but won the starting second baseman job by the end of the year.
In the three full seasons following, Hudson was an absolute vacuum at second base while hitting .270 with a .744 OPS. He also won a Gold Glove in 2005.
Hudson did all this while being paid approximately $300,000.
Eventually, Hudson was packaged with Miguel Batista in a trade for Troy Glaus, a very productive hitter with Toronto for a few years.
Not bad for a 43rd rounder.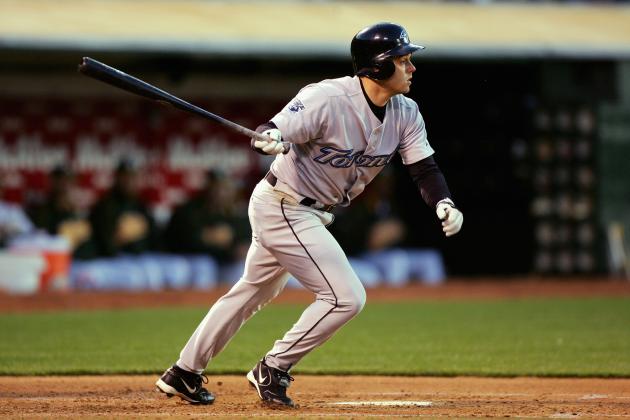 Jed Jacobsohn/Getty Images

Frank Catalanotto was one of the best pure hitters the Jays have had over the last decade.
He's one of those players who seems to fit with the city of Toronto. He wasn't flashy, he was incredibly professional and he could straight up hit.
Over four seasons with the Jays, playing just under 500 games, Catalanotto hit .299 with a .361 on base percentage, a .445 slugging percentage and an .806 OPS. Over his time in Toronto, "Cat" had the best numbers per dollar of anyone on the team. He earned just under $10 million and had the best OPS of any player not named "Delgado" or "Wells". Keep in mind, those two players either earned or were soon to earn outrageous sums of money.
Catalanotto brought consistency, professionalism and talent to the Jays and did so at a solid price. How a player with a consistent .806 OPS didn't always have a regular spot on a MLB roster is somewhat baffling.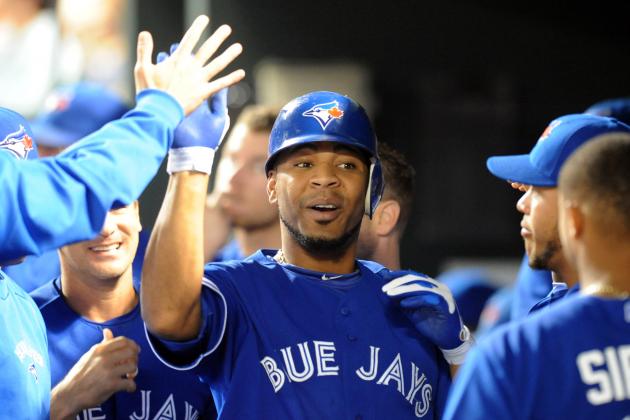 Mitchell Layton/Getty Images

Edwin Encarnacion's Blue Jays story is very similar to Jose Bautista's.
He was left out of the Cincinnati Reds plans and, seeing the opportunity to get younger, JP Ricciardi dealt the aging Scott Rolen for Encarnacion, Zach Stewart and Josh Roenicke.
Stewart was flipped a few years later as a part of the multi-player deal involving Colby Rasmus.
At the time, it appeared that Stewart and Roenicke were the more interesting parts of the deal, being two fairly well-regarded minor league pitchers while Encarnacion simply represented a massive defensive downgrade compared to seven-time Gold Glover, Rolen.
For some odd reason, no one ever realized that Encarnacion's defensive problems all circled around his inability to throw a ball within the general vicinity of the first baseman. He always showed great range and hands, and a move to first base eliminated his awful throwing problems.
Rolen has been an All-Star twice since joining the Reds, and the Jays actually released Encarnacion in 2010 only to sign him as a free agent. His .850 OPS and 80 home runs over three full seasons shows that EE was one of Anthopoulos' best moves.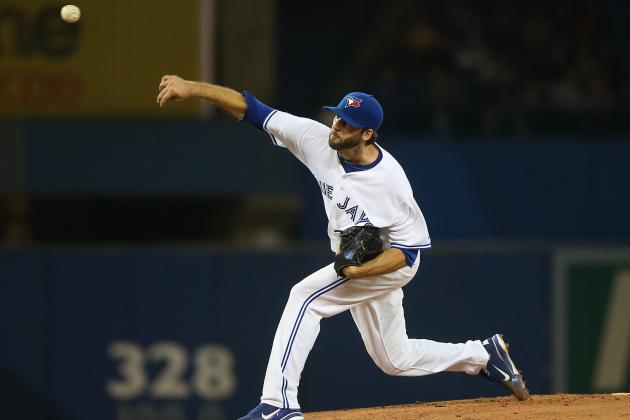 Tom Szczerbowski/Getty Images

Closers are overvalued.
For whatever reason, fans, managers, general managers and owners seem to think that there are only a select few who have the ability to get batters out in the ninth inning. This is false. You can always find someone to close games for you. Yes, some are better than others, but those pitchers are usually better in the other innings too.
Closers are glorified relievers.
Which brings us to Brandon Morrow.
And when we're talking about Brandon Morrow and how he's one of the Jays "best bargain buys" of the last decade, we inevitably have to talk about Brandon League, the player the Jays traded for Morrow.
Brandon League is an above-average reliever. Since he was traded to Seattle, League has had some fairly effective seasons and one very good season, where he made 37 saves and was named to the All-Star team.
That year, League had a huge outlier of a statistic: a 4.50 strikeout to walk ratio, meaning he struck out 4.5 more batters than he walked per nine innings. Every year since, League has had a strikeout to walk ratio below 2.00.
Brandon Morrow, as much as he hasn't posted spectacular stats during his time in Toronto, is one of the best up and coming pitchers in the game. If not for injuries in 2012, he'd be widely regarded as one of the top starters in the AL and the inherent value of starters over relievers puts him on this list.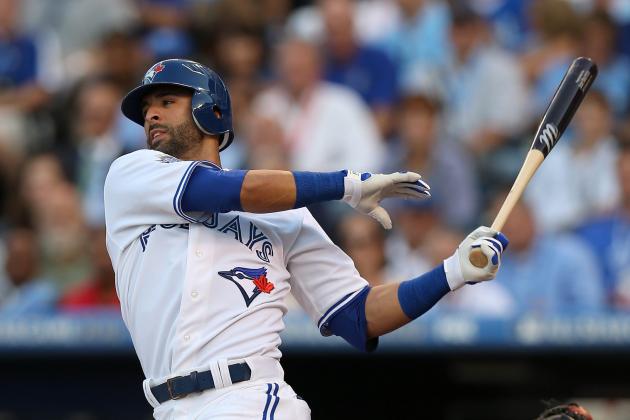 Jonathan Daniel/Getty Images

Perhaps the biggest steal in the last 10 years in the entire major leagues.
The Blue Jays traded "a player to be named later" to acquire Jose Bautista from the Pittsburgh Pirates in 2008. That player was one Robinson Diaz, who played a total of 43 games for the Pirates before becoming a 30-year-old Triple-A regular.
The Jays essentially acquired their best position player of the decade for nothing.
All Bautista has done since arriving in Toronto is hit a home run every 12 at bats, finish in the top four in American League MVP voting twice and post a .947 OPS. He underwent a complete transformation in Toronto, emerging into one of the most dangerous offensive players in the MLB almost overnight.
Jays fans can thank the polarizing JP Ricciardi for this unbelievable steal of a trade.