10 Players Who Will Ultimately Decide Conference Championship Weekend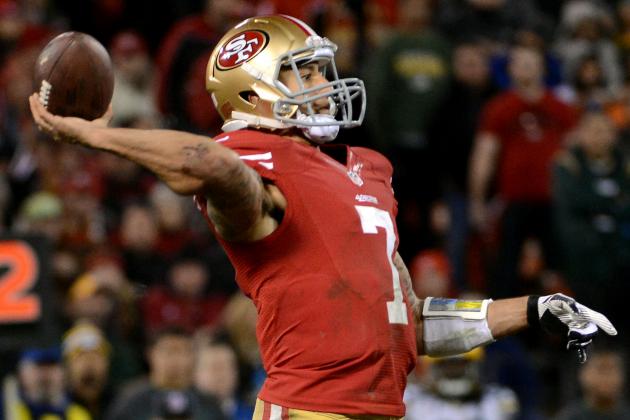 Harry How/Getty Images

The winning coaches will be lauded for their game plans and, undoubtedly, the losing fanbases will lament the poor officiating. But we all know the conference championships will be determined by a few key players making a handful of pivotal plays.
It could be the exciting, young quarterback who blows a game wide open, or an aging veteran putting some teeth in his team's pass rush. It could also be a fresh face in the secondary, or an old hand trying to prolong his career.
Regardless, these 10 players will have an unmistakable impact on the conference championships.
Begin Slideshow

»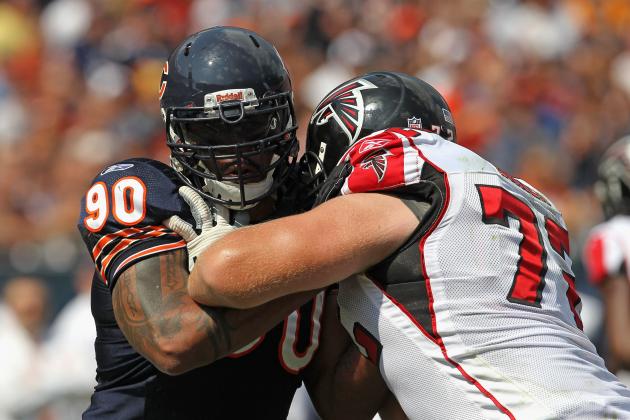 Jonathan Daniel/Getty Images

The man charged with limiting Aldon Smith, especially if the interior Smith does his job, has the pedigree and skill to accomplish that goal.
Baker has only given up six sacks this season (according to Profootballfocus.com), which placed him well above average in every ranking. In fact, PFF had him ranked a full 20 slots ahead of Jake Long.
But none of his past performances will get the Falcons to the Super Bowl. They're going to need Baker to do what he was drafted in the first round to do.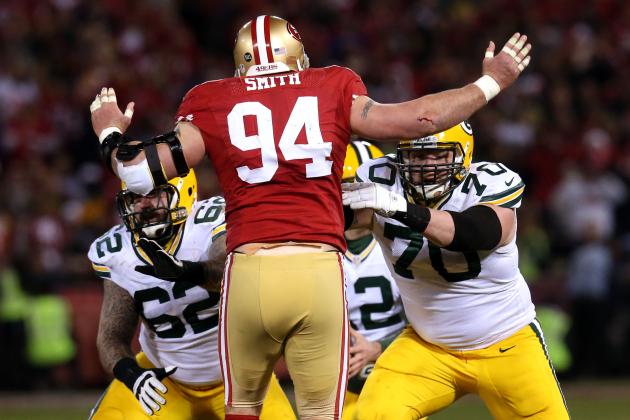 Stephen Dunn/Getty Images

It's no secret that the San Francisco 49ers defense revolves around the play of its stalwart defensive end. His physical presence sets the tone for the defense up front, and allows others, particularly Aldon Smith, to enjoy an easier road to the quarterback.
There's nothing coincidental about Aldon's zero-sack season finale against the porous Arizona Cardinals. Justin Smith missed the game due to injury.
The Falcons have two wide receivers that can work defensive backs on the long pass. Not allowing Matt Ryan the time to look deep is going to require Justin Smith to free up some pass-rushing lanes.
Justin Smith is a natural 3-4 defensive end. He'll make a few plays, while giving others a chance at shutting down Atlanta's offense.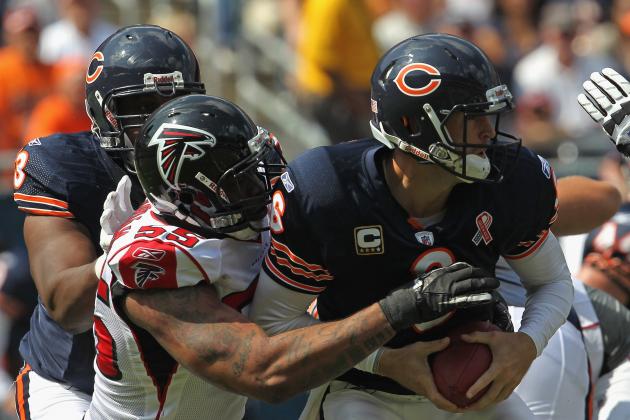 Jonathan Daniel/Getty Images

John Abraham shed the rejuvenated label by Week 10 and reestablished himself an as effective pass-rushing defensive end. He only managed eight sacks, but contributed in different ways to regain his top-tier status.
However, he failed to make an impact last week and his absence was noticeable. Atlanta failed to routinely harass Russell Wilson, watching him lead a remarkable, albeit ill-fated, comeback.
In short, Abraham is the pass rush. If he can't shake the ankle sprain he's been dealing with, it could be a long day for the defense.
San Francisco isn't going to spot the Falcons a large lead. Keeping the clamps on Kaepernick through the final whistle is a necessary key to an Atlanta victory.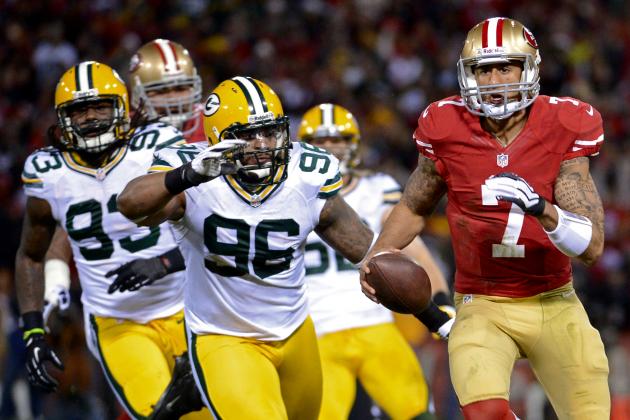 Harry How/Getty Images

Colin Kaepernick does not play the same sport that I've been watching for the past 20-something years.
Since he took over for the injured Alex Smith in Week 10, Kaepernick's performance has been overwhelmingly better than worse. He has the ability to shake off mistakes and deliver in the next game.
Now we've seen him do it in the same game. The aftereffects of a quick pick-six included an NFL record and a Niners win.
Plus, did you see how long it took the Falcons to get to the quarterback? If they allow Kaepernick that kind of space, he'll wait out a passing lane or continuously pick up chunks of yardage on the ground.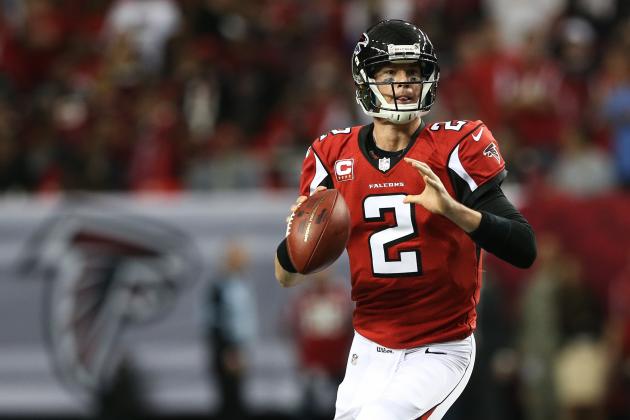 Streeter Lecka/Getty Images

The gorilla of never winning a playoff game is gone. That doesn't mean we won't start lamenting his lack of a Super Bowl trip (or win if they make it this year) anytime a discussion regarding his status is undertaken.
Matt Ryan has phenomenal numbers and more wins than most. Now he needs to inflate those statistics against a stingy San Francisco defense.
He'll have to stand tall, as he did during last week's game-clinching drive, because the Niners will create a hostile pocket. The Falcons offensive line will offer support, but it won't get much help from the rushing game.
Atlanta's favored screen passes will play a huge role in keeping the offense moving. Ryan must identify the right times to call them and pull the trigger.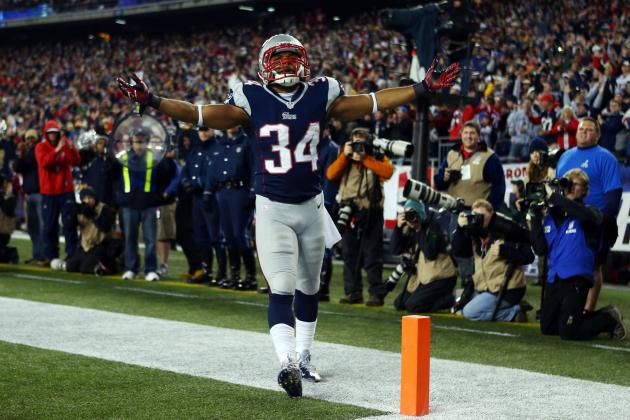 Elsa/Getty Images

Obviously, Rob Gronkowski is not walking through that door. That leaves the New England Patriots without their favorite playmaker, but it doesn't leave the cupboard bare.
Shane Vereen will enjoy the added attention he'll receive from Tom Brady. Even if the Baltimore Ravens overreact and focus too attentively on the young running back, that means his impact will be that of a decoy.
Nevertheless, Brady will be able to find some room for Vereen to work. Especially since he posted 16.6 yards per catch last week to pair with three total touchdowns.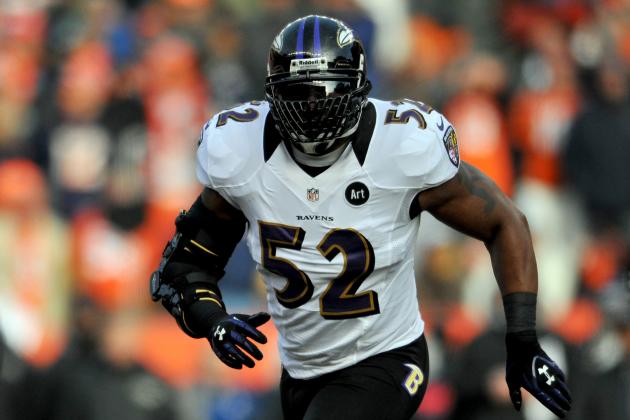 Dustin Bradford/Getty Images

Yes, Ray Lewis is a great emotional leader who will undoubtedly spark his team into a controlled rage.
That's not why Lewis is going to have an impact this weekend.
Lewis will match up against the supremely talented Aaron Hernandez at some point in Sunday's contest. He cannot let Hernandez get loose or the Ravens will be playing catch-up all evening.
Lewis isn't the same coverage linebacker he was in 2008—or even 2010. He'll have to use his intelligence and rely on an inconsistent pass rush to keep Lewis' impact from coming in as a negative.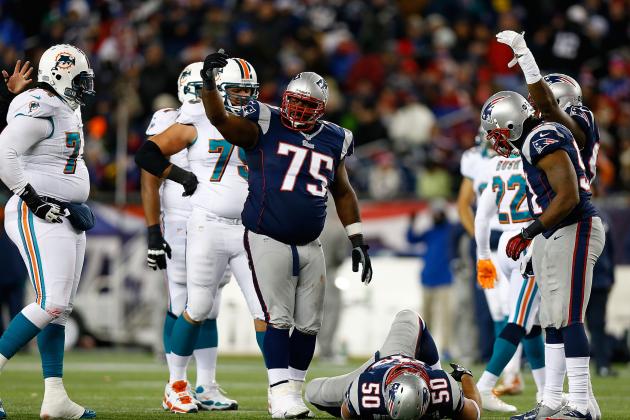 Jared Wickerham/Getty Images

In Vince Wilfork, the Pats have their very own Justin Smith.
He anchors the defense with his wide body, occupying defenders and making plays. His ability to clog the middle of the field will be necessary to keep Ray Rice and Bernard Pierce from putting Joe Flacco in 3rd-and-short situations.
If New England can put the game in Flacco's hands, the Pats will be able to get creative with their pass rush. Otherwise, the Ravens can control the clock and grind down the Pats' solid rushing defense.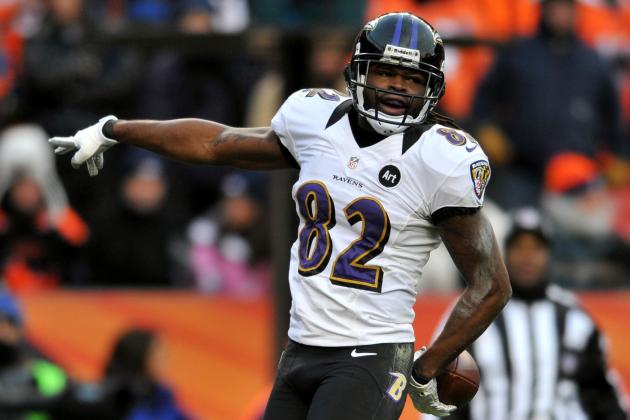 Dustin Bradford/Getty Images

Joe Flacco cannot create opportunities for Brady and the Pats. That will be his main job.
However, he must look for Torrey Smith deep at least four times throughout the contest. That's why Smith gets his own slide instead of the soon-to-be free agent.
Smith's ability to blow the top off of defenses needs no introduction. His 25.8-yard average this postseason attests to that fact.
In order for Baltimore to keep the New England defense from creeping up and choking Rice, Smith will have to make a play on at least two of those balls.
The chance is there for Smith to have a huge impact. It's just left to be determined whether it's a memorable one or not.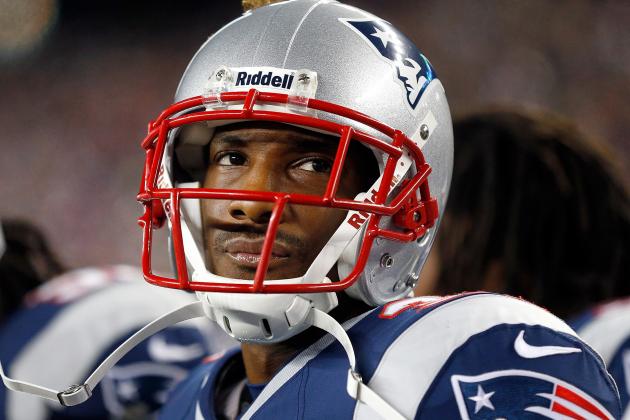 Jim Rogash/Getty Images

Games like this one are why Aqib Talib couldn't have been too upset with being dealt by the up-and-down Tampa Bay Buccaneers.
Talib's fingerprints will be all over this game. Whether he will be locked up with Torrey Smith, Anquan Boldin or both is of no matter. Both receivers present a considerable threat and whatever Talib can do to blunt that effect will go a long way toward deciding this contest.
He must also remember how to tackle. Ray Rice will sneak out of the backfield, whether designed or not. Then everyone in the secondary must make solid, textbook tackles.
Otherwise, this game may come down to who has the ball last—not that it won't anyway.