AFC Championship Game 2013: Key Offensive and Defensive Players for Both Teams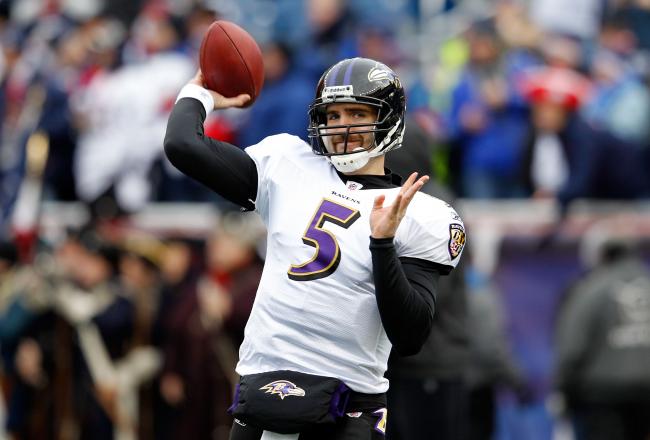 Rob Carr/Getty Images
The more things change, the more they stay the same, right?
2012 was a year of turnover in the National Football League: bottom-feeders like Indianapolis, Minnesota and Washington all ascended to the playoffs, while powerhouses like Philadelphia, San Diego and the New York Jets all flailed to top-11 draft picks. But amid all this kinetic variance we're now provided one comforting bit of familiarity:
Baltimore at New England in the AFC Championship.
The two teams will meet with a Super Bowl berth at stake for the second consecutive season. New England advanced in a thrilling, 23-20 nail-biter last January—needing a crucial drop from Lee Evans, and a missed 32-yarder by Billy Cundiff to come out on top.
The Ravens got a soupçon of revenge in Week 3, besting New England 31-30 in Baltimore, but a regular-season win hardly mitigates the wounds of last winter.
With the fate of the AFC at stake—once again—this weekend, let's take a moment to examine both teams' offensive and defensive X-factors.
Baltimore Ravens
Offense: QB Joe Flacco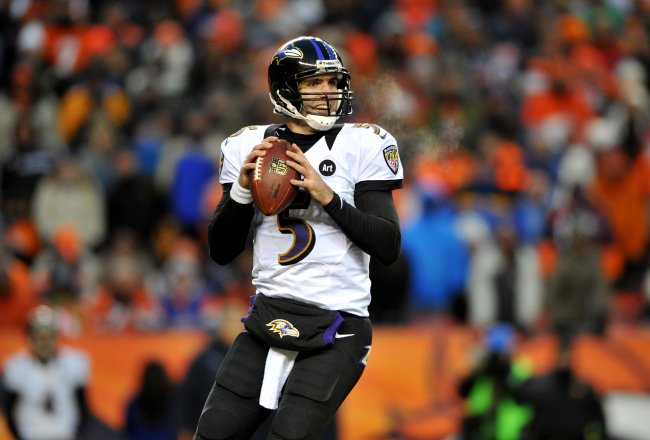 Dustin Bradford/Getty Images
Football is a complicated, intricately nuanced game, where a myriad of factors typically determine the final outcome. But over the past few years, Baltimore's formula has been rather simple. When Joe Flacco plays well, they win; when Joe Flacco plays poor, they lose.
At his best, Flacco is one of the top-10 QBs in the league—a man capable of leading his team to the Super Bowl. Unfortunately, Flacco's inconsistency is well-documented and often times disastrous.
Per Aaron Schatz of Football Outsiders:
Baltimore relies heavily on the deep ball, and deep ball offenses are often inconsistent. Baltimore ranked 30th in offensive consistency this year, based on game-by-game offensive DVOA.

Inconsistency means that Joe Flacco [could] put up a 3.2 yards per pass, two-interception craptacular like he did against Houston back in Week 7. But it also means that the Ravens could have one of those days where everything clicks, where...all those deep passes all fall right into the hands of the receivers (and then don't bounce off those hands, especially if the receiver in question is Jacoby Jones).
Flacco was on the mark against the Patriots earlier this season, and perhaps even better against them in last year's playoffs. His inconsistent nature would suggest that he's due for a bad performance against New England this weekend.
But if he's able to buck that trend and play a third straight magnificent game, Baltimore has a very real chance of pulling the upset.
Defense: CB Corey Graham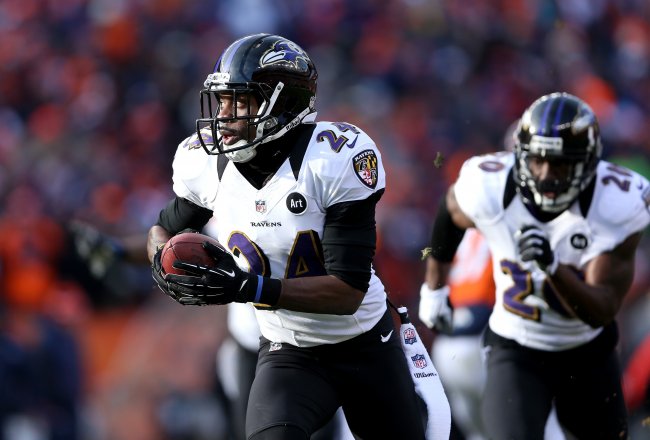 Jeff Gross/Getty Images
It's hard to imagine that Wes Welker—who's totaled a league-best 240 receptions over the past two seasons—could become more crucially involved in New England's passing game. But minus All-World tight end Rob Gronkowski, Welker stands ready to assume an even more vital offensive role.
Enter Corey Graham, a largely anonymous (despite making the 2011 Pro Bowl on special teams) cornerback from the University of New Hampshire.
The former fifth-round pick has made an impact on defense in 2012, where the Ravens have utilized his deftness in the slot. Per Aaron Schatz of Football Outsiders:
Since [Lardarius] Webb's injury, Corey Graham has been covering slot receivers, and he's been very good. The numbers we have so far give Graham a 62 percent Success Rate, 11th in the NFL among corners with at least 35 charted targets. He's allowed 5.8 yards per pass, which ranks 16th.
Graham burst onto the scene with his big-play ability against Denver last weekend, picking off two Peyton Manning passes, one which he returned for a touchdown. But plays like that typically come at random—it's unlikely he'll contribute in a similar way against New England.
Instead of turnovers, the Ravens need Graham to provide stops. Trying to do so against Welker is often fruitless labor, but Graham is the best option Baltimore has got.
New England Patriots
Offense: WR Brandon Lloyd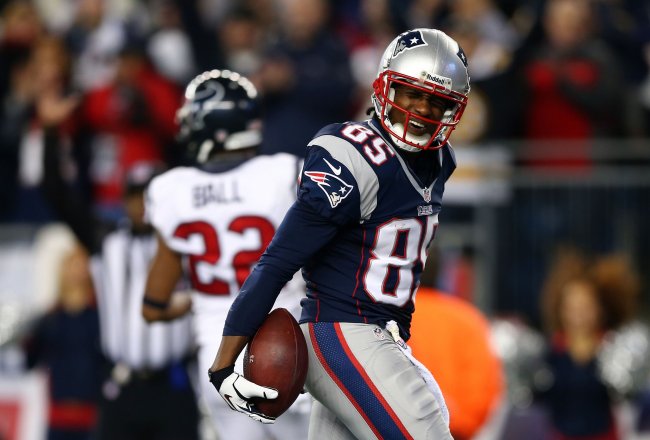 Elsa/Getty Images
Brandon Lloyd hasn't been quite the offensive weapon New England expected when they reunited him with Josh McDaniels, but he certainly hasn't been bad. On Sunday though, perhaps more than ever, the Patriots will be counting on him to thoroughly excel.
As was the case back in Week 3, Lloyd will probably be matched up against cornerback Cary Williams—the weakest link on Baltimore's defense.
According to Football Outsiders, Williams has a 43 percent success rate (82nd in the league) and charts out as allowing 7.8 yards per pass (59th in the league). Aaron Schatz goes on to expound upon how Williams fared in the first Baltimore-New England matchup:
We have Williams listed in coverage on 14 passes in that game: nine to Brandon Lloyd, two to Julian Edelman, two to Wes Welker, and one to Deion Branch. Tom Brady completed 10 out of those 14 passes for 113 yards.

Out of the four incomplete passes, one was overthrown, one was underthrown, and the other two were defensed -- but by Ed Reed, not by Williams. But hey, at least Williams didn't allow any touchdowns.
Lloyd finished the Week 3 loss with nine catches and 108 yards—both his second highest totals of the season—on 12 targets. And that was with Rob Gronkowski in the lineup.
If Joe Flacco is on, and the Patriots are pressed to score points, look for Belichick to exploit the biggest mismatch he can find. If Lloyd plays up to his potential, him against Williams is that mismatch. But if he underwhelms (as he has on occasion this year), the Ravens' defense might just be able to hold.
Defense: DB Aqib Talib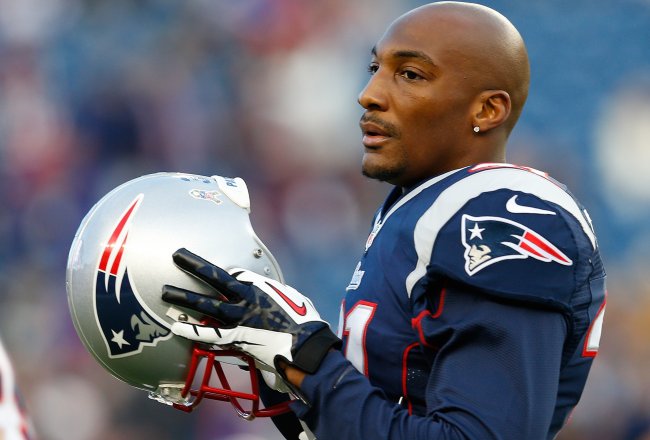 Jim Rogash/Getty Images
In the NBA, MLB and NHL, it's common for mid-season acquisitions to majorly impact championship-caliber teams. It happens, like clockwork, year after reoccuring year.
The NFL is normally different, but 2012 provides a rare exception. Because on Sunday—as he has most of the season—former Buccaneer Aqib Talib will be, perhaps, the most important player on New England's defense.
Although he occasionally shadows the opponent's top receiver, Talib normally lines up on the offensive right (or defensive left). That position will make him both a focal target, as well as a keystone defender, against Baltimore's Joe Flacco.
Check out Flacco's splits throwing in each horizontal third of the field (h/t Football Outsiders):
| | | | | |
| --- | --- | --- | --- | --- |
| Direction | Passes | C% | Yd/Play | DVOA |
| Left | 183 | 49% | 5.1 | -22.1% |
| Middle | 116 | 69% | 9.7 | 57.1% |
| Right | 241 | 63% | 7.8 | 30.1% |
The Ravens passing game is dramatically more efficient throwing to the middle and right side of the field. In turn, when forced to target one sideline, Flacco and Co. often opt to pick on the right. Never was this more dramatically explicit than last week in Denver, when both of the Ravens' deep touchdowns came to receivers lined up on that side of the formation.
Whether it be Anquan Boldin or Torrey Smith on any given snap, Talib will be counted on to shut down Flacco's preferred side of the field. If they can funnel Flacco to the left, he's proven on countless occasions that he can be substandard.
This article is
What is the duplicate article?
Why is this article offensive?
Where is this article plagiarized from?
Why is this article poorly edited?