WWE: What You Missed Since Last Week's Raw; Biggest Winner & Loser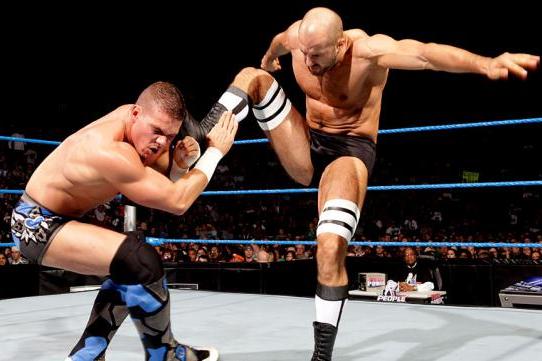 Image credit: WWE.com
Another week of television, another week in which you probably neglected WWE's four lower-rung shows.
Everyone says that the "Road to WrestleMania" begins at the Royal Rumble. But I say it's in the weeks leading up to the Royal Rumble pay-per-view that the Road begins. They are laying the groundwork for the feuds and three-month story arches that will make WrestleMania the biggest event of the year.
Between now and April 7, everyone working for WWE has just one thing in mind: WrestleMania.
As wrestlers, some of the guys are hoping to earn a spot in one of the main event matches. Some guys are hoping to earn a spot that at least shows they're still relevant; maybe a mid-card title, or their first pay-per-view match with one of WWE's top-tier performers. Some of the guys are hoping for nothing more than being a part of a dark match battle royal or a gimmick-heavy lumberjack match.
As Vince and the creative team begin to fill the roles they have set for WrestleMania, everyone is under pressure to perform at the top of their game, hoping to catch favor with Vince, the creative team and the WWE Universe. That goes for everyone from Brock Lesnar and The Rock to John Cena and CM Punk to Tensai and JTG.
Since the five hours of programming on Raw and SmackDown don't provide enough opportunity for every Superstar to get their chance to shine in the spotlight, many are relegated to the WWE's other programs.
To find out how the wrestlers are doing on the four shows you probably didn't see last week, we can take a look at my weekly review of WWE's NXT, Main Event, Superstars and Saturday Morning Slam. After we review everything that happened on these shows, we'll decide who benefited the most last week and who needs to be sending feelers to TNA and ROH.
My "highlights" version of all four shows is below.
If it piques your interest enough to read on, this slideshow breaks down the shows individually, segment by segment, complete with my Questions, Predictions and/or Honorable Mentions.
If you disagree with my selections of who benefited/suffered the most, there's a comment section below.
Highlights
On NXT, Adrian Neville won his debut match when he faced off against Sakamoto. Trent Baretta got a disqualification victory over Leo Kruger after a reversed decision in a match that furthered the drama by also involving Kassius Ohno and William Regal.
Big E. Langston had his first NXT Championship title defense in an impromptu squash match with Camacho. The main event saw Tyson Kidd and Justin Gabriel defeat the team of Antonio Cesaro and Damien Sandow.
On Main Event, Randy Orton and Antonio Cesaro's fantastic match ended without a decision when The Shield crashed the party. The Miz tried to help Orton fend them off, but they couldn't do so, and Cesaro hit the Neutralizer on a vulnerable Miz.
In the second match, the Primetime Players put over The Usos, and Brad Maddux had a comical appearance on commentary.
This week's Superstars brought us a couple of decent matches. It opened with Kofi Kingston getting a victory over Michael McGillicutty. They showed a couple of Raw replays before giving us a Zack Ryder win in a match with JTG.
On Saturday Morning Slam, Natalya defeated Alicia Fox in what turned out to be a pretty impressive match. Sheamus defeated Michael McGillicutty in a match that was more comical than anything else.
They set up next week's main event of The Miz vs. Darren Young when the Primetime Players interrupted The Miz during a backstage promo.
Now, if you care to read more about any of these happenings, please enjoy the slideshow.
Begin Slideshow

»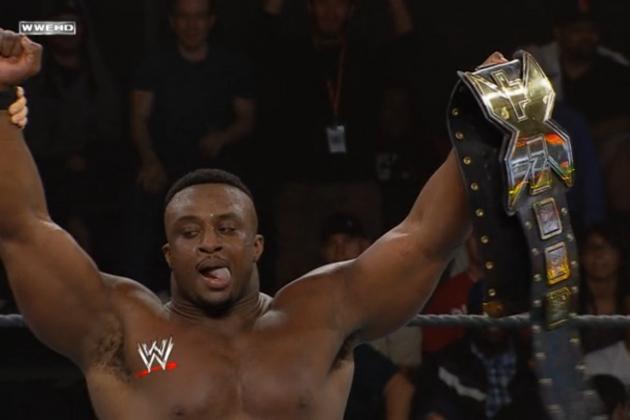 Screen shot from NXT on Hulu Plus
This week's NXT opens with a replay of last week's championship match which resulted in Big E. Langston defeating Seth Rollins for the NXT title.
Live at Full Sail University in Orlando, Florida, Tony Dawson and William Regal are on commentary as Adrian Neville heads to the ring for his NXT debut in the opening match. He faces off against Japanese wrestler Sakamoto.
Adrian Neville vs. Sakamoto (televised match length 3:26)
The commentary team are going out of their way to sell us on Neville and his high-flying antics, going so far as to say that Rey Mysterio claims to be jealous of his moves.
The match was short and fairly unremarkable, with the exception of Neville's finisher. The commentary team doesn't name the move, but based on this list of his finishers, I think he won this match with a corkscrew shooting star press.
Prediction: Unless WWE intentionally begins to develop a cruiserweight division, they will screw up what could be a really solid career for Neville.
Trent Baretta vs. Leo Kruger (televised match length 8:05)
When we return from commercial break, Kassius Ohno has joined Dawson and Regal on commentary as his protege takes on undercard staple Trent Baretta.
They play up the fact that Baretta is still recovering from rib injuries that, from a storyline perspective, were the result of an implied attack from Kruger and Ohno.
They continue to build tension between Ohno and Regal, as the British commentator implies that Ohno has no heart, while Ohno continues to cheer on Kruger and mock both Regal and Baretta. Kruger is in control as we head to a commercial break.
When we return from break, Kruger is still in control, focusing his offense on Baretta's ribs. Kruger can't finish him off, however, as Baretta is playing the underdog with the heart of a champion. Baretta appears to be on the verge of a comeback when he sends Kruger out of the ring with an enzuigiri.
He takes his attack of the South African to the outside of the ring and doesn't notice Ohno leaving the announcers' booth. Baretta tosses Kruger back in the ring, which somehow results in the referee looking anywhere but outside the ring. Ohno sneaks up behind Baretta and nails him with the KO elbow smash and rolls him back into the ring.
Kruger follows up with the Kruger End and gets the pin. As Ohno and Kruger celebrate in the ring, Regal leaves the announcers' booth. The English veteran pulls Baretta from the ring as another referee comes out to talk with the referee that just worked the match. The decision is reversed and Baretta is awarded the win via disqualification.
After another commercial break, new NXT Champion Big E. Langston makes his way to the ring for his first NXT promo as the official king of the hill. After about a minute, he got the crowd to start a "five" chant. This was quickly interrupted by Camacho.
Camacho explains that he had originally wanted to take out Langston to collect the bounty put on his head by Vicki Guerrero. Now, he says he wants the NXT Championship. A match ensues.
Big E. Langston vs. Camacho (match length 1:16)
NXT Championship Match
Langston's first title defense is a complete squash that predictably ends with the Big Ending. Post-match, he gives the NXT Universe just what they had been asking for: another Big Ending for a five-count.
He did this twice before they broke for paid advertisements.
Antonio Cesaro & Damien Sandow vs. Tyson Kidd & Justin Gabriel (televised match length 8:07)
Good Ol' JR joins Regal and Dawson on commentary for this main event featuring only WWE regulars. Sandow makes his way to the ring first, going into one of his intellectual savior rants, which included the lines, "He who seeks the admiration of idiots is, himself, an idiot. And I am not an idiot."
As the match begins, you have to ask yourself: who is WWE pushing with this match?
On the one hand, Cesaro and Sandow are both quickly on their way up, but they have nothing to do with each other and no storyline connection to their opponents.
Kidd and Gabriel, on the other hand, clearly aren't riding the same wave of momentum as their opponents, but they are a part of the newly revitalized tag team division (or at least they were when this match was recorded), performing in front of an audience that genuinely appreciates their in-ring showmanship.
We head to the final commercial break minutes after the match starts, and the faces are in control as Cesaro and Sandow regroup outside the ring.
When we return, the team unofficially named International Airstrike are still in control, Kidd working over Sandow in the ring. Both teams make a lot of tags, the ebb-and-flow of the action continually changing which team has the advantage.
Eventually, the heels are able to isolate Gabriel, forcing Kidd to wait for the hot tag. Kidd finally gets the tag, but he's unable to put Sandow away. He tags Gabriel back in and then attacks Cesaro on the outside, leaving Gabriel and Sandow in the ring.
Gabriel takes Sandow down and tags Kidd again. Gabriel hits a springboard moonsault from the middle of the top rope, followed immediately by Kidd jumping from the apron to the top rope, landing an elbow and taking home the win. They show a few highlights of the match and this week's episode of NXT is over.
Question: With the news of Kidd's recent injury, will Gabriel be pushed as a singles superstar? Will he pick up a new partner? Or will he just fade into obscurity?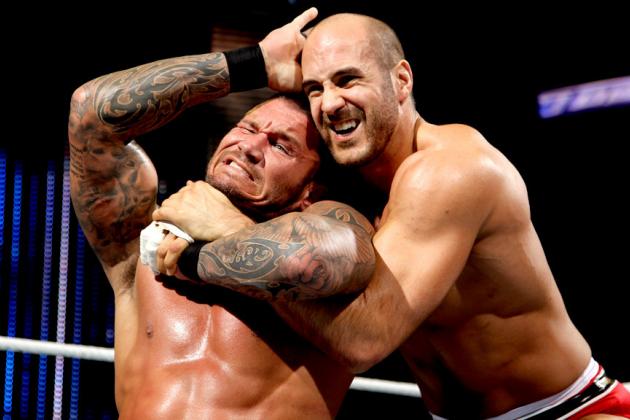 Image credit: WWE.com
Michael Cole and The Miz are in San Antonio for this week's Main Event taping, headlined by Randy Orton and the new arch-nemesis of The Miz, Antonio Cesaro.
In a drastic format change, there is little footage shown before the first match. Orton and Cesaro are both in the ring before we finally watch a short replay from the 20th Anniversary episode of Raw, which saw Cesaro interrupt MizTV and Ric Flair.
Randy Orton vs. Antonio Cesaro (televised match length 17:15)
The beginning of the match is filled with standard back-and-forth, feeling-each-other-out action. The match eventually spills onto the floor, and Cesaro sends Orton into the steel steps, shoulder first, as we head to our first commercial break.
The action has returned to the ring when we return from the break, and Cesaro is firmly in control. They don't mention the fact that Orton just recently lost cleanly to Wade Barrett; I wonder if Cesaro will receive similar treatment.
Rumor has it that Orton will be taking some time off soon for some "personal issues," so maybe he's putting over some younger talent before he takes an extended break.
Throughout the match, Cesaro continuously looks in the direction of The Miz, making sure the reality show star is aware of his dominance. I thought it was especially clever that Cesaro went to the top rope, imitating Mike's top rope double axe handle smash.
Eventually, as they are fighting for control on the turnbuckles, Orton manages to turn things around and nails a superplex. We head to one more commercial break as Orton tries to pull himself together now that Cesaro is down.
Both men are on their feet when we return, exchanging blows, trying to gain control. Neither man can keep clear control over the next several minutes.
Seemingly out of nowhere, Orton hits his signature powerslam and the crowd is on fire. Orton sets him up for the deadly middle-rope DDT, but Cesaro escapes.
Moments later, as it looks like Orton is control, Cesaro busts out the move in which he tosses his opponent in the air and clobbers them with an uppercut on their way down. It's good for a two-count.
Cesaro goes back to the top rope to attempt the axehandle smash again, but Orton catches him with a dropkick on the way down. It's good for a two-count.
Soon after, Orton goes for the middle-rope DDT again and nails it this time. Before he can go for a pin, however, he notices that The Shield have made their way to ringside. Cesaro has slipped out of the ring, but The Miz jumps to Orton's side before The Shield attack.
As usual, the "numbers game" proves to be too much for Orton and Miz, as they are dominated by The Shield.
After hitting The Miz with a brutal spear and Orton with their trademark triple powerbomb, they leave the faces down in the ring as they exit through the audience.
This just happens to be when Cesaro reappears, in time to see The Miz down and helpless in the ring. Of course, he hits the Neutralizer and leaves The Miz laying in the middle of the ring.
After a commercial break, we are shown The Rock performing his "rock concert" from the 20th Anniversary of Raw. Afterwards, the Primetime Players make their way to the ring for the second match of the night.
Before their opponents are announced, Brad Maddox comes to take the place of The Miz on commentary, since he was taken out by The Shield and Antonio Cesaro. We go to a commercial break, and when we return, The Usos make their way to the ring.
The Primetime Players vs. The Usos (televised match length 9:10)
It will be interesting to see which of these two teams get the win, as they've both been put on the back burner in terms of the tag team division and the tag team titles. Both teams will likely have tag title reigns sometime in the future.
Brad's commentary is intentionally horrible, which was mildly amusing. Neither team was able to get a clear advantage until Darren Young was sent outside of the ring.
PTP regrouped, The Usos watched from inside the ring, and we went to another commercial break.
Both teams are still fighting for control when we return, and Maddux is still doing a comically horrible job on commentary.
His best line of the night then follows: Michael, I'm sorry to interrupt you again, but we've got to hear a quick word from our sponsor, WrestleMania 13, the world's largest homemade submarine race. WrestleMania 13: where homemade submarine racing begins.
As the match begins to wind down, PTP are in control, but you can feel the hot tag looming. Once it's made, Titus O'Neal is forced to come in the ring to break up a pin, but is sent to the outside immediately after doing so.
Darren Young is laid out with a superkick and is pinned after a top rope splash. The Usos celebrate in the ring, Maddux exits through the audience, and Main Event is over until next week.
Question: Which team will win the tag titles first, the Primetime Players or the Usos?
Prediction: Randy Orton will continue to put over younger talent until he leaves television for a while.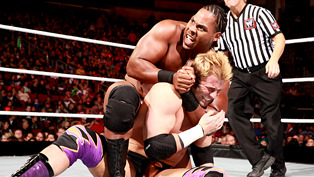 Image credit: WWE.com
This week's episode of Superstars begins with Kofi Kingston making his way to the ring. Matt Striker is on commentary, joined by Tony Dawson. To my knowledge, this is Dawson's first Superstars gig. Maybe WWE is giving him a chance to expand beyond NXT.
Kofi Kingston vs. Michael McGillicutty (televised match length 8:30)
As these two get the match underway, Dawson reminds us of a bit of history between them, when Kingston and Evan Bourne ended McGillicutty's tag title reign. One has to assume Kingston will get the better of Mr. Perfect Jr. once again.
As one would expect, the first few minutes of the match showcase both men's advantage over the other, Kingston's speed and agility vs. McGillicutty's size and strength advantage.
As I watched Kingston hurl himself over the top rope and onto McGillicutty outside the ring, I am reminded that Kingston would probably get over with the older crowd if he would turn heel and pick up a better gimmick.
Question: When will Kingston make a heel turn? What kind of gimmick do you think would work to get him over with the older demographic?
When we head to the first commercial break, McGillicutty has taken control after taking Kingston down outside of the ring. When we return from the break, Kingston is being grounded in the ring with a rear chin lock.
Kingston regains control as the match begins to wind down. He goes for the Trouble In Paradise, but McGillicutty manages to avoid it. Moments later, Kingston hits a high cross body from the top rope, but it's only good enough for a two-count.
The two exchange a few blows before Kofi launches himself off of the middle of the top rope. He fails to connect, however, as McGillicutty catches him with a dropkick. This is also good enough for a two-count.
Maybe it's just the beard, but when McGillicutty gets a look of intensity, it looks like he's doing a Daniel Bryan impersonation.
After a few more reversals from both superstars, Kofi finally hits the Trouble In Paradise (his third attempt of the match) and gets the win.
This sends us to commercial break. When we return, they show a replay of John Cena vs. Dolph Ziggler in a steel cage from Raw.
That sends us to another commercial break, which is followed by a replay of Ric Flair's appearance on MizTV from the same episode of Raw. Once that is over, we head to commercial again.
Once we return from the commercial break, Zack Ryder makes his way to the ring for the final match of the show.
Zack Ryder vs. JTG (match length 3:15)
My expectations for this match were set pretty low, so I wasn't disappointed with the match. Early in the match, JTG hit an impressive reversal from the corner, resulting in Ryder taking a brutal and innovative bump.
Other than that, the match went pretty much as expected. Ryder takes home the win after a Broski Boot and the Rough Ryder.
This sends us to another commercial break, followed by a replay of The Rock's "rock concert" from Monday Night Raw. As always, this is how Superstars ends.
Prediction: JTG will be a part of WWE's annual post-WrestleMania "spring cleaning" session, if he's not released sooner than that.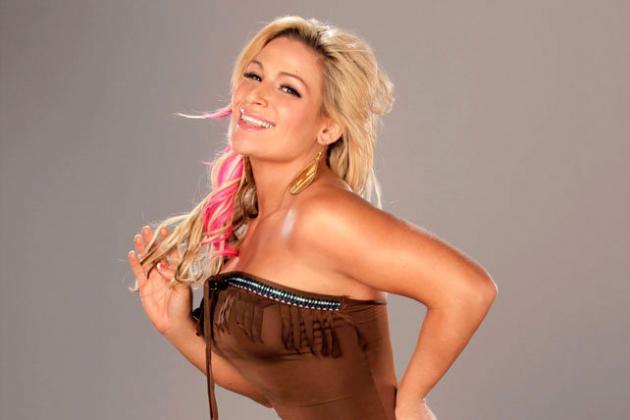 Image retrieved from WWEHub.com
Saturday Morning Slam kicks off with some Diva action, featuring Alicia Fox and Natalya. Josh Mathews and Booker T are on commentary.
Natalya vs. Alicia Fox (match length 4:02)
I've never been a huge supporter of Alicia Fox. I don't think she has the right build to be taken seriously as a competitor, and she's never had a gimmick or angle that even mildly interested me. But I have to admit: she's really developing as a wrestler.
It seems that the WWE Divas are in the midst of a mass exodus, so both Natalya and Alicia Fox have to be near the top of the list for a future WWE Divas Championship reign.
As far as I'm concerned, Natalya is the best female worker currently employed by the WWE. But Alicia kept up with her for the entire match.
I don't know where Alicia trained, but after watching this contest, you'd get the impression that she was in the Hart Dungeon along with Natalya. This match had great in-ring psychology, tons of reversals and great displays of athleticism.
In the end, Natalya gets the win with the Sharpshooter. I'm not sure whether it's significant or not, but Natalya's "relationship" with The Great Khali was never mentioned.
If that means the Anvil's daughter is moving on to bigger (pun intended) and better things, then I am fully on-board.
Question: With the desperate state of the WWE Divas division, will it be up to workers like Natalya and Alicia Fox to bring relevancy back to WWE's female locker room? Will WWE start pulling Divas from NXT? Will they look outside of their own company for the answer? Or will the Divas division simply fade into obscurity?
After a commercial break, we get the Saturday Morning Spotlight featuring Sheamus, as his match will headline the show.
If memory serves, this is the third time Sheamus has been the focus of the Spotlight, and the show has only existed since August.
We got to another commercial break, and when we return, Sheamus makes his way to the ring. Even though the match was announced last week, the Celtic Warrior's opponent still hasn't been named, leaving me to believe it won't be anyone significant.
Before the match starts (and still before his opponent is named) Sheamus grabs the mic and panders to the WWE Universe, talking about how he grew up watching WWE on Saturday mornings, and then listing off a bunch of classic names like Randy Savage and Bret Hart.
Sheamus vs. Michael McGillicutty (televised match length 5:08)
From beginning to end, it was obvious that they put some thought into making this match appeal to the Saturday morning crowd.
It began with Sheamus implying that Michael McGillicutty wouldn't be much of a challenge, a figurative wink to the WWE Universe that Sheamus could squash Perfect Jr. at any time.
This match was loaded with all of the Saturday morning staples: an airplane spin that lasts a little too long, a criss-cross in which the face stops running but the heel continues until he's tired, and the heel trying to be sneaky but getting caught.
At one point, McGillicutty rolled up the referee for a pin and Sheamus made a three-count.
Although McGillicutty did have an offensive streak that lasted about a minute, Sheamus got the expected win in the end with the White Noise.
With just two minutes of programming remaining, Natalya is backstage to interview The Miz.
Honorable Mention: Although it wasn't quite enough to earn her the distinction of this week's biggest winner, Natalya had a good week on SMS.
She got clean victory in a solid match with Alicia Fox, and solidified her multi-faceted roll in WWE by continuing to be the SMS backstage interviewer.
Almost immediately, the Primetime Players show up to interrupt the promo. This was to set up next week's main event, The Miz vs. Darren Young.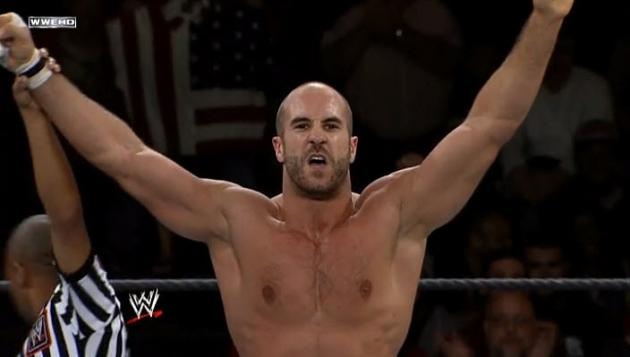 Image credit: WWE.com
After taking a look at all four of WWE's "other" shows from last week, which superstar came away the biggest winner? Who came away the biggest loser? Who looks like they have a promising future with Vince's company, and who looks like they'll struggle to be more than a jobber on Superstars?
Biggest Winner: Antonio Cesaro
Antonio's first appearance on any of these shows this week came during NXT. He was given a spot as one fourth of the main event, teaming with Damien Sandow against Tyson Kidd and Justin Gabriel.
Despite the fact that his team lost, Cesaro looked very good in the ring with both Kidd and Gabriel, and it was Sandow that took the fall, not Cesaro.
Then, on Main Event, Cesaro wrestled against Randy Orton in arguably the best match WWE put out all week.
Although the 17-minute match ended without an official decision, Cesaro proved that he can mix it up with the best that WWE has to offer, foreshadowing his future role as a main eventer.
On top of that, Cesaro didn't leave Main Event until he managed to lay out The Miz in the ring after a Neutralizer.
Despite the fact that he didn't actually win a match, Cesaro performed brilliantly in two main event matches and was never pinned or made to tap, and left WWE's third most prominent show by laying out his newest nemesis.
Cesaro is clearly set to be a big part of WWE's future. It's no surprise he came off looking good this week.
Biggest Loser: Michael McGillicutty

On occasion, McGillicutty will have an okay week on these shows. He one of the guys under a WWE contract that needs shows like these to get any exposure at all, and he can expect to get a few wins every now-and-again.
But this just wasn't McGillicutty's week. The roll he normally plays on NXT is more significant than any other show. The Full Sail fans seem to be emotionally invested in Curt Hennig's son, but he wasn't even given a match on NXT this week.
He did make an appearance on Superstars. He put on a solid match, but came up short in a clean loss to Kofi Kingston.
To finish it all off, he was made to look like a complete fool on Saturday Morning Slam, Sheamus just toying with him before easily taking home the victory.
McGillicutty has struggled to find his permanent spot on the WWE roster, but a week like this certainly isn't doing him any favors.
Do you think someone else had a better week on these shows than Antonio Cesaro? Do you think someone took a bigger hit than Michael McGillicutty? Please, let's discuss!

You can follow Dustin on Twitter, check out his blog or listen to his podcast.