Predicting the Future for 6 Likely NHL Buyout Candidates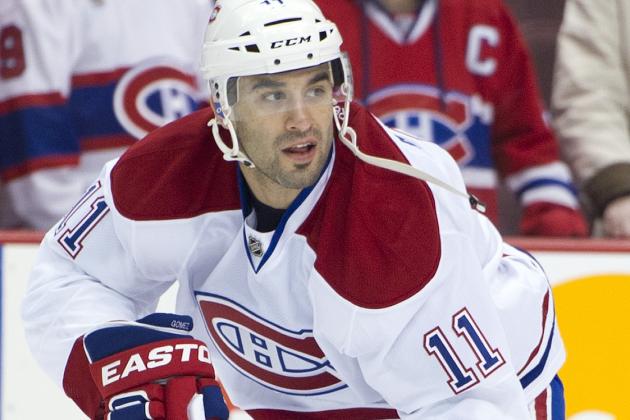 Rich Lam/Getty Images

Scott Gomez and Wade Redden have been bought out.
Those two players were albatrosses for the Montreal Canadiens and the New York Rangers, respectively.
Thanks to an agreement between the NHL and the NHL Players' Association, NHL teams were able to accelerate the buyout process. Each team gets two buyouts before the end of the 2013-14 season and the Canadiens and Rangers have used one of theirs.
Once a player's contract is bought out, the player's cap hit will not count against the salary cap, according to TSN.ca legal analyst Eric Macramalla.
The 2013 buyout process had to be completed by Jan. 18, since the season officially starts Jan. 19.
However, teams are already considering buyouts for the future.
While much will depend on a player's performance in 2013, here's a look at six likely NHL buyout candidates.
(Salary figures and contract terms are courtesy of sportrac.com and capgeek.com.)
Begin Slideshow

»
Defenseman James Wisniewski had a huge season for the New York Islanders and Montreal Canadiens in 2010-11.
He scored 10 goals and he had 41 points for those two teams.
After the season, the Candiens traded him to the Columbus Blue Jackets and he signed a six-year, $33 million deal.
It is very unlikely that the Blue Jackets will keep Wisniewski and let him play out under the terms of his deal.
It appears he is a future buyout candidate. Wisniewski had 6 goals and 21 assists last year for the Blue Jackets.
Shawn Horcoff has two years remaining on a contract that will pay him $5.5 million each of the next two seasons.
Horcoff scored 13 goals last season and added 21 assists for a total of 34 points. Horcoff was minus-23 last season for the Oilers. He was minus-29 in 2009-10. Horcoff has scored 17 goals or less in each of the last four seasons.
The Oilers are loaded with young talent and may need to find some mid-level veterans to add to the roster. They will likely need to buy out Horcoff.
Veteran defenseman Brian Campbell is known for using his skating ability to make plays and create offense.
Unfortunately for the Panthers, he may be a luxury that they cannot afford to keep on the roster. Campbell has three years remaining on a contract that will pay him $7.14 million.
Campbell is not a physical player; however, he is creative and an excellent passer. Campbell had 53 points, played in the All-Star game and he won the Lady Byng Trophy last season.
However, he is simply too expensive too keep and is an excellent buyout candidate.
Dany Heatley scored 50 goals in back-to-back seasons for the Ottawa Senators in 2005-06 and 2006-07.
However, he has seen his productivity drop dramatically. He scored 26 and 24 goals each of the last two seasons.
After the 2013-14 season, Heatley will have one more year on a contact that will force the Wild to take a $7.5 million cap hit.
Expect an amnesty buyout prior to the start of the 2013-14 season.
Rick DiPietro has struggled badly throughout his last four seasons with the New York Islanders.
He has had injury problems and his performance has not been impressive.
However, DiPietro has has eight years remaining on a contract that pays him $4.5 million per season.
Expect the Islanders to make DiPietro an amnesty buyout.
Mike Green has been one of the key players for the Washington Capitals and has a booming shot from the point.
However, Green has had a difficult time staying healthy the last two seasons. Green played by 49 games in 2010-11 and 32 games last season. He scored 11 goals in the last two seasons after scoring 50 goals the two seasons previous to those.
Green has two years remaining on a contract that will pay him $6.08 million the next two seasons.
He could be a buyout candidate for the Caps next season, especially if he continues to be troubled by injury problems.