6 Maple Leaf Players to Watch During the Season Opener vs. Canadiens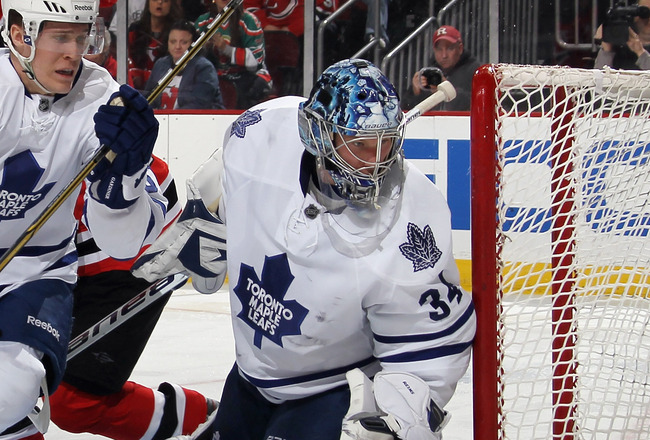 Bruce Bennett/Getty Images
The Toronto Maple Leafs have closed camp, and they finalized their roster this morning with the announcement that 18-year-old Morgan Reilly has been sent back to his junior team and sophomore forward Matt Frattin has been sent to the AHL.
The moves leave the Leafs with 13 forwards and eight defencemen on the active roster with Jake Gardiner making it nine defencemen when he returns to 100 percent health after battling a concussion.
The departures of Matt Lombardi and Tim Connolly in recent days opens up the roster for some new faces heading into the 2012-13 shortened season. According to Leafs beat reporter James Mirtle of The Globe and Mail, the roster for their Saturday night debut in Montreal will look something like this.
Here are six Maple Leaf players to watch when they hit the ice on Saturday night.
Carl Gunnarsson: No. 36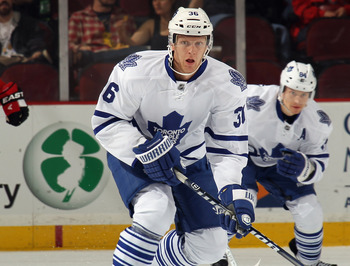 Bruce Bennett/Getty Images
The Leafs have pegged Gunnarsson as their No. 3 defenceman on the depth chart behind captain Dion Phaneuf and injured sophomore Jake Gardiner. With Gardiner out, Gunnarsson will be paired with Phaneuf in the opener and will be counted on for big, quality minutes.
Like many Leafs in recent seasons, he has teetered on the fence of being a solid and reliable two or three man, to a somewhat shaky, brain-cramping five or six. He has averaged around 16 to 18 minutes a game in the last two seasons.
It will be interesting to see if he has the confidence to step up to top unit minutes and be as consistent as the Leafs need him to be.
Leo Komarov: No. 47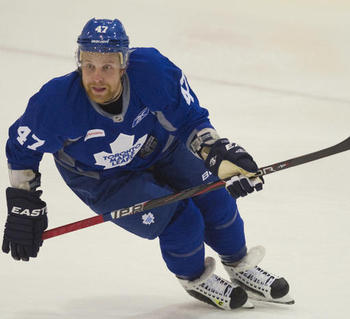 Rick Madonik / TheStar.com
Komarov is a veteran of the Finnish league and the KHL. He started the season with the Marlies before being loaned to Moscow Dynamo in December.
Komarov impressed Leafs brass with his speed and feisty style of play, and he scored a surprising six goals in 14 games with the club. He is strong for his frame, and his low center of gravity helps him succeed in tight spaces, which is something other Leafs need to be able to do better.
It looks like he will be part of an entirely new third line for the Leafs alongside James van Riemsdyk and Nazem Kadri.
He could be the Leafs' surprise of the season.
Mike Kostka: No. 53
Joel Auerbach/Getty Images
The Leafs have chosen to keep Kostka up to start the season, mostly because of the buzz that has many teams salivating at the prospect of him going on waivers if he were sent back down to the Marlies.
Combine that with the fact that he has been one of the best defenceman in the AHL this season and a formidable partner with Jake Gardiner on the Marlies' power play, and the Leafs may have finally found themselves a diamond in the rough.
He is an intelligent player and can fire the puck, although he will be looking to keep it simple and pick his spots since it looks like he will be paired with shaky veteran Mike Komisarek to start the season.
James van Riemsdyk: No. 21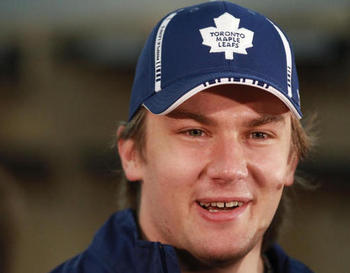 Steve Russell / Toronto Star
Can JVR provide the size and skill that the Leafs so badly need down the middle? Watch his debut on Saturday night and you could get a good, early indication.
While he did suffer a minor stinger when he blocked a shot at camp earlier in the week, he should be all systems go on Saturday. If he can't make an impact and impose his will against the smaller Hab centers and back end, I don't like his chances to make an impact against front-runners like the Bruins, Rangers or his former buddies in Philly.
Starting this weekend, I hope he can make Leaf fans completely forget about the popular Luke Schenn.
Nazem Kadri: No. 43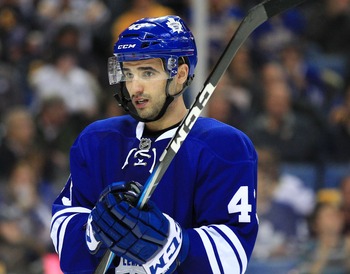 Kevin Hoffman-USA TODAY Sports
It looks like Kadri has finally earned a full-time spot on the Leafs roster heading into the season. Things can change quickly, but he will play on Saturday night on the wing with the third line.
Kadri's skill is undeniable and he has had three seasons to adapt his all-around game to the pro level. He has done very well in the AHL, improving his game on the south side of the puck without losing his offensive numbers.
Although he won't be on the first two lines, he should get the odd power-play turn to help him boost his cause. Watch Kadri closely on Saturday. He tends to shine when the spotlight is the hottest and all eyes will be on him this year.
James Reimer: No. 34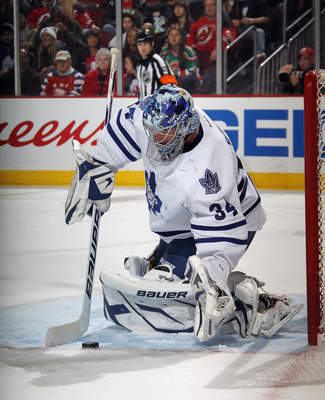 Bruce Bennett/Getty Images
It's no secret that everyone is wondering about the status of the Leafs net heading into the shortened season. Luongo or no Luongo? That has been the question for months.
If Reimer can regain his form of two seasons ago and get out of the gate hot, Leaf nation could be in a frenzy by the time January ends. The Leafs have always gone as far as their goaltender takes them and things are no different this year.
Curtis Joseph. Ed Belfour. Anyone? Anyone? The Leafs are still searching for that rock that they can count on and Reimer has the first chance to claim the spot.
He needs to take this chance and run with it quickly, as Ben Scrivens is hot on his heels.
Keep Reading

Toronto Maple Leafs: Like this team?