One Prospect for Each MLB Team Who Could Surprise in Spring Training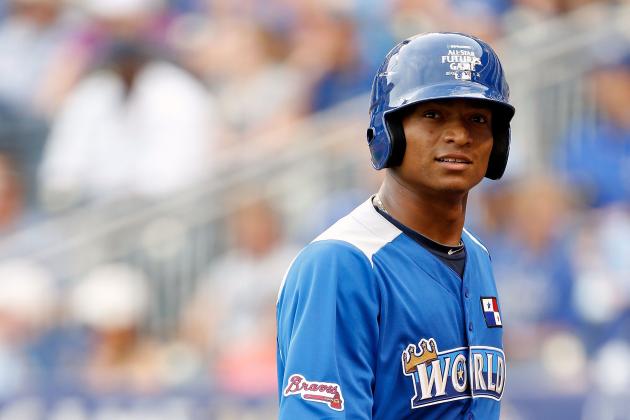 Jamie Squire/Getty Images
Atlanta Braves C Christian Bethancourt
Spring training is a great opportunity for young players in organizations to shine.
For nearly the entire year, minor leaguers are riding buses from destination to destination hoping that a scout will report great things to upper management. Those lucky enough to get an invite to spring training don't have to rely on a scout; upper management gets a firsthand look.
There's always the possibility of a major leaguer getting hurt in spring games. That means that a prospect on the cusp of getting the call could prove his worth and potentially make the Opening Day 25-man roster.
Here are some prospects—some more known than others—that you should expect to play well once pitchers and catchers report in a few weeks.
Begin Slideshow

»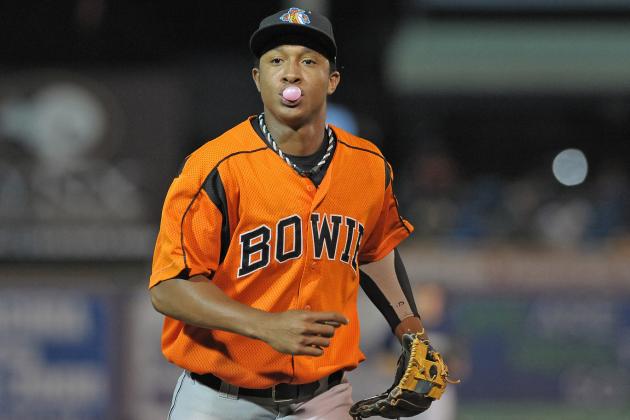 Eric Hartline-USA TODAY Sports
Baltimore Orioles INF Jonathan Schoop
Jonathan Schoop, Shortstop, Baltimore Orioles
Jonathan Schoop is arguably the top offensive prospect left in the minors for the Orioles. He's still extremely young and hasn't made it that far through the organization yet.
Schoop spent all of 2012 with Double-A Bowie, hitting .245/.324/.386 with 14 home runs, 56 RBI and 68 runs. He is also on the preliminary roster for the Netherlands for the World Baseball Classic.
Steven Wright, Starting Pitcher, Boston Red Sox
Steven Wright isn't that well-known in the Boston Red Sox minor league system, but he soon will be. Wright has pitched in the middle levels for both the Red Sox and the Cleveland Indians over the past four seasons with relatively good success.
What sets him apart from other pitchers is that he throws a knuckleball. B/R Featured Columnist Andrew Martin recently profiled the next Tim Wakefield.
Corban Joseph, Second Baseman, New York Yankees
Yankees fans need to start paying close attention to Corban Joseph, and they should get the opportunity to see him during spring training.
Joseph, a second baseman, played in Double-A and Triple-A for the Yankees last season, hitting .276/.375/.465 with 15 home runs and 62 RBI. Should Robinson Cano leave in free agency next offseason, Joseph might end up being his immediate replacement.
Jake Odorizzi, Starting Pitcher, Tampa Bay Rays
The main piece in the James Shield trade was Wil Myers, not Jake Odorizzi. But Odorizzi is still a fantastic pitching prospect that could soon make the Rays' rotation. He went 11-3 with a 2.93 ERA in Triple-A Omaha last season over 107.1 innings of work. The Rays have one of the youngest rotations in baseball, but it could get even younger with Odorizzi in it.
A.J. Jimenez, Catcher, Toronto Blue Jays
A.J. Jimenez is slowing turning into the future catcher of the Blue Jays now that Travis d'Arnaud is out of the picture.
In 2011 with Single-A Dunedin, Jimenez hit .303/.353/.417 with 34 extra base hits. This past season, playing with Double-A New Hampshire, he struggled and ended up needing Tommy John surgery. He should be ready to go by spring training and is likely to appear in a couple of games.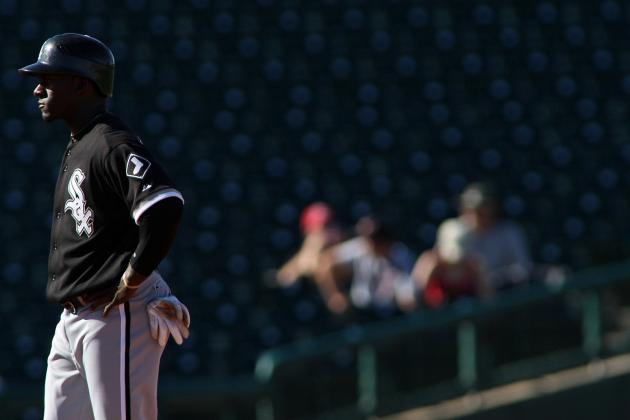 Jake Roth-USA TODAY Sports
Chicago White Sox OF Jared Mitchell
Jared Mitchell, Outfielder, Chicago White Sox
There are a couple of outfielders in front of Jared Mitchell on the organizational depth chart, but he'll be with the White Sox soon enough. Mitchell spent time in Double-A and Triple-A last season, hitting .237/.358/.420 with 48 extra base hits in 130 games. He hasn't been very consistent at the plate and needs to work on making contact more often during spring training.
Chris McGuiness, First Baseman, Cleveland Indians
Chris McGuiness has been a little inconsistent from year to year in the minor leagues with the Texas Rangers, but he did improve from 2011 to 2012. He hit .268/.366/.474 with 23 home runs and 77 RBI.
The Indians selected him with the No. 5 overall pick in the 2012 rule draft, and he could end up being Cleveland's designated hitter in 2013. Hitting well during spring training will lock up that role for him.
Casey Crosby, Starting Pitcher, Detroit Tigers
Casey Crosby is arguably the top pitcher in the Detroit minor league system close to getting the call. Crosby started 22 games in Triple-A Toledo last season, compiling a 7-9 record and a 4.01 ERA. He struck out 112 batters in 125.2 innings while walking 65.
Crosby started three games for the Tigers in mid-June, but wasn't very effective. He allowed 13 earned runs in 12.1 innings of work.
Chris Dwyer, Starting Pitcher, Kansas City Royals
Chris Dwyer hasn't been pitching well as he's advanced through the Royals' minor league system, which is why it'd be a little surprising if he pitched well in spring training. Between Double-A and Triple-A last season, Dwyer went 8-12 with a 5.89 ERA in 136 innings. Over that span of work he struck out 104 batters while walking 68.
A full season in Triple-A Omaha is the most likely destination for Dwyer post-spring training.
Kyle Gibson, Starting Pitcher, Minnesota Twins
Minnesota doesn't have much to look forward to in spring training, but Kyle Gibson is definitely an arm to keep an eye on.
Gibson had Tommy John surgery back in 2011 that didn't allow him to pitch much during the regular season. He did, however, pitch in the Arizona Fall League was decent. In six starts, he went 3-2 with a 5.40 ERA in 23.1 innings of work.
He's definitely more of a strikeout pitcher than anything, retiring 28 batters by way of the K this fall.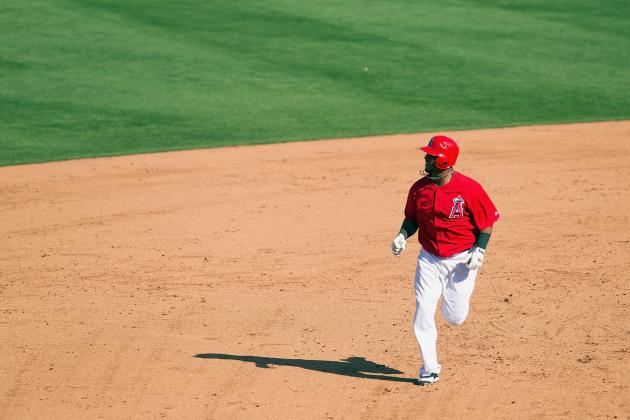 Allan Henry-USA TODAY Sports
Los Angeles Angels 3B Luis Jimenez
Robbie Grossman, Outfielder, Houston Astros
Robbie Grossman has yet to play in Triple-A, but if he continues to develop, there's a good chance he'll get a spot in Houston's outfield in the next couple of seasons.
Playing in both the Astros' and Pirates' minor league systems last season, Grossman hit .266/.376/.410 with 44 extra-base hits, 81 runs and 47 RBI in 131 games. He's got good speed, but does strike out a lot—about 22 percent of plate appearances.
Luis Jimenez, Third Baseman, Los Angeles Angels
Alberto Callaspo better have a good spring training, or Luis Jimenez could potentially steal the third base spot from underneath him. After making the jump from Double-A Arkansas to Triple-A Salt Lake, Jimenez didn't slow down one bit. In 122 games last season, he hit .309/.334/.495 with 150 hits, 16 home runs, 85 RBI and 68 runs. He also hit 38 doubles and stole 17 bases. This kid is a star in the making.
Grant Green, Utility Player, Oakland Athletics
Grant Green being able to play both the infield and outfield makes him extremely valuable. The fact that he's a pretty good hitter as well doesn't hurt his chances of playing in Oakland in 2013.
In three-plus seasons as a minor leaguer, Green has hit .302/.368/.461 with 101 doubles, 44 home runs, 227 RBI and 258 runs in 388 games. For a large sample size, those are very good numbers. Expect to see him sometime this upcoming season.
Vinnie Catricala, Third Baseman, Seattle Mariners
Vinnie Catricala is a top prospect in Seattle's minor league system who was red hot to start his professional baseball career. He hit at least .300 with an .850 OPS each of his first three seasons, with plenty of hits, doubles and runs.
But last season, moving to Triple-A Tacoma, he struggled. He hit .229/.292/.348 in 122 games and was selected to play in the Arizona Fall League. He bounced back there, hitting .279/.329/.412 with five extra base hits in 19 games.
Neil Ramirez, Starting Pitcher, Texas Rangers
After a couple of brilliant campaigns in the lower levels of the Rangers' organization, Neil Ramirez had a hiccup in 2012. Between Double-A and Triple-A last season, he went 8-13 with a 6.28 ERA in 123.1 innings. Over that span, he allowed 18 home runs, struck out 108 and walked 47. He needs a good spring to regain confidence in order to potentially pitch in Texas in 2013.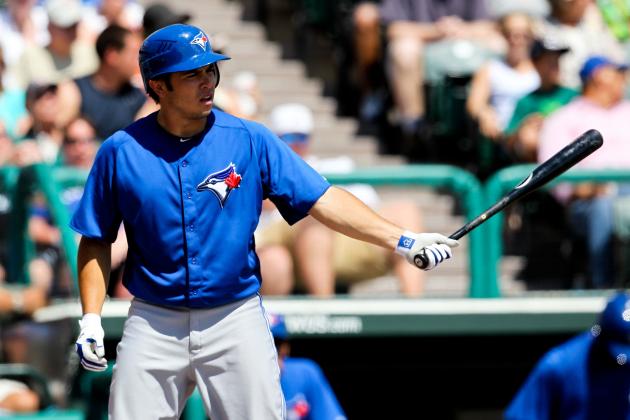 Daniel Shirey-USA TODAY Sports
New York Mets C Travis d'Arnaud
Christian Bethancourt, Catcher, Atlanta Braves
The Braves might end up needing a new catcher quicker than you think, and Christian Bethancourt is in line for the future position.
Bethancourt isn't the type of power-hitting catcher that Brian McCann is, but he should be able to hold his own at the plate in the major leagues. Last season with Double-A Mississippi, he hit .243/.275/.291 with two home runs and 26 RBI in 71 games.
Rob Brantly, Catcher, Miami Marlins
Should Rob Brantly have a good spring training, he likely be the starting catcher for the Miami Marlins. No pressure, right?
Brantly has been very good offensively the past two seasons, playing for Miami and Detroit. Playing for both team's Triple-A affiliates in 2012, Brantly hit .298/.340/.412 with five home runs, 41 RBI and 34 runs. He doesn't have the best power, but will be a good catcher at the next level.
Travis d'Arnaud, Catcher, New York Mets
One of the reasons that the Mets traded R.A. Dickey this offseason was to acquire top prospect Travis d'Arnaud, formerly the top prospect in Toronto's organization. Now, the Mets will get their first look at the young catcher; hopefully he develops quickly so they can promote him. Playing well in spring training could expedite that process since John Buck isn't anything special behind the plate.
Cesar Hernandez, Second Baseman, Philadelphia Phillies
At some point in the near future, Chase Utley won't be the starting second baseman of the Phillies. The person taking his spot will be Cesar Hernandez.
Hernandez has been in Philadelphia's minor league system since he was 17 and has come a long way since, now 22. Hernandez hit .291/.329/.404 with 44 extra base hits last season between Double-A and Triple-A. He has great plate discipline and knows how to draw a walk as well.
Anthony Rendon, Third Baseman, Washington Nationals
Once spring training starts, we will finally know what the plan for Anthony Rendon is. He's the best minor leaguer the Nationals have, but is also the most blocked prospect.
Rendon, a third baseman, will have to wait a long time for Ryan Zimmerman to relinquish his duties as the Nationals' everyday guy. But Washington could try to transition Rendon into a shortstop—a position with a little less depth.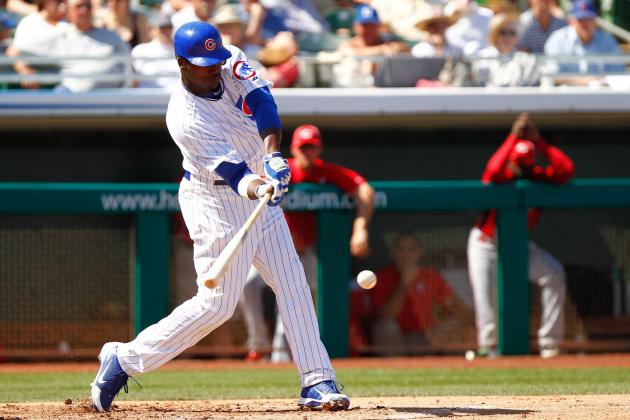 Debby Wong-USA TODAY Sports
Chicago Cubs INF Junior Lake
Junior Lake, Infielder, Chicago Cubs
Junior Lake is a player to watch because there's a decent shot he gets traded sooner rather than later.
Lake, who can play shortstop or third base, is completely blocked. Starlin Castro is the Cubs' shortstop of the future, and Josh Vitters is the third baseman of the near future. And after Vitters, you could argue that Christian Villanueva would get a shot before Lake.
He's a good young infielder, so maybe Chicago tries him at second base.
Daniel Corcino, Starting Pitcher, Cincinnati Reds
The Reds have a very good young pitcher on their hands by the name or Daniel Corcino. Corcino is quickly rising through the Cincinnati organization and seems to get better with a bigger challenge. He made the jump to Double-A Pensacola last season and was highly successful. In 26 starts, he went 8-8 with a 3.01 ERA in 143.1 innings. He struck out 126 batters while walking just 65.
Scooter Gennett, Second Baseman, Milwaukee Brewers
Once Rickie Weeks is done manning second base for Milwaukee, Scooter Gennett could be his replacement.
Gennett, who has one of the best names in the game, is a talented second baseman who has played just three years in the minor leagues, but at three different levels. Last season with Double-A Huntsville, Gennett hit .293/.330/.385 with 37 extra base hits and 66 runs.
Keep an eye on him since his numbers usually translate to the next level.
Stolmy Pimentel, Starting Pitcher, Pittsburgh Pirates
One of the players that Pittsburgh acquired when trading Joel Hanrahan to the Red Sox was Stolmy Pimentel. I've watched him pitch in person a couple of times, and he's a big, big kid. He throws relatively hard and has good offspeed stuff, but doesn't have the best control.
With Double-A Portland in 2012, he went 6-7 with a 4.59 ERA in 22 starts. In 115.2 innings he walked 42 batters.
Matt Adams, First Baseman, St. Louis Cardinals
Matt Adams is a big, power-hitting, left-handed first baseman who is going to put some pressure on Allen Craig this spring.
Adams has been killing it in the minor leagues since becoming a professional in 2009. Last season in Triple-A Memphis, he hit .329/.362/.624 with 18 home runs in 67 games. He also played in St. Louis last season, but needed more time to transition.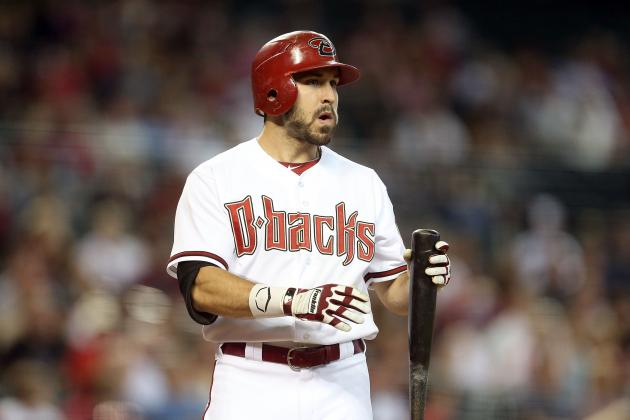 Christian Petersen/Getty Images
Arizona Diamondbacks OF Adam Eaton
Adam Eaton, Outfielder, Arizona Diamondbacks
Adam Eaton is one of the top young bats the Diamondbacks have in their system, but he has nowhere to go but down. Arizona currently has Jason Kubel, Justin Upton and Cody Ross as its three starting outfield, leaving Eaton in Triple-A, even though he's ready for the permanent call.
In 22 games with Arizona last season, Eaton hit .259/.382/.412 with seven extra base hits and 19 runs. Unless Arizona trades Upton or Kubel, Eaton will be back in Reno this summer.
Tim Wheeler, Outfielder, Colorado Rockies
In a couple of months, Tim Wheeler will be ready to play for the Rockies. But he also has a problem, as Colorado's outfield is full with Carlos Gonzalez, Dexter Fowler and Michael Cuddyer.
The Rockies are going to have to find a spot for him to play since they'll need his good bat in the lineup. Improving each season, Wheeler hit .303/.357/.412 with 33 extra base hits and 67 runs in 92 games with Triple-A Colorado Springs in 2012.
Alex Castellanos, Utility Player, Los Angeles Dodgers
If Alex Castellanos can have a monster spring training, he could end up being the Dodgers' starting third baseman on Opening Day—or potentially even second base.
A great prospect who can play anywhere, Castellanos got his first taste of the big leagues last season, but didn't play so well. Spring training is his best shot at redeeming himself and getting his 2013 campaign off to a great start.
Rymer Liriano, Outfielder, San Diego Padres
Rymer Liriano is getting preferential treatment from the Padres because he's expected to be one of the future stars in their outfield. Reaching Double-A last season, Liriano hit .280/.350/.417 with 44 extra base hits in 127 games between there and high Single-A.
He has a fantastic arm and could be considered a five-tool prospect. His speed is also really incredible, as he's stolen 129 bases the past three seasons.
Ehire Adrianza, Shortstop, San Francisco Giants
Brandon Crawford better watch his back this upcoming season if he's going to remain the starting shortstop of the Giants. Nick Noonan is about ready to get promoted, and after that, San Francisco's shortstop of the future, Ehire Adrianza, will be ready.
Adrianza hasn't had the best minor league career a prospect could have, but there's hope he starts to hit more consistently. He's still just 22 years old and has moved rapidly through the Giants' system.