Best- and Worst-Case Scenarios for Each MLB Team in Spring Training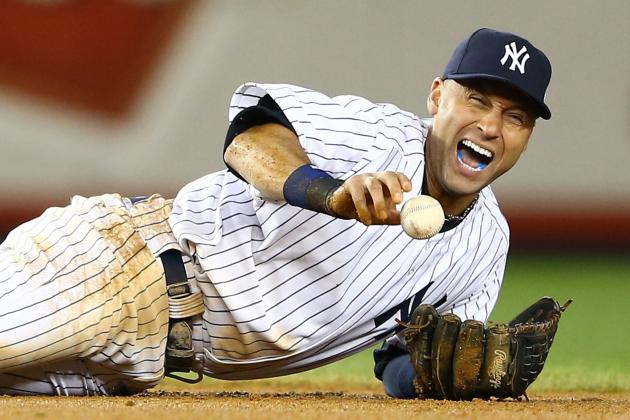 Al Bello/Getty Images
New York Yankees SS Derek Jeter
Good and bad things happen during spring training, not just in the regular and postseason when more people are likely to be paying attention.
There are a lot of players to look at and evaluate over the course of spring training, and maybe someone originally overlooked has a great couple of weeks and makes the 25-man roster once the season starts. This we will deem "a good thing."
On the other hand, a star acquired in the offseason could come into camp and immediately injure himself, resulting in a lost season. This we will deem "a bad thing."
To give you a couple of examples from the 2012 spring training, let's use the Boston Red Sox.
No one knew who Pedro Ciriaco was until spring training, when he hit everything in sight. He didn't make the Opening Day roster, but was remembered for his heroics in February and March and got a chance later in the year. Also, the Red Sox had just traded for closer Andrew Bailey, but he injured his thumb and wasn't able to pitch until mid-August.
Now that I've explained what has happened in the past, let's a take look at what could happen in the future. Here are the best- and worst-case scenarios for each team once spring ball begins in a few weeks.
Begin Slideshow

»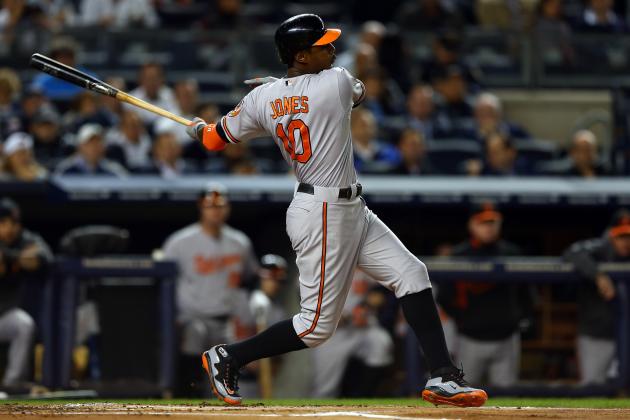 Elsa/Getty Images

Best Case: Brian Roberts Stays Healthy
Brian Roberts hasn't played a full season since 2009. For those counting, that's three seasons in a row where he hasn't play at least 150 games.
In fact, Roberts has only appeared in 115 games over that span. He is scheduled to play second base regularly for Baltimore this season, and the Orioles have to hope he at least makes it though spring training.
Worst Case: Adam Jones Gets Hurt
Adam Jones is the heart and soul of the Baltimore Orioles, and they don't win games without him—even though he played in 162 last season. Jones is easily the top threat in Baltimore's lineup, as he brings consistency, power, speed and great defense to the table. The O's got by without Nick Markakis last season, but Jones would be a different story.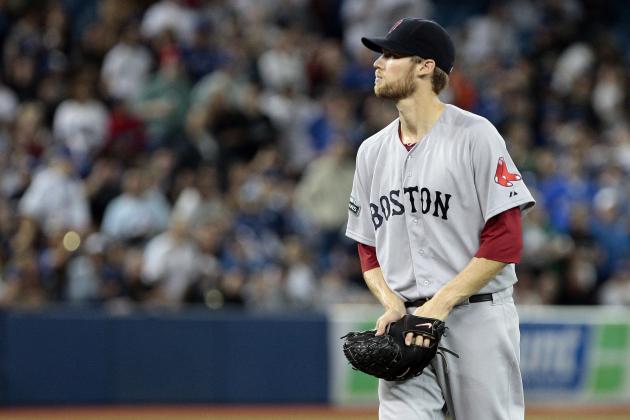 Abelimages/Getty Images

Best Case: Daniel Bard Returns to Form
Daniel Bard had a rough going trying to transition from a reliever to a starter. He didn't last long in Boston's rotation and eventually spent majority of the season in the minor leagues. He will enter spring training as a reliever—again—hoping to regain the control he once had.
Worst Case: Mike Napoli Gets Hurt
The Red Sox spent a lot of time figuring out the best way to get Mike Napoli into a Boston uniform. It took them over a month from the original agreement to finally announce the deal. The original three-year deal worked out to be just one-year after it was learned that he suffers from avascular necrosis (AVN). If Napoli gets hurt early, Boston doesn't really have another first baseman.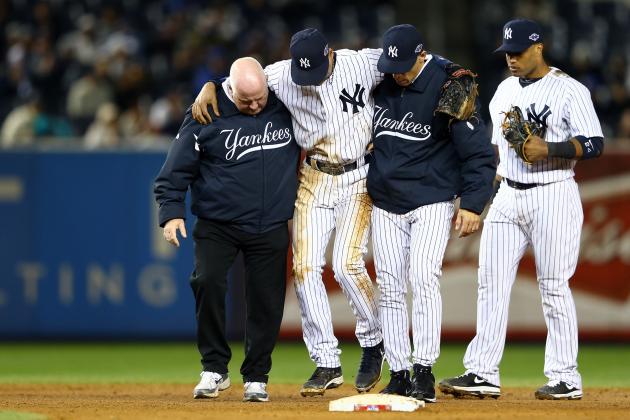 Al Bello/Getty Images

Best Case: Derek Jeter Heals Ahead of Schedule
Derek Jeter fractured his ankle in Game 1 of the 2012 ALCS and missed the remainder of the postseason. He had surgery on the injured ankle in mid-October and has been recovering ever since.
Kristie Ackert of the New York Daily News reports that Jeter has been cleared for baseball activities and could still end up starting on Opening Day. Getting a couple of at-bats in spring training wouldn't hurt nonetheless.
Worst Case: Kevin Youkilis Goes Down
When it was learned that third baseman Alex Rodriguez needed hip surgery and would miss majority of the 2013 season, the Yankees needed to find a replacement. They signed Kevin Youkilis to a one-year to fill the void at third base while Rodriguez recovered.
If Youkilis was to get injured and miss considerable time, New York would be forced to play Eduardo Nunez or Jayson Nix at third—two downgrades to both Youkilis and Rodriguez.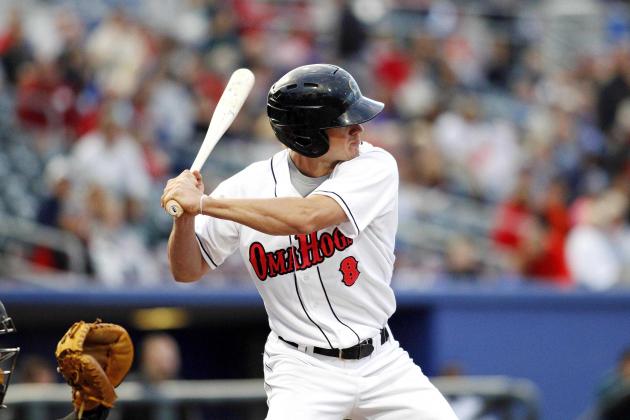 Matt Ryerson-USA TODAY Sports

Best Case: Wil Myers Hits like a Star
The case for trading James Shields and Wade Davis to Kansas City this offseason was that Wil Myers would eventually turn into a star at the major league level. He's played extremely well in the minors, but has yet to get his feet wet in the big leagues. If Myers flourishes in spring training, the Rays could bring him up earlier than expected.
Worst Case: Evan Longoria's Hamstring Hurts
Evan Longoria was limited to just 74 games last season due to a strained hamstring. The injury—suffered in late April—subsided in August and Longoria was able to return to the lineup. After returning, Longoria hit .272/.340/.513 with 13 home runs in 51 games. Hamstring injuries, however, can come back with one step, and Longoria has to be careful not to aggravate it again.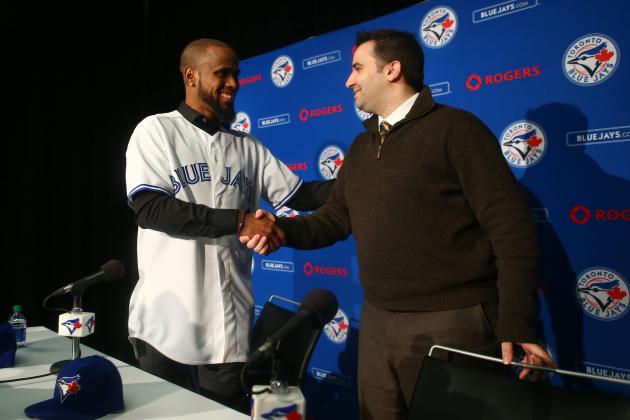 Tom Szczerbowski/Getty Images

Best Case: New Stars Mesh with Old Stars
The Toronto Blue Jays did a lot of work this winter to improve their ball club drastically. They added Jose Reyes, Emilio Bonifacio, Josh Johnson, Mark Buehrle and R.A. Dickey via trade to try to help them make the postseason for the first time since 1993. They also brought in Melky Cabrera via free agency.
Teams don't always jell like they should, and getting on the same page early will do wonders once the season starts.
Worst Case: Bullpen Questions Arise
The Blue Jays have a very talented roster, but that doesn't really include their bullpen. Led by closer Casey Janssen, the bullpen is far from impressive. Toronto didn't have the best of bullpens in 2012 and hasn't done much to improve it going into 2013. The offense can score runs and the rotation can hand the lead to the bullpen, but if the bullpen can't preserve the lead, Toronto is in trouble.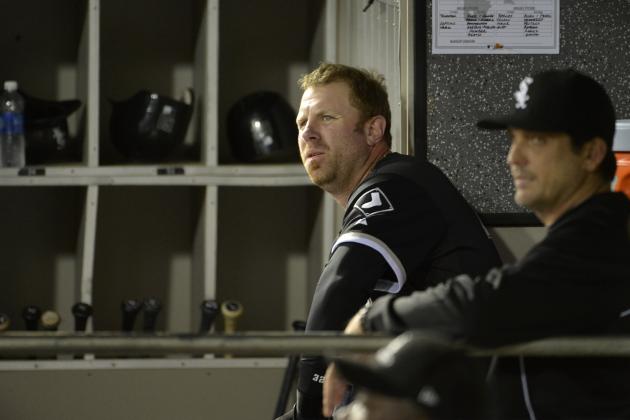 Brian Kersey/Getty Images

Best Case: Adam Dunn Lowers His Strikeout Rate
Adam Dunn strikes out more than any other player in baseball. No, literally, his 34.2 percent strikeout rate was the highest in the game last season. Going along with a lot of other problem in Dunn's game, he'd be best off working on making contact with two strikes on him. Doing that would likely increase his batting average or on-base percentage and, thus, help the team.
Worst Case: Chris Sale Hurts His Arm
Chris Sale is one of the few stars left on the White Sox, and he means everything to them. He was easily their best pitcher last season and possibly even their top player in general. Basically, Chicago can't afford to lose Sale for any period of time if it's going to make a run at the playoffs.
Sale experienced some shoulder fatigue late last season, and it would be a major loss if he had something further happen.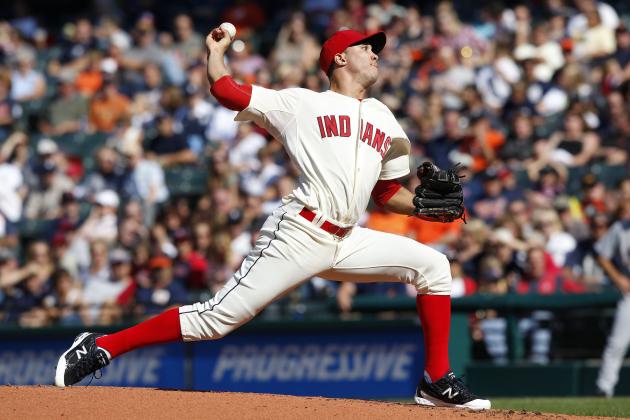 David Maxwell/Getty Images

Best Case: Ubaldo Jimenez Shows Signs of Life
I think that it's fair to say Ubaldo Jimenez has been horrendous on the mound since being traded to the Cleveland Indians. It can't be argued that he doesn't have any run support because it's his ERA that's causing him to lose games. Jimenez was 9-17 last season with 5.40 ERA and an average of 4.84 walks per nine innings.
Getting a good start in spring training should boost his confidence, which could transition to the regular season.
Worst Case: Trevor Bauer Pitches Poorly
In the biggest move the Indians made this winter, they acquired a talented young pitcher by the name of Trevor Bauer. He pitched extremely well in the minors for the Arizona Diamondbacks, but did struggle a little bit after making the jump to the big leagues. Cleveland could use him its rotation, but a poor spring will likely nix that idea.
Harry How/Getty Images

Best Case: Victor Martinez Returns Strong
A torn ACL kept Victor Martinez out for the entire 2012 season. But now he should be all healed and ready to be Detroit's designated hitter on a daily basis.
After missing a year, though, no one is sure how he'll perform once taking the field. He could be the same old Martinez that flourished in 2011, or he could play poorly. Clearly, the Tigers hope he flourishes once again.
Worst Case: Miguel Cabrera is Out of Shape
Miguel Cabrera is coming off of the best season by any player in a very long time. So why not show off his Triple Crown and relax the entire offseason? Sounds like a pretty good life, right?
Cabrera is already a big guy who isn't very mobile. The last thing the Tigers need is to have him come into camp weighing more than 260 lbs. Prince Fielder doesn't need more competition as biggest guy in the lineup.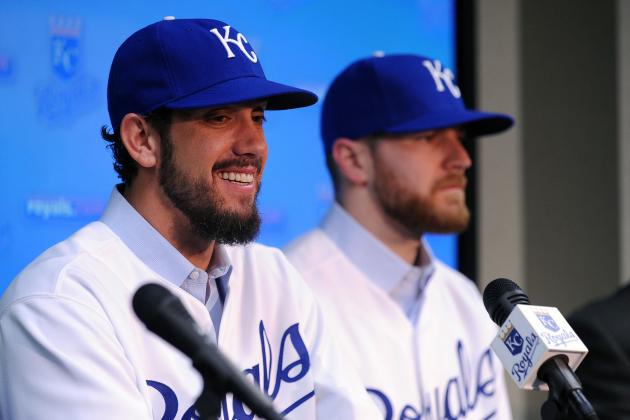 USA TODAY Sports

Best Case: Wil Myers Isn't Missed
The Kansas City Royals risked a lot this offseason trading away their top prospect, Wil Myers, to the Tampa Bay Rays. Myers is one of the top prospects in all of baseball and was about ready to make the jump to the big leagues.
The best way for Kansas City to forget about Myers is if the outfielders perform well. Alex Gordon, Lorenzo Cain and Jeff Francoeur need good, healthy starts to carry over to Opening Day.
Worst Case: James Shields Gets Hurt
The Royals traded Myers away because they needed to improve their starting rotation—hence acquiring James Shields and Wade Davis. But Shields is the big piece coming to Kansas City, and the trade would be worthless if he were to suffer from a long-term injury. Then, it would basically be like giving the top prospect in the organization away, which isn't something a lot of teams look to do these days.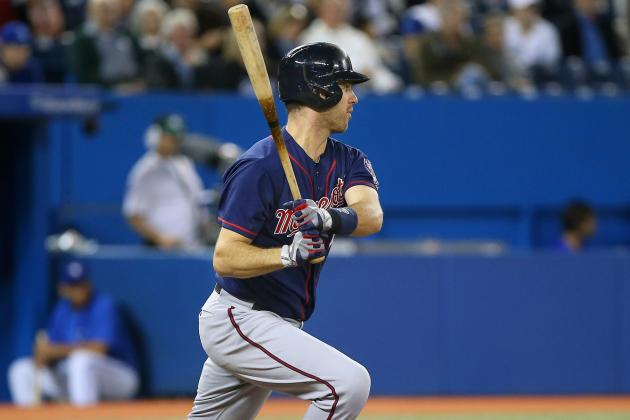 Tom Szczerbowski/Getty Images

Best Case: Vance Worley Shines
The Minnesota Twins did some remodeling this offseason, trading two good outfielders in exchange for pitching help. The biggest name Minnesota got was Vance Worley, formerly with the Philadelphia Phillies.
Worley is likely to be the "ace" of the staff for the upcoming season. That's a lot to put on a guy that has never won 12 games before. But a good start in the spring could get his confidence up for the start of the season.
Worst Case: Joe Mauer/Justin Morneau Injuries
Joe Mauer and Justin Morneau have both battled their fair share of injuries over the last couple of seasons. Although the Twins aren't expected to do much of anything this season, losing either of the two would make matters even worse. That sad part about it is that there's probably a good chance that happens—although it may not happen until midseason.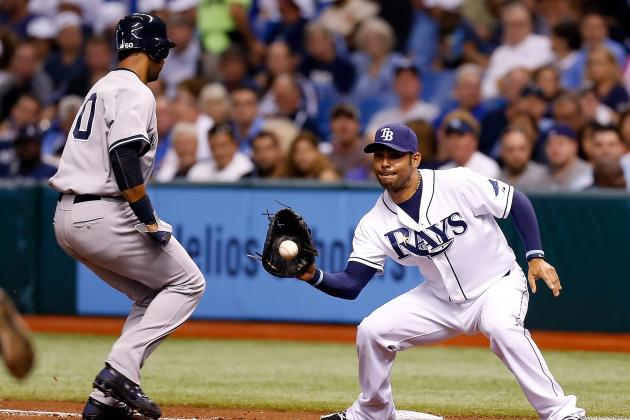 J. Meric/Getty Images

Best Case: Carlos Pena Starts Off Hot
Carlos Pena will try and revitalized his career with the Houston Astros as their everyday designated hitter—their first ever!
Pena hasn't hit above .250 since 2008 and has clearly been on the decline in a couple of other areas. His home run total—which is pretty much what he's been good for recently—is also sloping downward. For Houston's sake, it has to hope that he gets back on track, hitting consistently again.
Worst Case: Less Than Three Wins
I think there's a general consensus that the Astros are not going to be a competitive team this season. If you can make an argument saying otherwise, I'd love to hear it and more credit to you.
Spring training is a time where players work on new things, and young players get chances to play. But they're going to have to get some wins. Less than three wins in spring training and we may have a new regular season record for losses in a year.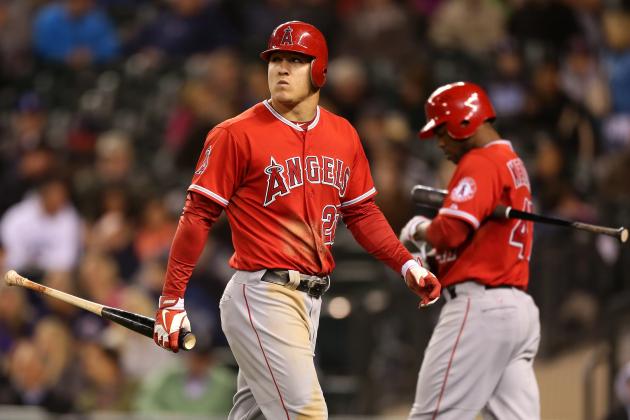 Otto Greule Jr/Getty Images

Best Case: Trio of Stars Gel
The Los Angeles Angels brought the biggest name on the free-agent market to Los Angeles this winter in Josh Hamilton. He obviously brings a lot of talent to an already talented club. But how will Mike Trout, Albert Pujols and Hamilton play together in the Angels' lineup? Los Angeles needs them to work together to produce as many runs as possible; finding the right lineup to do that is the tricky part.
Worst Case: Mike Trout Gets Cold
Mike Trout was one of the top players in baseball last season, and he took home the American League Rookie of the Year Award, finishing second in the AL MVP Award voting. He was as hot as you could possibly be coming into the big leagues. But Trout has to avoid a sophomore slump. A cold start in spring training could lead to Trout underperforming once the season begins.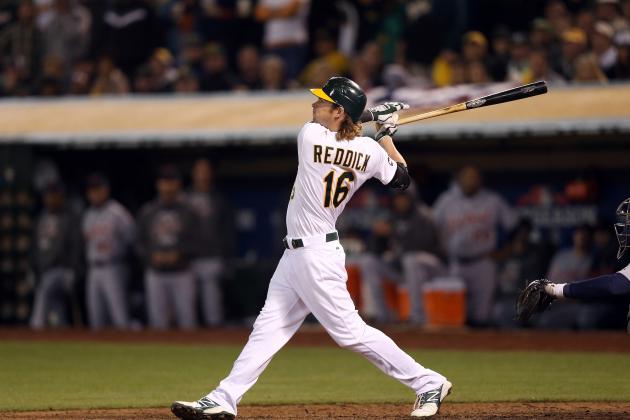 Ezra Shaw/Getty Images

Best Case: Fire in the Belly Stays
What made the Oakland A's so dangerous in 2012 was the fact that they were always hungry for more. They never gave up and were constantly winning in dramatic fashion. I'm not saying that Oakland needs to win each spring training game via a walk-off, but seeing the intensity that we saw at the end of last season would be good. Imagine what they could do if they played that hard all year long.
Worst Case: Flat Out of the Gate
The worst thing that could happen to Oakland would be that the players got drained right at the end of spring training and didn't enter the regular season with a spark.
If Oakland doesn't play hard each game then are the A's really that dangerous? I don't really think so.
Winning the last couple of spring training games will really be important for Oakland in terms of its confidence and heart.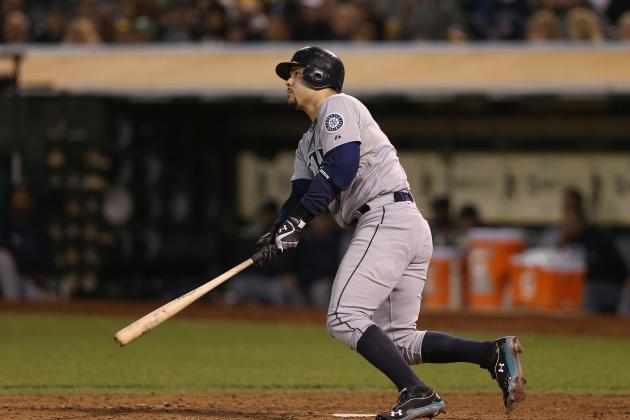 Ezra Shaw/Getty Images

Best Case: Jesus Montero Hits Like a Boss
Jesus Montero is one of the biggest bats expected to be the in the Seattle Mariners' lineup on a consistent basis. But in his first season with the Mariners, he wasn't overly impressive. He hit .260/.298/.386 with 15 home runs and 62 RBI.
Montero has to be a better hitter if the Mariners are going to be competitive this season.
A bold prediction could be for Montero to be the MVP of spring training—but how bold really is that?
Worst Case: Dustin Ackley Continues to Struggle
Dustin Ackley has not lived up the hype so far as a member of the Mariners. He was once the top prospect in the organization, but his minor league numbers haven't transitioned into big league success.
Seattle is eventually going have to address the issue if Ackley continues to struggle at the plate. It still may be too soon, but hitting poorly in spring training could be a preview of what's to come in the regular season.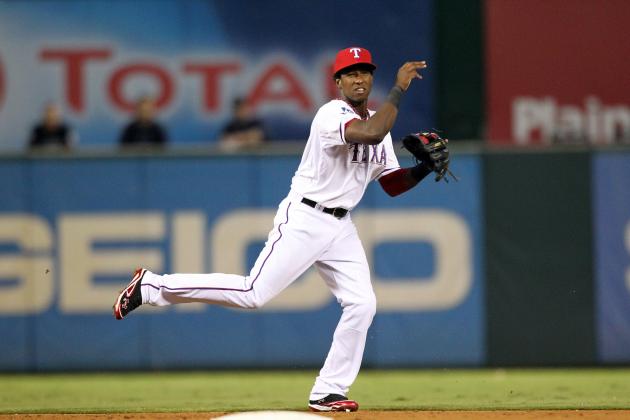 Layne Murdoch/Getty Images

Best Case: Jurickson Profar Impresses
Jurickson Profar is quite the prospect if you haven't seen him play before. He's easily to the young star in the Rangers' minor league system and one of the top in baseball.
He has good numbers in his two years in the minor leagues, but not so good numbers in 17 games with Texas. However, the thing to remember is that he's not even 20 years old yet. If he hits well in spring training, there might be a spot for him on the 25-man roster.
Worst Case: There's No Spot for Profar
So let's say that Profar shines in spring training and it's obvious that he's ready to play for the Rangers every day. Where's he going to play? Elvis Andrus is the current shortstop, and Ian Kinsler is the current second baseman.
The Rangers could flirt with moving either one of those two or Profar to the outfield, but that'd be a risky maneuver. Texas will be forced to trade someone if this happens to be the case or Profar could just sit in the minors.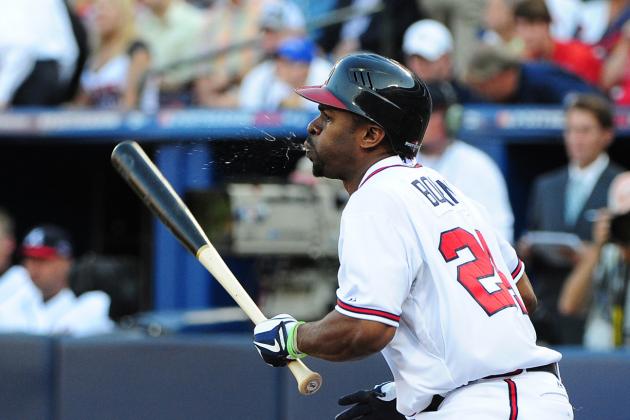 Scott Cunningham/Getty Images

Best Case: Michael Bourn Re-Signs
The Atlanta Braves didn't re-sign Michael Bourn at the beginning of the winter, but he's still available. Atlanta decided to go with former Tampa Bay Rays center fielder B.J. Upton.
What would make the most sense is to sign Bourn to play left field, which would mean that Martin Prado could move to third base to replace Juan Francisco. The price may have gone down with the limited interest teams have shown.
Worst Case: Gerald Laird Goes Down
Brian McCann is probably not going to be ready for the start of the season after undergoing shoulder surgery. That leaves Gerald Laird as the everyday catcher until he gets back.
But if something were to happen to Laird, the Braves would really be in trouble. Matt Pagnozzi isn't ready to handle the job, and Christian Bethancourt is still about a year away.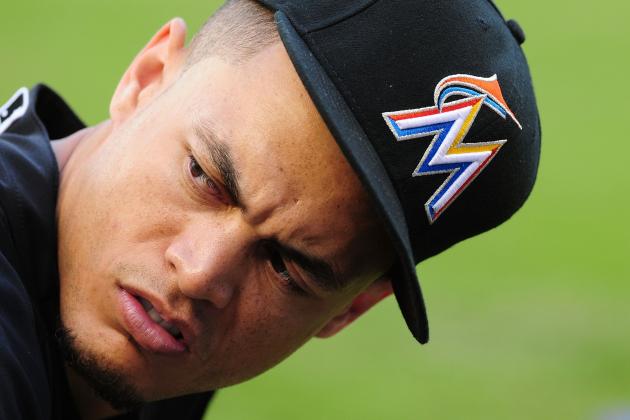 Jason Arnold/Getty Images

Best Case: Fans Show Up to Games
The Miami Marlins don't have much talent on their current roster outside of Giancarlo Stanton. The majority of the projected 25-man roster are players that the average fan has never heard of. Spring training will showcase even more players who the average fan has never heard of.
The Marlins are going to be very bad this season, and fans probably won't go to the games. Even if it's a bunch of old-timers, good attendance in spring training is better than nothing.
Worst Case: Giancarlo Stanton Requests a Trade
As I just mentioned, Giancarlo Stanton is basically the only guy left on the team. Miami traded everyone else away and decided that it would keep him for the long term. That can't make Stanton happy knowing that he's not going to be winning many games for quite some time.
If Stanton were to request a trade, it'd put Miami in a tough spot. He's extremely valuable and is really the only player provoking anyone to watch the Marlins plan.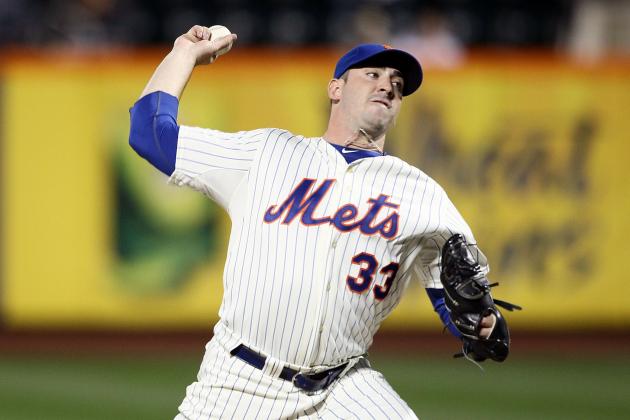 Alex Trautwig/Getty Images

Best Case: Young OFs Shine
The Mets have a handful of outfielders that have a lot of potential, but they might have been thrown in the mix in New York a little too quickly. Lucas Duda, Kirk Nieuwenhuis and Mike Baxter look to make up the Mets' outfield, with Jordany Valdespin and Collin Cowgill on the bench.
If a couple of those young outfielders could have a good spring training, that would improve New York's chances of competing during the year drastically.
Worst Case: Matt Harvey Struggles
The Mets are already down one great starter in R.A. Dickey, having traded him to the Toronto Blue Jays in exchange for prospects. But that means that Matt Harvey can start the season with the Mets instead of in the minors.
Harvey is the second-best prospect in the organization, and he means a lot to their future. The Mets have to get him on the right track early, making sure that he doesn't struggle, lose confidence and eventually digress.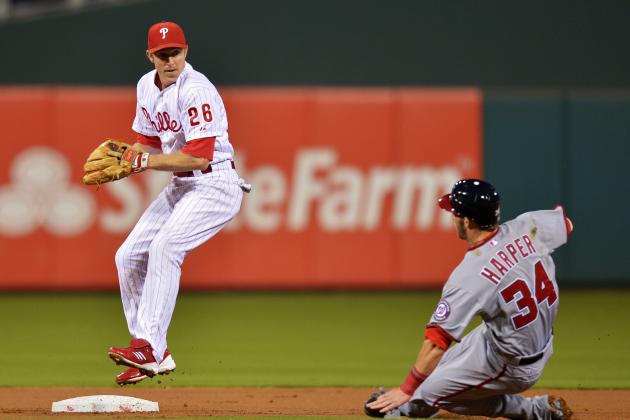 Drew Hallowell/Getty Images

Best Case: Everyone Stays Healthy
The Philadelphia Phillies are starting to look at a lot like the New York Yankees in the sense that they have a lot of old talent who are now borderline stars. And the Phillies have an issue with keeping those guys healthy all at once.
Whether it's Chase Utley who's hurt or Ryan Howard or Roy Halladay, injuries aren't making the Phillies much better. A healthy spring is a great spring.
Worst Case: Chase Utley's Knee Problems Persist
If you look up "knee problems" in the dictionarym, you'll find a picture of Chase Utley. Over the past two seasons, Utley hasn't been able to catch a break. He had patellar tendinitis in 2011 that kept him out of 45 games. Last season, he had patellar chondromalacia that kept him out of 76 games.
Let's face it: Utley is 34 years old and has terrible knees. But he is still a big part of the Phillies. They need him healthy this year.
Patrick McDermott/Getty Images

Best Case: No Stephen Strasburg Drama
The Nationals had a great run last season, making the postseason for the first time ever. But toward the end of the season, they were playing without their ace, Stephen Strasburg. Strasburg was put on an innings limit by the organization to preserve his arm for the future.
Well, it's technically the future now. If anyone even mentions an innings limit for 2013 from within the organization, they need to be fired.
Worst Case: Innings Limit Backfires
As I just mentioned, Strasburg was limited to 159.1 innings of work last season for Washington, much less than he actually could have pitched.
Even though Strasburg has had more time off to rest his arm, is that necessarily a good thing? What if Strasburg comes into camp and since he hasn't pitched in so long his arm starts to hurt again? That should be the main concern for Strasburg coming back from a shortened season.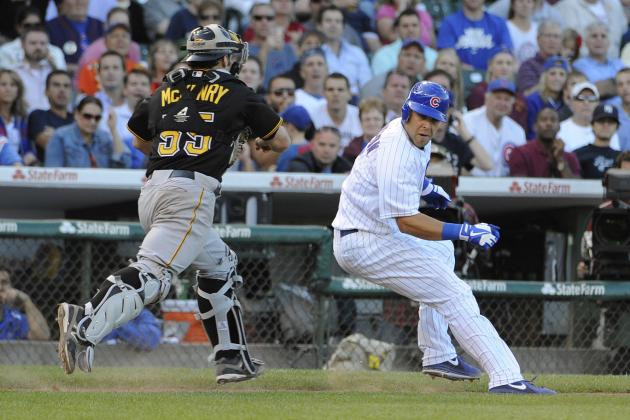 David Banks/Getty Images

Best Case: Good Start for Brett Jackson
Brett Jackson is the top prospect in the Cubs' organization, and he got a small taste of the big leagues last season in Chicago. In 120 at-bats, Jackson only hit .175/.303/.342.
He is basically the future of this team, along with Starlin Castro, and it'd be best if he got the majors quickly. And if he can have a good spring, that may open up the possibility for Alfonso Soriano to be traded, thus giving him a spot in the lineup.
Worst Case: Welington Castillo Injury
Welington Castillo is going to be a very good catcher for the Cubs someday, I'm just not sure when that will be, but he will probably emerge in the next two or so years. He has gotten around 200 at-bats in the majors over the last three seasons—nothing we can really judge.
But the Cubs don't have much depth after Castillo. Dioner Navarro and Steve Clevenger aren't really suitable backups.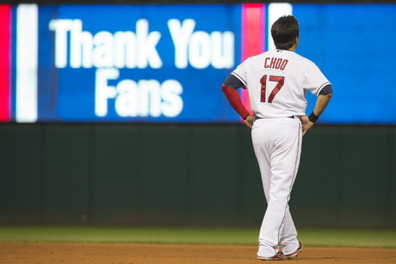 Jason Miller/Getty Images

Best Case: Shin-Soo Choo Plays CF
One of the most intriguing parts of the Reds acquiring Shin-Soo Choo is that they already had a right fielder in Jay Bruce.
Choo has already been a right fielder, playing 588-of-652 career games there. But the Reds hope that he can make the switch to play center.
Choo doesn't have the best glove, but someone has to do it. The Reds have to hope he flourishes in his new position.
Worst Case: Jay Bruce Has to Play CF
Jay Bruce is just about as much of a center fielder as Choo is—as in, he isn't. Bruce has played center field 35 times in 658 career games. He's played right field 631 times.
But what's going to happen is that if Choo really, really struggles in center, the Reds will have to make a change. That change will likely mean Bruce moves to play center while Choo plays right. A second center field experiment isn't what Cincinnati needs.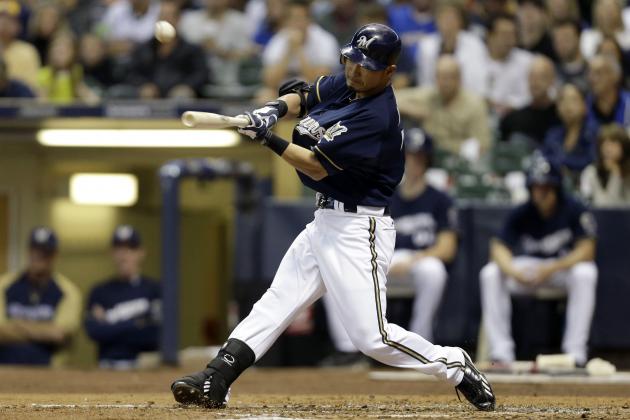 Mike McGinnis/Getty Images

Best Case: Jean Segura Improves
When the Brewers traded Zack Greinke to the Angels, the main piece in the deal was Jean Segura—a very talented shortstop prospect. Once coming to Milwaukee, he wasn't overly impressive offensively. It was his real shot at the majors, but still has plenty of time to improve. He hit .264/.321/.331 in 148 at-bats with the Brewers. Improving offensively would really help his overall game and Milwaukee in general.
Worst Case: Mat Gamel Disappoints
Mat Gamel is expected to be the first baseman of the future for the Brewers. He's seen time in the big leagues in prior season, but 2012 was supposed to be the year where he really got a shot. As it turned out, Gamel tore his ACL in May and missed the remainder of the season after just 69 at-bats.
Coming off of knee surgery, Gamel has to bounce back quickly. The Brewers don't really have a great backup behind him, and Corey Hart is out for a while.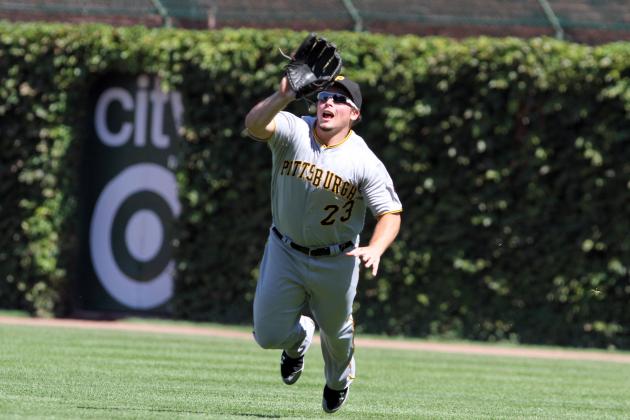 Tasos Katopodis/Getty Images

Best Case: Travis Snider Emerges as Star
Travis Snider was once considered one of the top prospects in baseball, but he was accelerated through the Toronto minor league season very quickly. He hasn't had a great deal of success, but he hasn't been terrible either.
Now with the Pirates, Snider has the chance to be a star that helps them get into the postseason. He has to be able to translate his minor league success into major league success.
Worst Case: Francisco Liriano Injury Woes
Francisco Liriano signed a two-year deal with the Pirates over the offseason, but he still has to pass his physical. That could end up being a problem since he also broke his arm this offseason and is in a cast.
But even if Liriano passes his physical, who's to say that his arm won't give him trouble when he pitches? Obviously, the Pirates wouldn't be held to the deal, but then they have a void in their rotation.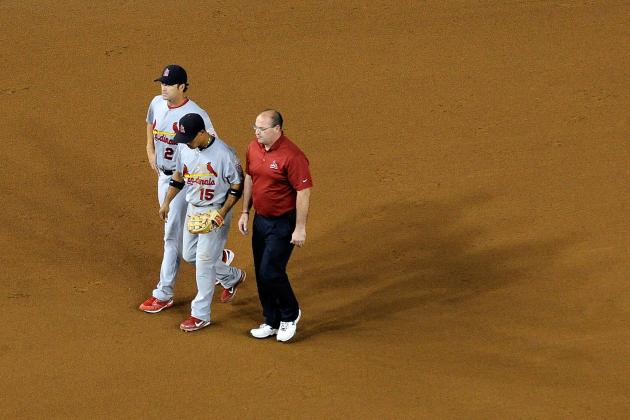 Patrick McDermott/Getty Images

Best Case: Pete Kozma Wins 2B Job
When Rafael Furcal sustained an injury to his elbow last season, Pete Kozma took over at shortstop. Kozma had never really hit quite well in the minor leagues at any level, but he was given the opportunity to play consistently each day, including in the postseason.
He actually hit relatively well in the 26 regular season games he played in. If Kozma could come out hot, he could take the job at second from Daniel Descalso.
Worst Case: Rafael Furcal Takes Longer to Heal
A sprained UCL ligament held Rafael Furcal out of 31 games as well as the playoffs last season. He's still questionable for the start of the season, but the Cardinals cannot afford for him to have a setback. They would then have to hope that Kozma could continue to hit well, which isn't guaranteed at all.
Furcal is a much-needed body in the St. Louis lineup.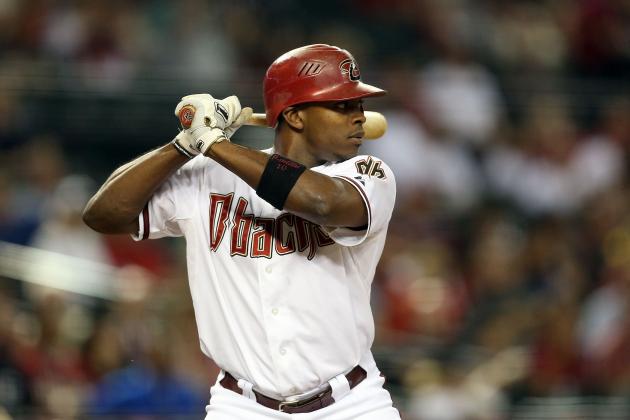 Christian Petersen/Getty Images

Best Case: Justin Upton Gets Traded
The Arizona Diamondbacks got themselves into trouble this winter when they tried to trade Justin Upton to a team on his no-trade list and he rejected it. Now, they're stuck with a player that they don't want and have to do everything in their power to strike a deal.
Arizona will get good return for Upton, but the team can't be stingy about it. Keeping him into spring training would be an absolute disaster.
Worst Case: Justin Upton Doesn't Get Traded
The Diamondbacks would be making a major mistake by not trading Upton—that I've established. It would just hurt the team's morale, and I don't see any way that Upton plays hard for a team that doesn't want him.
By keeping Upton, that also means that prospect Adam Eaton gets left off the roster. Arizona could trade Jason Kubel, but right field would be where he'd be more comfortable.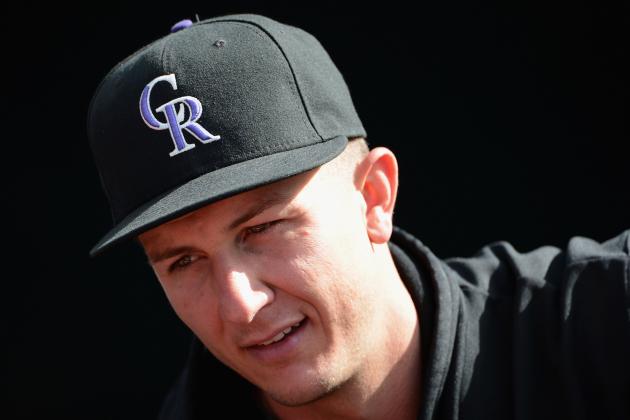 Doug Pensinger/Getty Images

Best Case: Troy Tulowitzki is Healed
Troy Tulowitzki missed 113 games last season due to a groin injury that required surgery. That's never good, but it's certainly not good for the best player on the Rockies.
Colorado isn't expected to compete for much this season, but the team is absolutely more competitive with Tulowitzki in the lineup. He's the Rockies' star, and they need him to stay healthy. Hopefully the groin issue doesn't reappear at any point soon.
Worst Case: Starting Rotation Slumps
The Rockies really don't have anyone in their starting rotation who jumps out at you or that you don't ever want to face. In fact, you'd prefer to play the Rockies 162 times per year. That's how bad the starting rotation could end up being.
Colorado didn't make many changes during the offseason and is just hoping for the best. I have a feeling that the Rockies aren't going to get the best.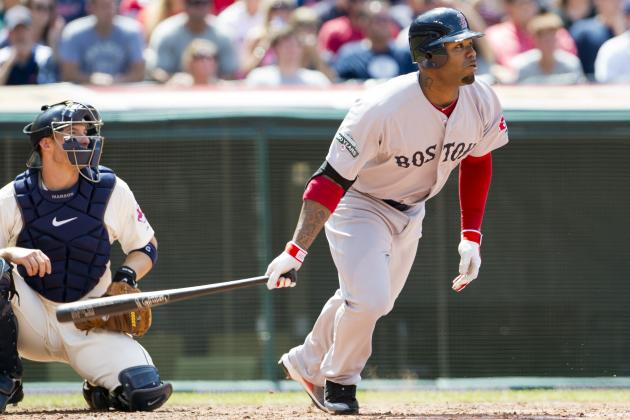 Jason Miller/Getty Images

Best Case: Smooth Transition for Hyun-Jin Ryu
One of the big moves the Dodgers made this offseason was winning the rights to bid for Hyun-Jin Ryu and then eventually signing him to a contract. As there is with every international player coming to the U.S., there's a big risk that his success won't translate.
Ryu should be a big part of Los Angeles' rotation in 2013, and a good couple of starts in the spring would be a good sign moving forward.
Worst Case: Carl Crawford's Elbow Still Hurts
Carl Crawford has had elbow issues for quite some time now, and he finally tried to get that fixed last season. Crawford underwent Tommy John surgery on his left arm and is questionable to start the season.
The Dodgers can't really afford to have one of their highest-paid players missing even more time if Crawford still has pain once he returns.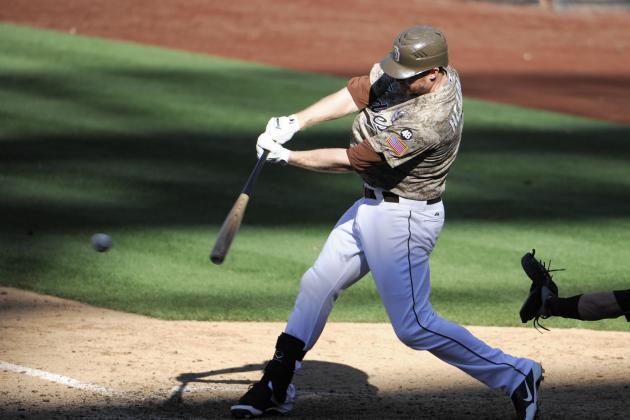 Denis Poroy/Getty Images

Best Case: Yonder Alonso Spring Training MVP
In the next couple of years, you're going to hear Yonder Alonso's name a ton. He's an up-and-coming player for San Diego that the Padres acquired during the last year's offseason. He hit .273/.348/.393 in around 550 at-bats last season, which isn't bad at all for a guy with virtually now major league experience.
The Padres will benefit greatly if Alonso's bat gets going early. They could end up surprising a couple of teams if he does.
Worst Case: Chase Headley Injury
San Diego is only going to play well if Chase Headley is in the lineup, and the Padres have to do whatever it takes to keep him healthy. If Headley isn't healthy, the Padres are in deep trouble. He was one of the best players in the game last season and has a ton of trade value.
San Diego could decide to sell high on him once the season starts, but an early injury could nix that idea.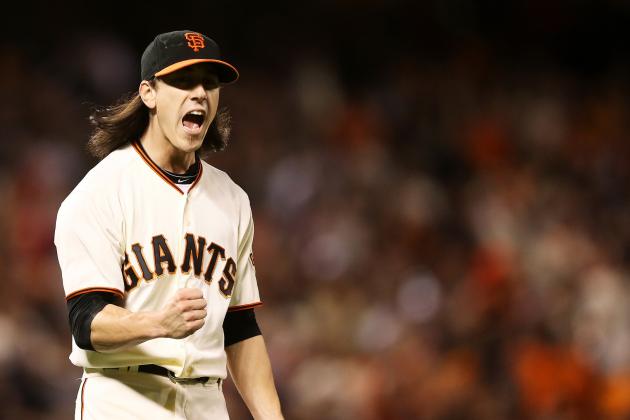 Ezra Shaw/Getty Images

Best Case: Tim Lincecum Starts Again
Tim Lincecum used to be one of the top starting pitchers in baseball. But that was not even close to the case last season. In 33 starts, Lincecum went 10-15 with a 5.18 ERA—considerably higher than any previous season. He also primarily used out of the bullpen throughout the postseason.
The San Francisco Giants need him to find his mojo as a starter in order to try and win a second straight World Series in 2013, and it starts in spring training.
Worst Case: Sergio Romo Regresses
The Giants were without closer Brian Wilson for the entire 2012 season, leaving that role in the hands of Sergio Romo. Romo pitched well and helped the Giants win the World Series.
When Wilson hit the free-agent market this winter, San Francisco chose to stay away, staying with Romo. Well, if Romo doesn't pitch well early on in the season, the Giants will need to find someone who can close quickly.