3 Underclassmen Who Made Huge Mistakes Avoiding Draft, Returning to School
Kirby Lee-USA TODAY Sports
You might be wondering why I choose Matt Barkley as the main title image for this article.
Who wouldn't though?
Matt Barkley is the most recent example of how the decision to come back for your senior year can have drastic implications and consequences on a player's draft stock. Everyone now knows how Barkley's decision to remain at USC ultimately backfired and caused his draft stock to slip out of control, in a season in which he and his team fell drastically short of it's goals.
We also know that sooner or later every decision we make in life does come back to us in one way or another. Sometimes it's good, sometimes it's bad; however every decision we do make truly ends up shaping us for the rest of our lives. It's what you do with the outcome that truly defines you, which Barkley will have every opportunity to do in the coming months and years.
This is the exact reason there is no right or wrong answer; only opinions. It would be foolish of me to say that each one of these players in the following slides are making "huge" mistakes that will ruin their futures in the NFL. I don't believe that at all. In fact, I believe the majority of the players on this list will go on to have very long and productive careers at the next level.
It's hard for me to fault a player for coming back to school. It shows maturity beyond years to turn down millions of dollars and risk your entire future for an education. On top of this, none of us really know what kind of pressure each one of these young individuals is under. Whether it be an internal or external influence, every individual on this list faced a very tough decision that I respect and commend them for making.
Nonetheless, every decision does come with potential consequences and ramifications. These are the three players I felt made a decision that may not necessarily ruin their futures, but potentially cause adverse effects on their future draft positioning.
1. OT Taylor Lewan, Michigan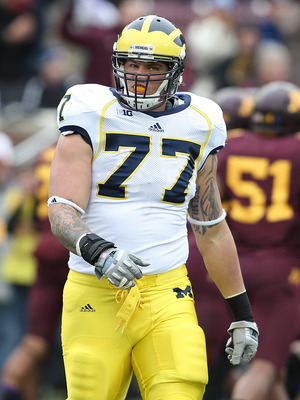 Jesse Johnson-USA TODAY Sports
Taylor Lewan's decision to come back for his senior season shocked a lot of people, including myself. Many evaluators figured Lewan would go somewhere in the initial fifteen picks following his junior season, potentially even the top ten after a stellar performance against ultra-talented Jadeveon Clowney in the Outback Bowl.
Lewan's decision is questionable because he had already seated himself amongst the elite at his position and got an added boost when Texas A&M's Jake Matthews decided to return to school as well. With Matthews out of the picture it is all the more likely Lewan would have earned a top-ten selection, with teams like Philadelphia, Arizona and San Diego all needing immediate help up front.
According to MLive, Lewan ultimately decided to stay in school because of "unfinished business" and because he "wanted to finish with his class." Like I said before, I commend players who display loyalty and uphold the traditions set by their respective schools. With that in mind, nothing is ever guaranteed, especially in the NFL.
Based on the 2012 NFL draft class rookie wage-scale contracts, Lewan was likely to earn anywhere between ten and fifteen million had he declared (h/t NFL.com).
Now, Lewan will compete head-to-head with Jake Matthews as the top draft-eligible left tackle next season. The reason you won't find Matthew's name on this list is because he still did have something to prove by returning to school. With Luke Joeckel now out of College Station, Matthews will be able to once again play alongside and protect sensational Heisman-winning quarterback Johnny Manziel, while also proving he can handle the protect the all-important blind side of his now famous quarterback.
Lewan on the other hand, has already proven that he can handle the left side, having started there for the past three years. Nobody can say he's absolutely right or wrong, but I personally am hard pressed to find a reason for taking such an unnecessary risk when you stand a lot to lose and not much to gain.
2. LB C.J. Mosley, Alabama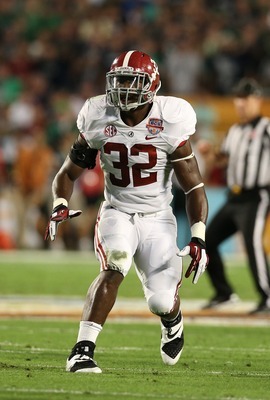 Matthew Emmons-USA TODAY Sports
C.J. Mosley is an NFL-ready linebacker today.
Studying him on film, I saw a player that constantly defeated blocks at the point of attack to make plays in the box, while also displaying the versatility and athleticism to drop into coverage and make plays against the pass.
All in all, Mosley was the most complete linebacker I saw this season and has the ability to be a three-down linebacker at the next level. Phenomenal instincts and range assured he was always in the correct position to make a play, and his play this season is one of the biggest reasons Alabama was able to repeat as national champions against Notre Dame.
After Mosley was named the Defensive MVP of that game, it seemed all but assured that he would move on to the NFL. Instead, Mosley will return to Tuscaloosa in hopes of winning yet another national championship while having the ability to learn under one of the most famous coaches in college football history in Nick Saban.
It's hard to place blame on a young man who values his education and wants to be coached by a growing legend for one last season. However, Mosley is also an aggressive player who leaves it all out on the field, and he has suffered injuries that have sidelined him for a period of time.
Mosley is a personal favorite of mine, but I thought he made a risky decision by choosing to come back. Not only is he ready for the pros, but he also graded out higher than Manti Te'o on my board, based on pure potential and ability alone.
Just like in the game of Blackjack, knowing when to gamble and when to leave the table is key. Leaving assures you have your money, but risking it to stay for a few extra hands can leave you scrambling to get back to where you were before.
Already up big, Mosley is another player who I believe is taking an unnecessary risk to build on an already substantial pot.
3. QB Tajh Boyd, Clemson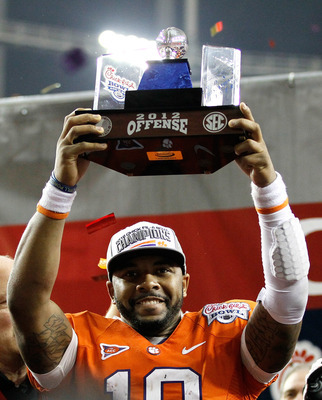 Kevin C. Cox/Getty Images
This one may be a little bit of a surprise for some people, so let me explain.
Listed at 6'1", Tajh Boyd is a slightly undersized quarterback. But the recent success of Seattle's Russell Wilson may dispel some earlier assumptions about height and the ability to play quarterback at the next level.
While the correlation between height and quarterback play is warranted, it is not the be-all and end-all when it comes to evaluating a QB. Blessed with exceptional athleticism and the added ability to create with his legs, Boyd stood the chance to cash in on the popular read-option offensive wrinkles that took the NFL by storm this past season.
Quarterbacks like Robert Griffin III, Colin Kaepernick and Wilson have been the leaders of this new movement in the NFL, and, more than ever, the demand for quarterbacks who can execute this type of game plan because of their versatility is at an all-time high.
While being able to run is great, it's even more imperative for a quarterback to be able to make the necessary throws and show the ability to understand the game plans and other information thrown at him. Watching this video from ACC Digital Network, you see Boyd does have the capability to make both pre- and post-snap reads, and he is also able to move around the pocket and manipulate defenders with his eyes.
This, along with his unbelievable game-winning drive in the Chic-Fil-A Bowl against LSU, made for a perfect time to make the jump and strike while the iron was piping hot. A huge underdog, Boyd led Clemson to an improbable win against a very good Tiger defense, showing the ability to hang in the pocket and deliver clutch throws with defenders bearing down on him.
His performance this season and in Clemson's bowl game win definitely opened a lot of eyes. In a weak overall quarterback class, one that's full of slow-footed signal-callers, Boyd certainly had a huge opportunity to distinguish himself because of his versatility as a passer and a runner.
Now, Boyd will return to Clemson, where he most certainly will be a popular Heisman candidate, especially considering he still has Sammy Watkins in his arsenal.
However, if you ask me, Boyd missed out a crucial opportunity. His decision to return to school now means he will compete directly with players like Teddy Bridgewater, Braxton Miller and Johnny Manziel, each of whom offer similar attributes and will be draft eligible after next season.
Plus, there's a certain new coach in Philadelphia who may know just how to take full advantage of Boyd's impressive overall ability and potential.
Keep Reading